Over the last few years, sex toy companies and stores have asked us to review their toys in exchange for, you know, their toys. Today we're reviewing We-Vibe's new wand!
Material: Silicone
Color: Purple
Power Source: Rechargeable
Length: 12 inches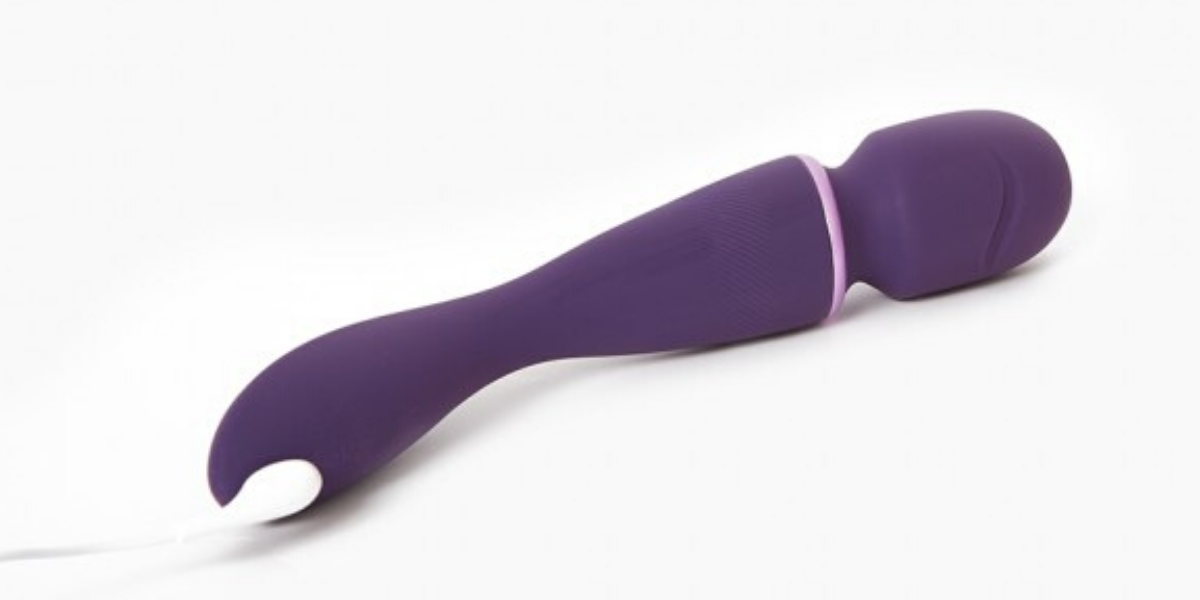 I'm a scruffy cheapskate who refuses to buy a bed frame, but when it comes to sex toys, I'm a full-on bougie snob. I've worked in the sex toy industry for the past five years, and I've slowly filled a giant tool box (yep, a tool box) with every bullet, dong and butt plug a homo could ask for. There are only a few lucky toys that regularly appear in my sex life. The We-Vibe Wand has officially joined the ranks.
I've been riding We-Vibe's rumbly motors for years (I love the Tango, We-Vibe's wildly powerful, rechargeable bullet), and when I learned that We-Vibe had ventured into wands, I couldn't wait to saddle up. Previously, I've tried the Original Magic Wand and the rechargeable Magic Wand. While I've had partners who adore their power, wands have always been a little too intense for me. The We-Vibe Wand's settings start on gentler side, which is perfect for me, but you still have the option to turn it all the way and blast your bits into outer space.
I've reviewed each feature of the We-Vibe Wand with a rating system of 0 to 5 Rapinoes. A "Rapinoe" is a unit that I made up to measure strength, power and satisfaction.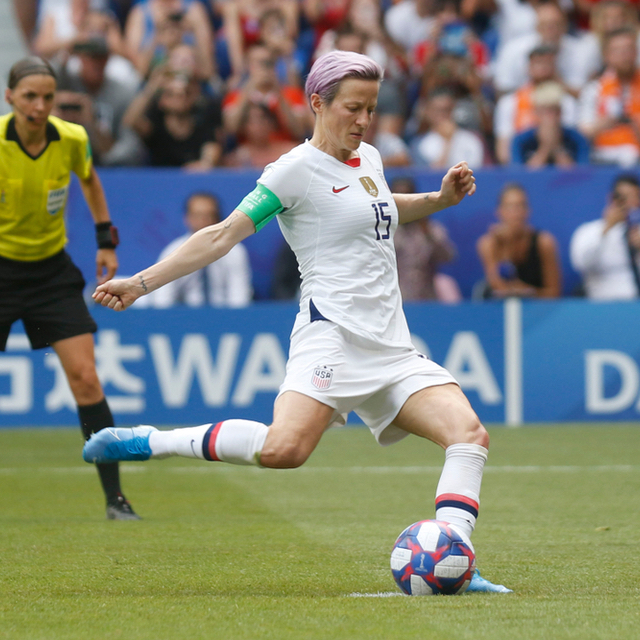 Shutterstock/ Romain Biard
The Color (3 / 5 Rapinoes)
The We-Vibe Wand only comes in one color — purple — which certainly matches We-Vibe's branding. Forgive me for being a petty little butch, but the world does not need any more pink or purple sex toys! My ideal sex toy collection is all black and chrome. I don't expect We-Vibe to cater to my specific aesthetic, but at the very least, I wish that this wand came in at least one other color.
The Size and Shape (5 / 5 Rapinoes)
The We-Vibe wand is lighter-weight than other wands I've tried, and the curved handle makes it easier to hold it against yourself or your sweetie for long intervals. The head of the We-Vibe Wand is about the same width as the head of the Magic Wand, so you get plenty of surface area coverage.
The Material (5 / 5 Rapinoes)
Unlike most other wands, which tend to have a silicone or vinyl head and a plastic handle, the entire We-Vibe wand is made of soft, body-safe silicone. Silicone is non-porous and doesn't harbor bacteria, making the entire toy easy to clean with soap and water and safe to share with partners. We-Vibe claims that the toy is 100% waterproof due to its material and its magnetic charger. This toy is definitely shower-safe, but I wouldn't fully submerge it, since there might be some risk of damaging the charger.
The Volume (4 / 5 Rapinoes)
Most wands sound like lawnmowers, but the We-Vibe wand sounds more like a lawnmower that's far, far away. This might not be a great toy to use if you have kids or roommates in the next room and youre trying to be discreet, but if you prefer high-power toys, this is definitely a quieter option.
The Motor (5 / 5 Rapinoes)
While most wands are little more on the buzzy side, the We-Vibe Wand motor is nice and rumbly! I can use this toy for a long period of time without my skin tingling, and I can hold it without my hand going numb.
The Intensity Levels (4 / 5 Rapinoes)
The low setting on this wand is lower than it is on other wands I've tried, making this toy a great option for folks who want the surface area coverage of a wand without the teeth-chattering intensity. You increase and decrease the intensity with a joystick instead of with buttons, which gives you a nice, smooth ride to higher vibration. The highest setting doesn't match the highest setting on the Magic Wand, so if you're used to vibrating yourself through your bedroom wall, the We-Vibe Wand might not have the power you desire.
The Modes (4 / 5 Rapinoes)
The We-Vibe Wand offers 10 different modes, including multiple pulse modes, waves and something called the "cha cha," which I find infuriating (but it's probably great for mean tops who want to edge their bottoms).
The "Smart Silence" Function (3 / 5 Rapinoes)
This toy offers a "Smart Silence" Function, which means that when the wand is turned on, it only vibrates when it's pressed against a body. When you pull the toy away, it automatically stops vibrating. This seems like a convenient function for folks who like to have a orgasm and immediately fall asleep without turning off their toy, but I CANNOT handle it. When I slightly pull the toy away from my body to switch hands or get in a more comfortable position, the toy shuts off, and I have what I can only described as a Pavlovian panic response ("WHY, GQDDESS, WHY?! MY VIBRATOR DIED!") every single time. Eventually, I figured out that you can turn this funciton off in the We-Connect App, and I calmed the hell down.
The App (5 / 5 Rapinoes)
Most We-Vibe toys are app-compatible, so they're great for long-distance partners. I haven't had an opportunity to use the app over a long distance, but I fooled around with the app on the other side of my apartment and didn't experience any connection issues. I'm not technologically-advanced, but the app is user-friendly enough for me. You can change the settings as you go, or you can create a pulse pattern and send it to a sweetheart (like the sex version of a mix tape).
The Charging (4 / 5 Rapinoes)
The We-Vibe Wand takes 90 minutes to charge and runs for about two hours before losing power, which seems to be the standard for high-power, rechargeable toys. Unlike the rechargeable Magic Wand, you cannot use the We-Vibe Wand while it's charging, so if you run out of fun, you'll have to wait.
The Attachments (4 / 5 Rapinoes)
Most wands sell attachments separately, but the We-Vibe wand comes with two! One is a "fluttering" attachment for folks who like a gentle clit tickling. The other is a stroker attachment. I don't have any penises in my life right now, but I'm so happy that the stroker attachment is included to give this toy more versatility! The "fluttering" attachment doesn't do much for me. I'd prefer an internal attachment for G-spots and butts.
The Price (3 / 5 Rapinoes)
Most retailers are selling the We-Vibe Wand for around $179. For comparison, the rechargeable Magic Wand goes for around $124. I guess you're paying extra for the app compatibility, but in my experience of selling sex toys, that's not a feature most folks are looking for in a wand.
Total Rapinoes: 45 / 60