Over the last few years, sex toy companies and stores have asked us to review their toys in exchange for, you know, their toys.
Today we're reviewing the Chakrubs Heart Natural Crystal Dildo.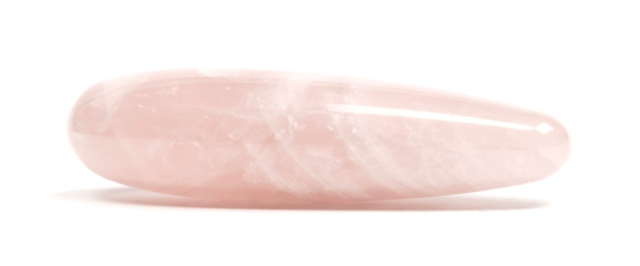 Material: 100% natural rose quartz crystal
Color: Pink
Weight: 1 lb
Measured Flat: 7″ long and 1.67″ wide
Circumference: 3.75″ small end and 6″ large end
I fucking love this toy.
To be completely transparent, I fell in love with this gorgeous object as soon as I saw it. I have to be honest about who I am as a person, and who I am as a person is a basic white girl size queen who likes crystals and pink sex toys, okay? This toy was like, made for me. Something that will feel hefty and firm in my cunt and look gorgeous on my altar? Come to Mommi.
While it's usually dangerous to create expectations for something you've only interacted with in a digital space (ahem, projecting your fantasies onto a random Tinder profile before y'all even match) in this case, the object of my desire lived up to my expectations IRL. The rose quartz was as blushingly beautiful as I imagined. It was smooth and heavy. It felt good in my hand. It sparkled when I held it up to the light. I was smitten.
The marketing around this toy is that it's meant to be used to make you feel more connected to your body, however that may be. I think if you are a person who feels anxious about penetration but is looking for some feel good vibes and has $$ to drop on what is essentially a very large crystal, using this particular toy to promote self love could totally work. I personally would probably stick with a small, inexpensive rose quartz crystal if I just wanted to love my bod and was really interested in this toy for what I hoped would be a delightful experience when I shoved it up my cunt. So, upon receiving it, that's exactly what I did.
My first experience with the toy was… fine. I got home from a hot date still riled up and decided to masturbate with it. I lay on my back and, seeing as I was already pretty wet, slid the toy inside me quite easily. The crystal has a thick base and a thinner tapered tip, and at first I held on to the thick part and penetrated myself with the thinner side. That felt nice, but I soon wondered if I could take more. Reader, I could. I took the toy out of my bod, flipped it over, and inserted the thicker side into my cunt. It provided a delightful full feeling, and, a wonderful plot twist: because the thicker part of the toy is so heavy, it stayed put in my pussy, unlike when the thinner side was in. This was great because it meant I could be hands-free while still feeling super full – it reminded me of the heavy sensation one feels when using the larger side of the nJoy Pure Wand, though because the toys are different shapes the rose quartz dildo made me feel overall fuller. I used my hands to touch my clit while the toy stayed dutifully inside me, and I had a medium sized orgasm.
It was a little tricky to remove the toy once I'd finished, which I did not love, but it wasn't a huge deal – it's just smooth and slick to begin with, and obviously doesn't have a base of any kind, so is a bit hard to grab from a tightly clenched vagina post-orgasm. Once I did remove it I came across the part that I, personally, really did not love – the toy was so hot. This is totally fine and normal – it's a literal crystal and it holds temperature very well, and the inside of one's cunt after orgasming is indeed very hot. But I hated it! I don't know why. I just did not like holding such a hot object in my hand right after orgasming. I wasn't convinced this toy would work for me and was starting to envision it as a permanent fixture on my altar, nothing more.
Luckily I'm nothing if not persistent, and I had been so excited about this toy that I felt committed to trying it some other ways. And after the first mediocre trial run, I found some things that for me personally really changed the whole game and that might be relevant for you when thinking about if this is a toy you'd like to buy or not.
The first thing I did differently was that I stuck the toy in the freezer. I don't want to say I'm a genius but… I'm a genius. This toy, much like the nJoy Pure Wand again, holds temperatures so well. If you are someone who enjoys sensation play… babe, this is it. Next time I tried masturbating with the dildo I got myself hot and bothered with some erotica and my Hitachi, then I grabbed my beautiful crystal out the freezer and teased my very hot cunt with the icy cold stone. I cannot recommend this enough!!! It was life changing?!?! I will say that because there is no base and because the toy is shorter and heavier than a traditional silicone dildo, it is not great for thrusting – you can sort of tease yourself with it but if you're someone who likes vigorous motions or to bounce up and down on a dildo, this is not going to meet those needs. Also, I did have trouble removing the dildo from my body again, and I will say I have struggled a bit with it every time I've used it. I guess if you're going to lodge a smooth stone inside a very tight canal you need to accept that it will be difficult to remove, but I'm just saying, be prepared to have to kind of kegel it out of you. The good news (for me) is that if you freeze the toy before using it, it will mitigate how hot it feels when you take it out of your hot bod. I don't know why I personally feel so squeamish about it getting warm, but if you do too, the freezer trick will really solve all your problems.
The second thing I did differently that really upped my pleasure with this toy is that I used it with a date! Honestly, in my opinion the main selling points of this toy, aside from its weight and its ability to hold temperature, is how fucking gorgeous it is. If you're someone who is into a specific aesthetic vibe for your entire sex life (like maybe every single sex toy you own is pink, maybe you like to wear a tiara while you get fisted, just like, for example) this toy will add to the ambiance and will give your date an extra thing of beauty to be blown away by. The toy performs fine mechanically as a "partner toy" – I asked my date to move it in and out of my cunt slowly and she absolutely delivered, complimenting me and my bod and the crystal dildo the whole time – but because there is no base and it's sort of slick and difficult to hold onto, it's not the kind of toy another human is going to be able to absolutely rail you with. If that's what you're looking for, this toy is not it. But if you want to put on a gorgeous sexy masturbation show for a babe, ask her to participate a little bit, and glow under her praise that you and your pink rose quartz dildo look gorgeous together on your floral print duvet…this toy is for you.
To recap: the toy is gorgeous, holds temperatures well, is great for providing fullness, is less good for aggressive thrusting, works as a toy to use solo or with a partner but not if you're looking for a lot of thrusting action, will absolutely garner compliments, and can live happily in your toy box or on your altar, which is where mine currently sits when it's not buried deep in my cunt making me come. So what I'm telling you is that if you're the kind of babe who loves crystals and pink sex toys, enjoys the possibility of temperature play, likes some heft and weight to the things you put inside your bod, and wants to impress friends and lovers alike, this is the perfect toy for you. Goddess bless, goodbye.