What do you get when you combine Rehka Sharma, Jessica Biel, Sherri Saum, Marlee Matlin and Kandyse McClure with the mysterious disappearance of hundreds of people at a neuroscience research facility in Tennessee, besides a really weird sex dream? LIMETOWN.
Biel, who also served as Executive Producer of the Facebook Watch series (based on a hit 2015 podcast I am not familiar with), plays protagonist Lia Haddock, a lesbian journalist and podcast host whose Uncle Emile (Stanley Tucci) was among the 326 residents who vanished without a trace from Limetown's Utopian experiment fifteen years ago. She's been preoccupied by the mystery ever since, and is determined to turn her investigation into a compelling radio show for her boss, Gina (Sherri Saum), with whom she maintains solid sexual tension throughout the series. Her own family was torn apart by circumstances topped off when Emile left for Limetown. Emile was the assistant to the town's leading researcher, Oscar Totem, whose body was found in the charred remains of the town everybody left behind. Gina is about to close the book on Lia's investigation when a survivor reaches out to her directly — the first known survivor to ever make themselves known, let alone reach out to a reporter. Thus kicks off Lia's twisted journey into the abyss of a teevee show I marathoned until 2 AM and then promptly had a series of disturbing nightmares about.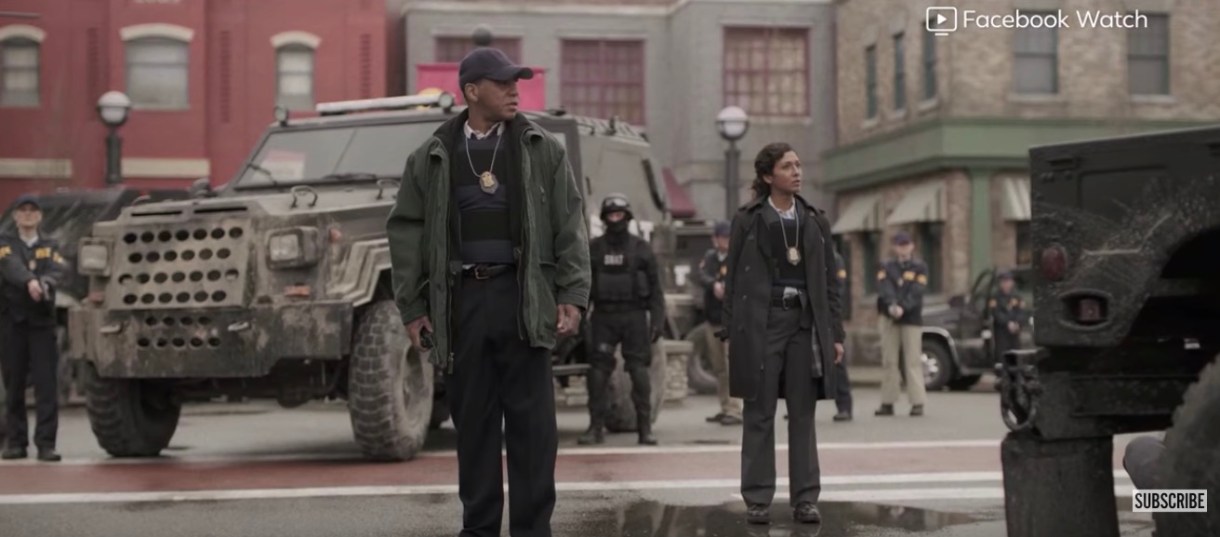 Lia Haddock fits into a familiar trope — workaholic, determined, deeply troubled female investigator willing to sacrifice everything and do anything to get answers. Also; the familiar trope of said queer female character having a girlfriend who never really becomes a full person. Ashley, whose relationship with Lia is more clearly defined by IMDB (in which she's listed as "Lia's girlfriend") than by the show, is played by Kandyse McClure, who played gay in Hemlock Grove and is one of three Battlestar Galactica alums on Limetown — Rehka Sharma (Tory) plays FBI Agent Sadia Latifi and Allesandro Juliana (Gaeta) plays aforementioned Oscar Totem. However, even Lia and Ashley's late-series twist about how they met doesn't quite fill the endless void of information surrounding the nature of their situation, which feels like a missed opportunity. I do wonder if a boyfriend or husband would've been sketched quite so lightly. (I have similar questions about the significant others of lesbian investigators on Mindhunter Season One, The Wire, The Bridge, etc.)
Still, they do have sex and we love a lesbian protagonist, especially those of us who lusted after Jessica Biel during her formative years as a tomboy on Seventh Heaven. Throw in a late-season episode devoted almost entirely to Marlee Matlin's face, and we're dealing with a very deep queer vibe here that you're unlikely to resist, even if watching it means you've gotta sign on Facebook.
In the spirit of Wayward Pines, Resurrection and The Leftovers, Limetown's dark unfurling mystery and the bigger questions it raises about who gets to define Utopia and the proper relationship between humans and potentially invasive technology are engaging and high-concept. Atmospheric cinematography and a winning cast obscure the plot's occasional silliness and, once you learn what was happening in Limetown, questions you may have about why its architects could not very clearly predict its eventual demise. Having never heard the podcast or read the book it was based on, I was very quickly hooked bythe story with the same pathological devotion I granted Homecoming and the first season of The Sinner.
The finale debuts on Facebook today, meaning you're in a great position to spend the next six hours of your life glued to your laptop screen! You're welcome!