Dear Amanda,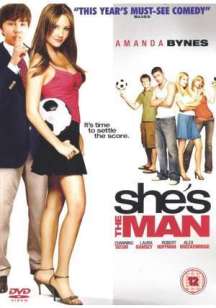 Firstly, I'd like to thank you for the work you did in the 2006 Shakespeare-inspired cinematic masterpiece, She's The Man. Your portrayal of the cross-dressing soccer-loving Viola Hastings touched my life in ways I cannot explain — although I've tried, both on this website and on my blog.
But Amanda Bynes, I'm not talking unicorns and double-rainbows today. I'm writing to ask you to stop fucking with my heart. Seriously.
When you suddenly announced your retirement 33 days ago, I was in shock and then denial. I waited for your "jk" or whatever, but it never happened, and then my denial turned into anger. Can you even retire on twitter? Does that even count? What does that even mean?
You don't like working? Hey, we all do things that we don't like doing. That's life, you make sacrifices for the people you care for, like how just last week, I bought Hairspray on DVD. While in the States for Pride, Laneia & I made everyone late for Cubbyhole just so that you wouldn't be bored in retirement.
But then, as if on the seven-stages of grief clockwork, my anger transformed into reasoning, like a single rainbow into a double rainbow. Your career wasn't fun anymore. I can relate! Just this morning I wrote 2,000 words on infrastructure management, and I'm willing to bet that my enthusiasm for storage networks is on par with yours for stage cues. So you said f*ck this, and you quit! Good work!
Sadly though, my acceptance was fleeting. The sun came up after that aforementioned Cubbyhole trip and the vodka-tonics wore off, and I found myself back in a dark, dark place. The one where She's The Man, Again will never see the light of day.
So just imagine the confusion I felt when you recently announced that you've "unretired"! On twitter!

Actually I don't follow you on Twitter so I got the news way after everyone else did. Generally your barrage of cryptic tweets about matters of the heart make me feel crazy, and not even your avoidance of gender pronouns is enough to pique my interest in your feed. But that's neither here nor there.
But what's behind this sudden Retirement Remorse?  Were you having a bad day, did you get caught up in a moment and say some things in the cybersphere that you knew you couldn't take back? I understand that feeling. I anticipate feeling that feeling as soon as I publish this open letter, which may or may not be fundamentally ridiculous.
But you did take those words back. Now I don't know if I can trust you. Are you just doing this to promote your latest film?
Regardless, I'm gonna offer you my help. That's right. As a workaholic, I feel like I could help you assimilate back into employed life. Now that Hilary's stopped working I've been looking for a new actress /singer/fashion designer to emotionally invest in.
So think about that, grasshopper, as I sign off with some words of wisdom: leave the retirement/un-retirement shtick to the professional athletes. Anyone can kick around a soccer ball – but it takes a true artiste to do it in drag.
Keep doing what you do! Really please. Don't retire again.
xoxo
Crystal