AMANDA BYNES WHAT:
Amanda Bynes, who some of you may remember from gems such as The Amanda Show and Hairspray, has announced her plans to retire from acting at the ridiculous age of 24. The actress tweeted her retirement plans on June 19 around 3 a.m and used the hashtag #retired, which means that it must be true/she's pretty serious. Her reason for quitting acting? She doesn't enjoy it. Fair enough.
If you look at Amanda's twitter profile you'll see that not only is Amanda retiring, she is also a hot mess:
That is a Lindsay-Lohan level of sharing, folks. Also, don't miss that last one. Aren't you glad you know that now?
Gawker wrote about five actors who should have retired instead of Amanda Bynes, including Kristen Stewart, a choice which we obvs whole-heartedly disagree with — we will totally sit through 15 of those vampire movies just to see her adorably awkward & nail-biting self share an intense stare with a dude for 90 minutes.
Now that we have come to terms with the fact that "She's The Man Again" will never go into production, we've made a list of five things that Amanda can do now that she has retired. It should probably be turned into a drinking game. So take one drink if you see Amanda Bynes:
1. Play golf.
2. Buy greeting cards in bulk, then organize them by holiday into an accordion folder.
3. Have kids, then call them each day. Follow that call with a call to their spouses and children. After that, re-call each member to talk about what the other said.
4. Move to Florida and eat early bird dinners.
5. Cut coupons.
Down your entire drink if she comes back as a musician and tours with Jay Z.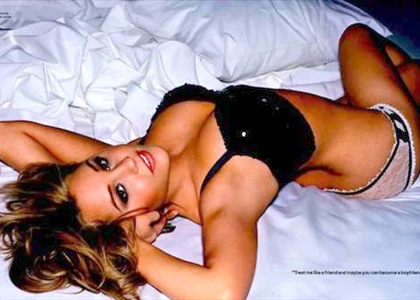 THE REAL L WORD:
Last night was the world premiere of Showtime's new hit series, The Real L Word! Everyone seems to have a lot of feelings and thoughts, including us. Our initial feelings are summed up in You Guys, Let's Be Real, The Real L Word Sucked, and then we talked about how pretty and funny our very own Nat Garcia was in More to L with Nat Garcia. Later today, Riese is going to have a recap, complete with screenshots and group quotes and smart observations and funny things that you can say to your friends at your next pool party or soirée.
But I bet you're thinking, "Laneia! I need to read something about The Real L Word right this very minute! My mom and her friends have been talking about AfterEllen's coverage all morning! Gimme something new!" to which I say: why don't you read what Entertainment Weekly has to say about the show? The first sentence is "Welcome to The Real L Word, where the Power of the Clam is so intense that the sun shines out of your crotch," so you know it's going in the right direction. (@ew)
ART OUT LOUD:
Ovation TV — an arts and culture station on which I recently watched a production of Cats — will be airing a programming event, Art Out Loud, from now until June 30 that will take a look at the influence of LGBT culture on film, literature, performance art and television. On Sunday June 27, you'll be treated to a marathon of the original UK version of "Queer As Folk," and I know you're pretty psyched about that because almost everything but barbecue is better in the UK, am I right ladies?
If you're in the Chicago area for Pride next weekend, you should find Ovation TV's booth/tent area because they'll have t-shirts and such!
TILDA SWINTON:
I was like, "Is Tilda Swinton in a gay movie?" And Crystal said, "Yes," so we figured you'd like to read this interview with her, in which she discusses her new film, I Am Love, which sounds very sexy, very ingenue-y, oui, très etc.
TRUE BLOOD:
HBO has already renewed True Blood for a fourth season! Wheeee. Did you know that season 3 is going to be the gayest yet? True story. We're pretty excited. (@ew)
LADY GAGA & THE BACKLASH:
Hortense ponders the inevitability of celebrity backlash and why a Gaga backlash will probably play out differently than the Megan Fox backlash. In related news, I predict there will never be a Hortense backlash. (@jezebel)
"Because America is essentially a giant high school, there is always a need for the country to fill the position of "Most Popular." The poor soul thrust into that position via overexposure in the media is first embraced and then loathed; the public can only stand so much of one person before they have to find someone new to get excited about, and the resentment over being "forced" to watch the adventures of a certain celebrity unfold begins to fester and turn into a universal bonding point: "You're sick of so-and-so? Me, too!" In that way, the backlash is actually just another means for people to continue to talk about someone: the initial fascination remains, even as it's buried under exasperation and annoyance."
BUFFY THE VAMPIRE SLAYER:
On when TV became art and how Buffy the Vampire Slayer helped redefine what TV could do. "I believe that one can point at a precise point where TV became art, and that point was the debut of Buffy the Vampire Slayer." (@popmatters)
REALLY PAPI:
Janina Gavankar, who played Papi on Showtime's hit series The L Word, created by Ilene Chaiken, did a cover of Kanye's Love Lockdown! It's, uh, pretty sexy. There's one part with a Fifth Element-inspired I'm-only-wearing-strips-of-canvas type outfit. We're not complaining.