I don't know why, exactly, when there are more sapphic stories — on TV! and in movies! and books! and video games! — than ever before, Disney Channel's tween cartoon, The Owl House, is the one giving me the most feelings! But it is! It's got me out here for really real swooning, and also cackling out loud in hysterics. This week's episode, "Knock, Knock, Knockin' on Hooty's Door," is the funniest and sweetest one yet. Plus! Luz and Amity finally confess their feelings out loud with their voices, and not just by blushing constantly every time they accidentally say something nice about each other or brush their hands together. And, if you can believe it, it's all thanks to Hooty.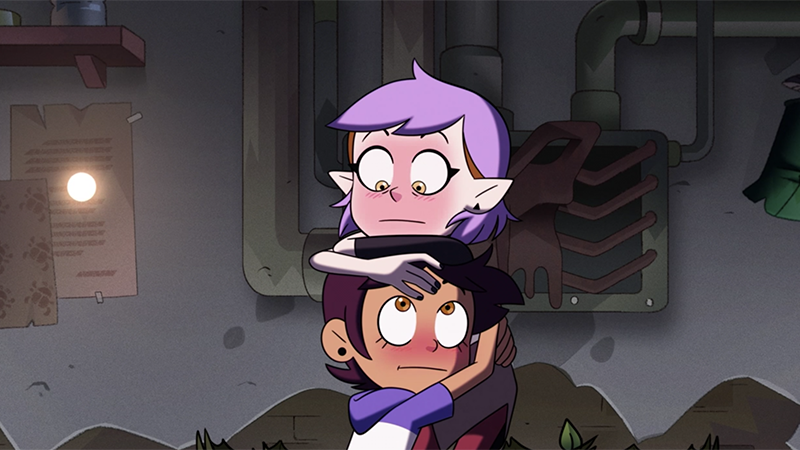 It goes like this: Hooty is convinced, as usual, that he's worthless, so he decides he's going to help Eda, King, and Luz with their problems all at once. Eda and King's problems are more magical and mystical in nature, but Luz's problem is the hardest one of all. She doesn't know how to ask out Amity. She doesn't want to do it in a dorky way. She wants to ask her out in a "smart, cool, and classy" way, because Amity's just so rad. As she's brainstorming ideas, Hooty goes ahead and completely kidnaps Amity and drops her off in The Owl House's abandoned basement, which he has turned into a completely horrifying Tunnel of Love. Like, imagine Ariel and Prince Eric's "Kiss the Girl" boat ride, but instead of fireflies and percussion, strings, winds, words, it's Hooty wailing about "we could hold wholesome hands for hours" while he sails them through a haunted animatronic landscape full of stuffed rabbits and bears missing their eyeballs and mouths.
He has even helpfully hanged a banner that said, "I think you're smart, cool, and classy."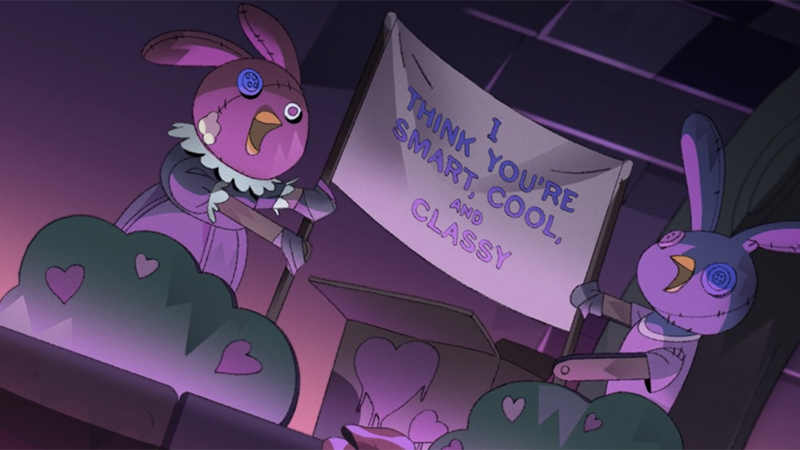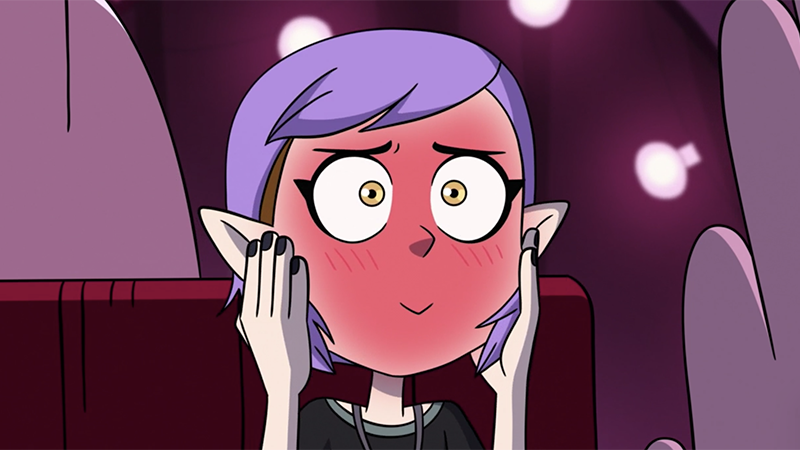 Amity is flattered and blushing more furiously than ever, while Luz tries to destroy the entire thing with fire magic because she's so embarrassed. At the end of the ride, she insists this wasn't her idea, and it's Amity's turn to be embarrassed. She wipes away a tear and starts to leave — and that's when Hooty goes berserk and tries to cast himself out of the house! Even though he IS the house! ("OUT! OUT, VILE OWL! RID THIS HOUSE OF THYSELF!")
Outside, King and Eda plead with Luz to at least pretend Hooty helped her solve her problem. She whispers to Eda that the problem is she wants to ask out Amity, but she wants to do it in a cool way, not a weird way, and now things are even weirder than they were in the hexed Tunnel of Love because Hooty is flipping out and whacking himself on the ground over and over and causing the house to crumble around their ears. Eda grabs Hooty and flies him up into the sky away from the girls.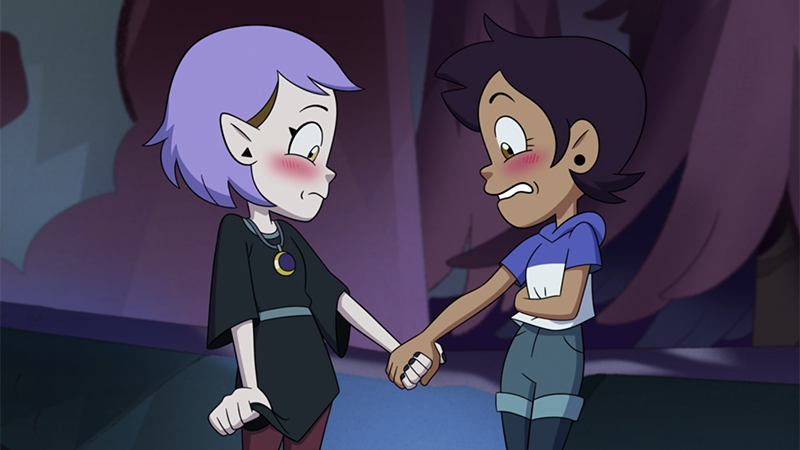 Amity starts blushing and Luz starts blushing and they hem and haw and finally it's Amity who blurts out, "Do you want to go out with me?" And them Luz blurts it out too. They blush even more, hold hands on purpose, and agree this is even more terrifying.
Disney has made a few mouse-sized gay strides in recent months, with its first queer love song and it's very small nod to gayness in Jungle Cruise — but it's still miles behind every other network and studio when it comes to LGBTQ+ rep. The Owl House continues to push things forward in a major way, outpacing every other Disney story combined. And it's not just that the there's two entire openly queer characters having an actual love story on-screen, it's the quality of storytelling. It feels so real.
There are 13 more episodes left in season two, and then season three's three 44-minute specials. Until then: HOOTY HOOT!