Happy Hump Day! Ba Dun Chaaaaa.
Oh, and here are the stories we missed this week.
The Gay Marriage Diaries
+ I heard you like gay marriage, so I went to a gay marriage and found a couple that got gay married after their first gay marriage after their first gay marriage after their first gay marriage…
While there are many ways to show commitment and love, Kacey Frierson and Chwanda Nixon decided to do something more creative than the average couple — an "I Do Marathon" around the country. They completed the task of getting married nine times in eight cities within 10 days last week.

The idea came after their civil union in Illinois, where they were legally recognized as a couple for the first time. While their relationship was legally effective after their civil union, they still hoped that one day they would have an actual wedding in New York City.

"But then I was like, 'If we're going to New York, those other states are right there, and then we could go to Canada, too! If we drive and take this route, we could hit all these places in a week,'wp_postsFrierson said in an interview with Out magazine.
+ Samantha and Kally Mabe, a South African lesbian couple, were told they had to get a divorce – or else their son will be removed from school.
+ The Gay Marriage Fever hit China, too.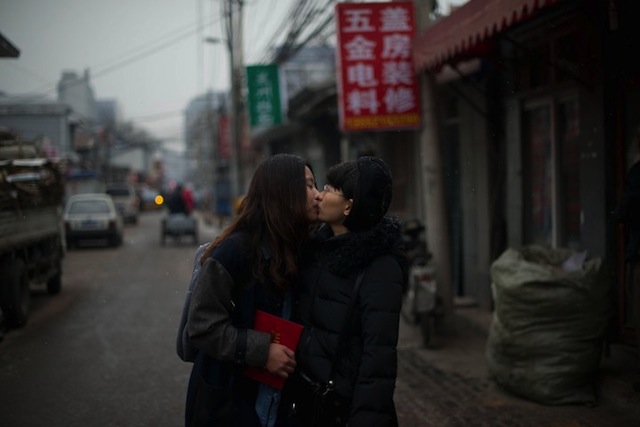 In late February, Beijing residents Ma Yuyu and her partner Elsie went to the Civil Affairs Bureau in the city's Dongcheng district to try to register as a married couple. They had contacted local media ahead of their visit and a gaggle of journalists accompanied them. To no one's surprise, their application was flatly rejected. "We knew we would fail, but we still wanted to do it anyway,wp_postsMa tells TIME. The rejection of their marriage bid made headlines across the country.
I Don't Give A Fuck If You're Queer, But The World Does
Brittney Griner never said she wanted to be a role model. Well, 'til now I guess.
I've had moments when I questioned my place in the world. At times, especially in seventh grade, life was lonely and I'd often feel sad. I never wanted to deny who I was, but dealing with the sadness and the anger that came from people constantly making fun of me wore me down at times. I relied heavily on my mom, family and friends to lift my spirits and help me through it — and still do.

It's taken me a long time to figure out exactly where I fit. During that journey, I realized that everyone has a unique place in this world. I also discovered that the more open I was with my family and friends, the more I embraced others, and the more committed I became to doing the things I love, like basketball, skating and, of course, eating bacon (the greatest food of all time), the more love and confidence I received in return.

I just had to hang in there and be myself.
Long Story Short: Keynes was gay. Harvard Professor Niall Ferguson thinks it makes his economic philosophy flawed because Keynes was smart enough to know your sexuality doesn't affect your capacity to think critically, and he isn't. Other people smarter than most if not all homophobes include Dr. John Fryer, who proved that homosexuality is indeed not a mental illness, although Lil Wayne best summarized this theory when he rapped "motherfucker I'm ill, not sick," so let's also give credit where it's due.
Antoine Dodson is "no longer into homosexuality." Because religion. Duh.
Jenna Talackova, a trans* Canadian model, is about to light up the screen in her own reality series. Meanwhile, in Cleveland City, what is likely a hate crime took trans* woman Cemia Dove's life.
Google Gays Up Mother's Day
Happy mama's day, queermos and gaybies!
We Are America
Obama wants LGBT families included in immigration reform. So do some Democrats. (And obviously, the homos and their allies are invested.) So… what the fuck is the deal. Like. I don't get it.
A Loss
West Hollywood's only lesbian bar will soon see its last Pride.
Out With The Old, In With New: Queer Leadership Lives On
As Iceland's Johanna Sigurdardottir leaves office, so ends the reign of the world's first out lesbian Prime Minister. But cheer up, emo kid! In the UK, lesbian Rianna Humble is gunning to be the first trans* MP.
The Terrible People Diaries
When Bard College students recently held anti-bullying workshops at a middle school on topics like gender identity and consent, instructors split boys and girls into two groups to practice "saying no" in a comfortable setting. Cut to: Fox News claiming that the girls' class promoted "lesbian role play" while boys were taught to "decipher" whether girls are sluts. Next: the National Organization for Marriage sent out three very concerned emails calling the class a "terrible examplewp_postsof the consequences of marriage equality. The school has asked Fox to correct its story, but the "lesbian indoctrination" lies keep keeping on via conservative outlets. This is how your conservative hysteria/total crock of shit sausage gets made.
John Ragan and his supporters suck,
In response to a recent report that Michelle Rhee's controversial nonprofit StudentsFirst named anti-gay Tennessee state Rep. John Ragan "reformer of the year,wp_poststhe group is standing by him — responding with dubious claims about his record and scrubbing its website of a blog post hailing him for always voting "to do right by kids when it comes to education."
Ryan voted in 1999 against allowing gay adoption in the District of Columbia, but now he says he's sorry…

Mighty big of him. Of course, it would have meant a lot more 14 years ago when Ryan could have been ahead of the curve instead of way behind it. And we're sure that the demographic tsunami about to annihilate the GOP had nothing to do with his change of heart.
and anti-LGBT activists suck just as much in real life as they do in front of the journos.
Pictures of Eli
In case things got too heavy.