Hello, mythical warriors! This week I'm taking a course on classical studies, libraries, and information literacy and it is pretty much the coolest thing ever. Here's the news we missed while I was researching ancient stuff.
---
Frustration and Discrimination
+ Singapore's National Library Board has been ordered to remove from shelves & destroy three children's books that depict LGBTQ families, one of which is about a penguin family.
The move has resulted in a torrent of opposition in mainstream and social media, the latter largely via the #FreeMyLibrary hashtag. An open letter criticizing the ban has also received more than 4,000 signatures.
+In the UK, a passport official is facing suspension and a disciplinary investigation for a discriminatory investigation of a gay man.
During what was meant to be a routine interview – the final stage in the application for his passport – Randall Cole was last month questioned for half an hour about his sexual practices, including whether he had ever had sex with a woman, and forced to discuss the terms of the adoptions and his relationship with the biological mother. He was also asked whether his children were "confused" by their family – as the child sat on his lap.

Cole says the "clearly homophobic" questioning left him shaking and feeling "violated and dirty" and wondering, amid the widespread delays with 400,000 people waiting for their passport, whether the system is "so broken that it allows people to do and say whatever they want without fear of repercussion".
---
Fun with Fox and Friends
+ Fox newscasters were flabbergasted when people actually understood the meaning of a proposed design for all-gender restroom signs without any trouble at all.
+ Republican senator Rob Portman is thinking about running for president, and has said that he supports marriage equality.
So few Republican elected officials support gay marriage that the bigger question is whether any 2016 hopefuls will support gay marriage at all, much less have a chance to win. But for Portman and anybody else who wants to give it a shot, they first need to see a path to victory.
---
Protests and Prisons
+ The World Cup may be over, but it sparked a great deal of social movement. Sex workers and their allies staged protest marches in the streets of Rio de Janeiro.
Sex workers have occupied a unique place in the protests and festivities around the World Cup. Sex work is legal in Brazil, where sex workers even qualify for social security benefits, as is sex tourism. But the government cracked down on the industry leading up to the World Cup. On May 26, just before the start of the games, police raided an apartment building in downtown Niterói and arrested over 100 people — sex workers say their money was confiscated and several people reported being beaten or forced to perform oral sex on police. In response, sex workers and their allies took to the streets in protest, even playing a game of semi-naked soccer outside Niterói's municipal building.
+ At SCI Coal Township, a Pennsylvania prison, inmates are "peacefully protesting their mistreatment by the state and demanding they be treated as human beings with needs and rights."
+After 58 days, Occupy activist Cecily McMillan has been released from Rikers. In an interview with Truthout, she speaks about her experiences and the needs of the inmates she came to know.
This is a double-edged sword. I went into Rikers and rather than the example to be made for Occupy Wall Street and of all dissent, I was just a normal person in there and there was a certain comfort to that. Even amidst the shocking humiliation there's also a solidarity of human struggle that I had really missed. Just be amongst other people who had been targeted, who had been treated poorly, who had been lost in the justice system, there was something to be said for that. I feel like in some ways I had been removed of all personhood except for the political idea they had wished to make of me and somehow through Rikers I regained my personhood, in the most humbling and profound way.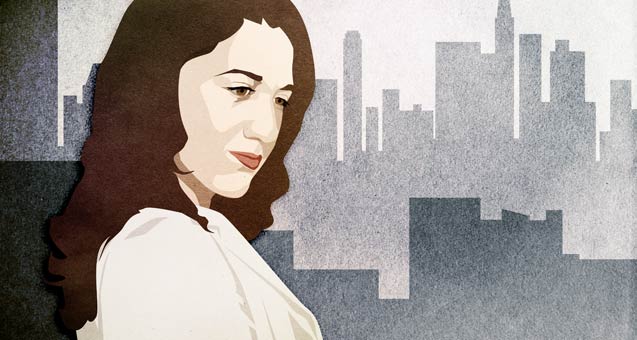 ---
You Should Go!
+ If you're in the Chicago area and enjoy comedy and speed dating, check out the Center on Halsted speed dating on July 31st. There will be stand-up comedians as well as food and drinks! The event runs from 6:30-8:30 pm, and costs $15.
+ Bay Area folks will want to check out Chris Black's TOUGH, a one-woman performance based on the life of boxer John L. Sullivan.
Black's real interest lies in what means "to be strong" and tapping into the special something that both performers and athletes harness in order to become extraordinary. As well as how they confront what she calls "the onset of can't" that occurs in the career of every athlete and dancer when relied upon talents and endurance begin to flag. "The piece doesn't have a linear narrative, although parts of John L's story will be told," says Black.
The shows take place at Z Below (450 Florida Street, San Francisco), and runs Thursdays-Saturdays, July 24-August 9 at 9pm. Tickets are $25.00.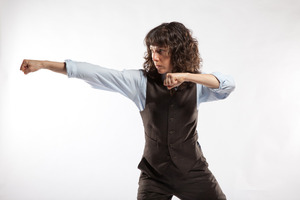 ---
You Should Give!
+ The amazing poet and activist Sonya Renee Taylor is using Indiegogo to raise money for The Body is Not an Apology, a radical self-love project. She is looking to expand the website into an educational source in addition to a supportive online community.
+ Unsure/Positive is a dramedy series about life with HIV. They are using Kickstarter to fund the production of new episodes.
Unsure/Positive is a Dramedy. What exactly is a Dramedy, you ask? Also known as tragicomedy, comedic drama, seriocomedy, or Unsure/Positive (the Series). Humor and Drama combined! A hybrid! The primary goal of the series is to entertain. Fair warning: we may entertain you *while* raising awareness about life with HIV.
+ Dyke Central is seeking funding to produce five new episodes of its increasingly popular webseries.
"Dyke Central," the SF Bay Area-based queer series touted for the diversity of its characters and relatability of its characters, is headed into production to complete Season 1 with some exciting additions to its already sizzling-hot cast – including LA-based 'celesbian' Dalila Ali Rajah (Cherry Bomb) and celebrated comedian D'lo (who recently guest starred in HBO's "Looking").
https://www.youtube.com/watch?v=qShqDqvcvDo
---
Seeking Submissions
+ bklyn boihood is compiling an anthology "highlighting the voices of masculine-of-center and transmasculine people of color," and is accepting submissions through August 31st.
The upcoming anthology entitled "Outside the XY: Queer, Brown Masculinity" is accepting submissions of essays and nonfiction works, interviews, fiction stories of all types, articles, multi-genre pieces, poetry, confessions, letters and prose. All submissions to the anthology will be selected and collaboratively curated by bklyn boihood.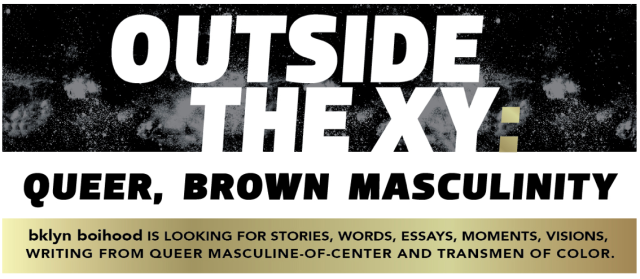 + The Society for Menstrual Cycle Research is seeking visual art submissions for a Menstrual Art Show to be held in Boston this November.
Curator Jen Lewis seeks broad, multicultural perspectives and interpretations on issues related to menstruation and reproductive justice. Additionally, of particular interest is art work created with menstrual blood. The aim of Widening the Cycle is to explore visual art's ability to alter social perceptions and reactions to menstruation. Successful entries will challenge society's deepest assumptions by sparking new ideas, catalyzing critical thinking, and inspiring individuals to take steps in new directions that facilitate social change as it pertains to menstruation and reproductive justice.

Applications for Widening the Cycle will be accepted electronically through November 1, 2014. For information on submission guidelines and eligibility, go to http://www.beautyinblood.com/call-for-art.html.