+ According to the New York Post, "gay or straight, guys are reluctant to say I do." The ratio of lesbian marriages to gay man marriages is, apparently, 3-2. In Connecticut since 2008 (when it was legalized), 3,252 lesbian couples have tied the knot, compared to 2,053 gay male couples.
The New York Post interviews a "family studies" teacher who says this is because "this is the way men and women have been socialized from the time we're born. Go out, don't commit too early' . . . It's the message all men receive."
That's a fun theory, but a lot of what we talk about when we talk about gay marriage are the financial incentives, particularly for health benefits and filing taxes. White gay men are consistently showing up in the top percentile as far as income is concerned and lesbians — not so much. Think about it.
+ While we're on the topic of stereotypes, The New York Times made this map that I feel is relevant to your interests: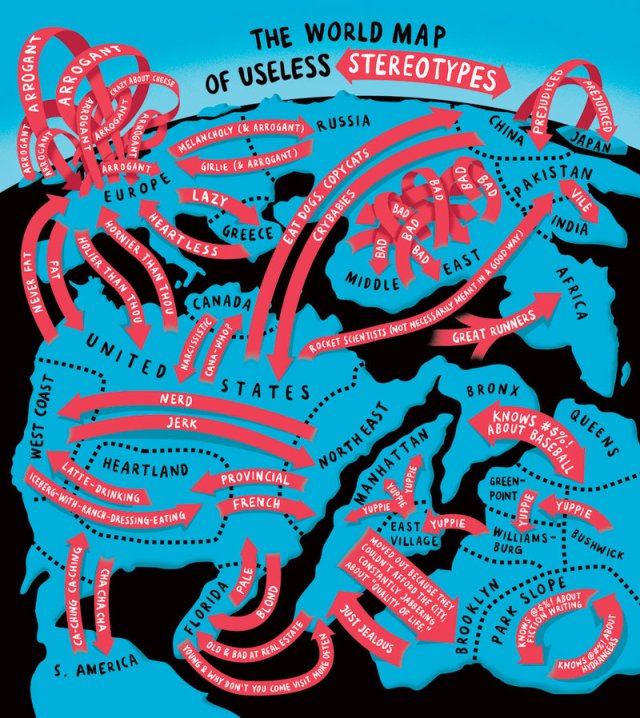 + The show will go on for Lee Hall's Beached, with all 300 schoolchildren in tow. The show was cancelled over disputes about the gay lead character of the opera. Hall was forced to compromise — the word "queer" has been removed from the show.
+ A Brooklyn Bishop has "banned" all politicians who support gay marriage.
+ Is Coronation Street too gay? A bunch of assholes think so.
+Is there still doubt that Obama supports marriage equality? It looks like probably not, for the most part.
+ Competitive eating is dangerous and potentially deadly but still weirdly entertaining to watch.
+ Today the D.C police are addressing concerns about gay hate-crime documentation.
+Don't ever threaten anybody online or gay marriage will never be legalized ever.
+Michigan assistant attorney general Andrew Shirvell, aka the guy who cyber-stalked the gay student body president at University of Michigan, requested a seal trial to protect him from physical harm from those pesky gays. The court shut him the fuck down.
+The US Embassy hosted a gay rights rally in Pakistan last week, but Pakistan conservatives protested and said some really horrific things.
+ Is Trouty Mouth Gonna Leave Glee? Nobody's certain if Chord Overstreet will return this fall.
+People in Holland, Michigan who want to add sexual preference and gender identity to the city's equal employment and anti-discrimination policies are not circulating a petition that would force the city council "to pass an ordinance amendment or put the matter up for a public vote." Instead, they are pressuring the council directly. Hmm.
+A group of people physically and verbally attacked two gay soliders in Colorado. The assailants haven't been caught yet, and the soldiers are withholding their names because being gay is "definitely frowned upon" in their city.
+Are girl music geeks a trend in movies?
+ Someone made a sweet cartoon about the secret lives of a group of muscular princesses. I love the Internet.
+ While speaking at a conference about AIDS, India's health minister warned that gay sex is "completely unnatural" and that homosexuality is a disease.
+ President Barack Obama appointed openly-gay Army veteran Brenda S. "Suewp_postsFulton to his advisory board from West Point. She is the first openly LGBT person to serve on this board.
+Things are looking up on the gay immigration rights battle! It looks like authorities are working to postpone/stop deportation hearings for three gay couples, which is a step in the right direction.
+ Just a quick warning:
[yframe url='https://www.youtube.com/watch?v=SRLEF4kRAKQ']