I've been away for so much of June and truly, really: I have missed you all! I wish we had more time to catch up properly today, but it's been an exceptionally hectic Tuesday (ha! When isn't it exceptionally busy these days?), so we will have to keep it brief:
I hope you remember to drink your water, take your meds, eat chocolate, get some sunshine, and wear a face mask when you go outside. ❤️
---
Queer as in F*ck You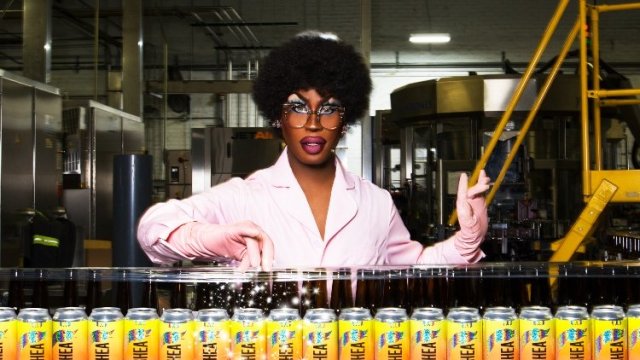 How Shea Couleé's Pride Beer Is Benefiting the Trans Community
What Are You Doing for Pride? From Vanessa: "I am sad that we didn't publish this tbh."
The Pain and Cruelty of 'Conversion Therapy'
'She Just Started Blooming': The Trans Kids Helped by a Pioneering Project. New York's Gender and Family Project aims to support families' immediate needs.
From the always great Lucy Diavolo:
Planned months ago but surreally timed, @TeenVogue is starting a week of trans-focused coverage today. #Transcendence is a series about trans people rising. In our first entry, @chasestrangio writes on the Trump administration's efforts to erase us.https://t.co/laZs1zs0Na

— 𝙇𝙪𝙘𝙮 𝘿𝙞𝙖𝙫𝙤𝙡𝙤 (@SatansJacuzzi) June 15, 2020
It's probably awkward to link to our own coverage in a news roundup, but if you missed the landmark Supreme Court Case on LGBT Rights in the Workplace yesterday or the 15,000 people marching in the Brooklyn Liberation protest for Black Trans Lives on Sunday — we have you covered.
---
Saw This, Thought of You
This one was shot in his grandmother's yard. This one was carrying a bag of Skittles. This one was playing with a toy gun in front of a gazebo. Black girl in bright bikini. Black boy holding cell phone. This one danced like a marionette as he was shot down in a Chicago intersection. The words, the names: Trayvon, Laquan, bikini, gazebo, loosies, Skittles, two seconds, I can't breathe, traffic stop, dashboard cam, sixteen times. His dead body lay in the street in the August heat for four hours.
The Trayvon Generation by Elizabeth Alexander for The New Yorker. Whew, ever read a title and just knew that piece was gonna fuck you up??
"The trauma is repetitive. We weep. But we are still, even in our most anguished seasons, not reducible to the fact of our grief." Racism Is Terrible. Blackness Is Not. by Imani Perry for The Atlantic. Black joy is its own liberation.
We've all been thinking a lot more lately about what prison abolition and defunding the police really looks like, and I'd love to take this opportunity to refer you to the black woman who taught me whatever (admittedly little, but important and impactful) work I know the subject, Dr. Ruth Wilson Gilmore. Here's a new interview with Dr. Gilmore and Chenjerai Kumanyika for the Intercepted Podcast.
Anything I didn't learn from Dr. Gilmore, I learned from Dr. Angela Davis and her germinal text Are Prisons Obsolete? is available for free on PDF.
And in case you missed it, from Mariame Kaba in The New York Times: Yes, We Mean Literally Abolish the Police
U.S. Soccer Repeals Stand-For-Anthem Policy. F*cking Finally.
'Birthing a Nation' During a Pandemic: Indigenous Doulas Try to Maintain Practices and Protocols From Afar
Corporations Now Love 'Black Lives'— But What About Their Own Black Workers? To quote the great prophets Migos, "Walk it Like You Talk it."
My Cousin Was Killed in the Charleston Church Shootings. Here's What Happens After the Cameras Leave. "The promises made in front of cameras, when lights flashed and the eyes of a nation watched, are no more." We must stay vigilant. This is a movement, not a moment.
I guess there will be sports this summer after all? I'll have to get Natalie back on my tutoring lessons, so I can meet my future wife. SPORTS!
The WNBA announces plan to tip off 2020 season.

Read more: https://t.co/MkCOlYdRAx pic.twitter.com/brb2IPPLue

— WNBA (@WNBA) June 15, 2020
Fiona Apple Pledges to Donate Two Years of Song Royalties to Charity. And for the rest of us, How to Make Your Donations Count
---
Political Snacks
'We've Seen Our City Set Ablaze' Rep. Ilhan Omar on the fight against structural racism and injustice, and the Congressional Black Caucus.