feature image credit Jane Philomen Cleland
Hello knowledge-seekers! This week I participated in a Wikipedia editathon at my school's library, where I got to use special collections materials and archival resources to improve Wikipedia articles about Washington, DC! Here's the news we missed while I was geeking out over local queer history.
---
 Strong Women, Fictional and Real
+ Fabled Asp (Fabulous/Activist Bay area LEsbians with Disabilities: A Storytelling Project) is a "multimedia online archive that documents forty years of activist history and creativity."
Over the past four decades, disabled lesbians of the San Francisco Bay Area have claimed their worth and their beauty in a culture that rarely showcases their images. The project illustrates the richness of disabled lesbian artistic expression, featuring physicality, performance, and visual art. There's the wheelchair basketball teams the Meteorites and East Bay Pirates, the theater groups Wry Crips and Fat Lip Readers Theater, AXIS Dance troupe whose disabled and non-disabled members move together, and an art and mixed media project The Lineage Project. A memorial quilt honors twelve disabled lesbians who were poets, singers, artists, politicians, and activists.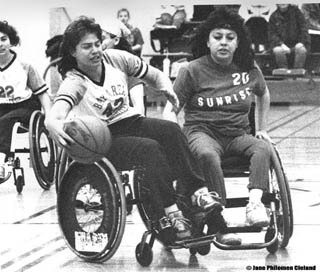 + The world is getting tired of "strong female characters" who aren't portrayed as complexly as they should be, or who look like they're going to be spectacular and then fall flat.
Bringing in a Strong Female Character™ isn't actually a feminist statement, or an inclusionary statement, or even a basic equality statement, if the character doesn't have any reason to be in the story except to let filmmakers point at her on the poster and say "See? This film totally respects strong women!"
+ The Princes and the Treasure is a children's book about a lesbian princess who rescues two gay princes, and maybe she'll actually be a well-rounded strong female character.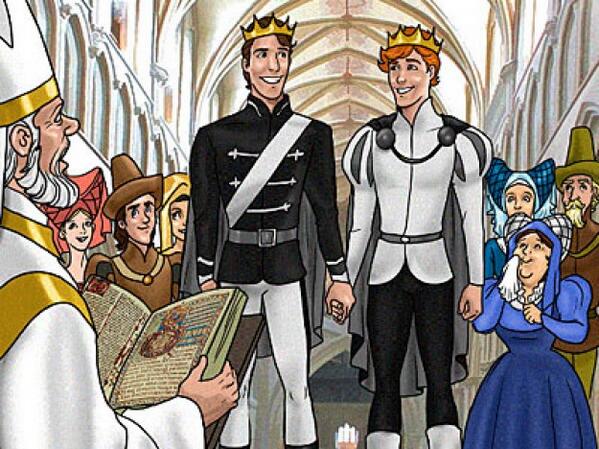 ---
Let's Talk About the US Government!
+ President Obama gave a speech commemorating the achievements of movements for LGBTQ equality, but acknowledged that much more progress needs to be made. Even though the rhetoric that working hard is all one must do in order to "make it" in this country seems like an overly simplified (and pretty inaccurate) perspective, Obama did address many forms of oppression and inequality for people at the margins and intersections of society.
+ For the first time in US history, the Senate confirmed two openly gay federal judges in one day. This has prompted many organizations and activists to call for further diversity in government representation.
Lambda Legal also hailed the confirmations but noted that the court system still needs more diversity. "Today, it is more important than ever that our courts reflect the growing diversity of our country, but we have a long way to go," said a statement from Fair Courts Project manager Eric Lesh. "There are nearly 900 federal judges in the U.S., and most are white men. Federal courts are charged with providing everyone with equal access to justice, and yet justice has not always been a reality for some. A diverse judiciary serves not only to improve the quality of justice, but to boost public confidence in the courts."
+ The 6th Circuit Court of Appeals (a federal appeals court based in Cincinnati, OH), will hear five gay marriage cases on August 6.
---
Problems at Pride, Problems With Pride
+ Bisexual activists took issue with the fact that NYC Pride's three grand marshals represented the lesbian, gay, and trans communities, arguing that this was a particularly harmful instance of bi erasure. However, activists from BiNet USA and the New York Area Bisexual Network say that NYC Pride has addressed and listened to their concerns, bringing closure to this disagreement.
"We have received a firm commitment from NYC Pride on its intention to be inclusive of bisexual communities and identities this year at Pride," Cheltenham writes on BiNet USA's blog, noting that "we've been heard." "We also feel confident that NYC Pride will welcome bisexual community participation in the planning stages for future NYC Pride events."
+ Witnesses have provided verbal accounts and video of police brutality at Pittsburgh Pride, where an officer used excessive force on a gay teenager.
+ Pride movements around the world have received criticism for failing to properly acknowledge the history of queer activism, for being too corporate, and for excluding members of various queer communities. Emma Caterine at Youngist calls for a radical shift in the way we view Pride, and the way we behave at it.
---
You Should Go!
+ The House of Babes Dyke March After Party will take place on Saturday, June 28 from 7pm-3am at Public Works (161 Erie Street, San Francisco, CA 94110) following San Francisco's Dyke March.
This second annual Dyke March after-party boasts 2 dance floors, 4 bars, smoking hot GoGos, LIVE performances by NYC Hip-hop darlings Cakes da Killa and JunglePussy, International Superstar DJ Lisa DeLux (Vancouver) and The House of Babes DJs spinning the BEST in hip-hop, trap, twerk, & club beats. 

Dyke March attendees should head right to The House of Babes from Dolores Park as they will be hosting a super babely happy hour with a huge outdoor area, food trucks and super cheap drink specials. Plus, SF Party  Nails will be offering party-goers a chance to get their nails did while SnapPea photo booth will be providing a free photo booth for attendees!
+ Also in San Francisco is the Frameline38 San Francisco International LGBT Film Festival, with films screening from June 19-29 at the Castro Theatre, Roxie Theater, and Victoria Theater, and in Berkeley at Rialto Cinemas Elmwood. There will be movies, panel discussions, and cool people!
With an expected attendance of 65,000, the 11 days of Frameline38 will bring together film lovers, media artists, and LGBTQ communities from the Bay Area and all across the globe to behold the best in queer cinema from nearly 800 film submissions. More than 30 countries will be represented, including Germany, Venezuela, Slovenia, Mexico, Finland, France, and a spotlight on LGBT Films in Today's Russia. Tickets for Frameline38 will be on sale through www.frameline.org to members on Friday, May 23, 2014 and to the general public on Friday, May 30, 2014.
+ The Leslie-Lohman Museum of Gay and Lesbian Art will be showcasing feminist works that challenge body oppression through art all summer (well, through July 27, at least)! After Our Bodies Meet: From Resistance to Potentiality is a featured art exhibition that "explores queer feminist artists' responses to dominant notions about the body from the 1970s to present day."
---
You Should Give!
+ The Switch is a new comedy about trans characters who are actually played by trans actors! The show was created by Trembling Void, an independent Canadian studio, and they need some help fundraising!
The Switch represents an historic milestone – the first transgender comedy to air on television, and the first television show with a trans lead. It's sharp, political, a touch confounding, and ready to look critically at intersections of identity + oppression. It touches on poverty, privilege, sex work, dysphoria, access to support services, and resistance against corporate hegemony. It will be available to watch on TV and online.