Welcome to Almost Famous, a weekly segment where we ask up-and-coming queer musicians some not so hard-hitting questions about music and life and maybe even convince them to share photos of their pets. Get to know intimate details about your new favorite artist or band before they hit the Big Time and become too famous for us to interview for real.
Header by Rory Midhani

---
Kristen Ford
Boston, MA
Kristen Ford writes songs, sings and plays guitar in the Kristen Ford Band. Kristen's music was a reader recommendation and I was hooked at first listen; she's got this seriously smooth voice, an effortless acoustic indie vibe and a whole catalog of memorable jams for you to get into, such as the catchy "Loved You Madly" which you can check out below.
Since 2008, Kristen's been busy. She's played over 500 shows, released five records of various lengths, toured the world and produced events for queers, zombies and others who enjoy live music. She's currently working on her next record, promised to be the biggest and baddest yet. You can get the run-down via the world's most adorable pitch video (featuring Kristen's mom!) on this KickStarter page.
How would you describe your music?
I would call it indie rock. That's an elevator pitch short version of I love all kinds of music, folk to country to raunchy pop songs to rock n roll to metal to reggae and jazz. I think what comes out are pop songs, malleable to the folk scene or the rock scene. I also have a lot of anger and joy inside of me, which I think comes out as just tons of energy onstage and in the songs.
Which song of yours would you most like our readers to hear?
I think "Loved You Madly" is a great place to start. Lots of genres and lots of feelings packed into one tune.
[soundcloud url="http://api.soundcloud.com/tracks/21959371″ params="" width=" 100%" height="166″ iframe="true" /]
Can you tell us a little about the next record you're looking to make?
I'm looking to take my time with this record. Each prior time in the studio it's been all about rush rush, crunch time because time is money. The new album is going to be recorded in pieces in different studios, with different lineups. I'm not going to be limited to what I can play live; I may hire a Latin band for one song, a horn section for another, a string quartet if that's what's needed. I'm also looking forward to having some dancey tunes and incorporating electronic elements for the first time.
So far I've got about 20 songs I'm considering, and still writing. We will whittle that down to pre-producing and or tracking about 15, then whittle the recordings down to the best 8-10 songs.
What was the first and last record you bought?
The first tape I ever bought was Mariah Carey's Butterfly. I'm biracial and she is too, so I've always been a fan. The last record I bought was Phoenix's Bankrupt. Phoenix is one of my favorite bands today.
What inspires you to write?
Sometimes being upset, travel, meeting people, boredom, procrastination, getting hired to produce a song, lots of things.
What was the last piece you wrote about?
I was biking home in the pouring rain, about to turn around and head back to my second job later that night, just feeling beat down by life in a very expensive city. Some words popped into my head and I sang it till I got home to my guitar. You can hear a demo of the song on my Kickstarter page.
What is the best and the worst thing about touring?
Best thing about touring is almost everything. I love it love it love it. Playing music each night, meeting new people, seeing new places, trying beers from all over the place, feeling like I'm being who I want to be. The worst part is perhaps paying for gasoline.
What's your 'guilty pleasure' music?
Sugar Ray. And some top 40 trash.
Have you ever had to work a terrible job to pursue your music career?
Ha! I suppose terrible really depends on your mindset. My jobs are always to support myself and therefore my music. All the extra cash goes back into the music business. I'm currently working in music related fields when I'm not full time touring, but the worst job I had for two weeks was sorting rotten onions and tomatoes at a discount food store- they sold dented cans and discontinued breakfast cereal and such. I didn't last too long. Ooh – I also once worked for a temp agency that had me working the night shift at a vegan hot dog factory. Only lasted one night there. There must be a special place in heaven for factory workers. It's tough.
Do you have any pre-show rituals?
I like to check my teeth in the mirror. Sometimes I'll have a set list written out, sometimes I wing it. I always like to size up a venue for at least an hour before showtime, booze often helps.
If you could share a line-up with any two artists?
Ani DiFranco and Radiohead.
Describe the environment that you write your songs in.
Songs come to me anywhere and everywhere. It seems to help if I need to walk out the door in 10 minutes. I work well under pressure. I prefer to be completely alone in an environment where no one will hear me. When that's not possible, I just do what I can.
What is the best piece of advice you've received?
In the words of Jimmy Cliff – "You can get it if you really want, you just try try try, you'll succeed at last."
What was the last thing you read?
World War Z. Before the movie came out. I've been reading Howard Zinn's People's History of the United States forever, plus Your Band is a Virus, a music marketing guide. I also read the manual for the Presonus studio live 24 channel digital mixer recently.
Who is your idol?
Ani DiFranco is probably my favorite, both for her musicianship and her business sense. I hope to someday meet her and perform with her, and to play it super cool. Like oh hey, what's your name? Oh yeah nice to meet you, whatever. I also recently learned about Emma Goldman – man she was a bad ass! It's important to remember how hard people have had to struggle for things we take for granted.
Do you have any pets?
I have included a picture of my fish Bruce; he's very brave and survived a drop in the sink recently. Also there's my girlfriend's gerbil Willow. I guess Willow and I share a room so I'll claim her as my pet, sorta.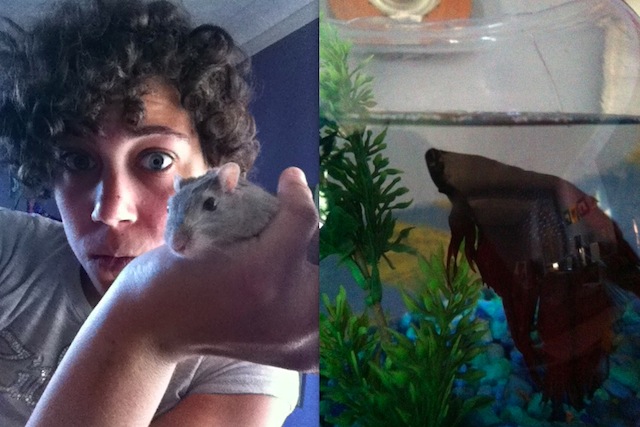 Kristen's entire music catalog is available via BandCamp for whatever price you want to pay. If you're interested in supporting her new record, head to KickStarter and make a donation before August 14. Shortly she'll be hitting the road on tour- you can stay up to date via her website and Twitter.
---
If you are, or know of, a queer artist or band that should be featured in Almost Famous, drop me the details via crystal [at] autostraddle [dot] com. Please write 'Almost Famous' in the subject line!