Welcome to Almost Famous, a weekly segment where we ask up-and-coming queer musicians some not so hard-hitting questions about music and life and maybe even convince them to share photos of their pets. Get to know intimate details about your new favorite artist or band before they hit the Big Time and become too famous for us to interview for real.
Header by Rory Midhani

---
Dalice Malice
Chicago, IL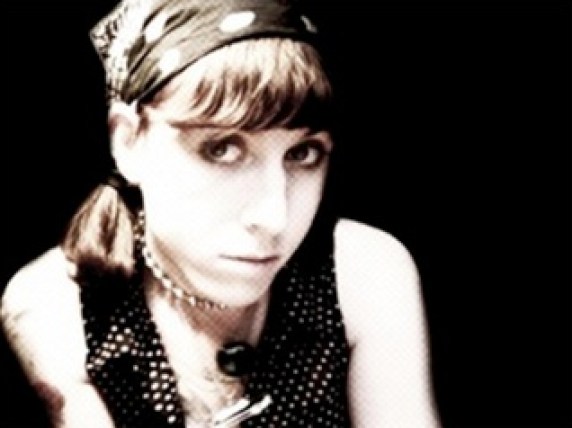 Dalice Malice is a loud queer trans folk singer and multi-instrumentalist who kicks around Chicago, plays two types of ukulele and knows how to rock a mandolin and rainstick. She's spent the past decade singing songs for strangers and friends, recording and releasing a heap of records and working toward her dream of one day opening for Ani DiFranco.
On April 18 Dalice Malice is playing a show in Chicago and you'll probably want to go check out after she charms you below.
How would you describe your music?
As one of my partner's says: I'm a folk singer, but loud.
What instrument/s do you play?
Guitar, bass, banjo, mandolin, autoharp, baritone and soprano ukulele, piano (kinda) and rainstick.
Which song would you most like Autostraddle readers to hear?
A demo of my newest song, "Horror Show".
[soundcloud url="http://api.soundcloud.com/tracks/86282450″ params="" width=" 100%" height="166″ iframe="true" /]
What's your 'guilty pleasure' music?
Music is like sex: as long as you're not hurting anyone, you shouldn't feel ashamed of what gets you off. That said, I do have Aqua's album, Aquarium, in my iTunes library.
What is the best and worst thing about touring?
Touring.
If you could only listen to one album for the rest of your life, what would it be?
Harvey Danger's Where have all the Merrymakers Gone.
If you could share a line-up with any two other artists, who would you choose?
Alive: Ani DiFranco and Neko Case
Dead: Utah Phillips and Woody Guthrie
Friends: Heidi Barton Stink and Imogen Binnie
When you're famous what will be the name of your autobiography?
Dalice Malice: The Butchest Femme You Know.
What was the last book you read?
I just finished the 2008 Guardians of the Galaxy series, because I'm a nerd.
What is the best concert you've been to?
By far, best concert: Chinese Happy's album release show for their album Rampage. In the middle of the set the guitarist got into a kiddie pool and was covered in sugar. For real.
Do you have any pets?
No. But my partner has a kitten who's part cyborg.
Dalice Malice is performing at the Hard Rock Cafe, Chicago on April 18th at 8pm. If you wanna go along to support then you can purchase your $5 tickets here.
More information about Dalice Malice, including where to listen to and buy her numerous recordings, can be found at these places:
dalicemalice.com
facebook.com/dalicemalice
twitter.com/dalicemalice
dalicemalice.bandcamp.com
If you are, or know of, a queer artist or band that should be featured in Almost Famous, drop me the details via crystal [at] autostraddle [dot] com. Please write 'Almost Famous' in the subject line!