Welcome to Almost Famous, a weekly segment where we ask up-and-coming queer musicians some not so hard-hitting questions about music and life and maybe even convince them to share photos of their pets. Get to know intimate details about your new favorite artist or band before they hit the Big Time and become too famous for us to interview for real.
Header by Rory Midhani

---
Abby Brown
Boston, MA
Abby Brown is a singer-songwriter and recent Berklee College of Music grad who creates "catchy, confessional folk songs." Originally from Iowa and now residing in Boston, MA, the word on Abby's music is starting to get out. Her tracks have been featured on Wellesley College Radio (WZLY), Homoground and Women of Substance Radio and been taken to the stages of venues such as Harvard Square, Faneuil Hall and the prestigious Berklee Performance Center. Abby is also co-writer and session player. Most recently she wrote the theme song for the new webseries Two Girls One Theorem.
Tomorrow, July 25, two significant events are occurring: Abby is releasing her new EP, Go All In, and playing a release show at the Midway Cafe in Jamaica Plain, MA. After hearing the track below you'll probably want to check one or both of those things out.
How do you describe your music?
I usually tell people I'm a folk singer-songwriter. I think I've got a little more angst than most singer-songwriter music, and far less wit than most authentic folk music, but it's a good starting point.
Which track would you most like everyone to hear?
"Gamble" tends to be the song that people say they like most. I tried to be as honest as I could with this one, and that meant restraining myself from writing as one of the relationship clichés: victim or villain. Most times people aren't really either one in a breakup, and that's where this song is coming from.
What do you get up to when you're not making music?
Work keeps me pretty busy (and sleepy!), but when I have free time I usually have my nose in a book. I live in Jamaica Plain, a serene suburb of Boston filled with queers and dogs and actual nature, so on my days off I'm usually enjoying what JP has to offer and riding my bike around town.
What's your 'guilty pleasure' music?
I tell people I like going to clubs to socialize and meet girls, but really I just like having an excuse to sing loudly to top 40 music. (Also I'm secretly afraid of cute girls, so really that's just a lie any way you look at it.)
If you could share a line-up with any two other artists?
One of my biggest dreams is to someday open for Brandi Carlile. To me, she raises the bar for what a performing singer-songwriter should aspire to be. And since I'm already dreaming, I'd also choose Ray LaMontagne. Because it's Ray LaMontagne.
What was the last book you read?
I just finished Night by Elie Wiesel. At first I tried to read it on my morning commute, but I quickly realized I don't like tearing up on the train in front of strangers.
Have you ever had to work a terrible job to pursue your music career?
I'm currently working as a pastry chef in a bakery. The job itself isn't bad at all; sometimes it's even a little fun. But the hours I have to keep are pretty rough for this night owl. I'm now waking up at 4am – the same time I used to fall asleep.
The last song you wrote – what was it about?
I'm working on one right now that was inspired by reading Stone Butch Blues for the umpteenth time. I was moved by the relationship between a butch identity and vulnerability, and especially what that means for a significant other in the picture. I don't usually write about such tough topics, but this song started forming itself in my head while I was reading, so I'm going to see this one out.
Does your new record have a particular theme?
Go All In is the culmination of the past four years for me, which have been filled with major life events. I moved from Iowa to Boston, came out, survived college, got a music degree, and got my heart nice and broken a couple times. I started writing the songs that are on this CD about halfway through college, when I was 19 (cue Tegan and Sara) and each one is about a different event in my life that impacted me. Releasing this CD feels both like closure and a fresh start.
Do you have any pets?
Although she's not mine, my roommates have the most lovable pit bull there ever was. Say hello to Bounce! She enjoys long walks through the park, cuddling, and surprise attacking you with ferocious kisses. She doesn't like sharing the bed.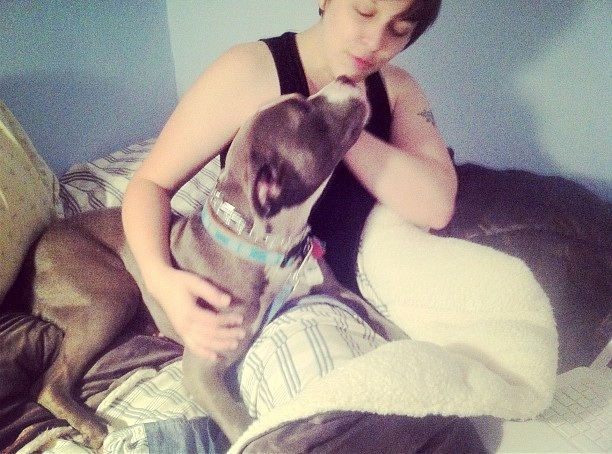 For details about where you can pick up the Go All In EP or catch Abby performing live, visit her website, like her on Facebook or follow her on Twitter.
---
If you are, or know of, a queer artist or band that should be featured in Almost Famous, drop me the details via crystal [at] autostraddle [dot] com. Please write 'Almost Famous' in the subject line!