ADAM LAMBERT:
Adam Lambert was unfortunately missing in action at our own VMAs in LA this year but he somehow showed up at the MTV European VMAs in Belfast, Ireland of all places. Get ready for eight minutes of Adam in black leather as he joins Queen on stage for a medley of the classics, "Show Must Go On," "We Will Rock You," and "We Are the Champions."
[yframe url='https://www.youtube.com/watch?v=e-XlIRaBH6c']
You might also remember our young, make-up free Glambert auditioning for Idol with the Queen classic "Bohemian Rhapsody":
[yframe url='https://www.youtube.com/watch?v=l5-pXsAQLq4′]
Finally, an update via Twitter regarding the delay of the first single off his upcoming musical masterpiece: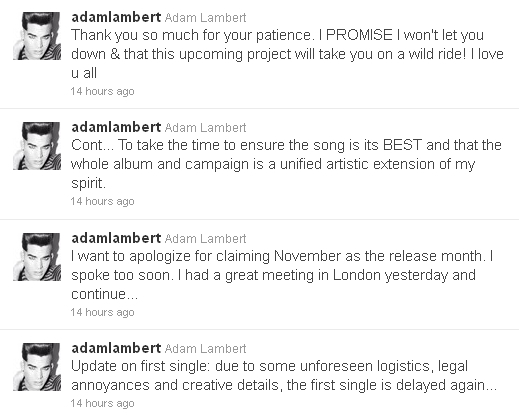 RICKY MARTIN:
What a long way we have come from some serious sexuality denial to now being granted Spanish citizenship so he can take advantage of their gay marriage law and marry his boyfriend! Ricky is currently raising his twin three-year-old sons with his partner Carlos Gonzalez Abella. He spoke about the possibility of getting married when he appeared on Larry King last year:
"Yes, we could go to Spain and get married. We can go to Argentina and get married. But why do we have to go somewhere else? Why can't I do it in my country where the laws are – you know, protecting me? I can go to Spain. I have many friends in Spain. And get married. And make it very beautiful and symbolic. But… I [can't] do it in the backyard of my house. I want to have that option. I don't want to be a second class citizen anymore. I pay my taxes. Why can't I have that right?"
QUEEN LATIFAH:
Add one more homo to the list of daytime talk show hosts. She is partnering with Will Smith's Overbrook Entertainment to create her own syndicated talk show, but she'll sit out the current round of competitive development with the hopes of launching in fall 2013.
FUN HOME:
Lisa Kron and composer Jeanine Tesori are adapting Dykes to Watch Out For creator/cartoonistAlison Bechdel's phenomenal graphic novel Fun Home (coincidentally chosen as Autostraddle's Book Club #4!) to a stage musical via the Sundance Institute Theater Program! As a taste for what you're in for, I'll leave you with an excerpt from the original source material which focuses on Alison's relationship with her father and coming to terms with the fact that she's gay:
"My father and I grew up in the same small Pennsylvania town and he was gay and I was gay and he killed himself and I became a lesbian cartoonist."
IF GOD WAS A HOT GIRL DJ:
Check out this list of 10 female DJs you should know!