ADAM LAMBERT:
Since Glambert was all tied up last week dealing with the Malaysian government, he needed til the weekend to make his "It Gets Better" video.  He confesses that he is still a victim of bullying today, despite the success of his career, and cites the comments section of articles written about him as often containing some form of homophobic abuse.
.
Adam also gives this pretty insightful interview from his stop in New Zealand last week. He chats about the liberal Kiwi culture vs. Americans, sheds some light on the Idol contestant casting process and his Saturn Return moment at 27 when he realized he needed to earn a living among his peers.
.
THE TALK:
The new View-esque daily show, The Talk, starring Sara Gilbert (yes, Darlene from Roseanne), Julie Chen, Sharon Osbourne, Holly Robinson Peete and Leah Remini premiered this morning.  They had a discussion about the word "vagina." It's obviously way too soon to judge, but Gawker doesn't let that stop them. Don't worry, we'll let you know when Sara starts talking about being a gay mom. The show airs daily at 2 p.m. EST. I miss Rosie on The View. (@gawker)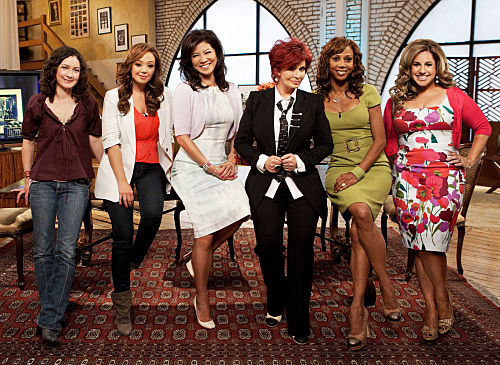 NEWSWEEK / RAMIN SETOODEH:
Guess who's back?! It's celebrated Newsweek writer, Ramin Setoodeh who left the magazine in June to write for People. Well, he must have lit the world on fire over there because he's leaving that gig and returning to Newsweek 4 months later. He says:
"Look, People is the most-read magazine in the country, but it wasn't the right fit. I'm grateful to [editor] Larry Hackett for being supportive and letting me try something new. But Newsweek still has some of the best reporters, and young reporters, in the business. Don't count us out."
How does this guy keep getting second and third chances with huge corporations when there are countless unemployed writers? (@nymag)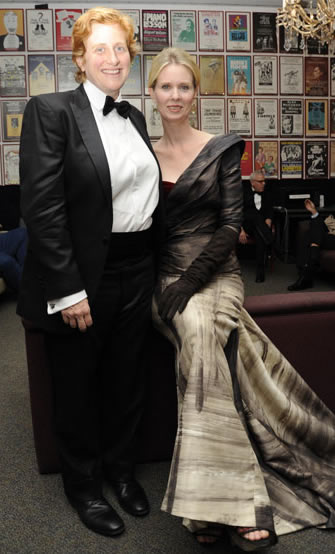 CYNTHIA NIXON:
Time for a Cynthia Nixon/Christine Marinoni update. The couple appeared at the Susan G. Komen Global Awards at the Kennedy Center in Washington D.C. last night. Miranda is back on cable tonight in a recurring role on Laura Linney's new show, The Big C.
"…looked elegant in her stunning off the shoulder coffee and cream colored tie-dye gown and her elbow length brown suede gloves, but as she posed for pictures she showed off what looked like a pair of Birkenstock flat sandals."
(@dailymailuk)
KE$HA:
She's claiming her first single "We R Who We R" off the new album is about life as an eccentric and is dedicating it to the gay teens who are bullied in schools.
"It's a celebration of any sort of quirks or eccentricities. I feel like I'm creating this hopefully very youthful and irreverent movement of the kids, of, like, adolescence. I feel like the parents don't get it, but the kids get it. And they deserve to have more good, positive music."
Mkay. Wake me when  Gaga's "Born This Way" comes out. You should also know that Ke$ha got up on stage at Dinah Shore this year and claimed her music "is about gay rights" drawing an uncomfortably collective WTF from the crowd.  (@ew)