Welcome to the first of four fantastic recaps of our experience at A-Camp 3.0, which took place 2.5 hours outside of Los Angeles at Alpine Meadows Camp atop a mountain in Angelus Oaks, California, from May 23rd-27th, 2013. These recamps serve to ease our collective separation anxiety, enable us to wax nostalgic over times gone by and provide prospective campers with a brilliant glimpse into the A-Camp Experience.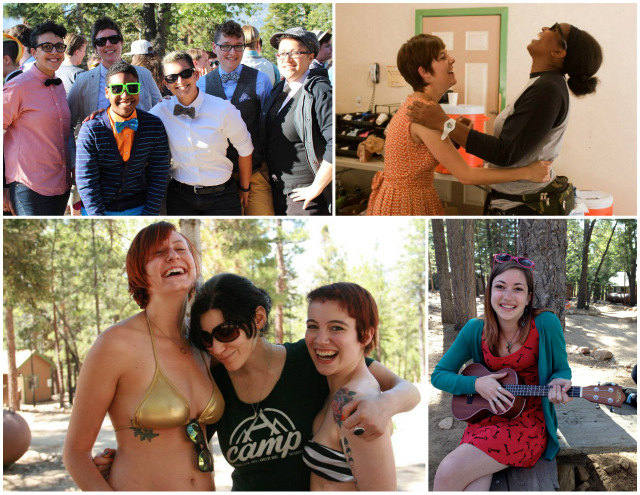 A-Camp was the genesis of an idea Riese had at 3AM in July 2010: the concept was to take the spirit of the website into three glorious dimensions and create an affordable vacation for queers for whom other lesbian-marketed vacations aren't a perfect fit.  In April 2012, we did it for the first time— along with 160 campers and 35 staff members, we rented out a summer camp in its off-season and enjoyed a transformative weekend of fun, friendship, panels, workshops, classes, sports, entertainment, events and so forth. It was probably the most awesome experience of our life and we knew from there it would only get bigger and better — and it did, in September 2012!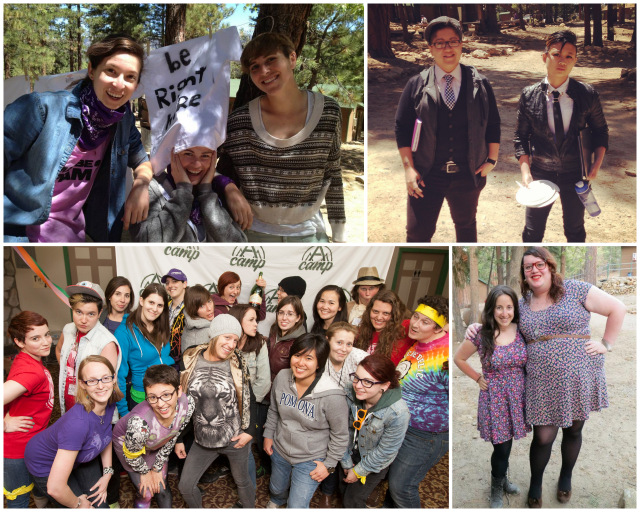 Which brings us to May 2013, when our largest-ever group of campers arrived on the mountain, and were greeted by dedicated counselors and treated to four days of kickass programming. Swagger 101! Comedy Improv! Yoga! DIY Body Scrubs! Hop-Hop Dance! Kink Panel! Know Your Whiskey Tasting! Recess Games! Drag King Workshop! Femme Luncheon! Lilith Fair! Julie Goldman & Brandy Howard! DeAnne Smith! Somer Bingham! The cast of Unicorn Plan-It! Calendar Girls! Team Autostraddle! Most importantly: EACH OTHER! And So. Much. More.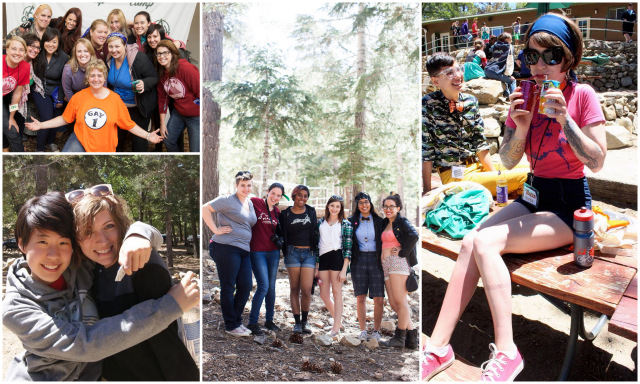 In the past, these recamps have been exhaustive recollections of every minute of A-Camp, but this time we're tightening it up a bit. See, A-Camp is whatever you want it to be — and it's something different for everybody. You all have your own stories in your hearts and brains and cameras and in the notebook paper pieces in your back pockets and this is our story of what goes on behind-the-scenes and also in the front of our brains to make this whole she-bang come together with relative grace. Are you ready? I don't think you're ready. (Also, we miss you!)
---
A-Camp May 2013 Recamp #1: Pre-Camp & Day One
Monday, May 20th
The night before traveling to Los Angeles, a lengthy reply-all takes place as everybody panics and also worries about Gabby having bronchitis.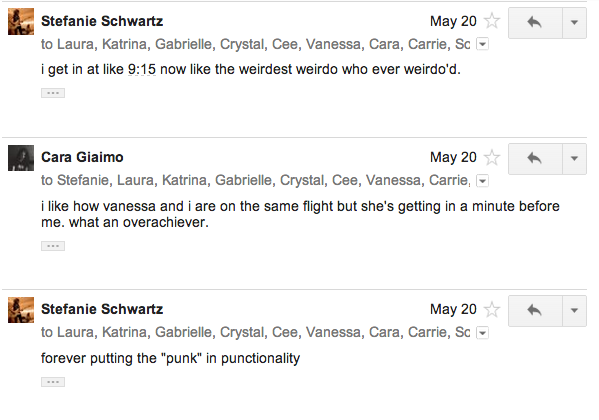 Tuesday, May 21st: Pre-Pre-Camp
The day before Pre-Camp, the A-Camp staff makes its way to the campsite in Angelus Oaks, a mere 2.5 hours outside of Los Angeles. This involves locals driving in vehicles and foreigners traversing land and/or sea via air and landing at the Los Angeles Airport to be retrieved by an overpriced shuttle and taken up the mountain as a family or, for those arriving later in the day, via rented automobile. It is a joyous time of reunions and introductions.
Riese Bernard, Editor-in-Chief & Runaways Counselor: Marni and I drove down to Los Angeles on Monday and stayed at Alex's, and then drove to Angelus Oaks the next morning while Alex and Mary fought the epic battle of Boxes-Of-Hoodies vs. Car. As per ushe, I'd had to compact all five feet and ten inches of my body into a overhead-bin-friendly size in order to fit all our camp supplies into our economy-sized rental car, which included three bags where my legs would normally have rested. But once we began the mountainous ascent, my fixed-muscular-position-induced fibromyalgic pains faded and were replaced by this nervous anticipatory feeling of being back at Alpine Meadows! It's so weird how much it feels like home. And I knew that in 24 hours it wouldn't even seem like a big deal that all my best friends were a pebble's throw away and in 48 hours there'd be 147 brand-new faces and 112 familiar faces right there with us!
Marni, Contributor & A-Camp Co-Director: Altitude aside, I feel so lucky that we've found Alpine to host A-Camp. Katie, the site's Group Coordinator and erstwhile "lunch lady" has been nothing short of amazing in accommodating all of our weirdo requests (can we use your photocopier to make flyers for our afterparty at "Klub Deer"?), and the kitchen staff (who had only been recently installed on-site a week before we arrived) were champions in meeting our group's exhaustive dietary needs. Even the housekeeping staff and groundskeepers ask me for camp t-shirts and tell me how excited they are to have us and how much they want us to come back. And for a group like ours – weirdo queers of all stripes – that kind of warm, welcoming, enthusiastic acceptance is really something.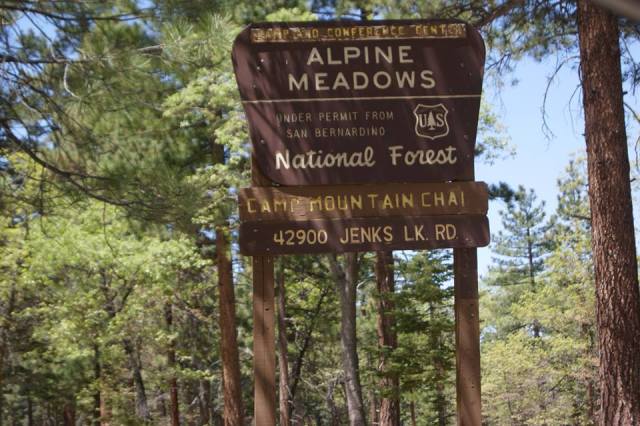 Stef, Contributor & Bombshells Counselor: Katrina and I didn't fly together, but we did go to the airport together, and in the process we were chased up the subway stairs by a very scary and very aggressive crackhead. Suffice to say, by the time we disembarked from our respective redeye flights, we were a little bit fried.

Rachel, Senior Editor & Slayers Counselor:  I was able to recognize Taylor immediately because she was the only person in LAX wearing Google Glass to drink lemonade in an airport bar. Kristen and Whitney were there too, and Kristen had thankfully brought several full-size bags of ketchup chips. God bless Canada.
Stef: I want to talk about Ali, and the fact that Ali flew in a goddamn bowtie. She stepped off the plane looking like a million bucks. Like, I thought I was ahead of the game because I followed Lizz's article about how to feel less disgusting after flying, but Ali took this to another level entirely. I was about to learn a lot of amazing things about Ali this trip, like the fact that she rises with the dawn each morning, beaming widely, looking fresh as a daisy and ready to greet the day, while I communicate exclusively in dinosaur noises before my morning coffee. I am obsessed with everyone on Autostraddle staff and every single camper, but currently I am obsessed with Ali the most.
Riese: Also Ali got stopped by airport security because they thought her binder was a bulletproof vest, which is horrible/hilarious.
Carmen, Contributing Editor and Inferno Counselor: Geneva and I were coming from Los Angeles and expected to be on time, but a mixture of overpacking, last-minute camp cabin decoration shopping, and general inabilities to coordinate our time well led us to show up at LAX fifteen minutes later than our peers with a Quesadilla Maker (a gift for Brittani Nichols, of course) and a 12-pack of beer in tow using one of those Smarte Cartes (why the e's?) to cling to our sanities and lives.
Lizz, Contributing Editor and Starjammers Counselor: I know it sounds lame to say "I had so much fun hanging out with everyone in the airport," but it was just so good to see the staff. We were all exhausted and giddy that we ended up just shooting the shit for hours instead of doing typical airport things like listening to music or reading.
Stef: Because I was wearing a goddamn captain's hat, somehow I ended up in charge of collecting all the staff members and putting them on a shuttle, and in this process I was able to shed the negativity that had literally chased me here and start getting pumped about what we were about to do. It was so exciting to slowly amass a giant group of Autostraddle staff, both returning counselors who I already knew I loved working with and the newer writers, who were all amazing in their own right.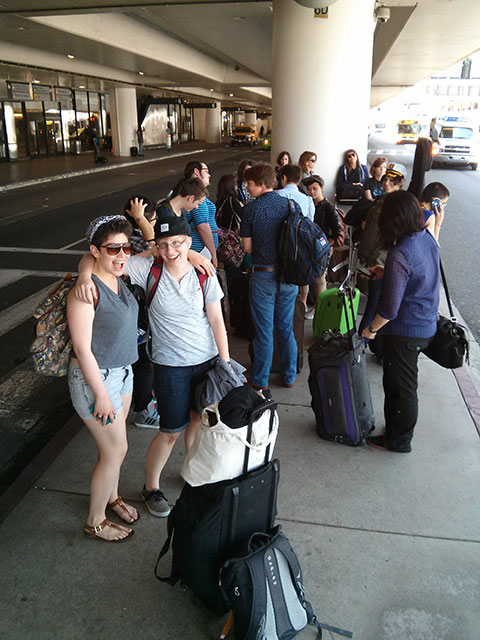 Mey, Contributor & Slayers Counselor: I was totally starstruck… these are some of the people who helped to shape my queer identity. This is the website that I lurked on seemingly forever in order to get advice and find like-minded people when I was too scared to come out or couldn't find queer lady friends in my hometown. And now I was sitting on a bus with them? Now I was getting hugs from them? This was too much.Meeting all these people and becoming a part of their community filled me with so much hope and love and warmth and brightness.
Lizz: Even the long drive up was fun. As we approached the mountain Ali started to get a little nervous about the huge death cliffs. Okay obviously I did too. I tried to tell Ali stories to make her feel better but the only ones I could access in my brain-space were scary ones about me and heights. We got there safely in the end though I suppose.
Mary, Calendar Girl & Little Rascals Counselor: It took Alex about four hours to pack our car before we nabbed Brittani and drove up the mountain. By the time she was done, the vehicle looked like it belonged to a hoarder. Driving on the freeway in downtown LA with no way to check your blindspot? Priceless.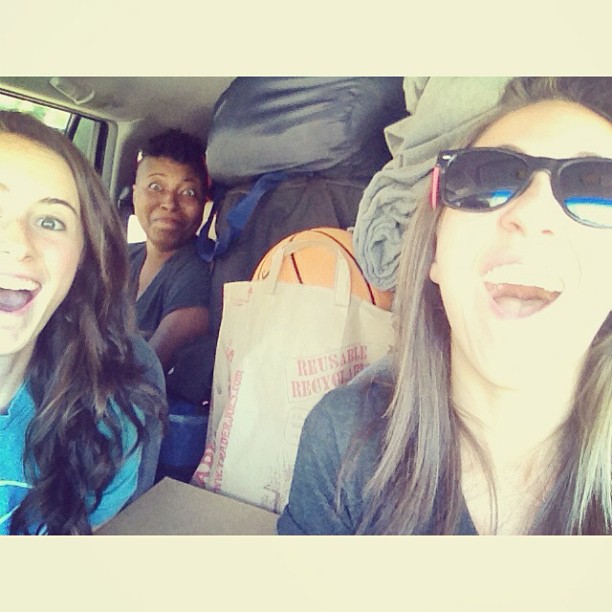 Riese: Robin and Carly got to camp right after we did and we were SUPER-EXCITED about the shuttle showing up with all the humans in it so we hid behind a tree for 20 minutes waiting to leap out from the woods and surprise everybody. It was super-exciting, and then I got to see all the people and also meet Mey and Cara and Kristen for the very first time! And later that night I'd meet Kate for the first time!
Mey: Here were Riese and Laneia, who had given me chances and encouragement to write for Autostraddle and share my feelings and experiences in a way that no one ever had. Here were Kristen and Lizz who wrote things that had helped me shape my identity and grow as a femme. There were Kate and Carmen and Hansen, whose columns I read all the time, and Whitney and Katrina whose articles I love (and everyone else I didn't mention, it's not that I don't love you, I'm just running out of room to gush).
Sophia, Inferno Counselor: I was a hot mess Monday night, I didn't have my flights in order or anything, I was sending nutty emails out like PRE-CAMP IS TOMORROW?? when my flight left in less than four hours. I missed my first flight out of Dulles, but managed to get on the next flight to LAX leaving seven hours later and arriving in the evening. It turned out to be very fortuitous as Kate missed their flight as well and we got to chill with "I'm in a black suit and know everything about LAX" Konstantin who gave us free snacks and showed us how to be truly indifferent while driving 60 mph up the mountainside.
---
Wednesday, May 22: Pre-Camp
The day before camp, the A-Team prepares for camp: we meet with our panel groups to finalize conversation topics, decorate cabins, prepare gift bags and workshop supplies, rehearse the opening ceremonies, participate in Being a Good Counselor 101, tour the grounds, make pigeonholes, and talk about our feelings.
I. The Cool Clear Light Of Day
Hansen, Contributing Editor & Scissor Sisters Counselor: For some reason, every morning at 6:30am, Kristen and I would wake up without alarms, she'd look over the edge of her bunk to see me staring at her and then we'd quietly creep over to Wolf for coffee. Intern Grace and Crystal were usually there, too. One morning, Intern Grace insisted we watch T is for Twig. Don't EVER watch T is for Twig.
Riese: This year Robin and Marni were super-serious about everybody completely planning out and being 100% ready for their workshops like a month before camp even began, which made pre-camp oddly… not stressful? Which's an uncommon feeling amongst employees of Autostraddle.com.
Meredydd, Business Advisor & Golden Girls Counselor: There is always a moment during pre-camp when I look around and can't believe that I am surrounded by such an amazing, diverse, dedicated bunch of staff. And that everyone is giving their whole selves to make sure camp is as good as it can be. It is inspiring.
Mary: Co-counseling with Grace is my favorite everything. She is seriously one of the best people I know! We just love seeing everyone and learning about our campers. Also we decorated their cabin with baby shower decorations, including "Welcome Baby!" balloons. Grace let me use confetti and I love confetti!
Crystal, Music Editor & Toros Counselor: Carly and I were under the impression that we'd ordered one single inflatable cow to act as cabin mascot for the Toros cabin, so imagine our delight when we tore open the Amazon package and discovered an entire inflatable cow army inside. We'd only been on the mountain for 24 hours and I was genuinely concerned that my A-Camp experience had peaked.
Riese: Prepping for the sex panel = talking to Lizz, Daniela and Ali about sex for an hour. I learned a lot about lube.
Taylor, Contributor & Vipers Counselor: I love everything about pigeonholes, from the fact that they are called pigeonholes to the full range of creepy to heartfelt messages (and objects!) that arrive in them to the ongoing saga of how to make them structurally sound. And making tiny notes for my cabin (VIPers!) during pre-camp gave me a great way to impress everyone with my Artistic Talents, by which I mean showing off a miniature watercolor set that I bought to make it look like I have Artistic Talents.
Riese: Vanessa followed Kate around for most of the afternoon making headlines out of their every move – Butch Writes On Her Laptop. Butch Eats Breakfast. Butch Sits On A Bench. Butch Eats An Egg Roll. For sure Kate found this HILARIOUS. (Seriously though, still waiting for Butch Bleeds, inspired by the altitude-inspired nosebleeds.) No but really we don't know how else to express love besides this manner of joviality.
---
II. Butch Goes On A Solo Hike
starring: Kate
Kate, Contributing Editor & Tiger Beat Counselor: I've never been to the West Coast before, but I grew up in the Adirondacks and I was a hiker before I was a walker. Living in Philadelphia makes me miss the mountains more than anything, and being in the middle of California mountains? My heart just about jumped out of my chest. Actually, it literally did that too, since binder + high altitude + physical activity = continual lack of proper breath.
I heard about the lookout point and decided I would go find it myself. I need a lot of solo moments to regenerate myself when I'm in an intense situation. Since camp is one intense situation after another and I'd been there since Tuesday, I needed that regeneration by Wednesday. So, I took a hike. By myself. Which we explicitly told you not to do, and which I would explicitly advise you not to do.
I saw a lot of blue-bellied lizards. Y'all have lizards! With blue bellies! And birds I've never seen before, and trees I've never seen before, and my favorite thing about the very limited travel I've had is seeing things I've never seen before.
The lookout was stunning. I took a couple very deep breaths and had a moment to myself. And despite the fact that so much of camp was beautiful because there were amazing people around me, the moment in which me, myself, and I processed everything that was happening was so very worth it.
---
III. Ice Ice Baby
Brittani, Contributing Editor & Hellcats Counselor: In the weeks leading up to Camp, Stef jokingly tweeted about how many Smirnoff Ices she should bring to Camp. Since it's been a dream of mine to unironically Ice people, I showed up with a variety pack. They were well worth the space it took up in Alex's packed car might I add. It didn't take long for me to ice Carmen which she fully appreciated because she knew it was a sign of affection.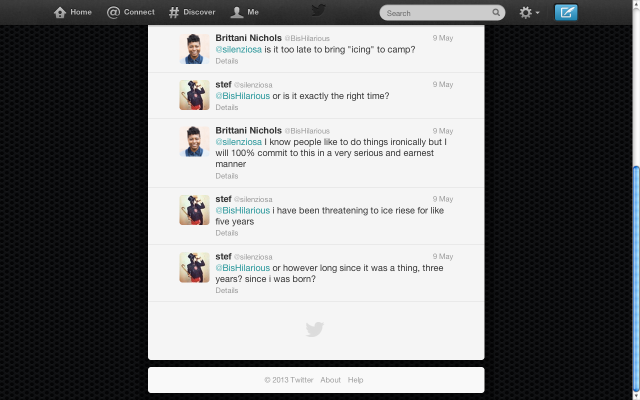 Carmen: I got pinned to go first. I chugged valiantly on one knee in clashing patterns while Brittani lovingly chanted, "bros icing bros, bros icing bros…"
Brittani: Carrie also found herself iced before I eventually lost interest and decided it was too difficult. There was no way to predict who would walk through what door when, making it impossible to effectively ice anyone. I think Robin got iced the last day of camp with a Smirnoff I left in Julie and Brandy's room but I missed it. Maybe next time with more people down for the cause, icing will make a comeback three years after its initial popularity.
Riese: We capped off the evening with a fire circle in which everybody cried and shared their feelings about what Autostraddle meant to them, and it was intense and beautiful. Also: cold.
IV. Over the River and Through The Woods and Up The Mountain We Go
Crystal: Somer Bingham and DeAnne Smith joining us on the mountain late Wednesday was a definite highlight. I am the biggest fan of both these people, they're just so funny and talented and chill! They showed up a little after midnight because Somer Bingham experienced a series of travel mishaps that I now feel could've only happened to Somer Bingham.
Riese: I'd rented a car in Somer's name and she realized when she got to LGA that her drivers license was expired, but assured me she could "turn the 3 into an 8" by the time she landed in LAX.
DeAnne Smith, The Talent: Somer and I drove up the mountain in the dark, late at night, pretty sure we'd be murdered. When we arrived, we were greeted by Marni, who offered to park the car, carry bags, and give me lip balm. That was way better than dying, and only a tiny taste of all the goodness A-Camp and it's amazing humans had yet to provide.
---
Next: Our first day of actual camp!
Pages: 1 2 3See entire article on one page