Our October A-Camp is coming around the corner and getting exponentially more exciting by the minute — exciting enough, really, to warrant this brand-new post about some of the amazing shit we've got planned.  We have some spots opening up and wanna be sure you have the chance to fill them! Are you ready?
Top 10 Reasons You Belong At A-Camp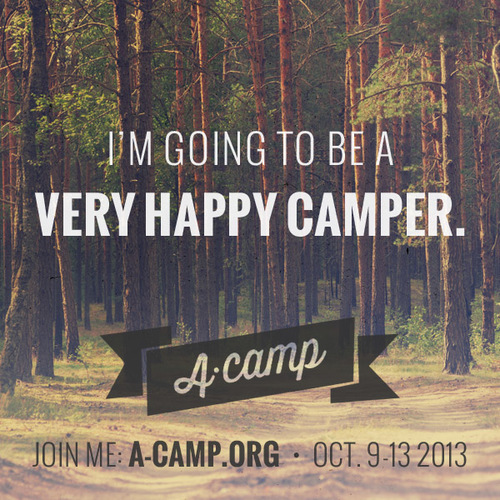 10. Because You Can Move Your Body In So Many New Ways…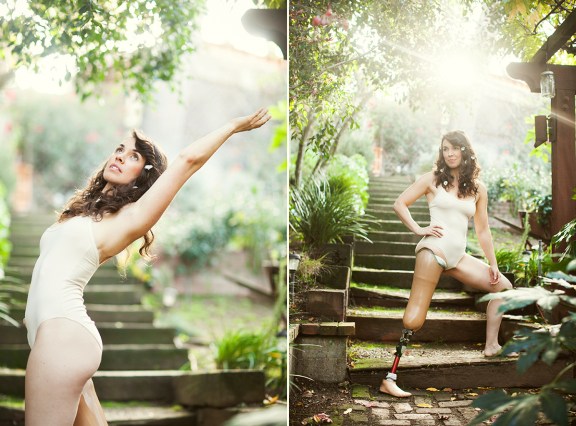 Although the Autostraddle team isn't exactly known for its athletic prowess (except Brittani), our Calendar Girls are a different story, which's why we're so excited to have so many of them on staff in October, three of whom will be inspiring you to move your body in new and unexpected ways. (That's what she said.) You'll have the opportunity to learn Ballet For Basic Bitches with Ballet Instructor and Ginger Hottie Miss February Chloe Shapiro, experience Yoga from the inside-out with Miss June Dani Orner, and pep your heart out with former cheerleader Miss October Kai's But I'm a Cheerleader (For Real) Class.
9. …or Just Sit Down and Take It All In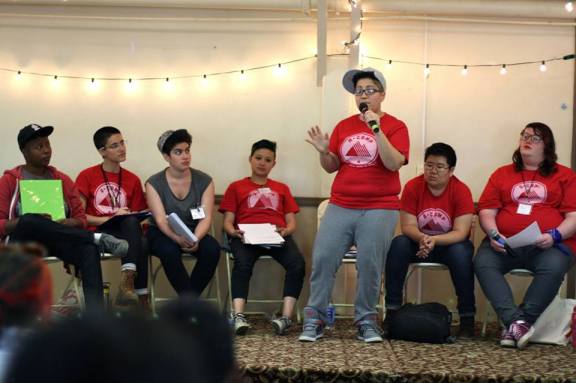 We'll be bringing back the panels you've known/loved from former camps, like the Sex Panel, the Gender Panel and the Woman of Color Panel, but with some new faces and new angles. We're also working on the ever-evolving Bisexuality/Non-Monosexuality/Sexual Fluidity Panel as well as the Non-Monogamy Panel. This session the Kink Panel is going interactive (I believe the working title is "Ropes Course"), the Queerituality Panel is tackling organized religion, and we're presently planning on hosting panel/discussions on mental health, body positivity, queering academia, being a lady in male-dominated industries and "coming out later in life." Plus so much more that we can't even tell you about yet!
8. Because You Need to Unplug
Apparently "Tech-Free" camps have officially become a Thing, and although we're not gonna demand you turn over your cell-phones upon entering the campgrounds (because Instagram), campers find the break from laptops and cell phones one of camp's most subtly invigorating aspects, especially while witnessing the remarkably smooth transition from online community to face-to-face family.
7. Because It's a World-Class All-Ages Many-Splendored Gathering
Most of our campers come from the United States, but we've also got 14 Canadian campers, four from the United Kingdom, four from Australia, and one each from New Zealand, Mexico and Brazil. Within the United States, we've obviously got a whole truck-load of Californians (including 14 Los Angelenos), but domestic geographic diversity abounds! You can look forward to sharing fruit punch with 26 Midwesterners, 25 humans from New York/New Jersey/Pennsylvania, 19 from the Pacific Region, 20 Southerners, 10 New Englanders and 15 Southwesterners.
You're moms, musicians, students, soldiers, gelato makers, florists, social workers, activists, lifeguards, optometrists, kayakers, roller derby girls, art teachers, grad students, software developers and engineers, interns, restaurant managers, actors, lawyers, nannies, runners, media monkeys, entrepreneurs, writers, architects, biologists, non-profit superstars, nursing assistants, baristas, animal trainers, screenwriters, cooks, researchers, park rangers, nurses, archaeological field technicians, designers, community organizers, teachers, journalists, graphic novelists, comedians and power lifters.
Once again, about half of you are over 25 and half are under, with a bulk of campers in the 23-29 range. We've also got more campers over 30 than ever before!
6. Because You'll Be Hanging Out With Some Very Special People…
When you register for camp, we ask you to describe yourself in 500 characters or less, which helps me make cabin assignments and get a grasp on the sorts of humans we'll be sharing a mountain with — and what a plentiful array of humans we have this session! So I made a word cloud out of your About Mes.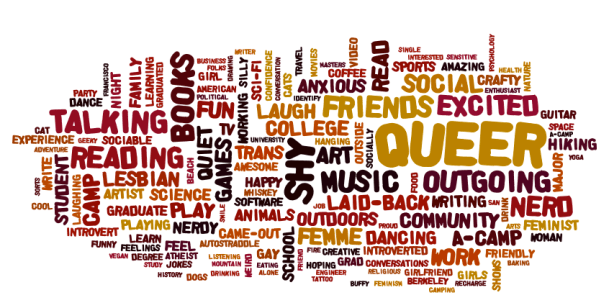 5. …Including Super-Extra-Special People Who Described Themselves Like This:
[sentences snatched mercilessly out of context]
I can make a whole box of wheat thins disappear!
I was a semi-pro go kart driver in my teenage years
If Hogwarts was real, I'd be sorted into Ravenclaw, and I would probably die pretty early in the Hunger Games and/or the zombie apocalypse.
I apparently dress like a French Sailor
I'm eating grapes right now
I like Skittles
I was the One-Match Fire champ at Girl Scout Camp
I like to write satirical articles and pretend to go on runs
I'm a recent college graduate, which is another way of saying I'm unemployed, have a serious Netflix addiction, and irregular sleeping habits
I'm made out of people-meat
I'm an incorrigible punster, so don't incorrige me.
I'm basically Jane Lane without a Daria
I'm very good at attempting to participate in Sports
I wish I could major in bean recipes but my counselor advised against it
I love carly and robin's marriage
I like days when my fro is super big
My girlfriend says my spirit animal is a sloth
I am a student of the universe who is currently expressing her Inner Awesome through floral design and coffee-making
Some people describe me as a puppy
I cried within the first ten minutes of Willy Wonka and the Chocolate Factory when Charlie found the golden ticket and was too emotional to watch the rest. To make matters worse, it was the Johnny Depp version
Not a Bear Person
4. Because You Will Be Attending The First-Ever A-Camp Carnival!
Our first-ever A-Camp Carnival will take place all afternoon on Friday. Get your face painted, play carnival games, perform on the festival stage, gnaw on cotton candy and enjoy a variety of A-Camp-tailored funfair activities. In preparation for what will surely be a monumental and life-changing event, Camp Co-Director Robin Roemer has dedicated herself to learning the art of making balloon animals, often enlisting the assistance of her peers:
3. Because DeAnne Smith Gets Real Gay For Our Grrrls
If you're American and have ever attended a gay cruise or pride event or raucous Palm Springs pool party, you're likely familiar with many esteemed and hilarious lesbian comedians — but you've probably yet to see DeAnne Smith. Which is unfortunate, because DeAnne Smith is a hilarious big deal lesbian comic but she's not on the Celesbian circuit because she is on a DeAnne Smith circuit, which is like a circuit party except with less man-on-man sex, more Canada, and more Australia. DeAnne Smith's set at May A-Camp made everybody die of laughter and she inspired a multitude of campers to request her return to the A-Camp stage.
DeAnne's been honing her comedic chops on television (she recently did a spot on The Late Late Show with Craig Ferguson and has previously appeared on NBC's Last Comic Standing, Canada's Comedy Network, HBO Canada and Australia's Channel 10, among others), in comedy festivals all over the world and in solo shows.
But of course there's nothing quite like performing for your own people, is there?
You can read DeAnne's posts for Autostraddle here, and here she is performing a Nerdy Love Song at A-Camp in May:

2. Because Lex Kennedy & Megan Benton (a.k.a.,  Emotions The P.O.E.T. ) of "Me & My Bois" Are Coming!
We're also really excited to be bringing in workshop presenters from Me & My Bois, a collective of masculine of centered people creating media outlets for LGBTQ/Queer people: ​Lex Kennedy and Megan Benton, a.k.a., Emotions The P.O.E.T., who will be leading and participating in some workshops/panels as well as conducting interviews with interested campers for their Me & My Bois Documentary!
Here's more about these kickass additions to the roster:
Megan Benton aka Emotions The P.O.E.T. is a spoken word artist, activist, writer and healer from Los Angeles, CA. Megan is one of the founders of Theta Xi Theta Fraternity, Inc. and a member of the Brown Boi Project. Megan Benton has a Masters in Clinical Psychology with emphasis in LGBTQ studies. She specializes on working with LGBTQ / Queer People of Color and gender non-conforming people, providing a healing space for clients to develop healthy identities in regards to the intersection of race, culture, sex, gender, lifestyle and spirituality.
She has facilitated groups at the Los Angeles Gay and Lesbian Center as well as Life Works, LBGTQ youth center; and presented at events including Butch Voices, The LAGPA Conference, The Gay and Lesbian Medical Association Conference, the EDGY Conference, True Colors, Case Managers of America, and Models of Pride.
Lex Kennedy is an award winning filmmaker and visual media artist residing in Los Angeles by way of Lex's east coast roots in Atlanta, DMV, and New York.  As a genderqueer, masculine of center BOI, Lex uses art as activism.  After screening consecutive years at the Fusion film festival, and Outfest film festival Lex is determined to bring more queer people of color stories to every screen possible.
From volunteering with the Los Angeles Gay&Lesbian center to Americorps Vista program, Lex believes that through community service and self care the work of an activist is never done.  Which explains Lex's No days off philosophy.  Whether it's creating visuals for poets, such as Emotions the P.O.E.T, or making commercials for 826LA a non-profit writing and after school tutoring program, Lex remains busy building a community where every human being is loved. Appreciated. And Welcome.
1. Hannah Hart Is Coming!
Y'all are pretty into this chick, yeah?
I don't know, we just get a feeling that some of you hold Hannah Hart in your Heart-O and wouldn't mind being stuck on a mountain with her?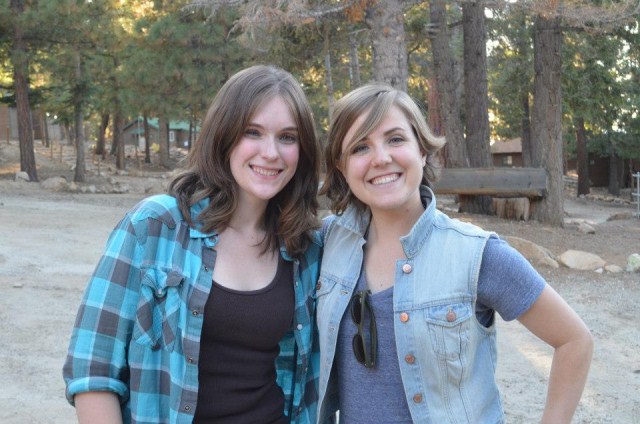 Well, the good news is that she feels EXACTLY THE SAME WAY about you!
New Media Entrepreneur Hannah Hart will be returning to A-Camp for the third time, ready to make you swoon, laugh, smile and take photos for your jealous friends back home.
---
What Are You Waiting For?*
*Also, if you're low on cash at the moment, Paypal offers some very reasonable financing situations to pay off your balance over time!