This piece was originally published  on 01/15/18
George Floyd was murdered on May 25, 2020, and we stand in unequivocal support of the protests and uprisings that have swept the US since that day, and against the unconscionable violence of the police and US state. We can't continue with business as usual, which includes celebrating Pride. This week, Autostraddle is suspending our regular schedule to focus on content related to this struggle, the fight against white supremacy and the fight for Black lives and Black futures. Instead, we're publishing and re-highlighting work by and for Black queer and trans folks speaking to their experiences living under white supremacy and the carceral state, and work calling white people to material action.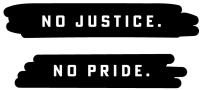 ---
"Change does not roll in on the wheels of inevitability, but comes through continuous struggle. And so we must straighten our backs and work for our freedom. – Dr. Martin Luther King Jr
It's not the most famous Dr. King quote, the one that get dusted off year after year. That honor goes to those three little words that we can all recite by memory, "I have a dream…". It's not even the quote that I've used most often in my own life, "Darkness cannot drive out darkness; only light can do that. Hate cannot drive out hate; only love can do that".
No, this quote is hard. It isn't popular to remember that change is not inevitable. It requires unrelenting struggle and work. It's not sexy. It's not even particularly optimistic. There is no Happily Ever After. Instead, Dr. King only promises a future in which we must bear down, straighten our backs, and keep carrying our load. This quote challenges me, it sticks to my bones. I'm not sure that I like it.
Martin Luther King, Jr. was not a perfect man. He was someone who fought hard for racial and economic justice. He gave his life for it. And for that, he became immortalized. He became stuff of legend. My first grade teacher made my entire class memorize the opening paragraphs of his "I Have A Dream" speech, we delivered it at a school assembly. My high school required that we spend our day off from school honoring his birthday by completing community service projects. As I type this short essay, my neighborhood's annual "MLK Day Parade" is happening outside my window.
I once tutored a college freshman, this black kid who was a rookie star on the football team and in serious danger of failing his "Intro to African American History" course. At the start of our first session together, I asked him what he had learned in his 18 years about black history. He replied, "Well, we were slaves, and that was bad. But, then Dr. King freed us and ended racism". Dr. King freed us and ended racism.
I was stunned. He knew that racism wasn't really over in this country. He was an 18-year-old black boy who grew up in the South. Of course he knew that. But, he also didn't know where else to look or who else to point to. It broke my heart, because I knew that was by design.
After a long and difficultly fought battle, Dr. Martin Luther King Day was first celebrated as a federal holiday in January 1986. Since then, every third Monday in January, posters are hung in civic center windows and children are let out of their schools. Politicians who otherwise never spend a day pondering racial justice in America have their speechwriters hastily throw something together. I'm thankful that we take time to honor a racial justice leader in this country at all, but the danger of Martin Luther King Day is that it erases the flawed person behind the legend. It also erases the remaining work that each of us has to roll up our sleeves and complete, because the prophecy of King's "beloved community" is far from coming to fruition.
Those erasures can be particularly fraught for black queer women and queer folks of color. Martin Luther King did not treat all the women in his life with respect, it's well documented that he habitually cheated on his wife. Many black women in the civil rights movement found leadership roles in King's Southern Christian Leadership Conference (SCLC) and similar organizations, but have also testified to the difficulties of working around the accepted patriarchal social norms of the time period. There were two out black gay male leaders at the SCLC, most famously Bayard Rustin, who was the lead organizer of the 1963 March on Washington. Despite enjoying a close working relationship, King eventually distanced himself from Rustin at the urging of other civil rights leaders. To consider the full breadth of his legacy, we must grapple with these, and any other, shortcomings.
But, we also must keep King's memory free from those who wish to pacify him and use him to uphold conservative values against the ongoing fight for social justice in this country. In recent years, Republican and Democrat politicians alike have invoked King's words to chastise the Black Lives Matter movement. This year alone, we have to look no further than the current President of the United States signing the 2018 Martin Luther King Day proclamation less than 24 hours after spewing disgusting, hate-filled, racist remarks aimed at black and brown diasporas. The national observation of Martin Luther King Day often works in service of those in power. If King's work is seen as completed, then those who pick up the fight towards freedom are seen as disrupting, or worst, besmirching, his legacy. It's a dangerous, ahistorical rhetoric that ought to be be upended at every turn.
King himself reminds us that change will not come without the labor of never ending hard work. Change will not come while we wait for someone "perfect" to lift the hammer. He spoke of the radical notion of a "beloved community", that people should band together in the name of equality, regardless of race, gender, sexuality, representation or ability. Anyone who has been a part of a family, blood or chosen, knows that communities take real effort. They require listening to ugly truths, and fighting, and be willing to humble yourself. They require not putting your individual conveniences ahead of the larger group, the most vulnerable among you.
"Change does not roll in on the wheels of inevitability, but comes through continuous struggle. And so we must straighten our backs and work for our freedom." 
– Dr. Martin Luther King Jr
They also require constant maintenance. You cannot wash your hands of your community and declare the project done. There will always be another battle, another family member who needs your help. It's exhausting, but restorative. Taking care of each other — putting in that sweat together — is how King believed we would curve the long arc of history towards justice.
The community that King surrounded himself with included fierce, brave, warriors of women like Ella Baker and Fannie Lou Hamer. A former sharecropper, Fannie Lou Hamer famously stood up at the 1964 Democratic National Convention and testified that she was tired of working in service of an unfinished project of America that she questioned more than she believed in. Still, she never gave up. Ella Baker, a mentor of Rosa Parks, was the Southern Christian Leadership Conference's first full time staff member. She went on to become one of the founding members of SNCC (the Student Non-Violent Coordinating Committee). She also ran an essential voter registration campaign across the south, called the Crusade for Citizenship. Her career as an activist spanned five decades. She never gave up.
By the time Bayard Rustin was recognized for his work in the civil rights movement, with a Presidential Medal of Freedom, he had long passed away. His loving partner, Walter Neagle, accepted the honor on his behalf and listened as President Obama declared that at a time, "when many had to hide who they loved… Bayard Rustin became one of America's greatest architects for social change and a fearless advocate for its most vulnerable citizens". He never gave up.
Today, I honor Dr. Martin Luther King by also honoring their work. The work of civil rights history is queer and feminist. It's bigger than one man. It's a hard, rough, incomplete project. And so, we must lock our knees, we must straighten our backs. We must never give up. We must keep working, always working, for our freedom.