It might actually be possible that 2021's queer and feminist book offerings are even more incredible than last year's. This fall we've got terrifying queer horror, swoony lesbian romance, cute sapphic YA, intriguing lit fic, monstrous women in fantasy and sci fi, new feminist history books, and much more!
September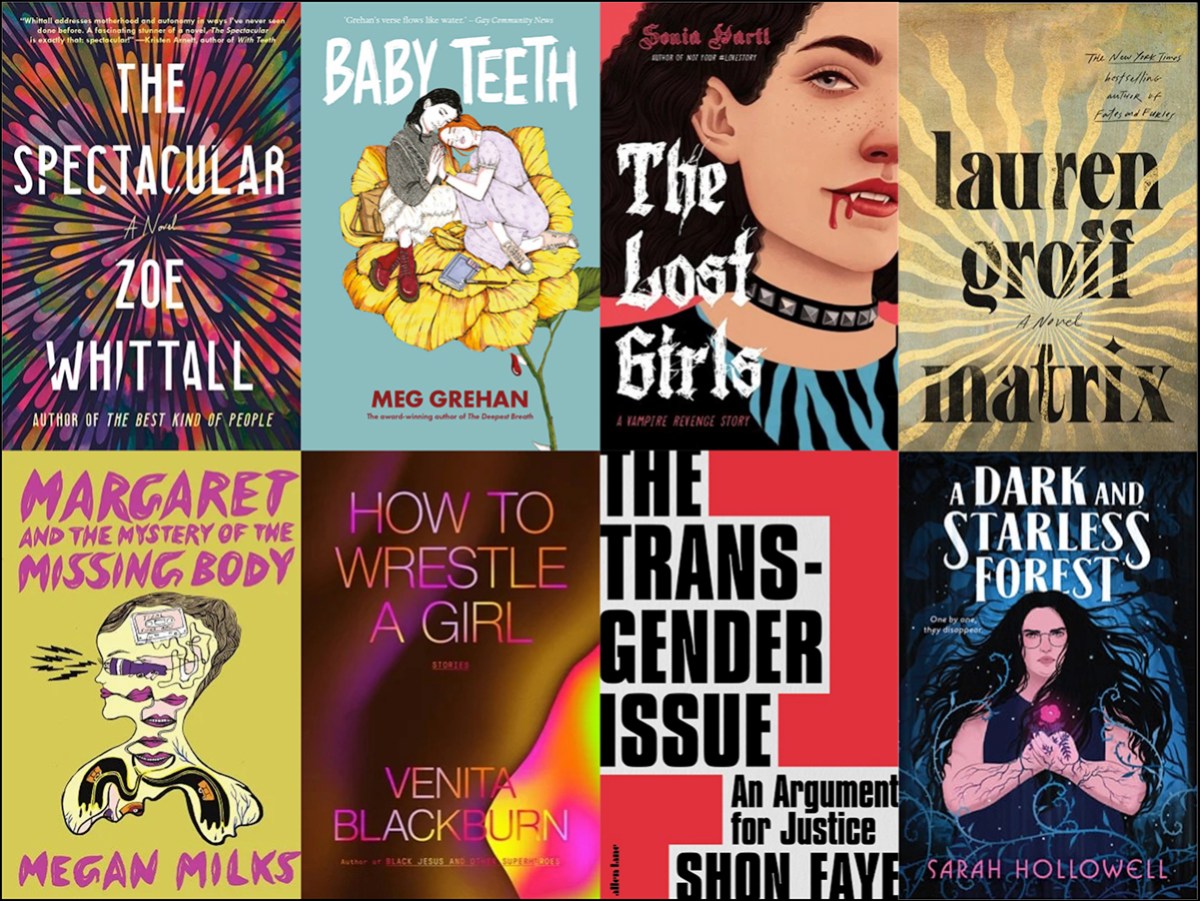 Desiring More by Raven Sky (September 1)
This collection of erotica short stories features a variety of queer lovers spanning age, race, and class differences. The stories range from older women reminiscing about their wild lovemaking to sex workers finding love together. There's even a story about a goddess and a Valkyrie!
A lesbian romance starring an older Black bisexual woman, Love and Lotus Blossoms is a story about second chance at love. Janesse has raised two children, has a successful career, and lives in a beautiful house her husband built. Her past comes back in the form of Maya, the one she let get away thirty years ago.
Age-gap bi-for-bi M/F romance anyone? Isabel is 26 with a thriving editing business, but struggling with a blackmailing ex threatening to out her to her conservative family. She's feeling pretty cautious about starting any new relationships, which means meeting almost forty Derek may have happened at the wrong time. But the kindness and example of queer found family he provides might be just what she needs.
Baby Teeth by Meg Grehan (September 2)
A novel in verse about queer love, lust, and vampires, Baby Teeth is a unique take on all three themes told in lyrical poetry. The love story begins with a yellow rose, given to Immy by Claudia. Although Immy, the vampire, has been in love many times across many lifetimes, this is Claudia's first time: in love, and in love with a vampire.
British trans feminist Shon Faye takes on the anti-trans movement with its epicentre in the U.K., arguing that it masks the actual material oppression that trans people face. From criminalizing sex work to the difficulties of navigating the medical system, Faye covers a myriad of issues. She concludes with a plan for a socialist feminist liberation, one that also rejects liberal patriarchal capitalism.
Acclaimed Irish novelist's latest book chronicling the lives of millennials focuses on four characters: Alice, Felix, Eileen, and Simon. Over time, they break up with each other, they get together, they have sex, they worry about their friendships, and they wonder about finding their way to a beautiful world. Alice and Felix are both bi!
A band of dangerous women, broken former criminals and half clones, team up again for one last mission in this debut science fiction novel. Their goal is to solve a mystery and rescue a missing comrade. But the sentient AI that rules the universe has its own mission against which the women must work. How can they win a fight against an all-present AI bent on stopping humans from controlling the universe again?
Matrix by Lauren Groff (September 7)
Matrix is an historical novel set in a 12th century English abbey. Marie is 17 when she is sent to the crumbling abbey, beset with disease and starvation. She finds her purpose in the collective sisterhood and in a belief in her own heavenly visions. She will eventually lead the abbey along the difficult road to prosperity. Does this novel investigate the queerness of a group of fierce women living apart from the world? Very much so.
C.B. Lee's latest YA adventure is a "remixwp_postsof the classic Treasure Island. In 1826 as the golden age of piracy comes to a close, two girls hunt for a fabled treasure on the high seas. At first enemies, Xiang and Anh end up working together to decode the mysterious map hidden inside the pendant Xiang's father left her before he died at sea. Where does the map lead? To treasure, of course.
Among Thieves by M.J. Kuhn (September 7)
Sapphic fantasy high stakes heists! Ryia has a reputation in her dockside town for a tongue as sharp as her sword. But she's been running from a deadly secret for six years, trying to stay one step ahead of the Guildmaster, a king set on destroying her. When the opportunity for a heist that could bring about her freedom comes up, she can't say no. But she also can't do it alone, and the outcasts she brings on board all have their own agendas.
This page-turning urban fantasy begins with what looks like a case of police brutality. Laina is shocked by the news that Boston police have killed her brother; but is there something paranormal at work too? Yes. Monsters are real. And they are emerging from the shadows. Laina and a diverse cast of characters navigate this new world, ending up at this question: why now? What thing more vicious than them has forced the monsters out of the dark? Featuring a majority QPOC cast!
Blackburn's second collection of short stories is divided in two parts: the first features stand-alone stories with her particular brand of dark weirdness and humor, featuring young people "fending off the failures … of adults.wp_postsThe second half focuses on a young queer Black character in California navigating her father's recent death and her burgeoning attraction to her friend Esperanza.
Nelson's collection of criticism takes on the contentious and nebulous concept of freedom in four realms: art, sex, drugs, and climate. Using as material pop culture, critical theory, and lived experience, Nelson asks questions like "does a continued obsession with the term enliven and emancipate, or reflect a deepening nihilism (or both)?"
Subtitled "A Uniquely American Memoir of Race, Fate, and Sisterhood,wp_poststhis book looks at the stories of three Black girls from the Bronzeville neighborhood of Chicago. Third generation daughters of the Great Migration, Dawn (the author), her sister Kim, and her best friend Debra come of age in the 1970s. The BFFs are eventually sent in dramatically different life directions and Turner is left with the simple yet profound question of why?
The Final Child by Fran Dorricott (September 8)
A rare psychological thriller with a queer woman protagonist, The Final Child centers on Erin. Erin and her brother were the last pair of siblings kidnapped by a serial killer; she escaped, but her brother was never seen again. 18 years later, Erin's past comes back to haunt her when a journalist wants to interview her.
The Spectacular by Zoe Whittall (September 14)
Whittall's latest novel is a multi-generational look at three complex women. In 1997, Missy is the only woman in her indie rock band, on tour playing the song about her absent mom that made the band famous. Carola, her mother, sees her daughter for the first time in a decade on the cover of a music magazine. Ruth, Missy's grandmother, is returning to her childhood Turkish village, only to find herself tasked with bringing Missy and Carola to a mutual understanding.
The Lost Girls by Sonia Hartl (September 14)
Subtitled "a vampire revenge story,wp_poststhis satirical paranormal YA novel features a feminist girl gang of vampires. If that's not enough to convince you to read it, here's more: Holly became a vampire for her vamp boyfriend Elton in 1987. Now that's he's dumped her and she's eternally 16, the undead life is tough. When two of Elton's exes approach Holly for some revenge, it's obvious she should join in, right?
This collection of mostly queer literary erotica explores love and lust across the spectrums of sexuality, including orgies, personal discoveries through play, sexual adventures in other times, and stories of desire that are merely hallucinatory fantasies. Lida Yuknavitch writes about this book: "In these eros plunging stories we are brought back to joy, play, tension, and release as if desire is a real place a body can enter."
The Actual Star by Monica Byrne (September 14)
This epic story spans from 1012 and the decline of the Maya, to 2012 when a woman visits a cave in Belize to unforeseen consequences, and a future in 3012 with an evolved humanity who has created a new religion. Three reincarnated souls cycle through life: ruling a Maya kingdom, discovering themselves through travel, and engaging in conflict that will decide the fate of the few humans left on Earth after massive climate change.
A YA contemporary fantasy, A Dark and Starless Forest is about Derry, a young woman who was raised in isolation with her eight magical siblings. They are separated from the world by a "dark and starless forestwp_poststhey have sworn never to enter … except when Derry's siblings begin to go missing.
A delightfully weird and very queer reimagining of 90s YA nostalgia, this novel mixes familiar tales of girl detectives, girl group series, choose-your-own-adventure stories, and issue books about disordered eating. Margaret has started high school, and her beloved "Girls Can Solve Anythingwp_postsmystery club has disbanded in favor of growing up. Margaret doesn't want to. But after she lands herself in an eating disorder treatment centre, she finds new mysteries to solve — including her own relationship with herself.
Mina is a trans lesbian who grew up in Lebanon, but came to the US and stayed in large part because of her family's rejection of her queerness. Now an adult, married and working as a successful surgeon, Mina has come to Lesbos to help at the refugee camp. She hasn't been so close to her homeland for decades, and she finds herself suffocated by the helplessness she feels in the face of the crisis.
The Good Arabs by Eli Tareq El Bechelany-Lynch (September 21)
This collection of verse and prose poems looks at Arab and trans identities through particular places, bodies, and languages. There are hot humid Montreal summers; Lebanon at the height of the 2015 garbage crisis; sorrow felt in the bodies of citizens let down by their countries; the scars left by the Beirut explosion. The poems explore how we might love and exist amidst such circumstances.
Awarding winning author Plett's latest collection of short stories is written for and features trans women, often honing in on relationships between them. Her intricate and authentic characters navigate dating, sex, addiction, love, partnership and family. From one woman with Mennonite roots returning to her home in the Canadian prairies to another leaving cozy Portland queertopia to transition in New York's anonymity, the stories crackle with quiet complexity.
This queer YA horror thriller is just in time for Halloween season! In an ex-mining town ruined by underground fires and holding on to a reputation for being haunted to bring in tourists, Clem and Nina are two teenage girls. Their close relationship expands to include two others, and the four of them decide to enter the mine and discover once and for all what's really going on.
Iron Widow by Xiran Jay Zhao (September 21)
A queer poly feminist fantasy tale, Iron Widow reimagines China's only woman emperor. Zetian is seeking vengeance when she joins up as a concubine-pilot. She plans to murder the pilot responsible for her sister's death. But she discovers a rare power of being able to kill her male co-pilots through their psychic link. From there she vows to use her ability to stop the entire misogynist pilot system that regularly sacrifices girls.
Aoki's joyful science fiction / fantasy hybrid tale takes place in California, featuring "cursed violins, Faustian bargains, and queer alien courtship over fresh-made donuts.wp_postsShizuka needs one more violin prodigy to sell their soul for success, and she has her eye on trans runaway Katrina. But when Shizuka meets Lan in a donut shop, possible love and a warm donut just might be powerful enough to end the curse.
Lakesedge by Lyndall Clipstone (September 28)
Demisexual heroine Leta arrives at the haunted Lakesedge estate expecting a monster in this gothic fantasy. But it turns out the estate's owner, Rowan, isn't the monster he was supposed to be, with his reputation of having drowned his family members one by one. It's a death god lurking under the waters of the lake, named Lord Under, to whom Leta is inexplicably drawn.
Black Under by Ashanti Anderson (September)
Anderson's debut poetry collection takes its title from the declaration "I am black and black underneath.wp_postsThe poems oscillate between tackling oppression and trauma from a queer Black perspective to musings about joyful self discovery, beauty, and agency.
October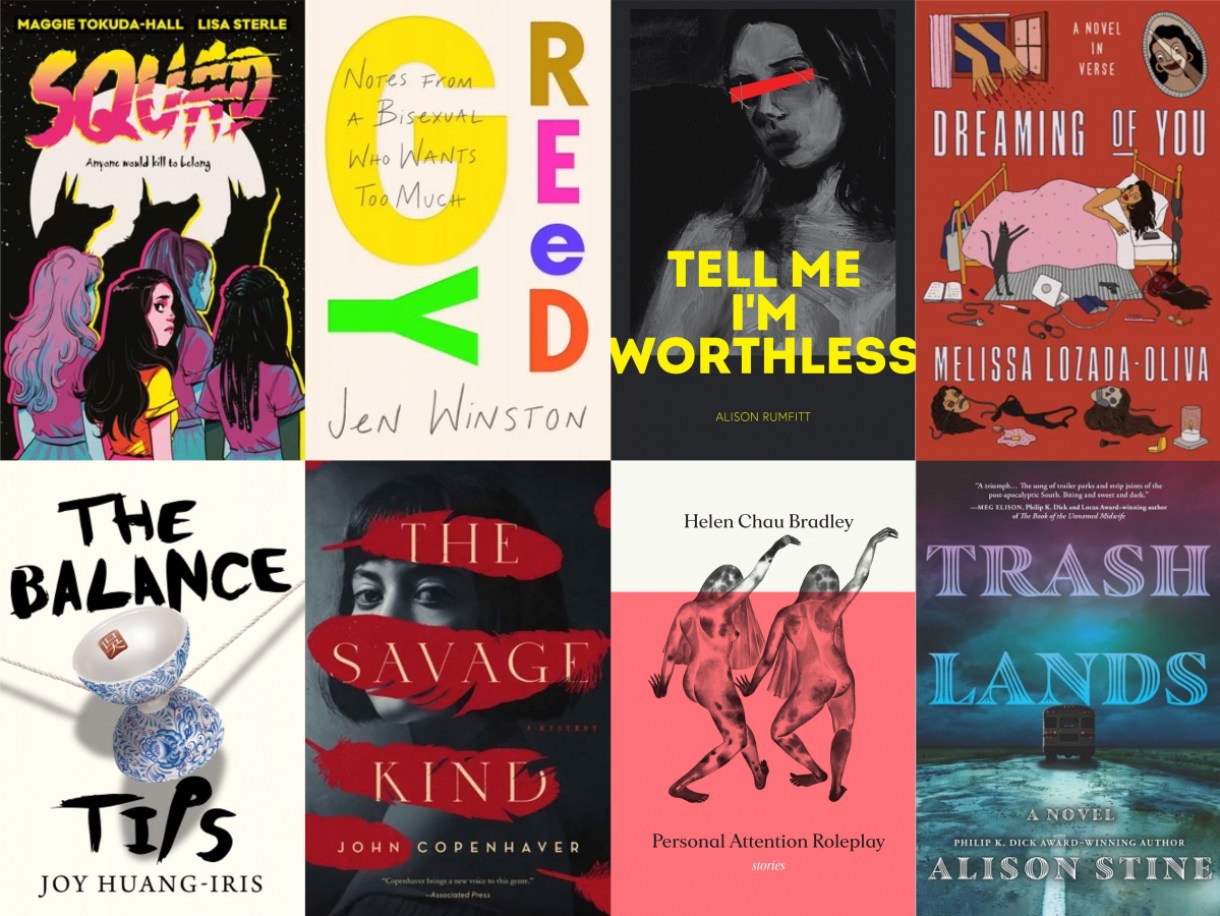 From comic and host of The Lesbian Agenda, this memoir charts Santos's long coming of age journey with heart and hilarity. With her experiences starting over and over again as the child of a Filipino-Spanish US army officer and a nurse, Santos has plenty of familiarity with trying on new identities and reinventing herself. But it turns out the tomboy misfit self she rejected as young person might be closest to the authentic adult her.
A blend of biography, history, and social commentary, this book explores Hamer (1917-1977) as a working-poor, disabled, Black activist whose ideas and strategies are highly relevant today. Blain particularly focuses on how Hamer's work connects to contemporary voter suppression, police violence, and economic inequality.
In this paranormal lesbian rom-com, Emmy is a witch in a self-imposed exile from her magical hometown. Why? To forge her own path, of course; it has nothing to do Gareth, a magical heartbreaker and heir to the town's most magical family. When Emmy meets Talia upon her return, Talia is fresh off a break-up with Gareth and has vengeance planned with the woman Gareth cheated on her with. Is Emmy in on the revenge? And why is Emmy suddenly so attracted to Talia?
A feminist reimagining of Sleeping Beauty, A Spindle Splintered begins with the impending 21st birthday of Zinnia. It's a birthday she is destined to not survive. However, when she pricks her finger on the spindle at the Sleeping Beauty themed birthday her friend Charm throws for her, Zinnia doesn't die. She finds herself transported into another world, with another Sleeping Beauty just as desperate to avoid her fate.
The Savage Kind by John Copenhaver (October 5)
It's Washington DC in the 1940s and two teenage girls, Phillipa and Judy, discover they have a gift for solving crimes — and an interest in committing them. When they see that their beloved English teacher turn into a dark shell of herself after an encounter with a mysterious man in an alley, Phillipa and Judy are determined to investigate. They become even more fuelled by the murder of a classmate that soon follows. At the same time, they grapple with their rapidly changing feelings for each other.
Squad by Maggie Tokuda-Hall and Lisa Sterle (October 5)
Feminism, werewolves, and burgeoning queer desire are featured in this YA graphic novel. Becca is thrilled and surprised to be welcomed into the popular clique at her new high school. But the girls aren't any ordinary friend group: they're werewolves who hunt slimy boys. But when one of their boyfriends is killed, they find the cops on their trail. Under increasingly morally grey circumstances, Becca also finds she might be falling for one of her new friends.
Following up her ground-breaking anthology The Remedy, Sharman once again assembles a collection of essays, stories, poems, and interviews that centre LGBTQ+ health. The book asks questions like: "What if the health system honored and valued queer and trans people's lives, bodies, and expertise?wp_postsContributors include jaye simpson, Jillian Christmas, Kai Cheng Thom, Leah Lakshmi Piepzna-Samarasinha, and more!
This memoir in essays is structured around Winston's bisexuality and embracing rather than rejecting the stereotypes of being greedy, indecisive, confused, and slutty. Winston discusses dating, sexual assault, finding bi+ friends, coming to a non-binary identity, and lots more! They write in a casual, chatty tone that makes for an inviting and page-turning read.
Fay, a queer multi-racial woman in her mid twenties, spends her time documenting the identity journeys of her fellow New Yorkers. But she can't distract herself from her own life any longer when the patriarch of her Taiwanese family dies, sending her grandmother to the US. Her grandmother's arrival entangles Fay, her mother, aunt, and grandmother in a complicated matriarchal family dynamic where each woman learns unsettling truths about herself and her family.
Agender teen baker Syd deals with feelings by baking, hence the baking of a big batch of brownies after being dumped. Except this batch is sold at Proud Muffin, the queer bakery where Syd works. And it turns out there was some kind of magic in the brownies, because everyone who eats them … breaks up. Including the owners of the bakery themselves. Can Syd fix it before it's too late?
The Quicksilver Court is Caruso's follow up to last year's The Obsidian Tower, an epic fantasy featuring bisexual mage Ryx. The latest book continues Ryx's journey, where her failure to keep the black tower door closed has released demons on the world. Can Ryx save her world from destruction?
In the words of the book's subtitle, Special Topics in Being a Human is a "queer and tender guide to things I've learned the hard way about caring for people, including myself.wp_postsWith his characteristically warm and charming voice, Bergman offers thoughtful, compassionate, and sensible advice using his various perspectives as a trans parent, Jewish dad, educator, author, and public speaker. From how to make a good apology to getting someone's new name and pronouns right as quickly as possible, he covers a lot of useful ground.
We Were There by Patricia Romney (October 12)
This feminist history focuses on an organization called The Third World Women's Alliance in its heyday in the 1970s and 80s. Combining oral history, first person memoir, and archival research, the book looks at how the TWWA shaped second wave feminism with their focus on women of color and their international analysis of US foreign policy and the American military's effect on the lives of women globally.
There is a lot of great queer horror coming out this fall! Case in point, this creepy haunted house story set in Japan. A group of old friends from Malaysia with a history of ghost hunting have rented a Heian-era mansion for one of their weddings. Legend has it that an abandoned bride was buried in the house's walls and a girl has been sacrificed every year since then to keep her company. Even these experienced paranormal thrill seekers do not know what is coming for them.
In this funny, uncanny debut short story collection, Bradley charts moments in the lives of young queer Asian misfits. A freelance writer of listicles becomes obsessed with an ASMR channel. A young gymnast deals with a crush on their older, more talented teammate. A queer metal band's tour doesn't go as planned. Throughout, Bradley brings an interest in intimacy, loneliness, survival in late capitalism, and the complexities of mixed race identity.
Rocklyn's gothic horror fantasy debut novella has distinctly Octavia Butler vibes: Iraxi is a survivor and refugee on an arc fleeing a flooded kingdom. She's been ostracized for being a commoner who refused a prince; she's pregnant; her child might be more than human. Not only are resources on the arc rapidly diminishing, flying beasts with sharp fangs circle the ship.
This novel is the second book in Dorsey's post-modern mystery series starring a nameless pansexual amateur detective. Her new case involves an old childhood friend, now famous and dealing with a stalker. Wading into an unfamiliar world of wealth and privilege, our sleuth has to dig even deeper into her friend Priscilla's history when the supposed stalker is murdered outside Pris's book launch.
Asa is a 17-year-old heiress to a tech empire trying to save her sister from being reprogrammed by their shady dad. Outlaw Riven is delighted when Asa's runaway ship crash lands in her territory; a rich girl bounty is exactly what she needs. But when a virus spreads throughout the city, Riven and Asa are forced to work together, discovering an unexpected queer connection.
This reissue of the second book in the early 2000s lesbian mystery series stars Blue, a private investigator and social psychologist. Her latest case involves the death of two apparently healthy women politicians who die suspiciously close to one another of the same cerebral hemorrhage. Blue is hired, along with her business and romantic partner Roxie, to investigate the unconventional murderer.
This own voices trans middle grade novel is about a tween trans boy named Obie. Obie is a swimmer who's had to leave his old swim team, coach, and friends behind after his transition. Diving into a new team, though, Obie finds he's having trouble adjusting. He's also dealing with transphobia in and out of the pool. But he's also got supportive family, teachers, and some new friends to help him.
A regency-set lesbian romance, The Perks of Loving a Wallflower features an opposites-attract story. Miss Philppa is a proper society lady looking for someone to help her rescue a priceless manuscript that she intends to decode in order to expose a villain. Enter master of disguises Thomasina, a grifter who can pose as a lady like Philippa, or a vulgar old man, depending on the situation's needs.
Dreaming Of You by Melissa Lozada-Oliva (October 26)
Themes of celebrity, fandom, grief, queer identity, and loneliness feature in this novel in verse about a poet who resurrects Tejano pop star Selena. This story is as absurd and magical as it sounds. Melissa is the young Latinx poet who performs the resurrection, which leads her on a journey through a spirit world populated by her own shadow self, karaoke, and a dead celebrity prom.
Tink and Wendy by Kelly Ann Jacobson (October 26)
Bisexual Peter Pan retelling! In Tink and Wendy Jacobson reimagines the story with a Tinker Bell who is in love with Peter Pan and Wendy. Tink gets to tell her own story, through Peter and Wendy's granddaughter who tracks her down in her reclusive old age. Three perspectives — the past, present, and the text of a book written by Tink's fairy godmother — reveal a tale both familiar and new.
Trashlands by Alison Stine (October 26)
Stine's most recent novel, like her last, takes place in a dystopian climate change ravaged world. In this setting trash, in the absence of any new plastic, has taken on a new value. The main character Coral works in "Trashlands,wp_postsplucking plastic from nature. She's trying to save up enough money to rescue her son from forced labour at a recycling factory; at the same time, she makes art, against all odds.
More queer horror, with an anti-fascist twist! This gothic haunted house tale is set in Brighton's queer scene and dives into trans life in the UK. Three years ago, Alice, Ila, and Hannah spent a night in a haunted house and have never been the same. They are, of course, forced to return and face the terrifying past and its horrors supernatural and real world.
Brooks's collection of lesbian erotica is set in The Club, the UK's only women-only sex and night club. The stories feature all different sorts of clients and patrons: women who've come out later in life looking for first experiences; long-term partners needing to spice things up; a woman whose body has changed after an serious accident; and a woman looking to hook up with her best friend.
November
Jess is a journalist who has been assigned to research the dating phenomenon of cuffing season — the stretch of time after October until February when people tend to couple up — from a lesbian perspective. Her willing lesbian subject is Cody. But when Cody starts to realize she has real feelings for Jess, which she promised not to have, their convenient arrangement becomes troublesome to say the least.
Andrea is a mom and nurse with a fulfilling life. She can't wait to be the maid of honor at her best friend Sara's wedding at a remote lodge in Alaska. Riley is a wedding photographer who has just accepted the job to shoot Sara's big day. One problem? Andrea and Riley are exes from 15 years ago who broke each other's hearts. Do they have a second chance at love?
The third book in the Hell's Library queer fantasy adventure series, The God of Lost Words is about saving the Library of the Unwritten in Hell (where books that aren't finished by their authors and their restless characters reside). But to do so, former librarian Claire and her supporters may have to destroy it.
This science fiction YA thriller investigates themes of capitalism, queerness, and revolution. When 17-year-old Dinah discovers her mother's dead body in their living room with wealthy rancher Gabriel standing over her, she vows to get revenge. But Gabriel has power seemingly without end in her homeland of the Ozarks.
Briar Girls by Rebecca Kim Wells (November 2)
Another reimagining of Sleeping Beauty! In this retelling, Lena's dark secret is that a touch of her skin can kill. One day, a mysterious girl named Miranda emerges from the forbidden forest, asking Lena to join her on a quest to find a sleeping beauty who holds the secret of overthrowing a tyrannical ruler. In exchange for her help, Miranda will find a cure for Lena's curse.
Girls of Fate and Fury is the third installment in Ngan's YA Malaysian-Chinese-inspired fantasy series about feminist uprising and lesbian romance. The epic finale finds Lei and Wren separated, torn apart by war. Will they be able to win their own battles as well as reunite with each other?
Moving from Tamil Nadu in India to New York City and spanning a decade, this epic tale explores themes of faith; ethnic, gender, and sexual identity; and global interconnectivity. Kalki is born with blue skin and people believe him to be the reincarnation of the Hindu god Vishnu. But just as he has passed the three tests that supposedly prove his divinity, Kalki begins to question his power.
Brunet spent ten years working as a stripper and she tells the story of her time in the job with boldness and honesty. She particularly explores how sex-positive — queer and not — relationships are what make sex work meaningful. Other topics include: unspoken industry rules; fascinating clients; camaraderie with fellow strippers; drugs and alcohol; and bad bosses.
The first book in a new dark fantasy / mystery YA series, The Grimrose Girls promises murder, dark academia, fairytale curses, girl detectives, and best friendship. There's also, of course, queerness: an aro-ace main character, as well as teens of the sapphic variety.
Heath's YA novel is set in 1904 Norway and features a queerplatonic trio of teens! Asta is ace and not interested at all in the domestic bliss represented by the fiancé her mother thinks of as her only option. She'd much rather spend time with her friends Gunnar and Erlend, who are secret boyfriends. But the only way to secure their unique life plan is to win their village's annual horse race.
Lipan Apache author Darcie Little Badger's second YA novel continues her preoccupation with themes of magic, monsters, and family in this tale about Nina and Oli. Nina is a Lipan girl who still believes in the old stories. Oli is from the land of spirits and monsters. Their worlds are brought together by a disastrous event — but some will do anything to keep them apart. Featuring asexual representation!
The Sentence by Louise Erdrich (November 9)
Legendary Anishinaabe author Louise Erdrich's latest novel is a funny ghost story, an account of a woman's life, and a portrait of a complicated marriage. Set over the course of one year, from one All Soul's Day to the next, it focuses on a haunted bookstore. Flora, its most annoying customer, won't leave even in the afterlife. Bookseller Tookie, having snagged her dream job after many reincarnations, must solve the mystery of the haunting.
A revised and expanded version of the extraordinary book of short stories originally called Kill Marguerite and Other Stories, this collection is a testament to Milks' wild, queer, and wonderfully weird imagination. In the title story, a woman metamorphoses into a giant slug. In another, an orchid and a wasp fall in love and want to be monogamous in a poly-normative world. Milks also plays with formats like choose-your-own-adventure and video game structures.
Crip Kinship tells the incredible story of Sins Invalid, a queer disability justice performance project. The San Francisco-based project explored what wisdom and lessons disabled, queer, and trans people of color have for collective survival. It also asked how they could rewrite oppression itself.
The sequel to The Bone Shard Daughter, this queer fantasy continues the story of Lin Sukai, who has finally ascended to the throne. Her position, however, is precarious. Not only are her own people and potential political alliances mistrusting, an outside threat of powerful magicians called the Alanga have presented themselves to the empire. Will they help or hinder Lin's emperorship?
As you might tell from the emphatic title, this poetry collection focuses on trans people's presence in the past, present, and future. Melt channels joy, love, resistance, healing, and care in trans communities. The poems honor trans ancestors; they celebrate today's trans activists and movements.
Tidesong by Wendy Xu (November 16)
A graphic novel both heart-warming and magical, Tidesong is about a young witch named Sophie being forced to attend a magical school she doesn't feel prepared for. When one of her spells goes horribly wrong, she becomes entangled with a water dragon named Lir. Lir might be her ticket to acing her magical schoolwork, but it also means taking advantage of him. What should she do?
Celebrated fiction author Patchett's collection of essays tackles topics such as home, family, friendship, and writing. She focuses her narrative eye on the world and people around her, wondering if "any story that starts will also endwp_postsapplies to the twisty, surprising turns of real life. The titular essay explores a profound and unexpected friendship Patchett experienced after a chance encounter.
Translated by Mariam Rahmani, this novel of Iranian counter-culture tells the satirical story of Shadi, a wealthy and cynical opium addict caught in the apocalypse. Wandering the crumbling streets of Tehran dressed as a man, she looks for her next fix, connects with similarly depressed friends, and drops in on dysfunctional family. The resulting tale speaks to global capitalism, authoritarianism, the nebulous gender binary, and the disaster that is contemporary life.
Fool For Love by Rachael Sommers (November)
In this small town lesbian romance, two women are given a second chance at love. Chloe has returned to her family's home in the wake of her father's death. She's determined to renovate and sell her family home as fast as she can, hoping to avoid running into Amy. Who's Amy? Oh, just the first woman Chloe ever loved who wants to reconnect.
Opposites attract in this lesbian romance starring an ice queen femme corporate lawyer and a soft-hearted butch veterinarian. Felicity — the ice queen — is sent to investigate her boss's lost donation to a charity that focuses on helping pets whose owners are homeless. She's certainly not going to let this cute veterinarian distract her from her mission of getting into her boss's good books and climbing the corporate ladder.
---
Can you believe all these awesome books could soon be read by you? Which fall 2021 queer and feminist books are you most excited about? Let everyone know in the comments!