Sometimes you want a sex toy that's just big. Really big. When that day comes, these are the toys to try out.
---

The Njoy Eleven is 2.75 pounds of stainless steel magic. It's heavy. It's sexy. It slides like a dream. It's shaped to hit the g-spot or prostate, and both ends feel awesome — the smaller end has ridges that feel good internally and make the toy easy to hold, and the larger end has a bulb and intense curve. In a list of big sex toys, the Njoy Eleven still needs a warning: because it's stainless steel, its size feels much more significant than a silicone toy of the same dimensions. It's 11 inches long, the smaller end is 1.75 inches in diameter, and the larger end is 2 inches in diameter. Pair with your favourite lube.
---
Fun Factory's Big Boss G5 vibrator combines Fun Factory's signature silicone texture and rumbly motor in a large g-spot vibrator with a gently realistic shape, slight curve, and a looped handle that's easy to grip and use even when your fingers are covered in lube. It has six vibration intensities that feel pretty rumbly, and six patterns if you're into that. It's also USB rechargeable, waterproof, locks for travel, and comes in black, pink, or a light flesh tone. It's 9 inches long (7 insertable) and 1.8 inches in diameter .Make sure to use it only with water-based lube.
---
Leo is a marbled gold-colored (or purple) dildo, and it's really, really beautiful. It's made of medium-firm silicone with just a touch of give, and has a gentle curve and head to target a g-spot or prostate. The concave base can act like a suction cup on any hard surface, or work with most strap-on harnesses. At a delicate 7.125 inches long and 1.5 inches in diameter, it's the smallest toy on this list. And it's silicone, so make sure to use it with water-based lube.
---

The BJ Dildo, designed by queer-owned Form Function specifically for blow jobs but also great for other types of penetration, wouldn't strike me as all that big except that it's supposed to go in someone's mouth. It's made of flexible single-density silicone, and has a hollow core, an opening at the tip, and a flat, almost sticky suction-cup-like-but-not base so that the wearer can feel suction against their clit when the toy is sucked or squeezed. It works with most harnesses — check the o-ring diameter to be sure, though I found that because of the hollow center the BJ Dildo fit into a harness it should have been a little too big for — and comes in matte black, turquoise, or three flesh tones. It's 7.5 inches long and 1.75 inches in diameter. Make sure to pair with a water-based lube.
---

The newest in Njoy's line of butt plugs is the sculpted stainless steel Pure Plug 2.0, which is basically the Pure Plug you (and one of Autostraddle's anonymous reviewers) know and love, but more of it. It's solid stainless steel, weighty and intense. It has a loop at the base for safe and easy use, a shape that feels awesome with or without a prostate, and is easy to sterilize to share between partners. It's 3.5 inches insertable by 2 inches in diameter, and weighs 1.31 pounds. Remember to go slow and use it with a ton of lube.
---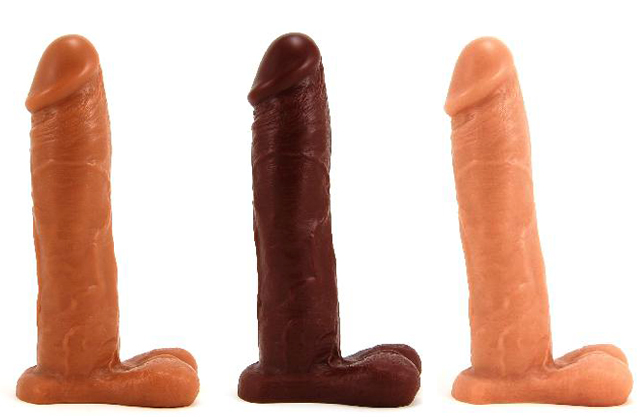 Vixen Creations' Outlaw dildo is made of dual-density silicone for a squishy, almost flesh-like exterior that is still rigid enough to stay in place during enthusiastic sex. It's realistically shaped and textured, comes in three flesh tones, and has a huge base. If you hate the base immediately, know it's easily hidden by an underwear-style harness, and worth it for how well it translates sensation to the wearer; or try the Maverick, which is only one inch shorter and doesn't have the base. If other VixSkin dildos just don't feel big enough, the Outlaw will, at 8.5 inches long and 2 inches in diameter. It's silicone, so make sure to pair it with a water-based lube. (Read Autostraddle's review of the Outlaw.)
---

Fucking Sculptures' glass dildos are, quite simply, works of art. They're smooth, well-sculpted, beautiful, and catch the light in a way only glass sex toys can. They're handmade, so every one is slightly different in shape, size, color and texture. And if you're worried about soda-lime glass being breakable, Fucking Sculptures offers one free replacement if you break your toy and send them a photo of it. Most Fucking Sculptures come in a few different colors and in sizes small, medium and large. The Double Trouble, pictured, is a black double-ended glass dildo that's about 9.8 inches long, 1.7 to 2.15 inches in diameter and weighs 1.65 to 1.87 pounds.