Inspired by this year's International Zine Month activities and Allied Media Conference, POC Zine Project founder Daniela Capistrano collaborated with artist/activist Nia King, Queer Zine Archive Project and Barnard Zine Library to curate a list of 50 zines made by QTPOC (Queer and/or Trans-Identified People of Color).
As QZAP notes on their website, "people of color started the radical queer revolution and kick started the queer zine scene." There are many QTPOC zines on qzap.org, nearly a hundred at Barnard and thousands more out there in the world; this list is not meant to represent all zines created by QTPOC. Use it as a rabbit hole of sorts on your path toward discovering more queer zines by people of color.
Below the list are some tips to aid your search. Enjoy!
I. POC Zine Project recommends …
Here are 10 queer zines by people of color made within the last ten years that you can either access for free online and/or order right now. Support QTPOC zinesters today!
1. Fag School #1 (2003) by Brontez Purnell
READ ON QZAP.org
The Younger Lovers. Gravy Train!!!!. Gaps in your queer history? Learn more about Brontez here and in this 2011 interview with Michelle Tea.
2. The First 7-inch Was Better: How I Became an Ex-Punk (2008) by Nia King
READ ON QZAP.org
POC Zine Project contributor Nia King comes forward to declare her status as an ex-punk after years of watching punk activist communities fail to live up to their alleged anti-racist, anti-sexist, and pro-queer ideals.
3. On Being Hard Femme #1 (2009) by Jackie Wang
READ ON QZAP.org
4. Freeing Ourselves: A Guide to Health and Self Love for Brown Bois (2011) by Brown Boi Project
PURCHASE HERE
"Beautifully constructed, deeply thoughtful, and powerfully political health guide by and for masculine of center/transgender/gender non-conforming people of color…"—LambdaLiterary.org
5. Shotgun Seamstress #4: Sister Outsider Art (2010) by Osa Atoe
READ NOW*
PURCHASE HERE
Shotgun Seamstress is a zine by, for, and about Black punks, queers, feminists, artists, musicians and activists. Osa is a touring member of POC Zine Project.
6. It's Complicated: a zine about race, ethnicity, and identity (2012) by Rachel Casiano Hernandez
PURCHASE HERE
"…a zine that explores my relationship with various aspects of my identity, concentrating on race and ethnicity but also mentioning class and sexuality (and of course the intersections thereof). Included are discussions about assimilation, resistance, privilege, educating others, and the 'minorities becoming the new majority' scare in the US… and of course race-related internet hilarity!"—Rachel
7. Not Straight Not White Male (2012) by rosi
PURCHASE HERE
"I wrote this zine because there is a lack of media that I can really, truly relate to. It is glaringly obvious that this radical scene is comprised mostly of heteros, of whites, and of males. I am Asian, I am hella gay, and I am female."—rosi
8. Slander #8 (2012) by Mimi Thi Nguyen
PURCHASE HERE
POC Zine Project touring member Mimi also edited the groundbreaking Race Riot series, now available online for free!*
Evolution of a Race Riot (1997)
Race Riot #2 (2002)
9. Cat Genie Volume 2: Chola Fruitz (2013) by Daniela Capistrano
READ NOW
Experimental perzine about Queer Chicana identity made entirely on a smartphone by POC Zine Project founder Daniela.
10. Mixed Up!: A Zine About Mixed and Queer Feminist Experience (2013) by Lil Lefkowitz, Lee Naught & Lior Hadar
READ NOW*
POCZP has a limited amount of print copies available.
II. Inside Nia King's zine collection
POC Zine Project asked artist/activist and prolific QTPOC zinester Nia King (access all her zines here) to share her thoughts on the significance of zines and some titles from her collection:
Zines were a big part of how I processed being mixed-race when I didn't have a community of mixed folks to talk to. In fact, the reason I moved to Denver is because I went there for Denver Zine Fest in 2006 and met so many zinesters there from interracial families, such as Anna Inazu, Corey Drayton, and Shannon Perez-Darby. Finding mixed community and finding zine community happened all sort of at once for me in Denver, which is a big part of what inspired my relocation. It didn't hurt that I was offered "The Denver Package" by locals. They promised a free bike, a job interview and a first date upon my arrival.
Here are some of the great zines that I read that helped me understand my own identity better, not only as a mixed race person, but as a queer, a punk and a woman of color.
Quantify #1 by Lauren Jade Martin (2000)
Not presently in circulation
When I returned from Denver to Boston, I googled "mixed race queer" and the first result I found was the "Mixed Race Queer Manifesto" from Lauren Jade Martin's Quantify #1 (2000). She graciously allowed me to reprint it in my compilation zine, Borderlands: Tales from Disputed Territories Between Races and Cultures (2008), even though her own zine is out of print. Lauren's zine really helped me figure out what it meant to be a mixed-race queer person and helped me understand that I was not alone. I still consider her one of the biggest influences on my work.
Shotgun Seamstress #1-6 by Osa Atoe (2006-2011)
READ ISSUE #1
Osa is a fierce voice creating space for women and queers of color in punk rock. She interviewed me for Maximum Rock'n'Roll in 2009 about my zine The First 7-Inch Was Better: How I Became an Ex-Punk and we got into a bit of a debate about the merits of fighting to be queer, brown, and feminist in punk spaces versus abandoning those spaces for queerer, browner pastures. I really respect her documentation of queer and POC cultural production within punk communities. If she wasn't documenting it, it seems it would be all the easier for white folks to deny we exist and are contributing members of punk culture.
POCZP Notes: You can buy the first six issues of Shotgun Seamstress as one rad anthology from Mend My Dress Press.
Memoirs of a Queer Hapa #1 by Jackie Wang (2007)
Not presently in circulation
READ Queer Hapa #2*
Jackie Wang is brilliant. She has not only written two issues of Memoirs of a Queer Hapa, but also authored On Being Hard Femme, The Vertigo of Falling (a perzine, or personal zine), and Egg Days, a art zine/comic zine. I first "met" Jackie when she submitted to my zine Borderlands 2: It's a Family Affair in 2008. She continues to write at loneberry.tumblr.com.
Mixed Up!: A Zine About Mixed and Queer Feminist Experience by Lil Lefkowitz, Lee Naught & Lior Hadar (2013)
READ NOW*
This is the zine I wish had existed when I was a little younger. Lil, Lee, and Lior put together a wonderful collection of stories, poetry and comics by an all-star lineup of mixed artists and writers, such as Amirah Mizrahi and Heidi Restrepo Rhodes. This zine showcases the diversity that falls under the umbrella of "Mixed Race" and combats the stereotype that all mixed folks are half-white/half-POC by showcasing the work of artists like Caro Reyes, who is half Mexican and half-Korean.
POCZP Notes: Nia is working on her latest zine (Art School is Hell). Stay tuned for release details!
III. Inside Barnard Zine Library
Jenna Freedman and her team at the Barnard Zine Library make it a priority to help preserve and share queer and feminist zines by people of color. Jenna has been a longtime ally to the POC Zine Project; Barnard hosted the first POCZP panel in 2011.
Here are just some of the QTPOC zines — in no particular order — that have a home at the Barnard Zine Library:
11. Baa!: I'm a Sheep; No. 4 (1997) by Shari Wang
Origin: Los Gatos, CA
12. Bamboo Girl (1995) by Margarita Alcantara
Origin: NYC
13. Black Elephant (2012) by Jordan Alam
Origin: NYC
14.The Black Lesbians in The 70s Zine (2010) by Shawn(ta) Smith
Origin: Brooklyn, NY
POCZP Notes: The Black Lesbians in the 70s Zine spurred from the Spring Series and Fall Festival of the Lesbians in the 70s conference held in Fall 2010 in NYC. Shawn(ta) took the artifacts and clippings of select portions of the lesbian herstory archives subject files and put them together in a chronological zine, covering each year of the 1970s. Shawn(ta) told POC Zine Project that Sherley Olopherne is creating a continuation of the zine by covering the 1980s – present day. Stay tuned for the release details!
HOW TO ORDER: Go to lesbianherstoryarchives.org. Click the Donate Through Network for Good button, then in the Designation field, write "Black Lesbian Zine." The asking price is $10 per zine, which supports the Lesbian Herstory Archives. Email Shawn after so she can process your order: shawntasmith [at] gmail [dot] com.
15. Building Up Emotional Muscles Pt 1 – 3 (2005) by Shomi Noise
Origin: Brooklyn, NY
16. Chop Suey Spex (1997) by Lala Endara
Origin: New York
17. Consider Yourself Kissed (199?) by Yumi
Origin: Lenexa, KS
18. From Here to There and Back Again… (2005) by Shannon Perez-Darby
Origin: Denver, CO
READ ON QZAP.ORG
19. Greenzine (1996-2004) by Cristy C. Road
Cristy is a touring member of POC Zine Project.
Origin: Miami, FL
PURCHASE #4 (2004) NOW
20. Grrl…..Please! (2009) by Monika Harris
Origin: Milwaukee, WI
21. Life and Times of Butch Dykes (2009) by Eloisa Aquino
Origin: Montreal, Quebec, Canada
BUY NOW
The Life and Times of Butch Dykes is a series of fanzines about the lives and times of amazing women who could be considered icons against heteronormativity, in their very personal and unique ways. They're from different places/spaces and yet have as a common ground the fact that they're all accomplished creators, in work and life. They were and are brave people who tried to be authentic and faithful to what they perceived as their true identity.
POCZP Notes: The magazine No More Potlucks has Chavela Vargas and Claude Cahun online.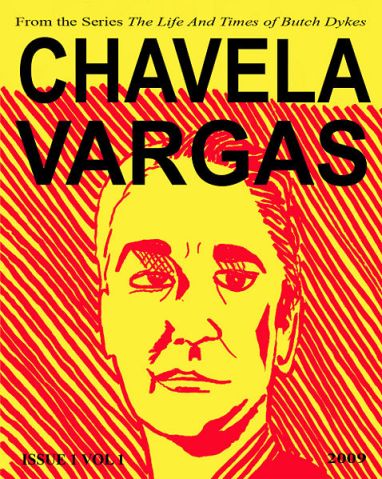 22. Moonroot: An Exploration of Asian Womyn's Bodies (2011) by MOONROOT Collective
Origin: Baltimore, MD
READ NOW
23. Moving Parts (1998) by Helen Luu
Origin: Ontario, Canada
POCZP Notes: Helen also edited How to Stage a Coup: An Insurrection of the Underground Liberation Army (2002).
READ NOW*
24. Quantify #4-6 (2000-2005) by Lauren Jade Martin
Origin: Portland, OR
25. She's Not a Morning Person (200?) by Jen Venegas
Origin: El Monte, CA
26. Skinned Heart: Numero Tres (2011) by Nyky Gomez
Origin: Seattle, WA
PURCHASE NOW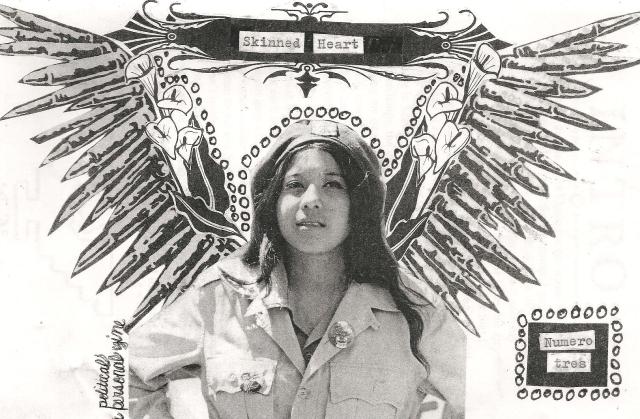 27. Transgressions, a Political Zine for Trans, Butch, Intersex, Genderqueer… People of Color (2005) by Priyank Jindal
Origin: Philadelphia, PA
28. Ungrateful Black-White Girl (2008) by Nia King
Origin: Oakland, CA
READ ON QZAP.ORG
29. When Chocolate Tastes Like Someone Else's Dream (2005) by Ryka Aoki de la Cruz
Origin: San Gabriel, CA
30. Workin' On It! We Activate! We Agitate! Womyn of Color, Occupy Wall Street & Beyond! 2 (2012) by SlushPilePress
Origin: Eugene, OR
For information on these titles and how to access them, click here.
VI. Found on QZAP.org
The Queer Zine Archive Project's work was the inspiration for the POC Zine Project (help them do critical work by donating to their Frickstarter campaign). Here are just some of the QTPOC zines you can read and download for free through QZAP's digital archive. Enjoy!
31. Boy Crazy Boy #1 (1993) by Sina Shamsavari
A cute comic from suburban London, England.
READ ON QZAP.ORG
32. Yes, Miss Davis (1994) by Vaginal Davis
POCZP Notes: Vaginal Davis released six zines, is an originator of the homo-core punk movement and a gender-queer art-music icon. Vaginal Davis is the key proponent of the disruptive performance aesthetic known as terrorist drag. A self-labeled "sexual repulsive," Ms. Davis consistently refuses to ease conservative tactics within gay and black politics, employing punk music, invented biography, insults, self-mockery, and repeated incitements to group sexual revolt — all to hilarious and devastating effect.
READ ON QZAP.ORG
33. Aqua Net Zine #2 (1997) by AQU25A
Origin: San Francisco, CA
Aqua Net Zine was featured in the 2010 Queer Zine Art Show that QZAP held in Milwaukee, WI.
READ ON QZAP.ORG
34. Sacred Sensual Secrets (2006) by Jair, the Literary Masturbator
Poems and erotica by a Los Angeles area writer.
READ ON QZAP.ORG
35. MXD Zine #1: True Stories By Mixed Race Writers (2007) edited by Nia King
READ ON QZAP.ORG
36. Dykes And Their Hair (2008) by Teresa Chun-Wen Cheng
A Canadian queer zine with drawings of a variety of dyke hairstyles.
READ ON QZAP.ORG
37. Borderlands: Tales from Disputed Territories between Races and Cultures (2008) edited by Nia King
READ ON QZAP.ORG
38. Upskirt: Dirty (Un)Feminist Secrets (2009) by Teresa Chen-wen Chen
READ ON QZAP.ORG
39. Queers Under All Conditions #1 (2010) by QUAC Collective
QUAC is an Orange County (UCI)-based zine project dedicated to archiving and distributing queer/trans voices, histories, experiences, knowledge(s), and survival tactics in the face of violent silencing within public space and dominant culture.
READ ON QZAP.ORG
40. gaysi #1: The Gay Desi (2011) by Gaysi Family
READ #1 ON QZAP.ORG
#1 is also available on ISSUU
POCZP Notes: Volume 2 will be published in August of 2013!
V. POC Zine Project recommends: Self-Care zines
A Self-Care zine usually covers and/or illustrates health-related issues ranging from mental to physical, personal to societal, and preventive to regenerative. As a recent zine exhibition in Chicago dedicated to self-care demonstrated, the purpose of the zine can often be for the creator/zinester to work through their own self-care journey and "to inspire the reader to be their own own advocate in self-improvement."
In no particular order, here are just a few of the many self-care zines out there created by QTPOC.
41. The Radical Doula Guide (2012) by Miriam Zoila Pérez
Miriam Zoila Pérez is a writer and reproductive justice activist who identifies as queer and genderqueer. The guide is a political primer for full spectrum pregnancy and childbirth support.
PURCHASE NOW
42. Unsewing My Lips: A Do-For-Self Care and Defense Guide (2012) by atiah z
This is atiah's first zine. It is also one of the few (for now!) zines created in London, UK, in the POC Zine Project archive.
READ NOW* (options to buy at same link)
43. Supporting a Survivor of Sexual Assault (2007) by MARC/UBUNTO
An incredible zine for folks who are supporting survivors! UBUNTU is a Durham, North Carolina based movement, led by women of color and survivors of sexual assault, dedicated to creating a world without sexual violence.
READ NOW*
UBUNTO also recommends NO! The Rape Documentary Study Guide (2007)
READ NOW*
44. The Swan The Vulture (2011) by Anna Vo
A zine created by POCZP touring member Anna on racialisation and consent and "wanting to be loved, but wanting to be loved in a respectful way. And feeling guilty for that. And where this fits into being a non-white 'anarchist' female." This zine includes information on how to navigate abuse.
READ NOW*
45. QUARREL The Zine (2013) by Bay Area survivor led group QUARREL
READ NOW
Stories of survivor self determination, direct action, strategies for safer spaces and ripping patriarchy to shreds. A highlight for us was "insurrecto-eggers-esque" by Ralowe trinitrotoluene ampu (page 77).
VI. Some International QTPOC Zines
These zines barely scratch the surface of the volume of diverse and creative QTPOC zines that can be found outside the United States. We hope exploring these titles encourages you to find and support zines by people of color around the world.
46. Harshbrowns: for racism hangovers (2011) by TextaQueen
Origin: Melbourne, Australia
TextaQueen will be a part of POC Zine Project's 2013 Race Riot! tour.
PURCHASE NOW
47. LBB Issue No. 1 (2012) by La Boi Band Collective
Origin: London, UK
LBBC emerged in 2012 as an idea between four Black queer-identified performance and visual artists.
READ NOW ON ISSUU
48. BoLT #12 (2012) edited by Ariel Silvera
Origin: Ireland
As of June 2012 BoLT Magazine has ceased publication but you can access past issues in their archives. Not only was BoLT a first for Ireland, as a magazine which focused on LGBTQ women, but also being one in which the voices of the trans community were also given their opportunity to share as equals, rather than a side note.
READ NOW
49. Masculine Femininities #6 (2013) edited by Misster Raju Rage
Origin: London, UK
This is a FREE digital zine about gender identities and gender variance and features the writings and art of people of colour, trans femme boys, faggy butches, masculine females, feminine males, trans male drag queens, masculines off centre, bois, gender variants, androgynous, masculine and feminine people of all genders and then some!
READ NOW
50. Crush & Create zine (2013) edited by Sanna Adibzadeh
Origin: Stockholm, Sweden
Sanna Adibzadeh creates zines, music and short films about being a queer person of color, fat activism and more. Sanna told POC Zine Project that they lead a Queers of Color group in Stockholm.
ACCESS NOW
Notes from POCZP: Send your recommendations for updates to this list to poczineproject [at] gmail [dot] com with "International QTPOC" as the subject line. We can cover shipping for zine donations and do purchase some titles.
VII. How we came up with this list
While curating this roundup of 50 QTPOC zines**, our guiding principle was that a publication can still be identified as Queer — even if the author didn't explicitly use the term to describe their work— if the content of the zine is largely "Queer." The following definitions also informed our process:
Queer: An umbrella term for sexual and gender minorities that are not heterosexual, heteronormative, or gender-binary. A term that was re-appropriated in the 1990s from its use as an anti-gay epithet. A term often associated with political radicalism.
QTPOC: A person of color who also identifies as Queer and/or Transgender (or Gender fluid, Genderqueer, Two Spirit, Masculine of Center).
Zine: A printed publication, created independently and in limited releases, by an individual or in collaboration with multiple people, of at least two pages, at any point after the advent of the printing press.
QTPOC Zine: A zine made by a person of color who identifies as QTPOC or who is generally identified as a non-hetero and/or non-gender conforming person of color. The zine content doesn't have to be exclusively about queer identity.
Since POC Zine Project was founded in the United States, most of our archive is donations and purchases from zinesters of color in the U.S. POCZP is hard at work researching and archiving more zines by people of color worldwide and will share updates on poczineproject.tumblr.com.
VIII. Tips for finding more QTPOC (or any!) zines
1. Consult your local zine librarians!
Zine librarians possess a wealth of information. If you want to discover QTPOC zines in your area and beyond, your local zine librarian's brain is a great place to start.
Who are the zine librarians in your city? Here are some simple ways to track them down:
Look on Barnard's list of zine libraries.
Search for "zine library [insert your city here]" and see what comes up!
Check the Zine Librarians group on WeMakeZines
Find out if your local libraries and colleges have zine collections & who the librarians are
Contact local LGBTQ or QTPOC organizations and ask if anyone involved has ever made zines and how to access them
Attend a local zine fest! Librarians will surely be in attendance
If you can spare a few hours a month, consider offering to volunteer in the library. You'll find zines much faster this way and helping your zine librarian in the process!
2. Support your local (or closest to) zine fest!
One of the easiest and most entertaining ways to discover new QTPOC zines (or any zines for that matter) is to attend a zine fest, which is a (typically) annual gathering of zinesters and creators of all stripes that usually features tabling, workshops and more.
Most zine fests are free to attend but charge a fee for tabling. While you're exploring and trading zines with other attendees, ask around for leads on QTPOC zines. Someone there is sure to have valuable information.
Here are some of the largest zine fests in the U.S. where POC Zine Project has had a presence:
Los Angeles Zine Fest
San Francisco Zine Fest
Portland Zine Symposium
Chicago Zine Fest
Zine events take place all over the world. If your city doesn't have a zine fest, consider starting your own! That's what POCZP Midwest Coordinator Joyce Hatton did this year. Follow her journey to learn about the process.
Atlanta Zine Fest launched in June of 2013. POCZP traveled to ATL for the inaugural fest to share zines by POC. We hope more folks of color attend next year!
3. Don't get too hung up on the word "Queer"
If you are researching queer zines by people of color online and/or at zine libraries, it's unlikely that the archive staff will have consistently associated the word "queer" as a keyword or search term for that publication if it was made in the 1980s or earlier. Yup—a library could be sitting on a treasure trove of queer zines/publications made by people of color from the 1960s and not even know it.
Some publications by people of color are not even identified as zines within many libraries, even if it was an independently produced, print publication done in a limited release. Sadly, many libraries don't identify independent publications by people of color as zines if they don't meet certain criteria often informed by institutional racism. POC zinesters like Marya Errin Jones, founder of ABQ Zine Fest, do critical work by creating & curating public zine libraries while ensuring that they contain zines authored by people of color.
Some folks argue that if the zinester didn't publicly identify the zine as "Queer" themselves, then it's not an authentically queer zine. We at POCZP believe that this reductionist approach at policing zine culture and vernacular doesn't make room for LGBT people of color who were making independent publications (zines) who may not have had access to the word "Queer" during time periods where that wasn't as commonly used a term.
The 1926 publication FIRE!! Devoted To Younger Negro Artists was a comp zine created during the Harlem Renaissance—before the advent of sci-fi fan fiction zines in the 1930s. The authors—Langston Hughes, Zora Neale Hurston, Wallace Thurman, Aaron Douglas, Richard Bruce Nugent, Gwendolyn Bennett and John P. Davis—created this publication in part to explore taboo subjects in African American society such as homosexuality and gender-nonconformity
FIRE!! may not have been described as a "queer" publication in 1926, but it deserves more recognition as one of the most groundbreaking works of independent queer literature — a zine — by people color in the United States. Thanks to POCZP and firepress.com, you can now read FIRE!! online for free.
---
ABOUT THE CONTRIBUTORS
Daniela Capistrano is the founder of POC (People of Color) Zine Project, a media professional and media literacy activist. She proudly identifies as a Queer Chicana Feminist and is the CEO & Founder of DCAP Media LLC.
CONTACT
danielacapistrano.com
@dcap
@dcapmedia
daniela [at] dcapmedia [dot] com
POC Zine Project is a grassroots advocacy platform founded in 2010. POCZP's mission is to make all zines by people of color easy to find, distribute and share and is an experiment in activism and community through materiality. POCZP empowers independent writers and publishers of color through online and physical resources, mentorship and community events as part of the Race Riot! tour and more. If you are a person of color, submit your zine to the archive and join us as a guest reader on this year's 20 city tour!
Support POCZP: If everyone in our community gave $1, we would more than meet our fundraising goal for 2013. If you have it to spare, we appreciate your support. All funds go to our 2013 tour, the Legacy Series and the poverty zine series.
DONATE via PayPal:
CONTACT
POCZineProject.tumblr.com
Facebook.com/POCZineProject
@poczineproject
poczineproject [at] gmail [dot] com
Nia King is a queer art activist of color from Boston, Massachusetts. She currently resides in Oakland, California where she runs the podcast We Want the Airwaves: QPOC Artists on the Rise. Nia will be a part of POC Zine Project's Race Riot! Tour in 2013.
CONTACT
artactivistnia.com
@artactivistnia
The Queer Zine Archive Project (QZAP) website was first launched in November 2003 in an effort to preserve queer zines and make them available to other queers, researchers, historians, punks, and anyone else who has an interest DIY publishing and underground queer communities.
CONTACT
http://www.qzap.org/
QZAP on Facebook
@QZAP
Barnard Zine Library zines are written by women (cis- and transgender) with an emphasis on zines by women of color. We collect zines on feminism and femme identity by people of all genders. The zines are personal and political publications on activism, anarchism, body image, third wave feminism, gender, parenting, queer community, riot grrrl, sexual assault, trans experience, and other topics.
CONTACT
http://zines.barnard.edu/
Barnard Zine Library on Facebook
@barnlib
Jenna Freedman is a zinester and librarian from New York City. She founded the zine collection at the Barnard College Library.
CONTACT
http://lowereastsidelibrarian.info/contact
*All "READ NOW" flip-style digitized zines were made possible by the POC Zine Project as part of their mission to make all zines by people of color easy to find, distribute and share. Contact the zinesters directly if you are interested in a print version.
**If you cite this roundup in any publication, on any website, or in any oral/multimedia presentations, please be sure to credit and link back to POC Zine Project: poczineproject.tumblr.com. This helps us spread the word about our mission. Thank you!
Pages: 1 2 3 4See entire article on one page