III. Inside Barnard Zine Library
Jenna Freedman and her team at the Barnard Zine Library make it a priority to help preserve and share queer and feminist zines by people of color. Jenna has been a longtime ally to the POC Zine Project; Barnard hosted the first POCZP panel in 2011.
Here are just some of the QTPOC zines — in no particular order — that have a home at the Barnard Zine Library:
11. Baa!: I'm a Sheep; No. 4 (1997) by Shari Wang
Origin: Los Gatos, CA
12. Bamboo Girl (1995) by Margarita Alcantara
Origin: NYC
13. Black Elephant (2012) by Jordan Alam
Origin: NYC
14.The Black Lesbians in The 70s Zine (2010) by Shawn(ta) Smith
Origin: Brooklyn, NY
POCZP Notes: The Black Lesbians in the 70s Zine spurred from the Spring Series and Fall Festival of the Lesbians in the 70s conference held in Fall 2010 in NYC. Shawn(ta) took the artifacts and clippings of select portions of the lesbian herstory archives subject files and put them together in a chronological zine, covering each year of the 1970s. Shawn(ta) told POC Zine Project that Sherley Olopherne is creating a continuation of the zine by covering the 1980s – present day. Stay tuned for the release details!
HOW TO ORDER: Go to lesbianherstoryarchives.org. Click the Donate Through Network for Good button, then in the Designation field, write "Black Lesbian Zine." The asking price is $10 per zine, which supports the Lesbian Herstory Archives. Email Shawn after so she can process your order: shawntasmith [at] gmail [dot] com.
15. Building Up Emotional Muscles Pt 1 – 3 (2005) by Shomi Noise
Origin: Brooklyn, NY
16. Chop Suey Spex (1997) by Lala Endara
Origin: New York
17. Consider Yourself Kissed (199?) by Yumi
Origin: Lenexa, KS
18. From Here to There and Back Again… (2005) by Shannon Perez-Darby
Origin: Denver, CO
READ ON QZAP.ORG
19. Greenzine (1996-2004) by Cristy C. Road
Cristy is a touring member of POC Zine Project.
Origin: Miami, FL
PURCHASE #4 (2004) NOW
20. Grrl…..Please! (2009) by Monika Harris
Origin: Milwaukee, WI
21. Life and Times of Butch Dykes (2009) by Eloisa Aquino
Origin: Montreal, Quebec, Canada
BUY NOW
The Life and Times of Butch Dykes is a series of fanzines about the lives and times of amazing women who could be considered icons against heteronormativity, in their very personal and unique ways. They're from different places/spaces and yet have as a common ground the fact that they're all accomplished creators, in work and life. They were and are brave people who tried to be authentic and faithful to what they perceived as their true identity.
POCZP Notes: The magazine No More Potlucks has Chavela Vargas and Claude Cahun online.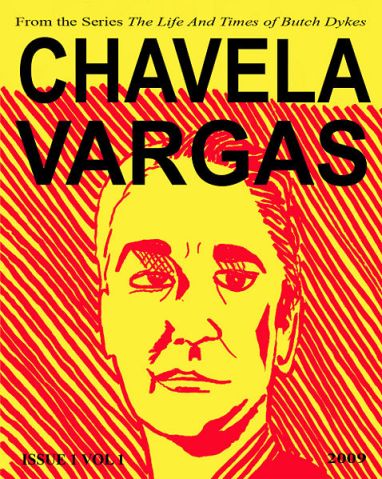 22. Moonroot: An Exploration of Asian Womyn's Bodies (2011) by MOONROOT Collective
Origin: Baltimore, MD
READ NOW
23. Moving Parts (1998) by Helen Luu
Origin: Ontario, Canada
POCZP Notes: Helen also edited How to Stage a Coup: An Insurrection of the Underground Liberation Army (2002).
READ NOW*
24. Quantify #4-6 (2000-2005) by Lauren Jade Martin
Origin: Portland, OR
25. She's Not a Morning Person (200?) by Jen Venegas
Origin: El Monte, CA
26. Skinned Heart: Numero Tres (2011) by Nyky Gomez
Origin: Seattle, WA
PURCHASE NOW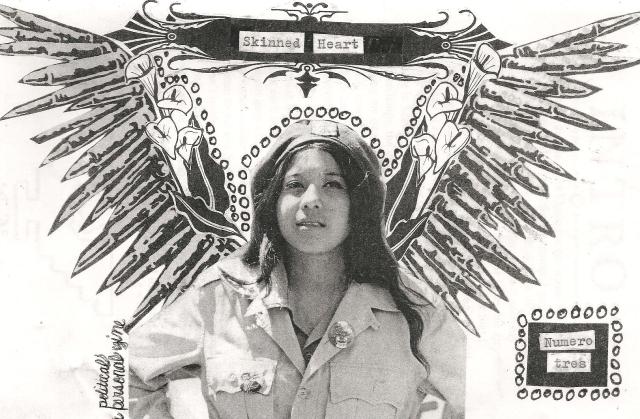 27. Transgressions, a Political Zine for Trans, Butch, Intersex, Genderqueer… People of Color (2005) by Priyank Jindal
Origin: Philadelphia, PA
28. Ungrateful Black-White Girl (2008) by Nia King
Origin: Oakland, CA
READ ON QZAP.ORG
29. When Chocolate Tastes Like Someone Else's Dream (2005) by Ryka Aoki de la Cruz
Origin: San Gabriel, CA
30. Workin' On It! We Activate! We Agitate! Womyn of Color, Occupy Wall Street & Beyond! 2 (2012) by SlushPilePress
Origin: Eugene, OR
For information on these titles and how to access them, click here.
VI. Found on QZAP.org
The Queer Zine Archive Project's work was the inspiration for the POC Zine Project (help them do critical work by donating to their Frickstarter campaign). Here are just some of the QTPOC zines you can read and download for free through QZAP's digital archive. Enjoy!
31. Boy Crazy Boy #1 (1993) by Sina Shamsavari
A cute comic from suburban London, England.
READ ON QZAP.ORG
32. Yes, Miss Davis (1994) by Vaginal Davis
POCZP Notes: Vaginal Davis released six zines, is an originator of the homo-core punk movement and a gender-queer art-music icon. Vaginal Davis is the key proponent of the disruptive performance aesthetic known as terrorist drag. A self-labeled "sexual repulsive," Ms. Davis consistently refuses to ease conservative tactics within gay and black politics, employing punk music, invented biography, insults, self-mockery, and repeated incitements to group sexual revolt — all to hilarious and devastating effect.
READ ON QZAP.ORG
33. Aqua Net Zine #2 (1997) by AQU25A
Origin: San Francisco, CA
Aqua Net Zine was featured in the 2010 Queer Zine Art Show that QZAP held in Milwaukee, WI.
READ ON QZAP.ORG
34. Sacred Sensual Secrets (2006) by Jair, the Literary Masturbator
Poems and erotica by a Los Angeles area writer.
READ ON QZAP.ORG
35. MXD Zine #1: True Stories By Mixed Race Writers (2007) edited by Nia King
READ ON QZAP.ORG
36. Dykes And Their Hair (2008) by Teresa Chun-Wen Cheng
A Canadian queer zine with drawings of a variety of dyke hairstyles.
READ ON QZAP.ORG
37. Borderlands: Tales from Disputed Territories between Races and Cultures (2008) edited by Nia King
READ ON QZAP.ORG
38. Upskirt: Dirty (Un)Feminist Secrets (2009) by Teresa Chen-wen Chen
READ ON QZAP.ORG
39. Queers Under All Conditions #1 (2010) by QUAC Collective
QUAC is an Orange County (UCI)-based zine project dedicated to archiving and distributing queer/trans voices, histories, experiences, knowledge(s), and survival tactics in the face of violent silencing within public space and dominant culture.
READ ON QZAP.ORG
40. gaysi #1: The Gay Desi (2011) by Gaysi Family
READ #1 ON QZAP.ORG
#1 is also available on ISSUU
POCZP Notes: Volume 2 will be published in August of 2013!
Pages: 1 2 3 4See entire article on one page