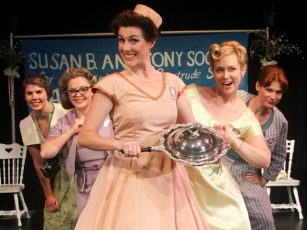 5 Lesbians Eating a Quiche is the legit title of a little off-off Broadway show now playing at the Soho Playhouse in New York City after a successful run at the NYC Fringe Festival last summer.
The plot goes something like this: It is 1956 and somewhere in middle America the "widows" of the Susan B. Anthony Society for the Sisters of Gertrude Stein (played by  Caitlin Chuckta, Rachel Farmer, Megan Johns, Thea Lux, and Maari Suorsa) are having their annual quiche breakfast. Why quiche? Well, as the leader of the society tells the audience, "The egg is as close to the Lord Jesus as a piece of food can get." Everything is peachy until an atomic bomb hits and all of a sudden the women are facing possible starvation with all but one of the quiches locked on the outside of a self-sealing door.
Although 5 Lesbians Eating a Quiche feels like an extended Saturday Night Live sketch, it somehow manages to be simultaneously absurdest parody, socially conscious, touching and totally original. It also is darkly comic as the characters parody the stereotypes of repressed 1950s women, literally taking a nuclear attack to force the ladies into coming out to themselves and each other. The playwrights (oddly, two men) have an interesting way of desensitizing the word "lesbian," with randomly chosen male and female audience members declaring "I'm a lesbian" from their seats in the final minutes of the show. I told you it's weird, but worth it.
5 Lesbians is running at the Soho Playhouse through November 20. I guarantee you will never look at a quiche the same way again.