Wow! Well, Thanksgiving is over, but I bet you have lots of leftover soft foods to contemplate while getting a jump-start on the capitalist extravaganza known as Black Friday / Small Business Saturday / Cyber Monday Shopping! If you're planning to do some online shopping on this fine day, here's a tip: do it through Autostraddle's affiliate links. In fact, I've pulled some hot items from across the web for you below, plus there's a big list at the bottom of other Black Friday opportunities. This holiday season, there is no excuse not to shop through a link that will give us 1% – 20% kickbacks for every dollar you spend!
---
Queer-Owned Retailers
For a complete list of queer-owned retailers you can support this holiday season, go here and also you can check out this list from earlier this year of queer merchants who sell apparel.
Autostraddle: The Best Place Anybody Could Spend Their Money Besides a Small Queer-Family-Owned Grocery Store That Pays All Their Farmers Fairly – 20% Off Everything with the code "AUTOSTRADDLETHIS"
Wow! The Autostraddle Store has never looked hotter. We have so many cute new things for you, like a re-release of the best-selling Scissor Sweatshirt (but in heather grey), the Erin Sullivan classic "who's all gay here" tee, my personal fave "Dyke Drama" tee, a new shirt for the non-binary people and so many other fun things. We haven't done our photoshoot with new merch yet, but on our older stuff we've added sizing info for all our models to help you pick your size! Spending money at the Autostraddle store will get you into The Good Place, I guarantee it!
---
Wildfang: Embrace Your Wild Feminist / Button-Up Addiction – 30% Off Storewide
This queer-women-owned business just keeps becoming more and more of a thing! Also, I got this light jacket ($52.80) from Wildfang earlier this year and it was one of the few smart purchases I made in 2018. The worst purchase, if you're curious, was a pair of tights from lord-knows-where dot amazon dot com that were so itchy I couldn't keep them on my legs but since I'd already put them on my legs, I couldn't return them.
---
TomboyX: Get Game-Changing Underwear with 25% Off w/ Code BF2018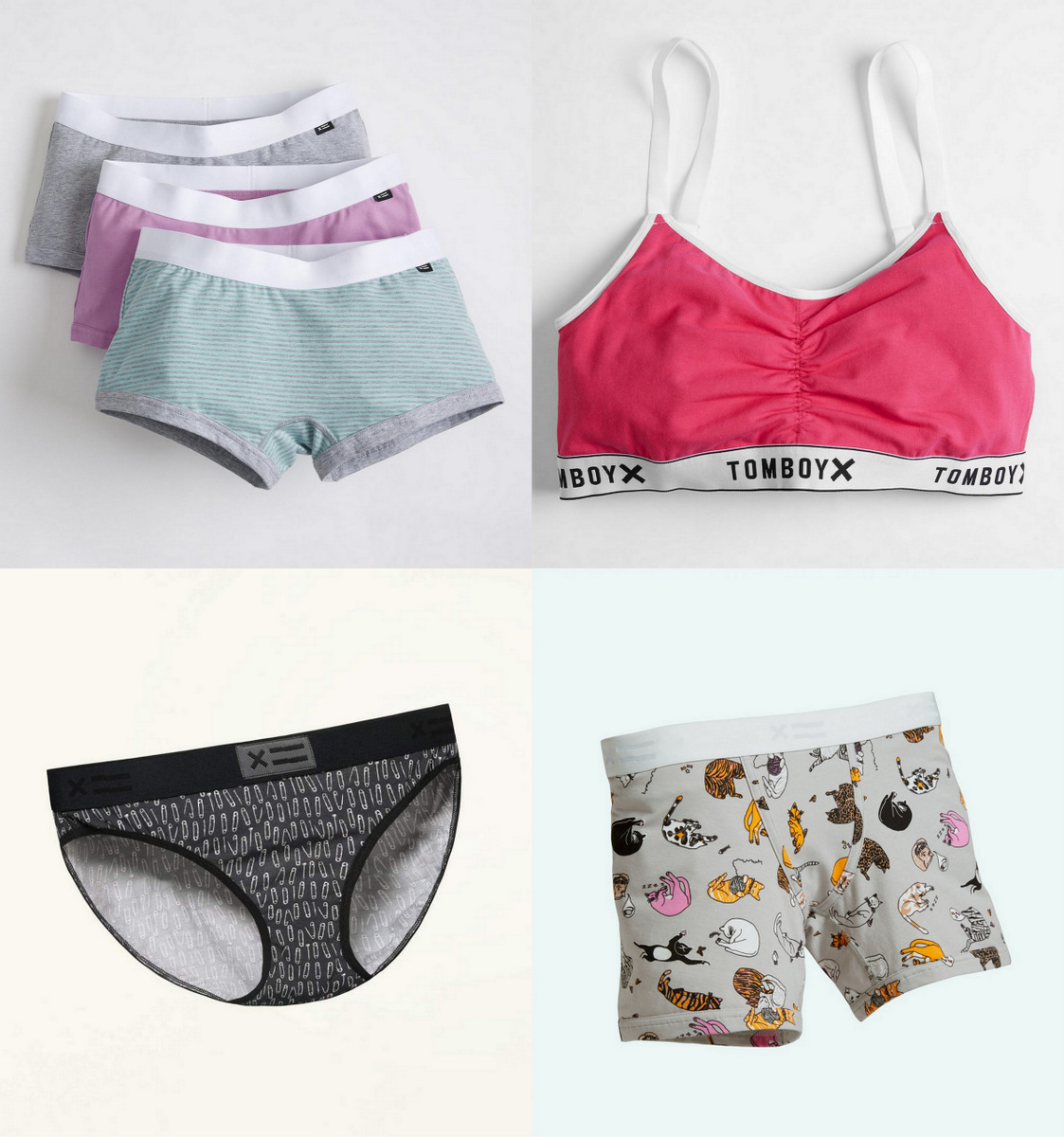 I love my Tomboy-X boxer-briefs and wow, you definitely will too. In sizes up to 4X!!
---
Babeland: Get Hot and Wet With 20% Off Nov 23-26
What are you gonna get? I wanted to put these new Horoscope Vibrator Sets into this collage but couldn't get a good enough picture of them. IDK, could be relevant to your interests though!
---
Other Places Relevant To Your Interests With Hot Deals
I know we all hate Amazon right now and it's evil, but numbers don't lie my friends: y'all shop here a lot. LIKE A LOT. Even when we provide alternatives for products sold in other stores (like indie booksellers or movie streamers), you pick Amazon every time! So let's just embrace the reality of two-day shipping and our slender wallets and if you're gonna do this thing, do it through us.
---
Madewell: Look Like a Thirtysomething Autostraddle Editor with 25% Off Sitewide – code DEALWITHIT
Also they have really cute face masks.
---
Get Cute & Kitschy With ModCloth: 30% Off $100, 40% Off $200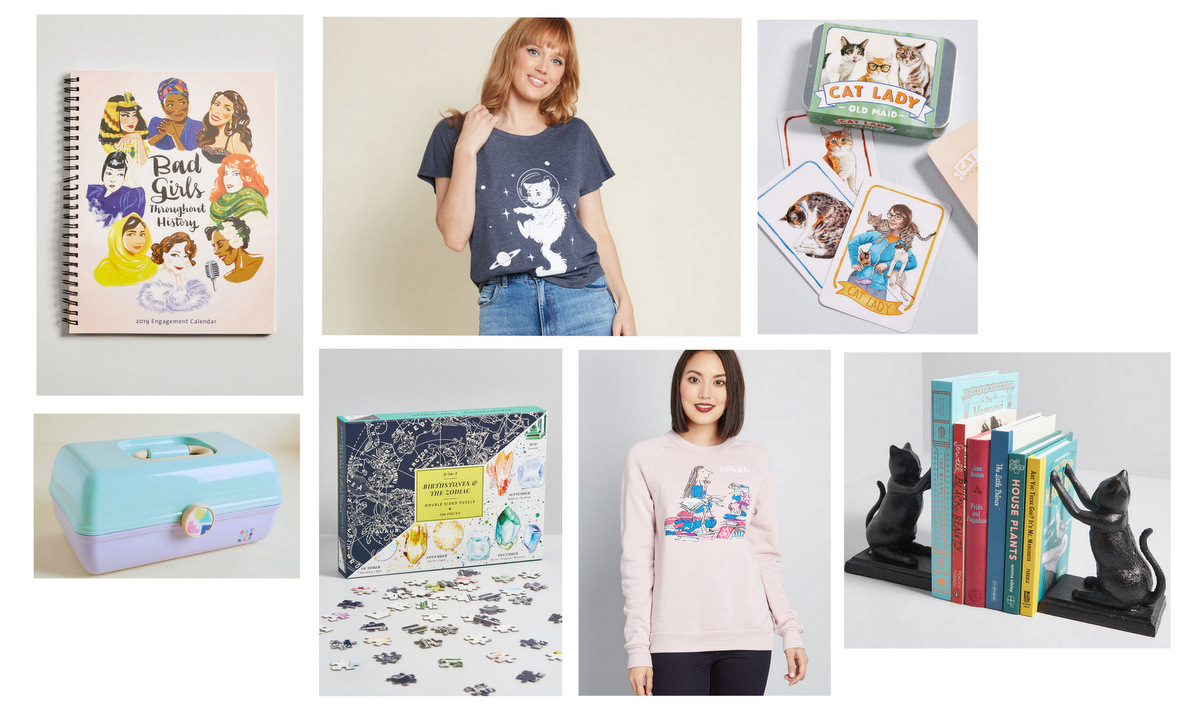 ModCloth has legitimately cute gifts aplenty in addition to the dress you might incidentally buy yourself along the way. It's like a slightly more precious version of the Urban Outfitters gift section.
---
Lelo: Fancy Sex Toys Up to 70% Off
Gigi by Lelo was on The Cut's list of best vibrators, and our reviewer found that despite being weirded out by the scent, The Lily 2 quickly became their go-to vibrator. The Sona Cruise, which promises to really do a number on your clit, is 50% off! Your whole clit for 50% off!
---
L.L. Bean: A Great Way To Go Full Lez with 25% Off – Code THANKS25
---
Sephora: 50% Off Select Items, Gifts Under $15 and Deals Storewide
---
Oops there goes my afternoon with Asos: Get 25% Off with code EPIC25
---
Urban Outfitters: Feel ethically conflicted, look cool with BOGO Sitewide
---
More Black Friday Deals:
Adam & Eve: Get 50% off one item with code BONUS50
Think Geek: 100+ unique gifts at over 40% off
Lowes: Deals all day
Old Navy: 50% Off Your Order
Gap: 50% Off Everything, No Exceptions with code BLKFRIDAY
American Apparel: 40% off Everything with code 40ALL.
Cost Plus World Market: Up to 60% Off Black Friday Deals
H&M: 30% off + free shipping with code 3238.
Nike: Extra 25% off select items with code THANKS
J.Crew: 40% off everything with code TOGETHER, 50% off select items with code TGIF
Swim Outlet: Buy one get one 50% off
Barnes & Noble: 20% off order of $40 or more with code BLKFRIDAY
FreshPair: 30% off Sitewide, 50-80% off Clearance + Free Shipping with No Minimum with code BF30
Target: So many deals where can one even begin it's Target who doesn't love Target
Need Supply Co: 20% off sitewide with code BACKINBLACK
HerRoom: 20% Off Selected Styles
Nordstrom Rack: Extra 30% Off Clearance for total savings up to 75%
Macy's: 20% Off Black Friday Sale with code BLKFRI
Topman US: Up to 50% Off select items at Topman for Black Friday & Cyber Monday! Plus free shipping on all orders!
Lane Bryant: All bras $29.50, Clearance BOGO, 40% off sitewide with code BLFRIAFF, $20 Sweaters,
Best Buy: "Doorbusters" and "thousands of deals" which could mean really anything.