There's so much to see and explore in the world and so little time; I wish I traveled more, particularly to Latin America countries and specifically Mexico, where my family originates. I daydream about traveling and eating all the delicious things a place has to offer and then learning all about a place's history. When I can't travel, I turn to Instagram to soak up all the glorious travels of other queer women! They share glimpses of other realities and inspire me to get out of my bubble. These queer travelers have created awesome LGBT travel communities and give advice and share tips when traveling to unfamiliar places so check out more than just their Instagram!
Here are 33 people across 22 Instagram accounts you should follow to fuel your travel daydreams.
---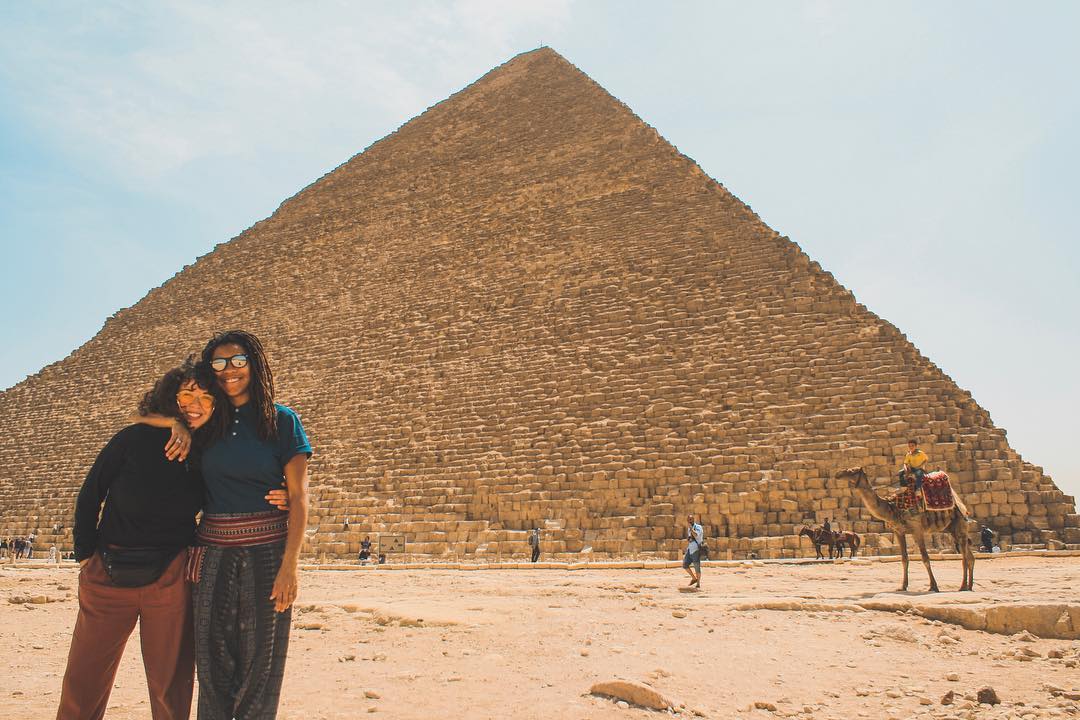 Steph and Tay are my favorite queer travel couple on Instagram! They're originally from Texas but have been backpacking around the world for four years with the help of WWOOF, HelpX and Workaway. They currently live in Madrid, Spain. Their main goal is to empower queer people of color to travel through representation: "Our core mission is to foster a more diverse representation of what travelers look like and love like, and eliminate as much racial, sexist, and homophobic ignorance as possible through that representation."
---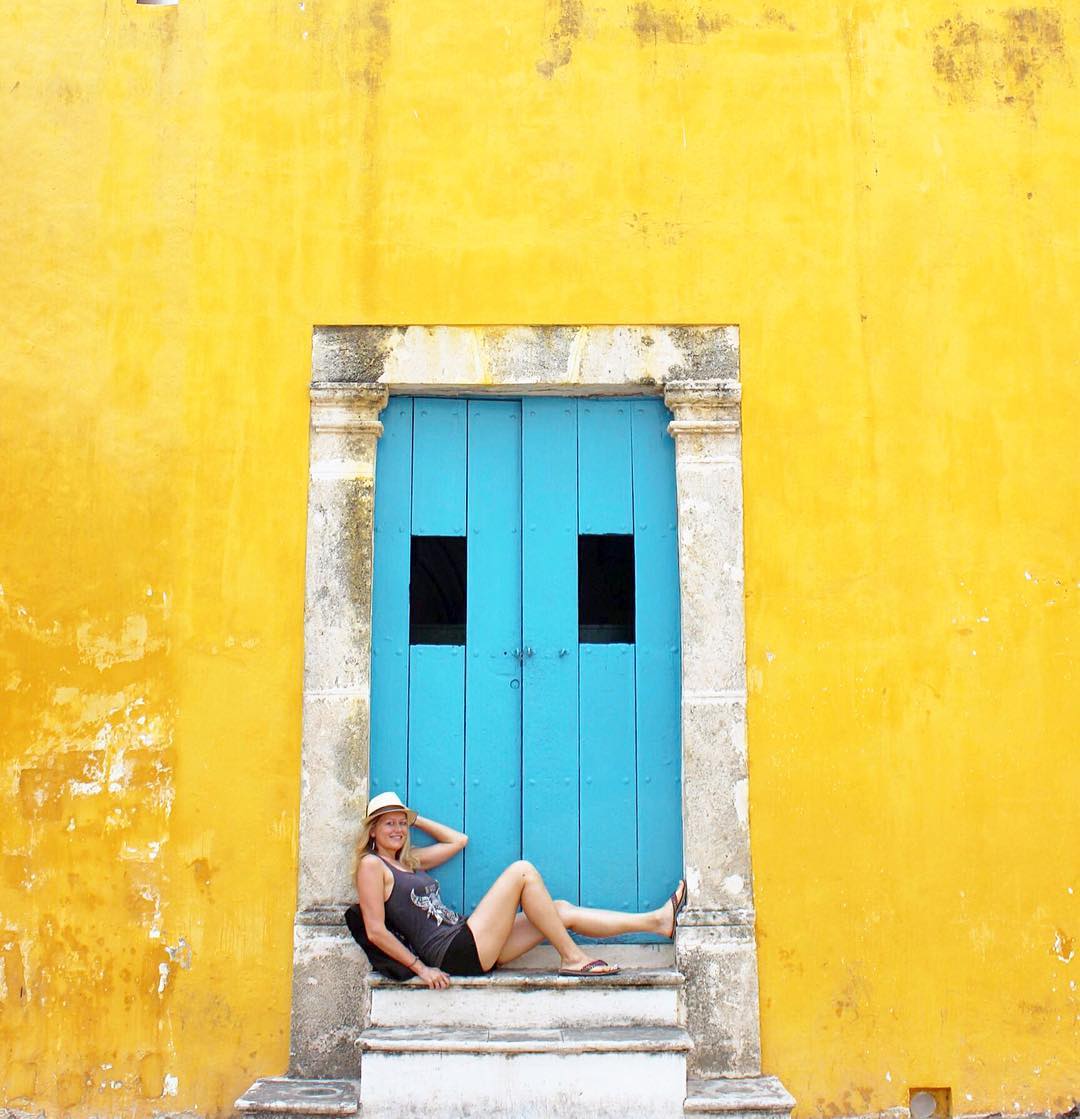 Dani is a full-time traveler who has documented her adventures on her blog Globetrotter Girls. Dani started the blog with her then-partner Jessica in 2010. After four years of traveling and updating the blog together, they split up but Dani has continued to travel and share her stories. You can find travel and hotel tips, articles on traveling on a budget, LGBT travel guides, and articles about long-term travel on her website. 
---
Dinah and Malila are a married couple based in Oakland, California. Their travels have taken them to 23 countries across six continents and now with a baby in tow (and another one on the way), their favorite thing is to discover new places as a family.
---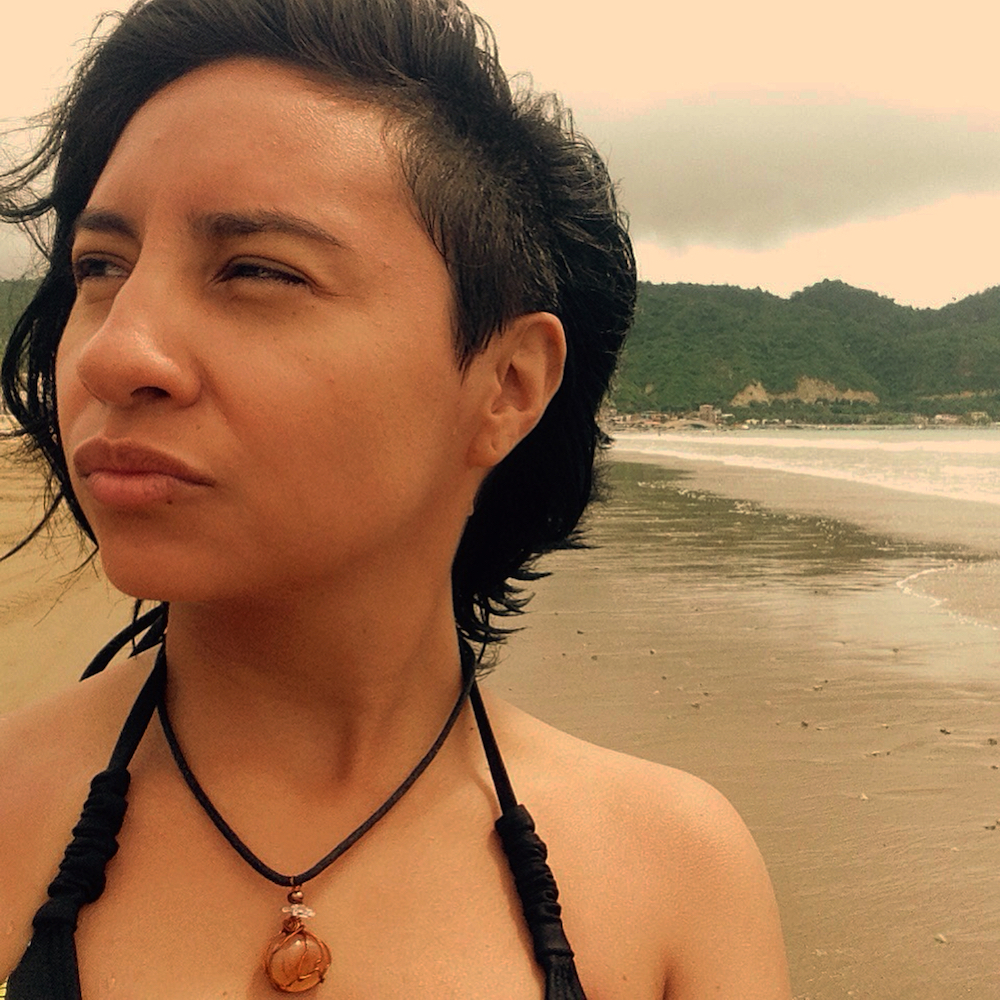 Bani Amor is a "queer crip writer" based in Brooklyn. They write extensively about decolonizing travel culture, diasporic identities, and the intersections of race, disability, gender and place. More often than not, travel writing is pretty racist and catered to a white, Western lens; Bani's writing provides a critical examination of travel culture and media. Check out their guide to responsible travel over at Bitch magazine:
"I'm an Ecuadorian-American who lives between, well, Ecuador and the United States, and those like me, who live in that delicate nexus between borders, represent a big part of the world's population. Traveling can be beautiful, and fucked up, and even boring. But when we deny its political implications, we reestablish it as a tool of coloniality and become complicit in its oppressive chain. Stick that in your back pocket."
---
You might remember Lez Backpack when Autostraddle partnered with blogger Melissa Langley for our Get Out There mini-series that helped you explore your own cities. After living and traveling abroad for a few years, Melissa began Lez Backpack to document her travels around Southeast Asia. Now Melissa and her wife Con Taylor live in Austin, TX and share their queer travel tips and stories on Lez Backpack.
---
Mary Ann Thomas is a queer brown traveler and writer. She recently biked more than 3,000 miles across India in four months. She wrote about her experience on On She Goes: "While I've always considered India a home for me, bicycling from north to south showed me that there is no one India. In most of the country, I am both a foreigner and a guest." In 2014, she biked across the U.S. and Canada, racking over 6,600 miles on her trip. I can't wait to see where she ventures off to next!
---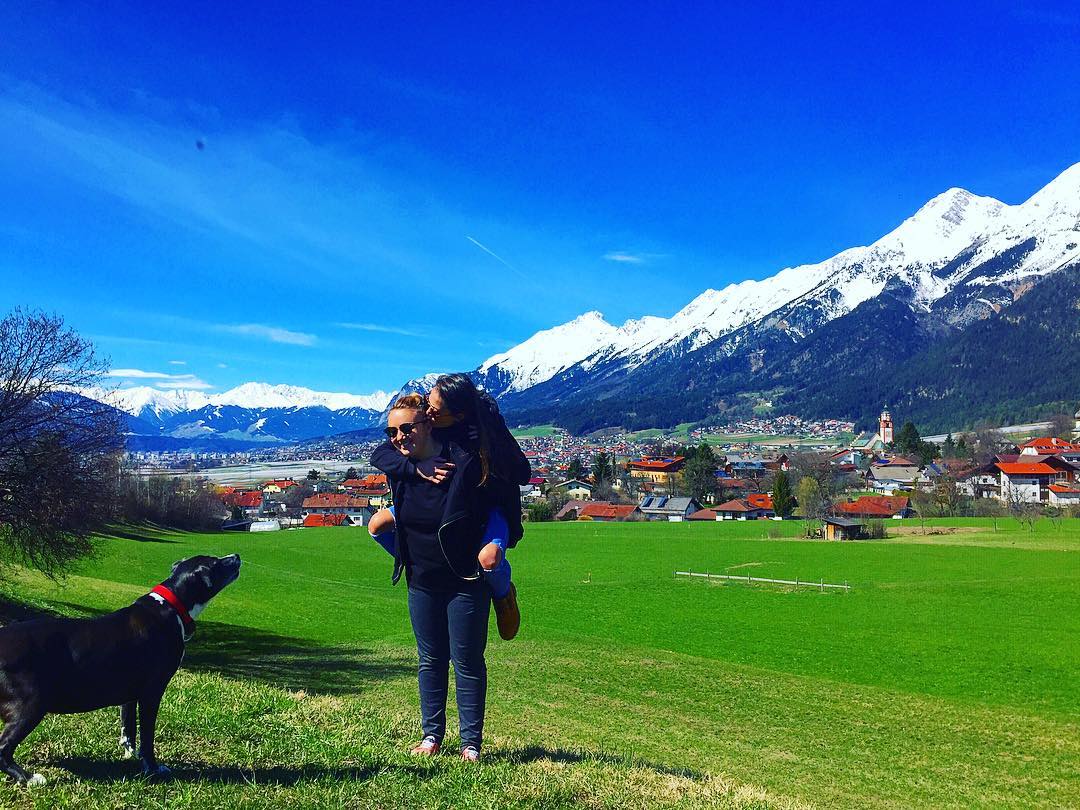 Syaan, an Australian, and Julia, an Austrian, met in Spain over a year ago and have traveled to over 8 countries together. They're fairly new to Instagram but it seems like traveling is their passion and they're super cute together!
---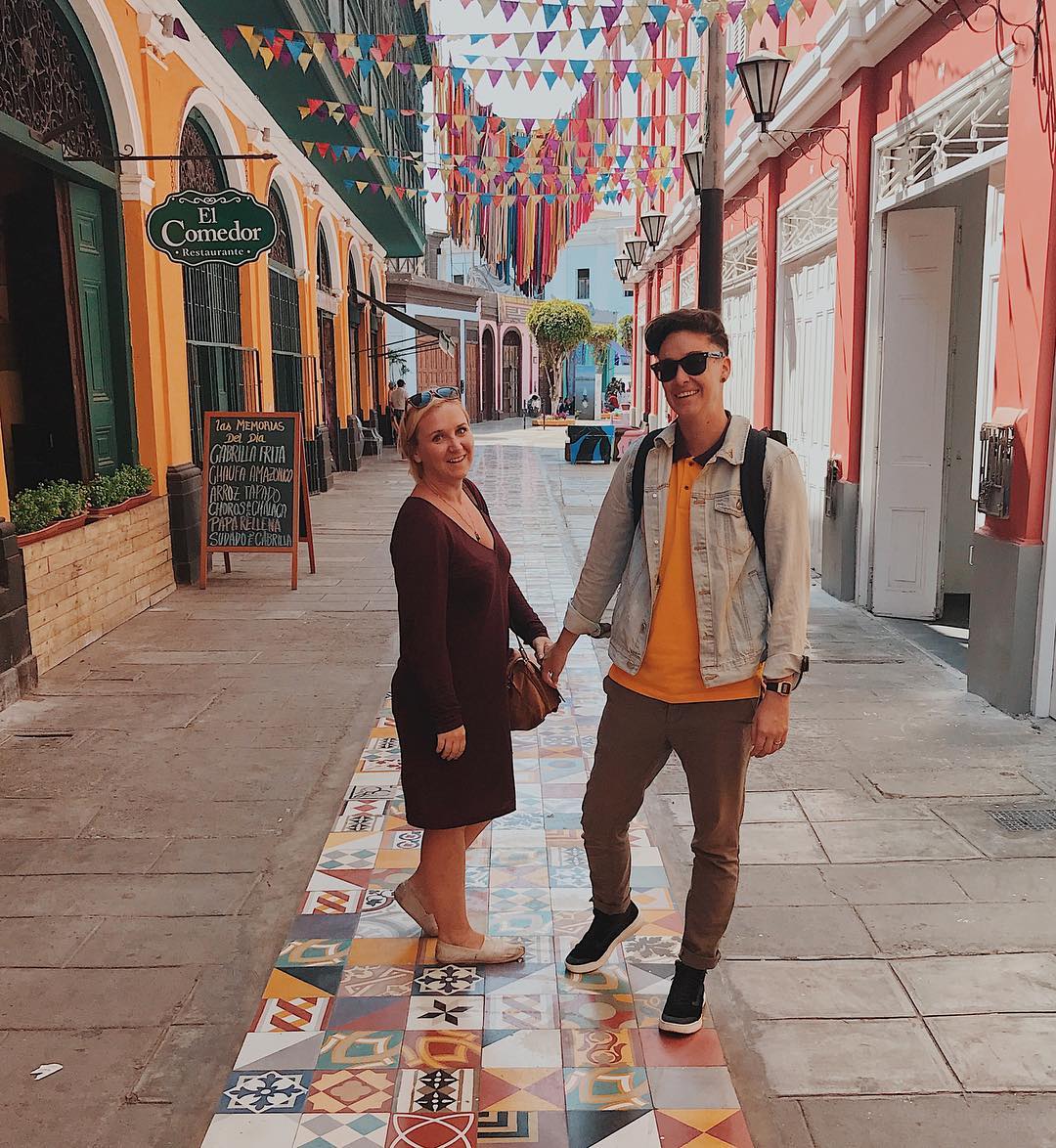 Meg Cale and Lindsay Cale are a married couple who have a prolific LGBTQ travel blog called Dopes on the Road. After getting burnt out working at her LGBT advocacy job, Meg moved to South Korea and began her travel blog to keep in touch with friends and family. Meg started getting more questions about living abroad as a queer person and soon enough Dopes on the Road became more than just a personal blog for Meg.
I hoped that DotR would become a space on the internet for LGBT people like me to find resources for travel that felt more familiar to my community. I knew I wanted to inspire others to have adventures in everyday life without sugar-coating the reality of traveling as an LGBT person. LGBT travelers face a unique set of difficulties when seeing the world. The policies and social acceptance of LGBT people varies widely from country to country, but the reality is that safety is still a huge concern for people when LGBT identity is illegal in 83 countries around the world. It's my hope to lead by example and inspire other LGBT people to seek out adventures around the world and engage in building community around the world.
---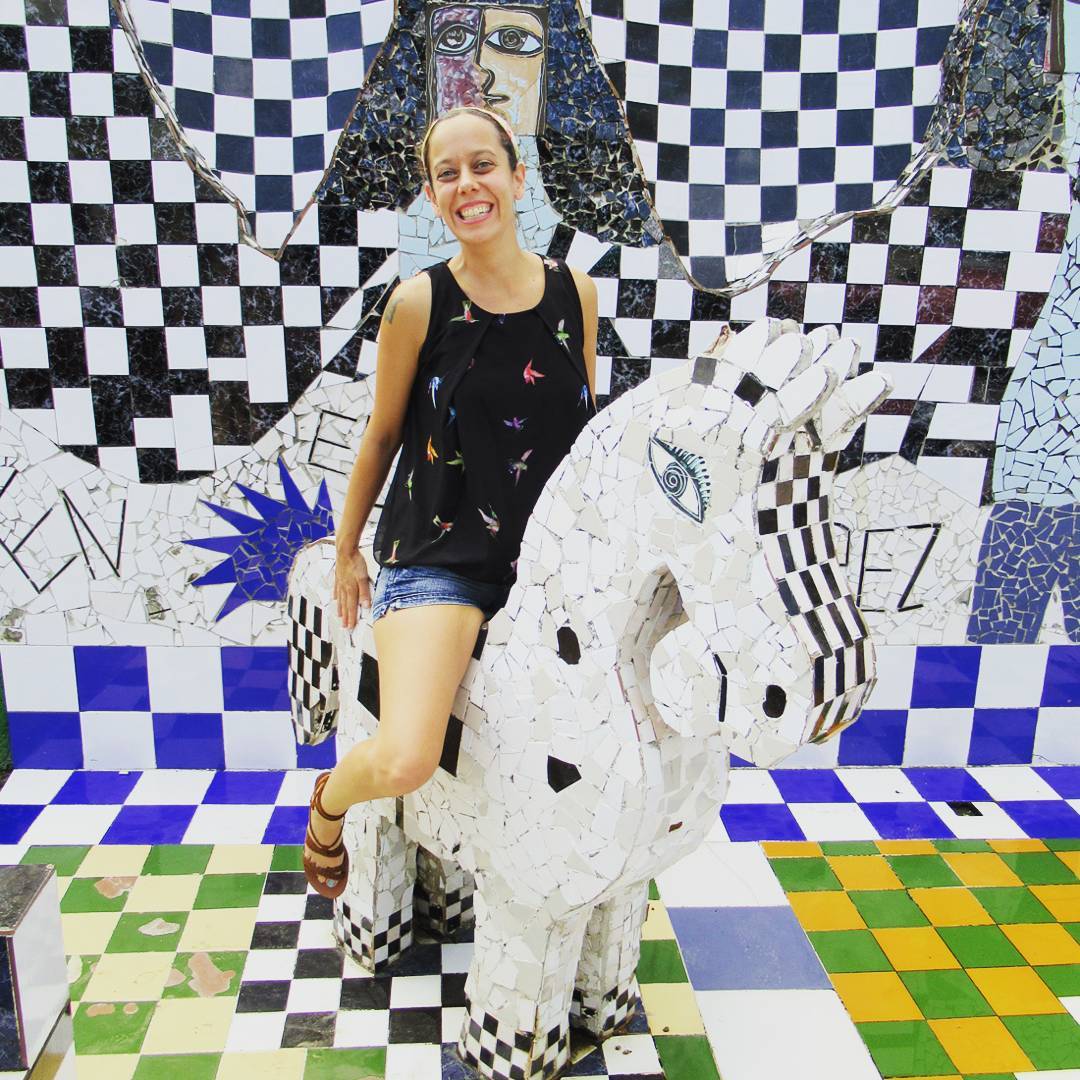 Jennifer Riley is traveling the world as a gluten-free lesbian and sharing her adventures on The Rainbow Route. In addition to tips for LGBT travelers, she has tips for traveling with a dietary restriction and gluten-free guides for Australia, France, India, Japan, and Vancouver.
---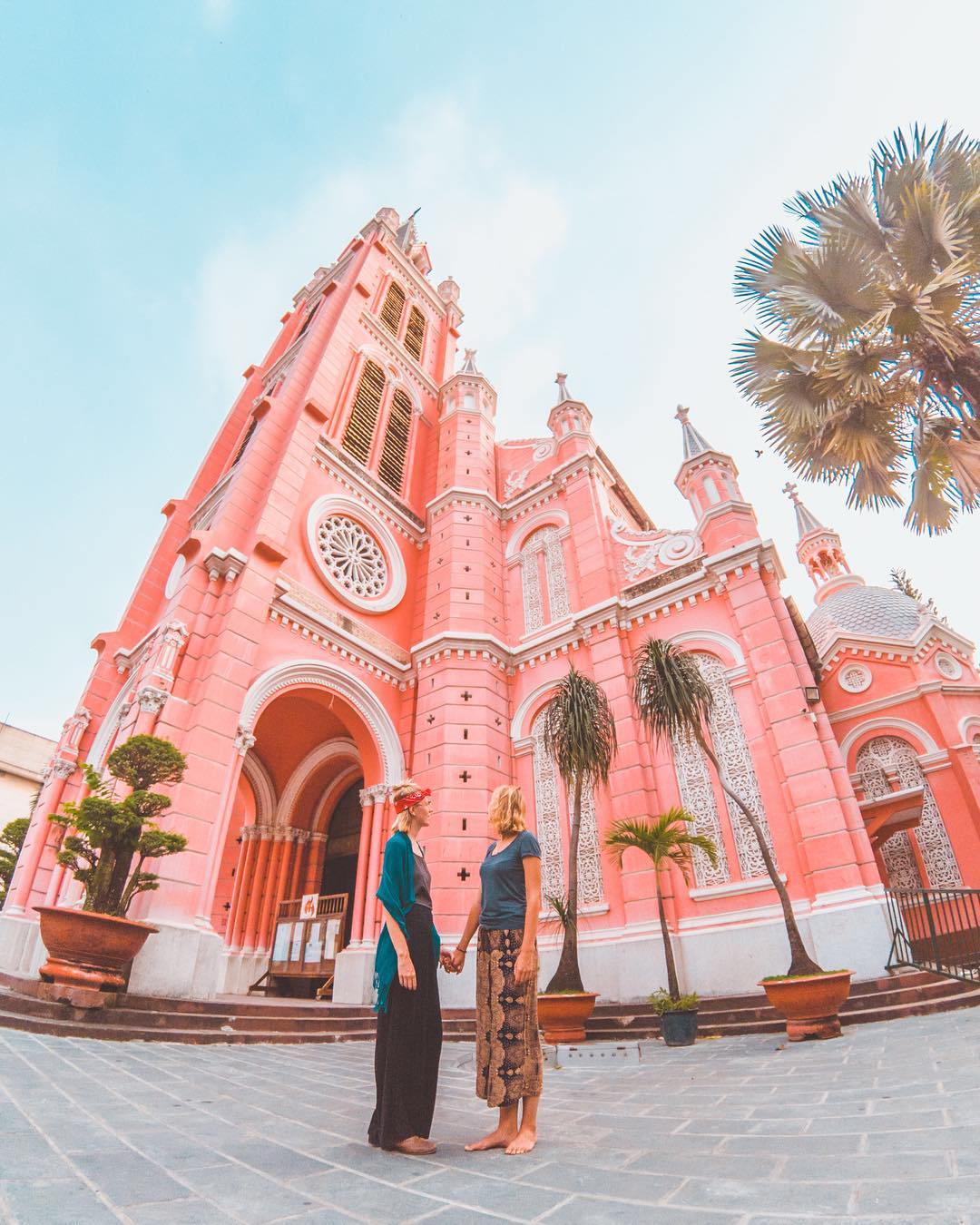 Roxanne Weijer and Maartje Hensen have the kind of Instagram where you're just like stfu, get out of here in a tone of wonder and awe mixed with a tad bit of jealousy, as you scroll through their dreamy photos. The couple left their home in Amsterdam last year to travel and aren't stopping anytime soon. They share their travels on their blog Once Upon a Journey and even inspire others to travel with their supportive Facebook group.
---
Laura and Camrin left their home and jobs in Milwaukee last year to live life on the road. The couple both have a passion for the outdoors and wanted a break from work routines so they saved some money and sold their belongings in order visit national parks, work on farms through WOOFing and explore the great outdoors. They have a sweet roof top tent setup they customized themselves on their Jeep named Tina B for their journey. Follow their Instagram for amazing hiking, camping and nature photos.
---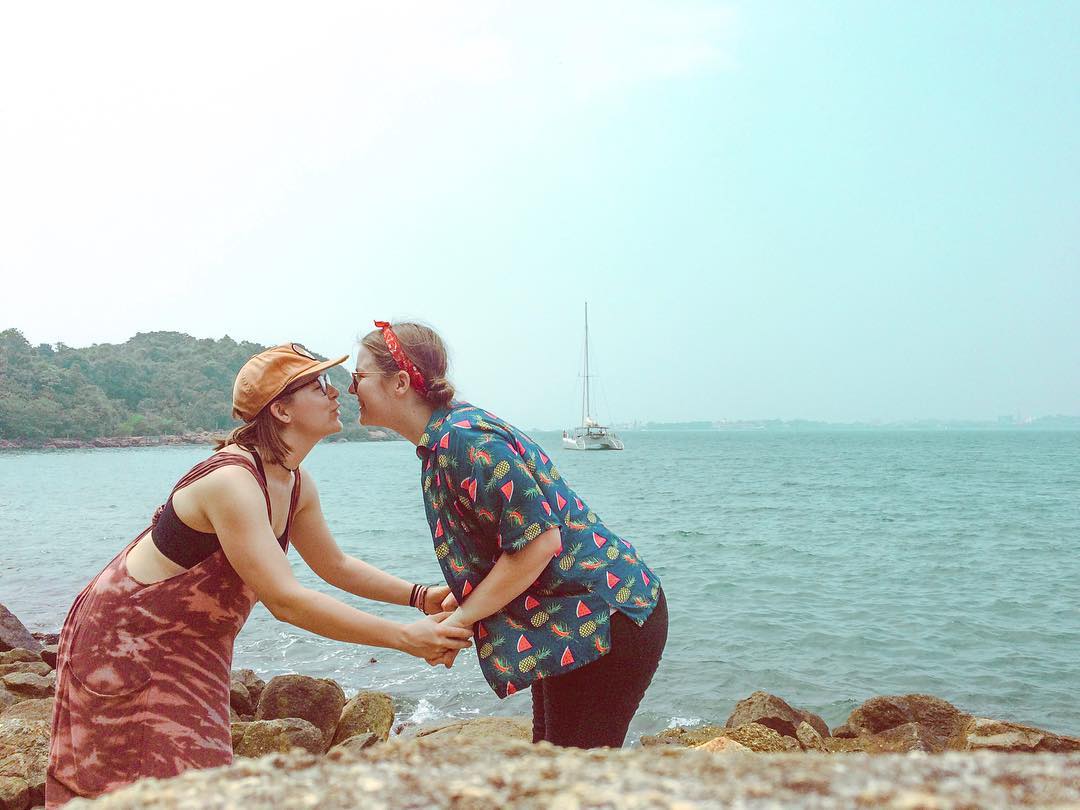 Zoey and Mari's story could be the next lesbian version of Serendipity. Zoey hails from a small town in England and Mari is from Los Angeles and they both left their homes to travel around South East Asia. They traveled separately for several months until their worlds collided.
On April 14th, 2015 Zoey and I met. It was Songkran, the Thai new year, a giant water festival that takes places across the entire country. We were both in Khao San Road at the same hostel but not in the same room. Eventually, due to some circumstantial events, I was moved to a different bed in the hostel. This was the bed directly under Zoey's bed.

"Hi, I'm Zoey, and I'd like to be your friend," she said.
Isn't that really cute?! They have travel guides and tips for LGBTQ people on their blog Lez Wander the World.
---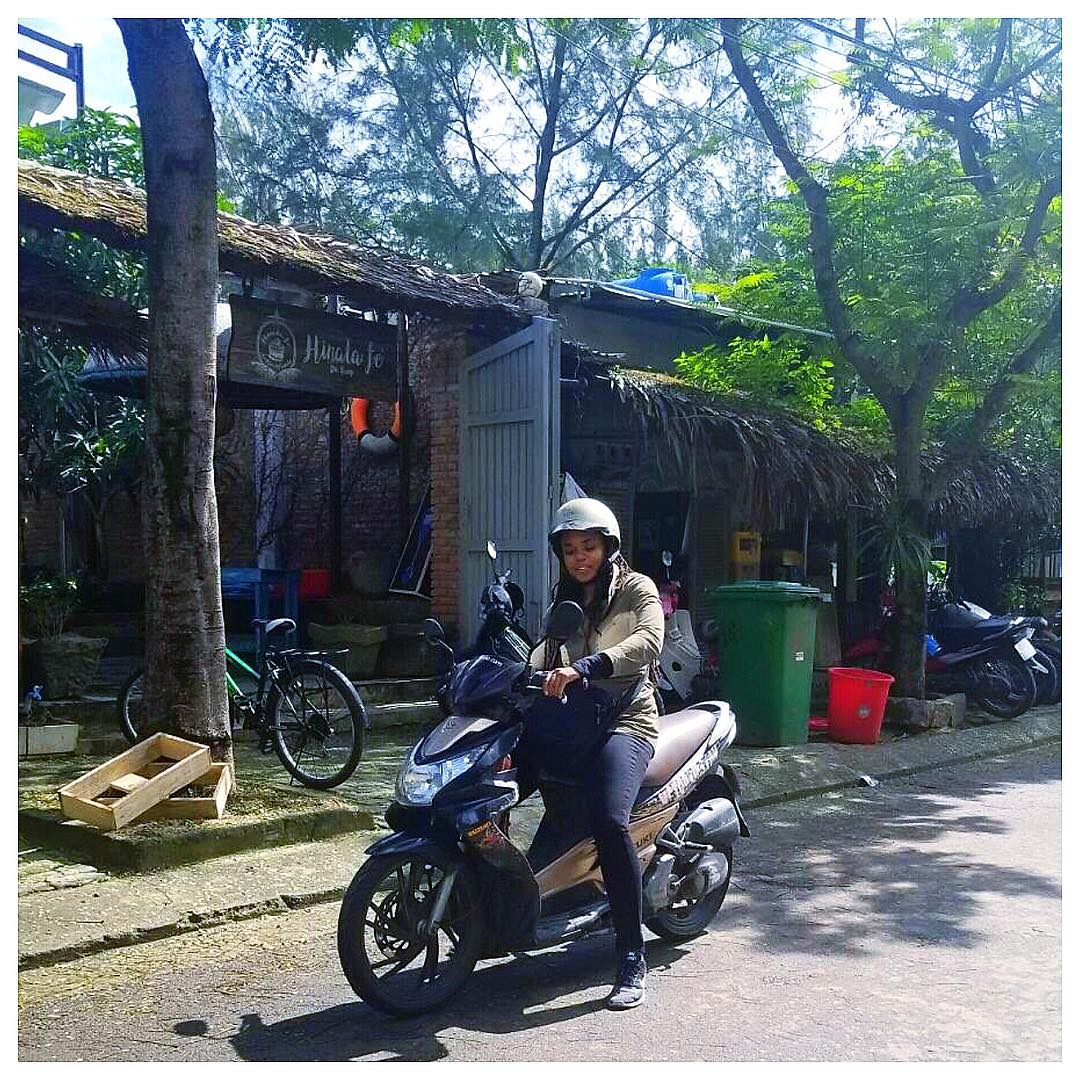 After her dad passed away and went through some major life transitions, Frantzces, a life coach and single mom, sold all her belongings and moved to Southeast Asia in 2016. In the last couple of years, she's lived in Thailand, Japan and Indonesia. She co-hosts a podcast called Chronicles Abroad with her friend Nubia Younge. The duo gives advice and inspiration to people who want to travel, live and work abroad and interviews world travelers, who share their experiences and stories. Learn more about Frantzces' story in Episode 1 Part 2.
---

Mei and Kerstin are from Luxembourg and have been traveling together since 2002. After living in Bordeaux for two years, they moved to Paris where they lived for a decade. In 2013, they returned to their home country where they work full-time as a French and literature teacher and an archeologist. They share their travel stories on their blog and also feature other lesbian travelers on their blog. Here's their view of travel:
"And while we do have a bucket list and love to discover new destinations, we are not into countries counting nor passport stamps gathering. We prefer to take our time when traveling, explore small towns in depth, sometimes hit the road without planning ahead, or leave out must-see landmarks, and occasionally return to the same place twice to immerse ourselves into local life, and make unforgettable memories."
---
Button (from Button and Bly's Travel Show) and Lisa are a married couple living in Carlsbad, California, who create travel, lifestyle and music vlogs on their Youtube channel, This Colorful World. Their mission: "We share our best tips for a beautiful relationship, a healthy lifestyle and a fulfilling life including fun stuff like music and travel. Join our journey through this colorful world, where love and authenticity stands above all. " Check out their latest travel vlog in Estonia.
---
Ruby Bucio is a Mexican-American woman who was born and raised in the Midwest. She's a travel enthusiast who's "empowering restless souls to journey with me around the globe in R Great Escape." Catch photos of her travels in Mexico, Bahamas, Jamaica, Canada, Belize, Guatemala, Costa Rica, Panama, Thailand, Cambodia, Malaysia, Qatar, Singapore, Indonesia and Philippines.
---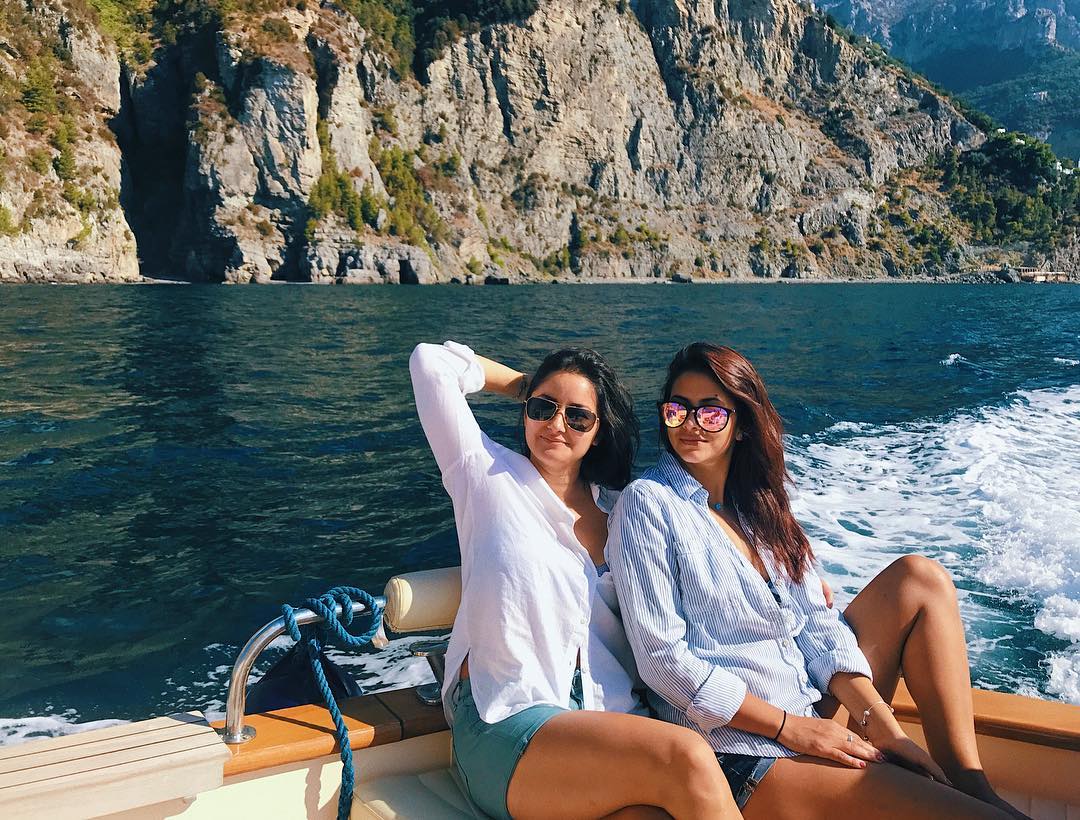 Sam and Noëlle are a lesbian couple and two bartenders based in Atlanta, Georgia. When they're not slinging drinks, they're out exploring the world together and taking cute photos of themselves kissing each other's faces! Check out their recent travels to Paris, France.
---
Gabi and Shanna love each other and film and photography! They capture their travels through a camera and share them on their Youtube Channel, 27 Travels.
---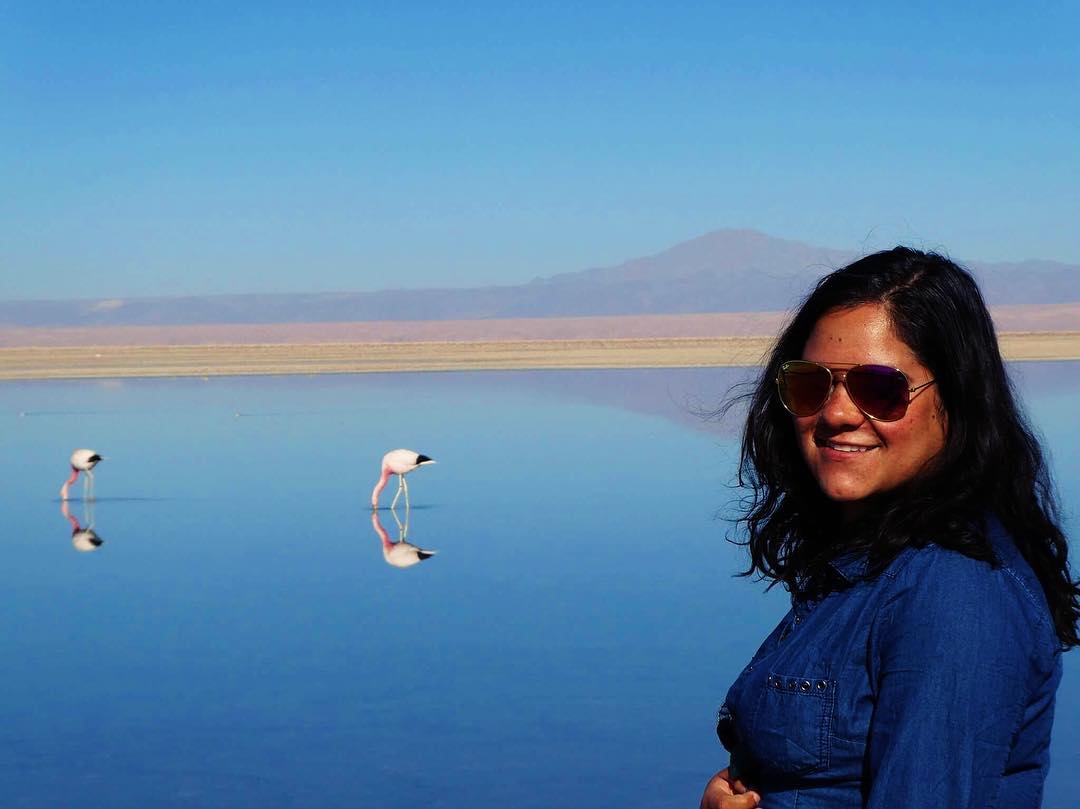 Charlotte is a Boricua from the Bronx who's currently living her best life traveling around Asia. She writes about traveling solo in Thailand: "I'm traveling here completely alone without a tour group or any guidance and it's been amazing. I'm booking things 3 days in advance and as I meet cool people, I just latch onto their plans cuz I'm free as a bird. Nothing scary about it… just 100% liberating. Loving my life "
---
Leslie is the Canadian lesbian behind travel blog Les Talk, More Travel. Leslie's passion for travel began when she left Ontario in 2008 to live in Australia for a year. She was in the closet and still figuring out her queerness while abroad and when she returned to Canada, she gave herself an ultimatum — if she wanted to travel again, she had to come out first. In 2012, she finally ventured off again but this time to teach English in Seoul for two years. She writes about her experiences as a lesbian traveler:
As a lesbian traveller, some of the biggest challenges I've encountered have been: finding queer-friendly events, accommodation, and community in cities or countries where being gay isn't widely accepted, finding lesbian-specific spaces, and having to hide my relationship while watching straight couples all around me show affection. However, I feel like these are minor challenges compared to those of queer folks living in places where their sexuality and gender identity is not recognized or legal.