The ladies of The L Word spent most of Season One in loose-fitting hip-grazing jeans, undersized t-shirts, ribbed tank tops with cord choker/necklaces, and button-up shirts with collars more expansive than an eagle's wings. Bette paired the final item with power lesbian blazers. Let the record show I wore those exact same three outfits myself. Also, fun fact: L Word stylist Cynthia Summers got Bette's shirts from European menswear retailers and cut them down to fit Jennifer Beals, because stateside collars just weren't quite big enough.
This style was refined over the years as each character evolved into specifically styled archetypes. Max initially did a midwestern butch look, then dressed like a skateboarding baby dyke who likes the beach in snapbacks and graphic tees and THEN did a lumberjackish thing with a generous beard. Shane was the edgy androgynous rocker, mixing skinny ties with ripped-up designer jeans. Alice was a roving reporter — sweats in the sheets, modern retro femme in the streets. Everybody got their look.
But we're not here today to talk about "fashion." We're here today to talk about ART, Bette Porter's favorite topic. Art comes in many forms. Sometimes, it comes on the bodies of MORTAL HUMANS. Some of these looks are actually cute, but most of them are bad.
As Bette Porter once wanted to tell Franklin, "Great art is a response to small-minded corporate fascists trying to impose their ignorance on the sheep-like masses."
---
31. Half-Shirt
"this is not a shirt marina"
— Kayla Kumari, half-shirt expert
---
30. Lactose Intolerant
Episode 606 of The L Word was stunning on every level, if every level was a floor you passed on an elevator ride to the innermost circle of hell, after strangling yourself with Shane's pom-pom necklace.
---
29. Put a Bird On It
This is foreshadowing for this:
Carmen: Oh, listen to this. Monogamy is common among birds.
Shane: That's great 'cause I love birds.
Carmen: It is the practice of having a single mate during a period of time. Does that… mean anything to you?
Shane: I'm willing to try. Is that not enough? I'm willing to try something that doesn't come naturally to me, and that I don't understand but am willing to try.
Carmen: Mmhmm. Right. Birds, Shane, I'm talking about a god-damn-fucking bird. Asking you to be as civilized as a god-damn-fucking bird.
---
28. "From a wardrobe point of view, she was overdressed" – L Word Stylist Cynthia Summers, Re: Papi

If there is one common idea uniting everything this character said, did and wore on "The L Word," it is "ill-advised." Cartoonish Latin Lothario "Papi," played with admirable investment by Indian actress Janina Gavankar, brings to mind the similarly ill-advised 1994 film "Don Juan DeMarco," starring a then-strapping and decidedly Caucasian Johnny Depp as a Mexican ladykiller in a Zorro mask convinced he is Don Juan De Marco, the greatest lover in the world. He must be rescued from this delusion by a bloated Marlon Brando, who ultimately finds himself as charmed by Don Juan as the ladies Don Juan seduces under candlelight and on sandy beaches. Papi donned the lesbian version of a white pirate shirt — a vest with nothing underneath — in order to get heterosexually heartbroken alcoholic Kit Porter totally wasted in hopes of inspiring misandry and subsequently seducing her. The world did not need Don Juan De Marco, it did not need this scene, and it did not need this vest or this chain wallet or these low-slung Dickies. But lo, we got it just the same.
---
27. The Blanket Shirt Period

A good way to hide your pregnancy from your ex is to make a dramatic shift in personal style, like from wearing shirts and pants to just throwing on a blanket and going to work.
---
26. The Father, The Son and The Holy Most
This is literally three twelve-year-old dykes who don't know they're gay yet, after being told to "dress nice" by their parents. But as grown-ups! This show is a gift.
---
25. Shake It, Don't Bake It
Here, the green represents springtime, a chance for renewal, or finding new growth in old places. Contrast it with the giant lavender flowers, aggressively bursting from Bette's chest like something Angelica made in pre-school and gave to her mother, who now must wear it because that's what motherhood is.
---
24. Who Wears Short Shorts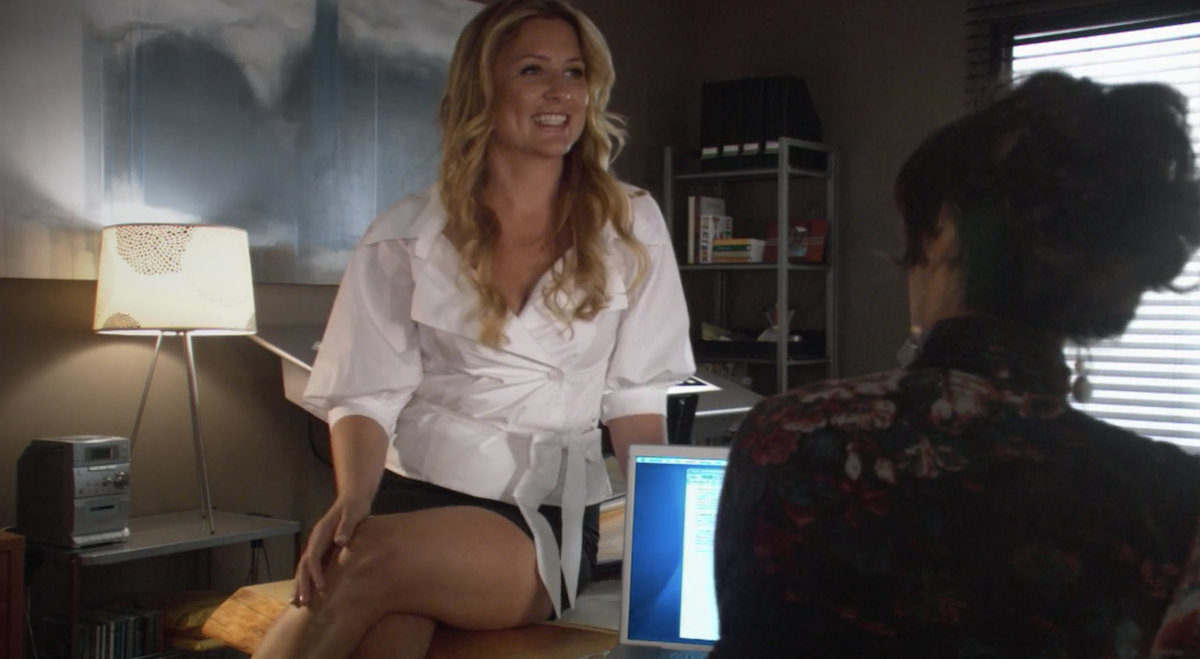 "perhaps these were only iconic to me, personally, but jessica capshaw's short shorts were my god so short."
– Kayla Kumari, Short Shorts Expert
---
23. Key Club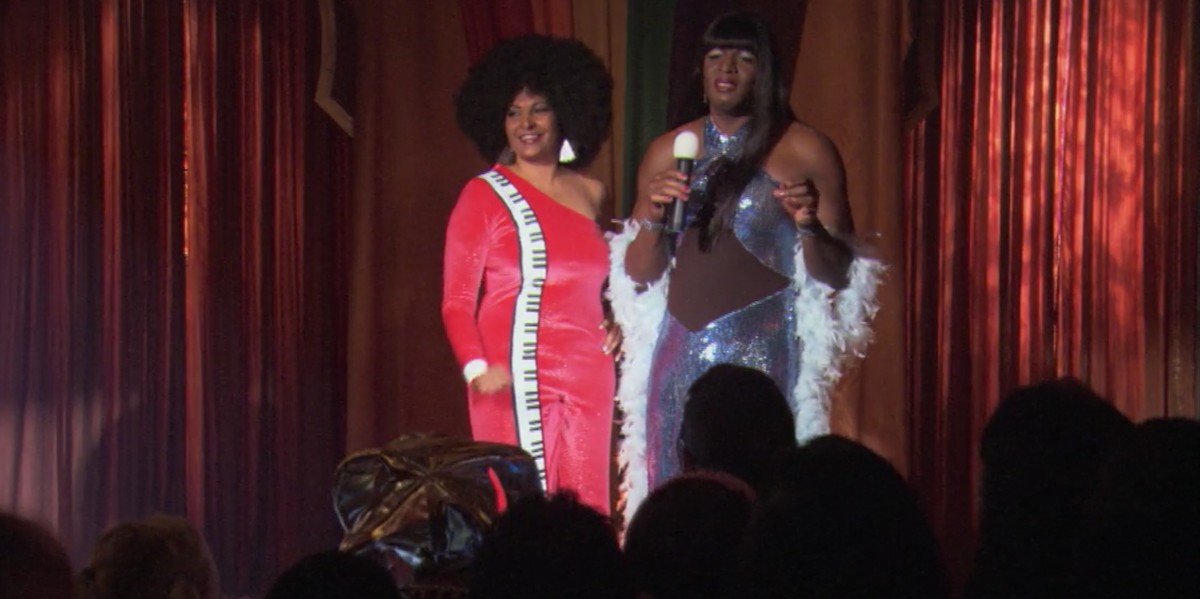 Once, on a visit to the Showtime offices, I had the chance to hold this Velour Piano-Themed Off-Shoulder Jumpsuit in my own two hands. It gave me powers, like lotion.
---
22. Put That Romper On Your Clipboard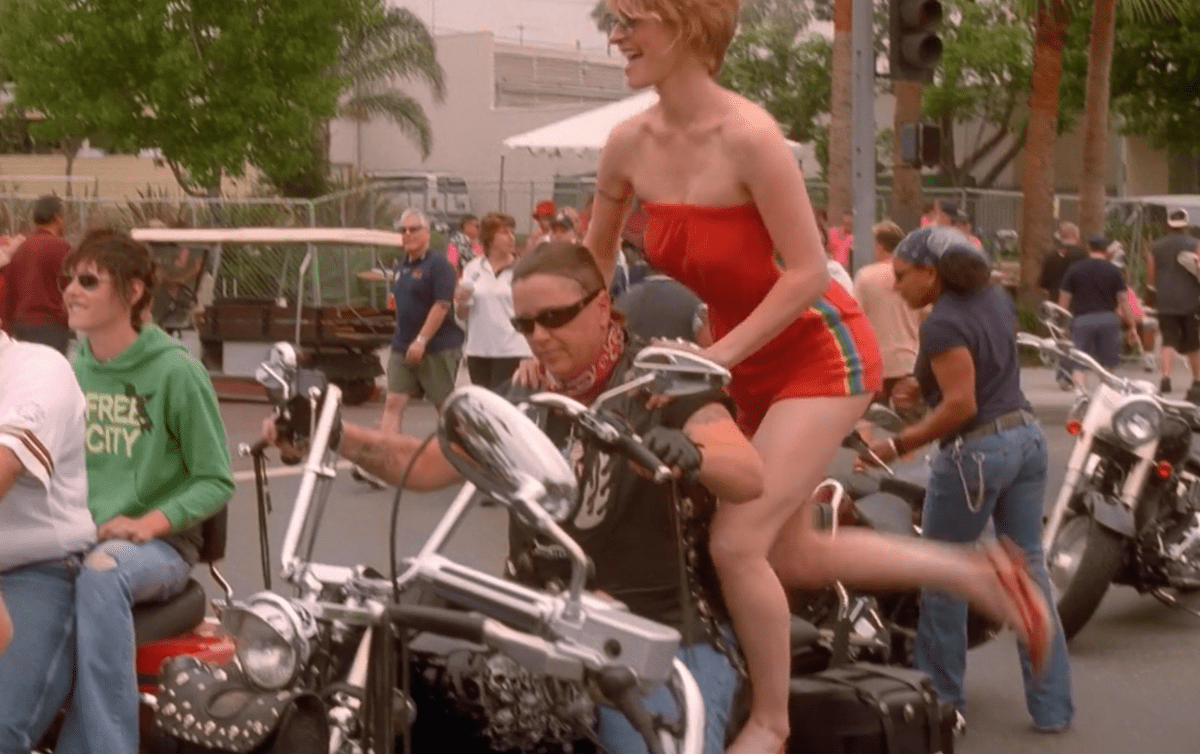 This romper represents freedom and homosexuality, two concepts that make me feel incredible pride.
---
21. Alice's No Good Very Bad Hat-and-Vest Situation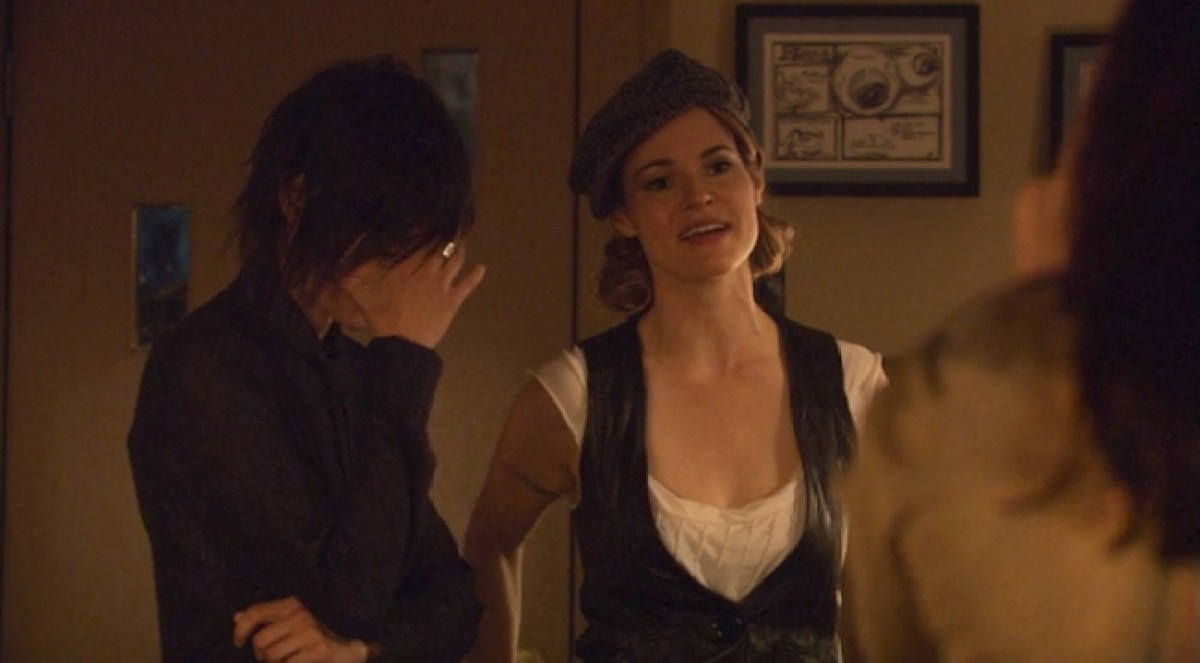 Lesbians invented leather jackets. But that doesn't mean we get to deconstruct them.
---
20. It Was Ms Peabody With The Choker In The Ballroom
Helena purchases Tina a $5,000 evening gown for the Peabody dinner and all Bette has is a dress that doubles as a murder weapon.
---
19. Let Me Be Your Tablecloth, I'm In Love With You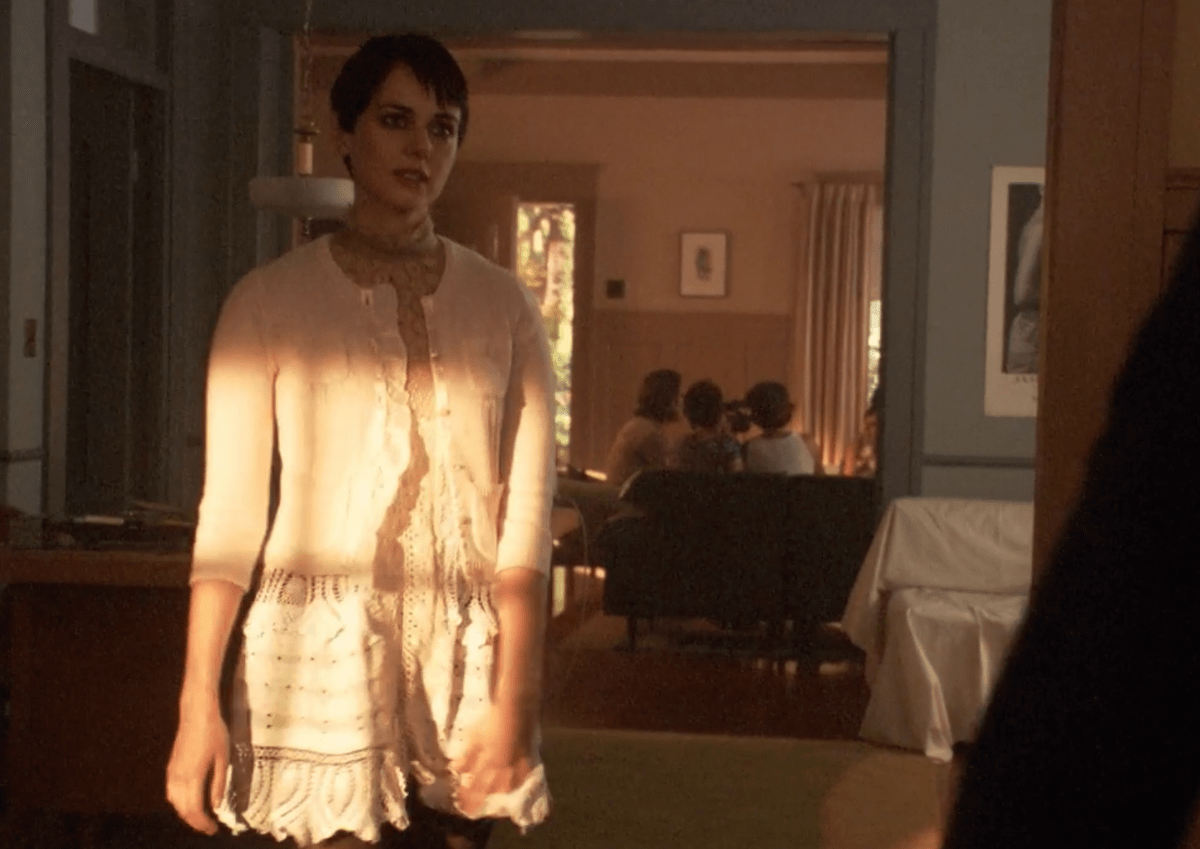 This is what happens in children's books when you go to the attic and find your grandmother's old doll wrapped up in 56 plastic bags and then, using magic, you bring that doll to life. This is what the doll is wearing.
---
18. You Get Half a Suit and You Get Half a Suit
To think that two human women could make the same fashion mistake at the same dinner party! This is the way, it's the way that we live.
---
17. Helena's Finger Fuck You
"The massive stone ring Helena's wearing when she wipes her mouth after going down on pregnant Tina is iconic."
— Kayla Kumari, Mommi Expert
---
16. Late-Stage Capitalism
Jenny's orange shirt functions as commentary on the retrograde position of women in the "gig economy," while also communicating her name: Jenny.
---
15. Impressions in Spring
I'm being serious now: this trio of outfits is picture-perfect. Pinks, blues, greens. A masc dyke throwing a 65-year-old white man's golfing vest over a whisper-thin cotton tee. Tonya's eyewear is bizarre, but also forgivable: it matches her headband. (Her headband!) Alice's scarf: is it covering a hickey? I don't remember. Regardless, she's wearing a smart skirt, and there is a tiny bow on each sleeve. Handcuff me to your bed already, all of you except Tonya.
---
14. Impressions in Winter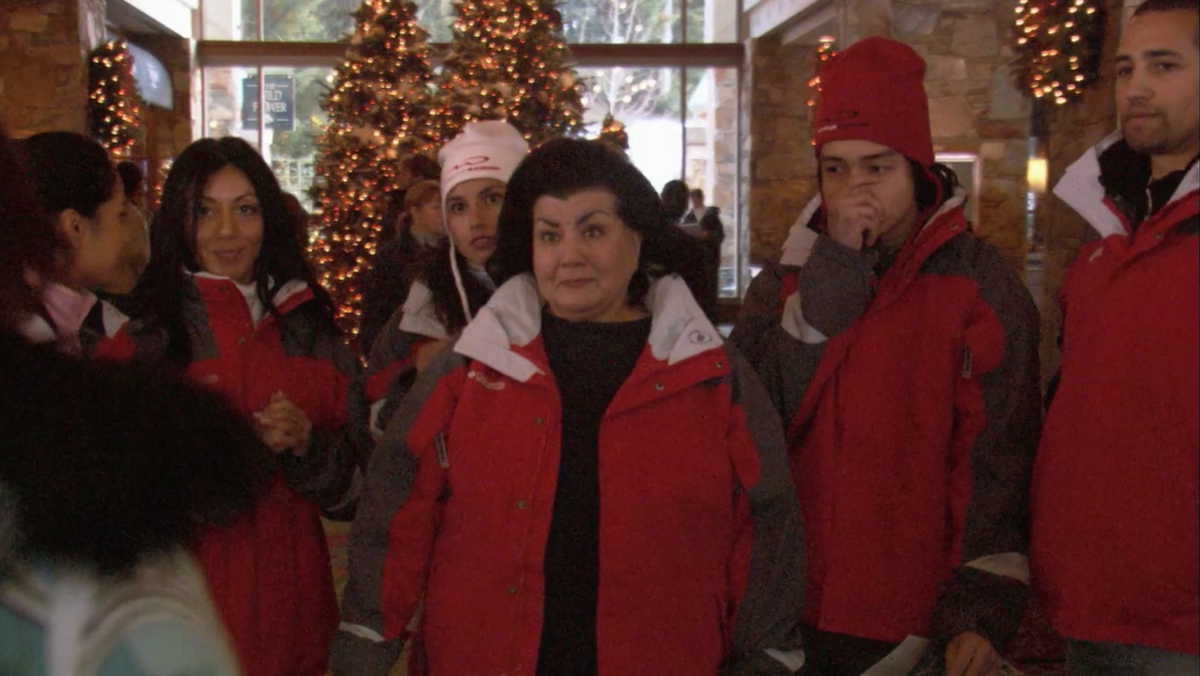 Steeped in Nordic/Whistler motifs and strategies, this beautiful illustration illustrates a family come together for a winter wedding, shedding ambient homophobia in favor of matching red jackets, rosy smiles, and a stalwart belief that love is love. Hark, what lurks ahead! What dangers to the heart are so close, and yet so impossible to imagine.
---
13. Buttons, Baby
This look is commentary on the position of traditional folk arts in modern lesbian culture and a direct rebuttal to Hobby Lobby's refusal to provide its female employees with birth control coverage.
---
12. My Kid Could Paint That Shirt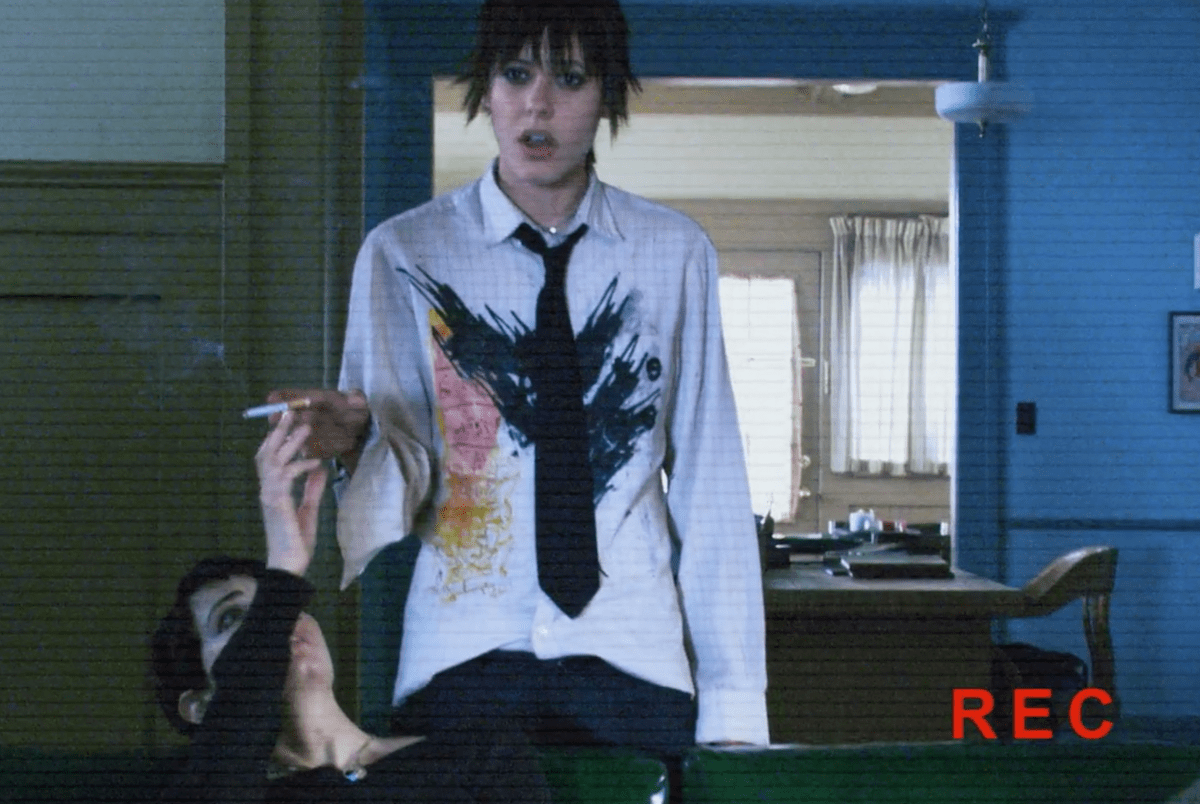 There's no hierarchy of the elements here. This shirt was a choice.
---
11. Jodi Jumpsuit
"I do love how they managed to make it very seamless and sexy when she and bette started having sex in the sculpture studio," L Word Season Four expert and passionate Jodi fan Kayla Kumari Upadhyaya told me, "and the jumpsuit had to be partially taken off when we all know that IRL that would have been very awkward and not smooth because, while functional for sculpture-making and lite construction, UTILITY JUMPSUITS ARE NOT PRACTICAL FOR SEX. And yet The L word makes it seem very practical for sex. More lies The L Word taught me."
---
10. Carpenter a la Overalls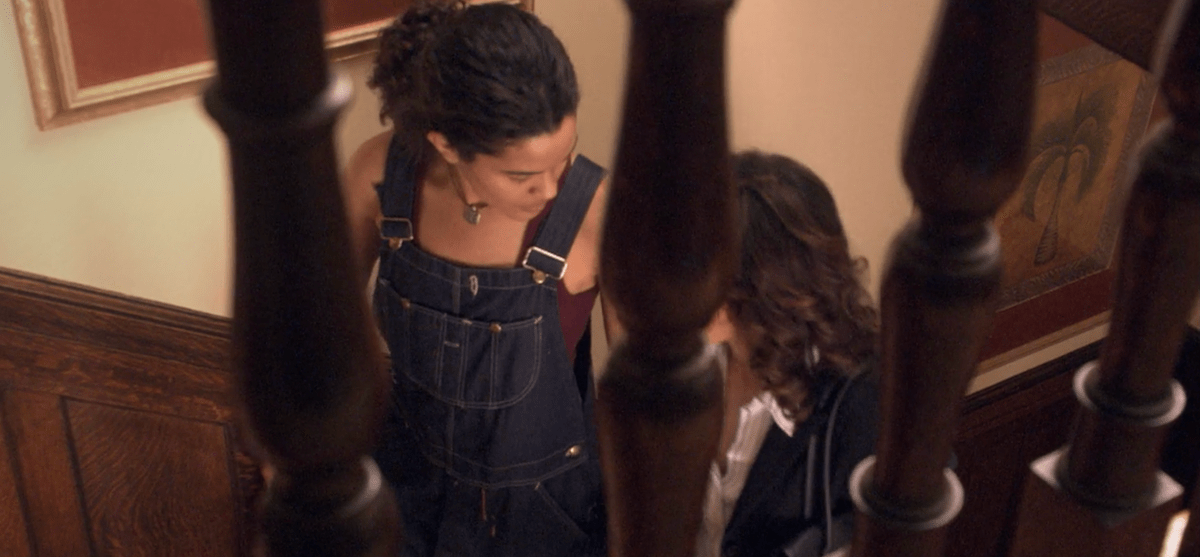 "Who wears overalls when conducting an affair? Lesbians."
— Kayla Kumari, reluctant expert on other people's Lesbian Affairs
---
9. Classy Broads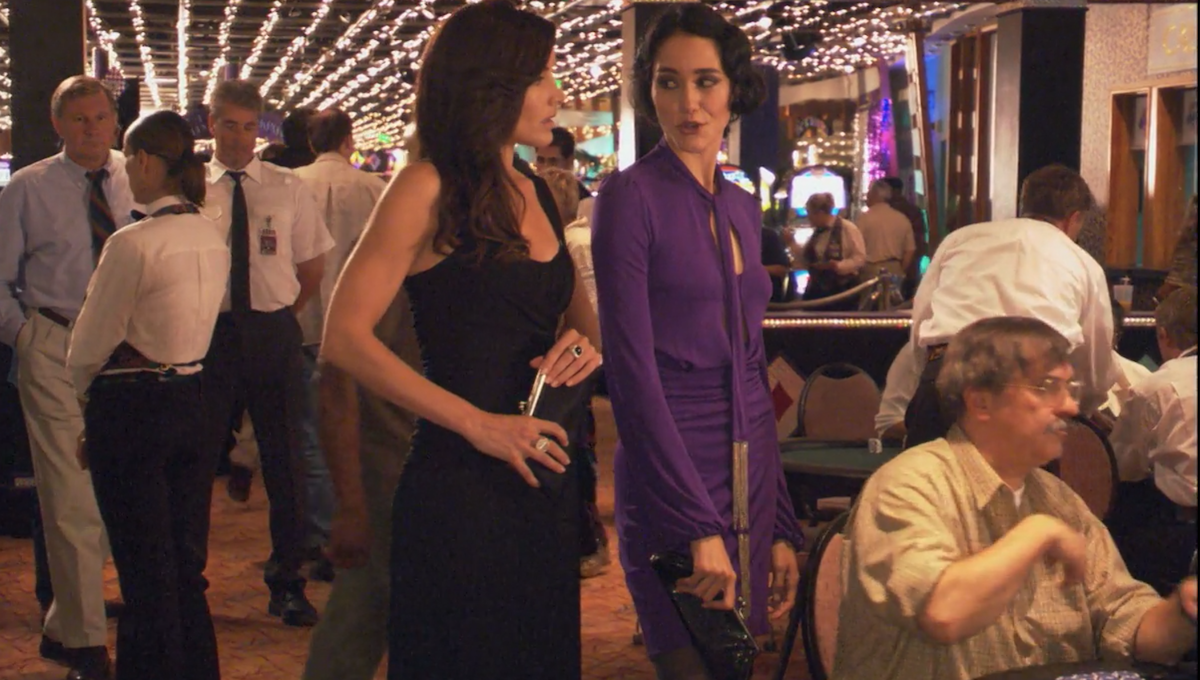 I think about this look a lot. Classic, streamlined, elegant. A beautiful dress to ruin your life in.
---
8. Savage x Marina
If your ex is gonna show up as part of a surprise live presentation from a clueless male director for a musical adaptation of the insufferable script you wrote about your relationship with your ex, the least she can do is show up in this outfit, surrounded by extras wearing technicolor latex lingerie and volcanic levels of eyeshadow.
---
7. Twinning: A Journey
Note, firstly, that twinning never occurs within a healthy, successful relationship. Rather, the identical exteriors stand in sharp contrast to conflicted interiors.
First we have Bette and the carpenter, arrested for sticking it to the man, having a torrid affair while Bette's partner mourns her miscarriage, about to have very intense phone sex, but in person. They're wearing a (very sexy!) prison uniform here. Being in uniform is low-level twinning because it is involuntary, but visually the effect is the same.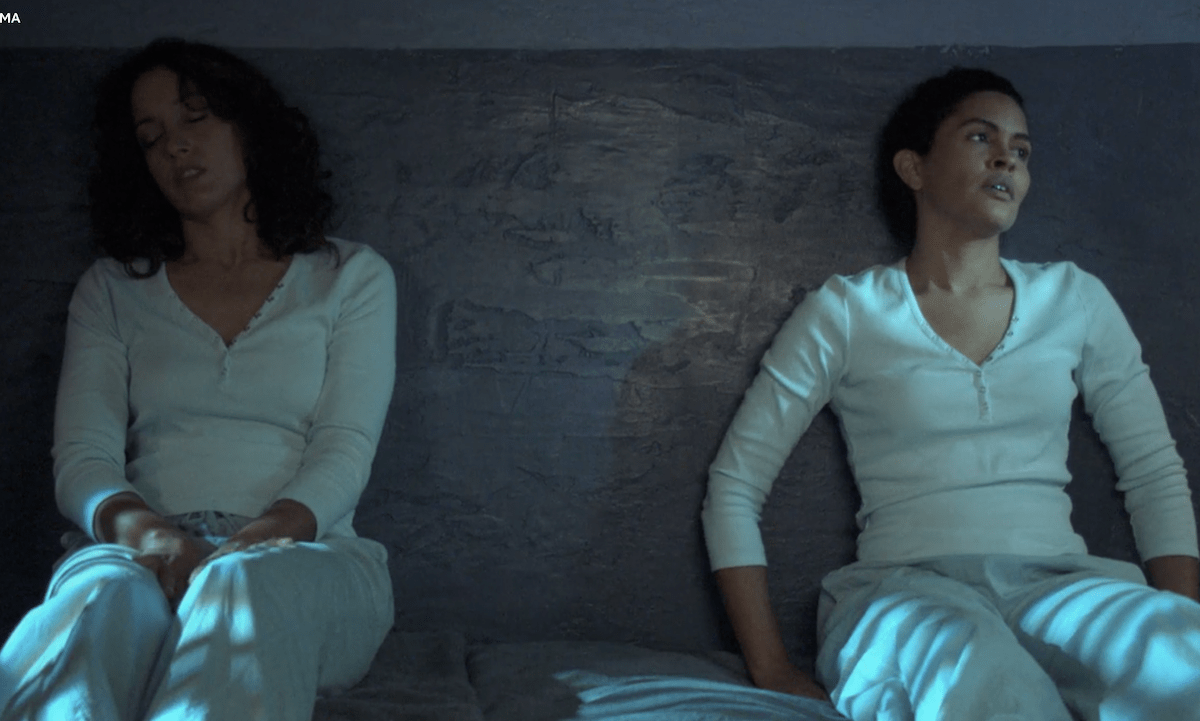 Next: Dana and Tonya's engagement party directly after Tonya murdered Mr. Piddles. Dana has been bulldozed into this relationship by Tonya, who I realize in retrospect was predatory and emotionally abusive. Sorry to get dark in this light room, but ladies: it's true.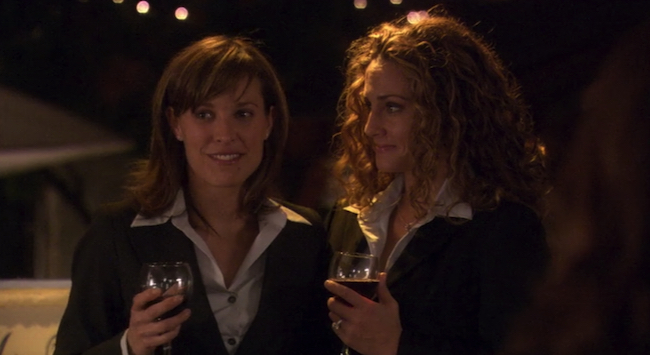 Next: Alice, considering an affair following her current girlfriend, Tasha, pointing out some deficiencies in Alice's approach to life. Considering an affair with the girl who killed her mother with a sock full of rocks, no less.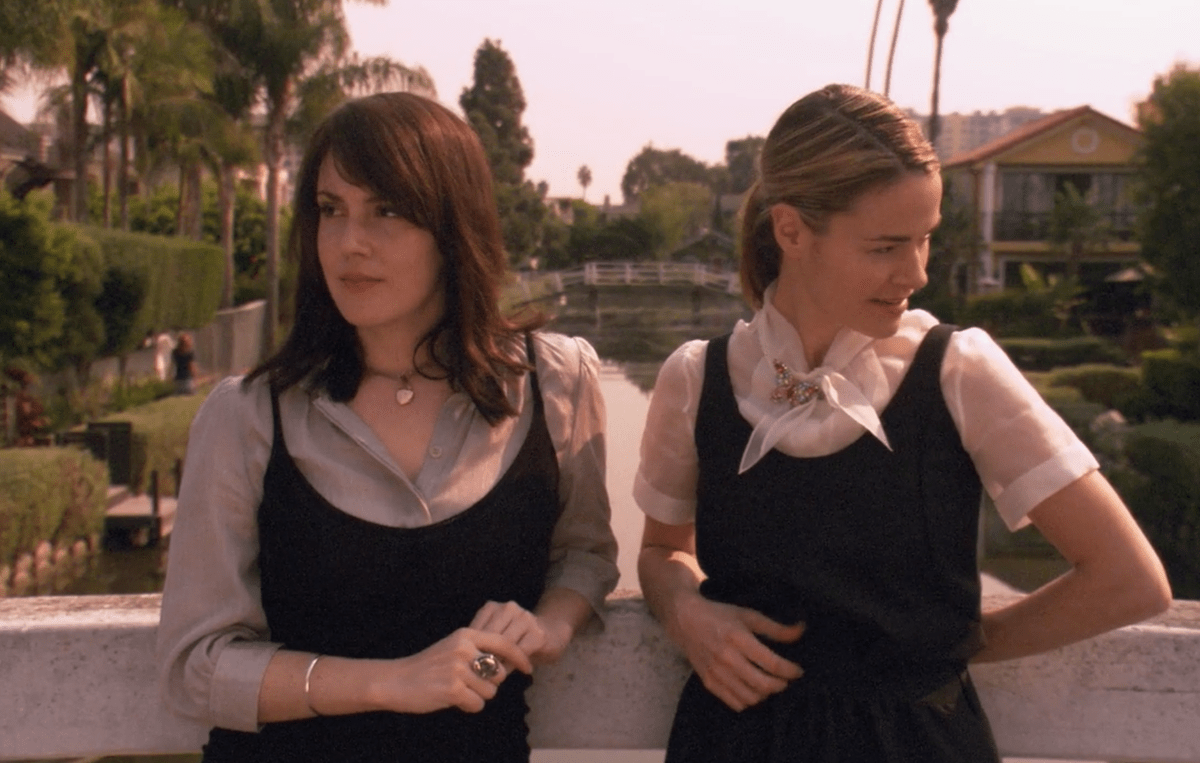 Finally: Bette and Jodi. All day twinning. This is the breakup that never ends, it just goes on and on my friends. Some people started breaking up not knowing how it ends, and they'll keep on breaking up forever 'cause they're lesbians.
---
6. Jenny's Swimming Dress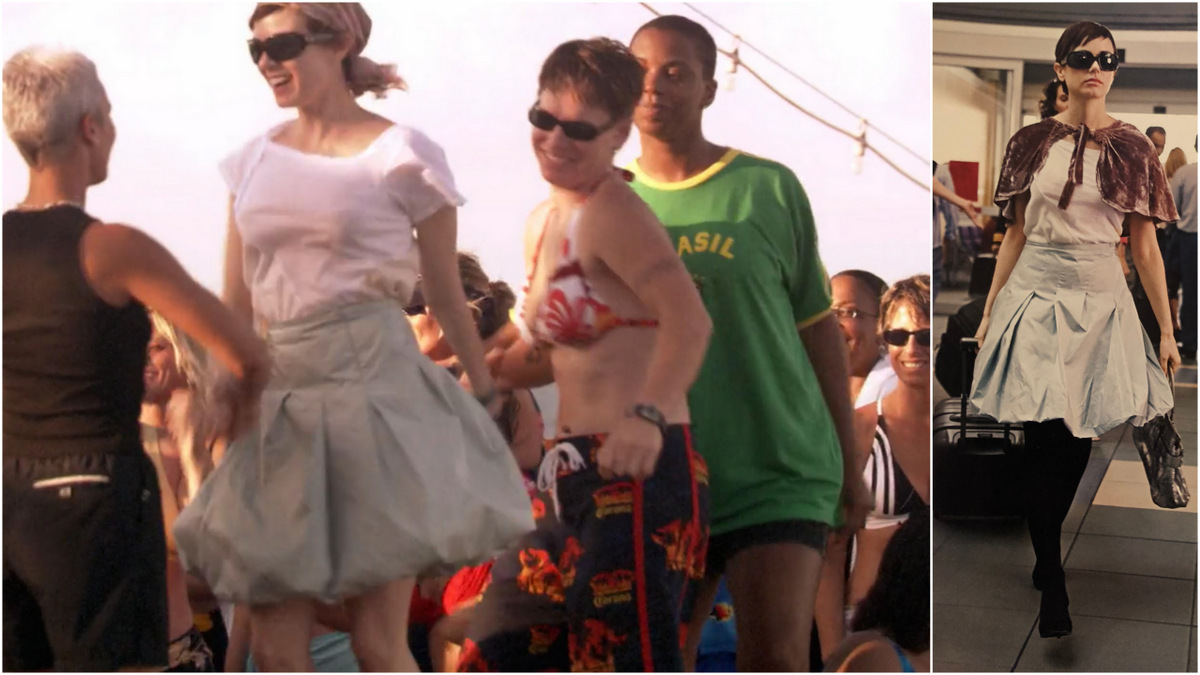 Jenny wearing a cupcake dress and black tights and a velvet wrap and an ambiguous head-wrap to hang out with a bunch of dykes in board shorts and bikinis they bought in the '90s (because they hate shopping for swimsuits) and then jumping into the pool with the dress still on: iconic.
---
5. Golden Devil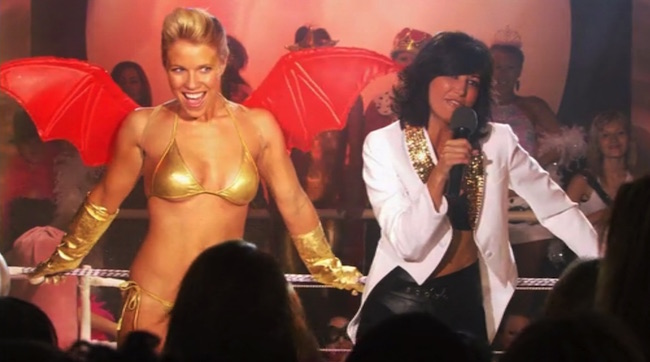 "You know me as Dawn Denbo," says Dawn Denbo to a crowd of boiling lesbians. "But tonight, I'm only known as Miami Vice." She continues: "Over here, we have my Lover Cindi. But tonight, you'll call her "The Viper."" Mere moments later, she breaks her own rules and asks who wants to fight "her Cindi." Typical Miami Vice.
---
4. Full Body Scan
Leisha Hailey (Alice): Oh, you were in the worst mood that day because of those pants.
Erin Daniels (Dana): I hated those pants.
Leisha: Those pants were so bad!
Erin: Those pants were so ugly.
Kate Moennig (Shane): It's something my grandmother would wear.
Oddly, I believe pants of this nature are in style now.
---
3. Jenny's Wedding Dress
Jenny wore this outfit for … a week? First she wore it at home, for a little afternoon delight with Marina: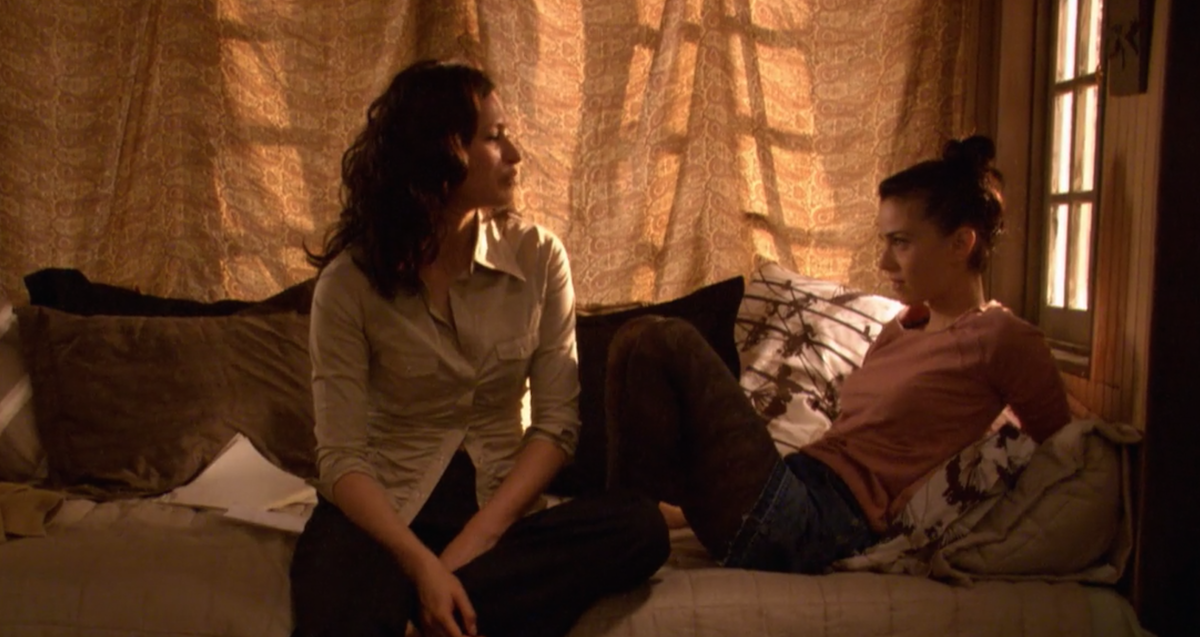 She threw coach's jacket on for a little elopement journey to Las Vegas:
After Tim left her alone in the hotel room, she wore it while hitchhiking, writing terrible poems, and eating weed brownies with strangers in the backseat of their car:
She was still wearing it when she eventually came home. Please keep in mind that wearing the same pair of tights and underwear for this many days in a row is going to make your situation a little… shall we say… spicy? At this point, Tim had received the letter she sent post-trip and post-drug-trip, so some time has passed:
Somehow, walking from Tim's house to The Planet was the moment Jenny really started to look tore up:
---
2. Jenny's Garbage Bag Dress
---
1. Shane's Legendary Leather Lothario Vest
"Time has been unkind to both Alice's armband tattoo and everything Shane wore," declares an article on The L Word published on yahoo.com, "especially a leather waistcoat — which were never really 'in' to begin with." True enough. But it will last forever "in" our hearts.