One of our lovely readers wrote in a request for a how-to guide for stocking a kitchen and I'm so glad they did because the new year is the perfect time to get your kitchen in order! Tons of people resolve to spend more time in their kitchens each year but aren't set up well for cooking regularly and quickly end up jumping back on the take-out train.
Figuring out what you need for success in the kitchen can be frustratingly difficult when you're first starting out. There are countless tools and appliances with varying functions and quality levels out there. Searching through them can rapidly cause decision fatigue. Some of them you really do need but a large majority are completely unnecessary. As a baby queer cook I was suckered into buying so many kitchen gadgets that were terribly made and really only good for catching dust, or just far above my skill level at the time but marketed as a necessity. I want to save you that time, money, and frustration! So what I have for you here is my list of culinary items that I can't function without. These are my backbone and support system for both cooking and baking, and having these items in your arsenal it will substantially upgrade your kitchen prowess. You'll have everything you need to make any beginner and even most intermediate level recipes that catch your eye, plus a pantry that will come through for you on those days that you need to put a meal together quickly before the urge to give in and order pizza sets in, and/or you don't have time or energy to go to pull out a cookbook or go to the store. I use every item on this list weekly, and some of them daily so it really is worth your while to aim for acquiring everything here over time.
It's substantially more pleasant to cook and create in the kitchen when you have all the right tools that streamline the process and take stress out of the equation. No guesstimating amounts and ending up with Pinterest fails because you don't have a full set of measuring cups, no near losses of fingers due to old dull knives, no washing the same bowl or two over and over because you don't have enough for each step of the recipe. Sometimes I think about the number of times I've ordered food instead of cooking because my kitchen wasn't organized, and shed a single tear for all the produce that ended up in the trash instead of on a plate. I've always believed the greatest gift anyone can give is the opportunity to help other people learn from their experiences and mistakes. Please allow me to give that gift to you and your kitchen today, cause this the year you're finally gonna become best friends.
The Starting Lineup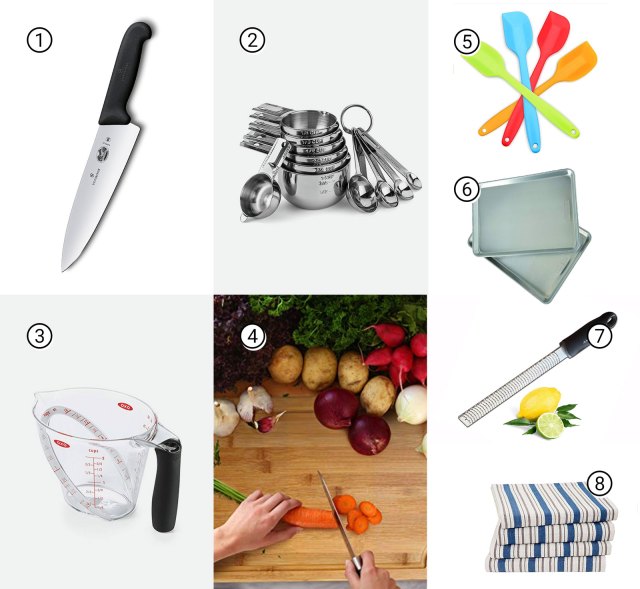 Okay, you need everything on this list. If there are things in this category that you don't have yet and you're thinking "it's fine, I'd rather get a dutch oven instead" back that thang up and put the missing piece from this list in your cart instead. First things first, you need a good quality chef's knife like this one. Dull, poorly made knives are not only a financial suck cause you have to keep replacing them, they're also far more dangerous cause you're using more force and therefore more likely to slip and injure yourself. It also takes WAY more time to chop and dice things with a bad knife. They can be expensive but I promise it's worth it, so if your knife needs an upgrade, get on it!
Next is your measurement arsenal! A set of dry measuring cups and spoons, and a liquid measuring cup. No, you cannot use dry and liquid measures interchangeably; if you're doing this, you're doing it wrong, ESPECIALLY in baking. Also, I know there's a lot of super cute measuring cups and spoons that look like flowers and birds and give that whimsical Anthropologie-esque vibe but most of them are inaccurate, too fragile for regular use, and just generally not functional. I like stainless steel sets because they're durable and that's what matters most; this two-cup liquid measuring cup has the units marked on the top and sides so you don't have to bend over awkwardly while you pour to check your levels. Up next, you'll want a nice sturdy cutting board that doesn't slip around, and some rubber spatulas. Rubber spatulas are bae. I use them daily; they can't be beat for scraping down bowls and chasing people out of your kitchen. Moving right along, heavy duty sheet pans are an absolutely non-negotiable staple. Those thin ones that warp easily are not welcome here. These will stand up to roasting veggies at high heat, all the sheet pan dinners your heart desires AND produce perfect cookies. Next we have our microplane zester/grater. I held off on buying one of these for years and I do not know why because I use mine ALL THE TIME. Probably because i'm always adding lemon zest and/or parmesan cheese to things and you should be too. Lastly, a solid set of kitchen towels. You'll need to cover bread and pizza dough as it rises, wash your hands a million times, clean up batter splatters, and dry off dishes without leaving lint behind, and your kitchen towels will be there for you every time. These last forever and have little loops in them for easy hanging from hooks and cabinet knobs which is the kind of attention to detail that makes my heart warm.
Baker's Besties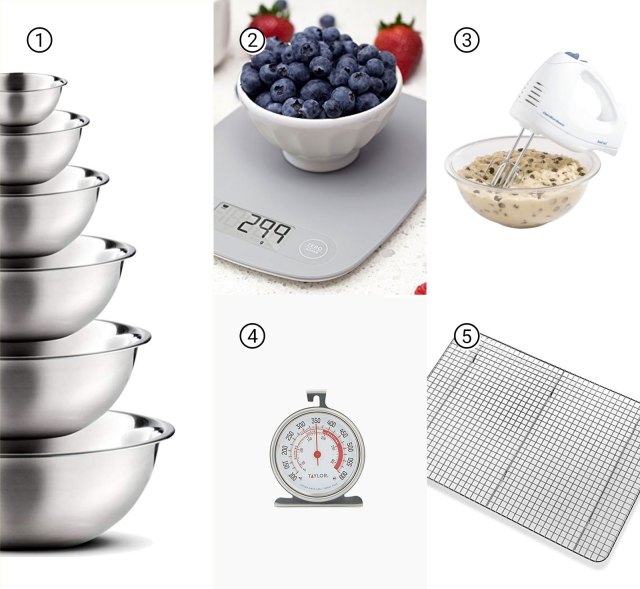 I could argue that these items are important whether you're a baker or not (they are!) but they're ESPECIALLY important for those of us with Great British Baking Show dreams, so I'm giving them some extra spotlight. I have to start with mixing bowls cause, well, baking is all about mixing. Again, I like stainless steel sets cause they won't break on you and stand up well to mixer blades and whisks. They also stack really nicely and I find well stacked dishes kinda sexy. Up next, the aforementioned kitchen scale. You may have noticed that many food writers and chefs include weight measurements in their recipes. That's because baking by weight as opposed to using measuring cups is far more accurate. It's also faster and less messy because you add your ingredient directly to the bowl, then zero the scale and add the next thing. No scooping and washing in between! Now that you've got your ingredients perfectly weighed in your mixing bowl, you'll want a hand mixer for whipping everything together. I had this model for years before switching to a Kitchenaid and it always performed well. The motor is strong and the whisk attachments are really well made. Now, when it's time to put whatever you're baking in the oven, you'll need an oven thermometer. You'll need the thermometer because almost every oven is a liar. The knob or display might say it's at 400° F but it's probably not, and the only way to ensure your baked goods will cook properly and evenly is by hanging a thermometer in the oven and checking the temperature for yourself! Don't risk burnt cookie bottoms and undercooked cakes! Once you're done baking, you'll need to transfer your goodies to a non-stick cooling rack. They're made to let air circulate evenly around the food which is key to cooling without allowing steam to build up and make things mushy.
Pack the Pantry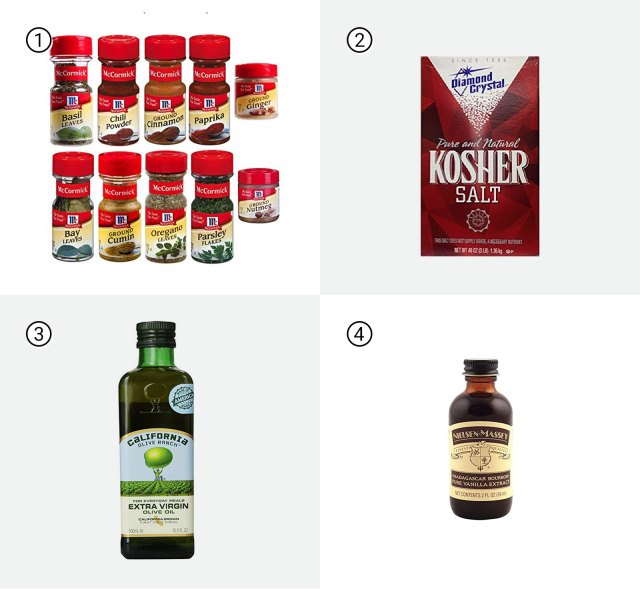 When it comes to the pantry, there are a few staples it's always good to have on hand. Being able to walk into the kitchen and know you can whip something up without leaving the house is an amazing thing, and these are the items that will give you that ease! Spices are first, and at minimum I always recommend that you have ground black pepper, ground cumin, paprika, bay leaves, ground cinnamon, ground nutmeg (unless and until you get your microplane grater at which point you should switch to whole nutmeg cause it's SUBSTANTIALLY more delicious) and ground ginger. This spice starter pack has all that, plus a few extra things that will set you up nicely. You should also always have some nice kosher salt. It's the preferred salt for cooking because it's mild and the granules stick to food best.
Good olive oil is essential and something worth spending a few extra dollars on if you can because the flavors in a nice oil can really elevate an entire dish. It's also really important to remember that oil does go rancid and should ideally be completely used up 30-60 days after opening. If you're buying a large quantity of oil and letting the container sit open for months and months, you're using stale oil and you deserve better! Back to baking — high quality vanilla extract is a must. I love this brand and find the strength and flavor superior to all others I've tried (pro tip, you can usually find it half off at Marshalls/Homegoods/TJMaxx) but as long as you're getting real and not imitation extract, you'll be alright. I'm not linking the next few items because they're pretty generic and easily interchangeable between brands, but they're things you should always aim to have in stock because they come up in recipes over and over again: chicken and/or veggie broth, lemons & limes, canned beans, chickpeas and tomatoes, dried pasta, onions, garlic, all purpose flour, baking powder and baking soda.
A Little Something Extra
These items aren't necessary, but if you have the extra finances and cabinet space I highly recommend getting your hands on them. I use my dutch oven CONSTANTLY. You can make pretty much anything in it. Bread, slow-simmered soups and stews, braises, whole roasted chickens; I could go on forever. Food processors will cut your prep time substantially and allow you to make things like pesto and fresh peanut butter which is always fun and delicious! Silicone baking mats will preserve the life of your sheet pans and prevent long soaking and scrubbing situations when you're baking or roasting things that are likely to caramelize and cling to your pan for dear life. It'll all just wipe right off the silicone! What a dream. And finally, an immersion blender! You can use it for smoothies, you can use it to emulsify dressings and gravy, you can puree soup and baby food with it, and it takes up substantially less space than a countertop blender. It's also way cheaper, which is always a welcome bonus.
So there you have it, everything you need to make your queer kitchen dreams come true this year!