I'll start by saying that this is not the original post I'd planned to (and did) write. The original post I wrote was about seeing Love, Simon – the new teen coming out dramedy/comedrama – last weekend with a group of gays, and how its normalcy made me reflect on what queer longing looked like for me as a person who came of age well before this byproduct of the Carols and the Moonlights and the Call Me By Your Names, and how differently my life would be if I'd had them. This post had it all. It was hittin' the highs and the lows, the sweets and sours. It had questions. I revealed a very embarrassing fact about myself!
Then, I brought it masterfully back to this series, and wondered what my Carol was. While considering potential movie candidates (based on my affinity towards them growing up despite them having zero explicitly gay content or even subtext, which I now know is because I was placing myself squarely in the role of the female lead's love interest), I decided to investigate the 1996 film One Fine Day starring Michelle Pfeiffer. Pfeiffer was my root from her Catwoman days, and I remembered her seeming generally repulsed by most of the men in One Fine Day, so I figured it was a good place to start. But the more I deconstructed the movie, the more I realized that this wasn't "my Carol" in a world starved for gay content, this was… Carol.
Okay, sure, yes, the opposing romantic lead is a pre-glow up George Clooney, but I didn't register him when I was younger and I certainly don't have to now. Besides, you can't tell me the other evidence doesn't make up for it. Let's investigate, once again:
---
It's main character?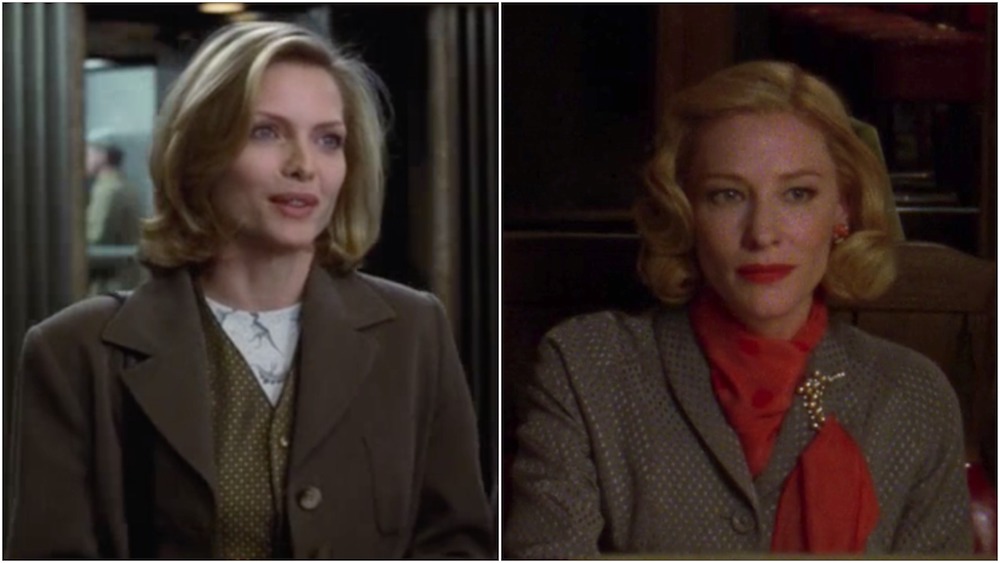 A blonde-bobbed single mom recently split from her child's father who spends a lot of the movie out on the streets of NYC dressed for success and looking at men like she wished they were dead.
---
Scene transitions?

Riding in cars.
---
Its most recognizable song?
Another Doo-Wop Classic, The Chiffons' "One Fine Day".
---
Remember Carol's looks directed at men?  Here are Michelle's: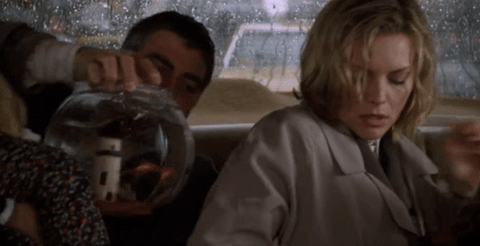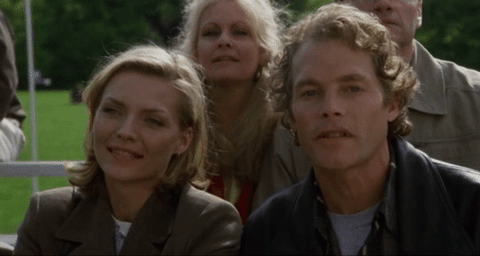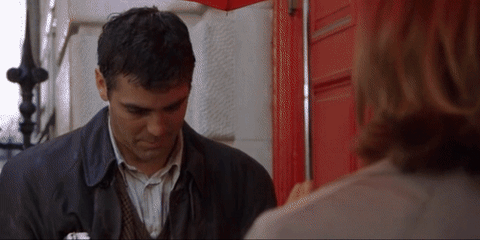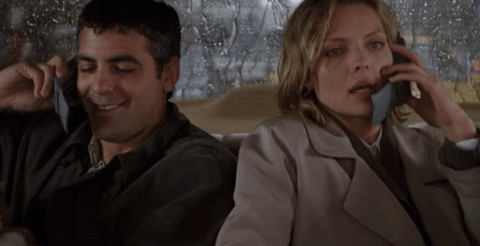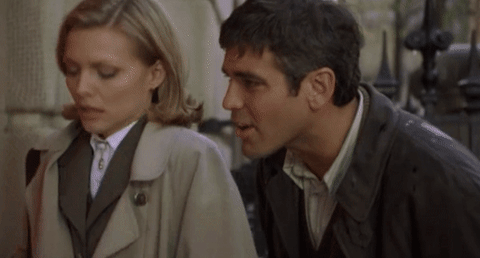 ---
Michelle's mom is the movie?
Holland Taylor. AKA Sarah Paulson's girlfriend. AKA ABBY, CARL'S BEST FRIEND.
---
Remember Carol's other looks? Well here are a couple from Michelle's without a target: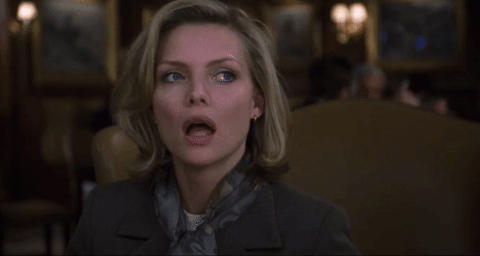 ---
Michelle's son in the movie?
Sure, he has basically the same haircut as Rindy.
---
"Hm, Michelle probably didn't have Carol's enterances though." – You

… being wrong.
---
Are there also too many white people?
.
.
.
There are also too many white people!
---
But DOES she have a makeup moment?
Oh, she has a makeup moment.
---
There's probably no way there could also be a MECHANICAL TOY element in this…

WHOOPS.
---
I wonder if there are other looks?
---
GOODNIGHT AND GOOD LUCK AND BURY ME IN THIS GIF