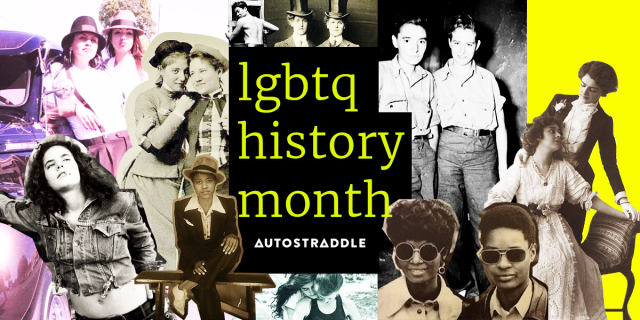 It's a common misconception that the women's sports world is a hotbed of lesbian activity. Like the sports world as a whole, women's athletics have been dominated by the patriarchy and homophobia for basically ever. In recent years, dozens of women athletes have come out as gay and of course one very famous athlete came out as a trans woman, but this development is relatively new. Women who came out before the last few years risked everything to do so: their endorsements, their fans, their spots on their teams, their livelihoods, and sometimes even their own lives. Below are 22 lesbian, bisexual and trans women athletes who changed their games and changed the game for LGBTQ people by choosing to live openly.
Note: I'm not endorsing or making qualitative assessments of their overall personalities or actions — inclusion on this list does not mean all these women are heroes or angels or activists. The criteria is solely that they are LGBTQ and that they made a significant impact in both sports and queer culture. 
---
Freda du Faur
Mountaineer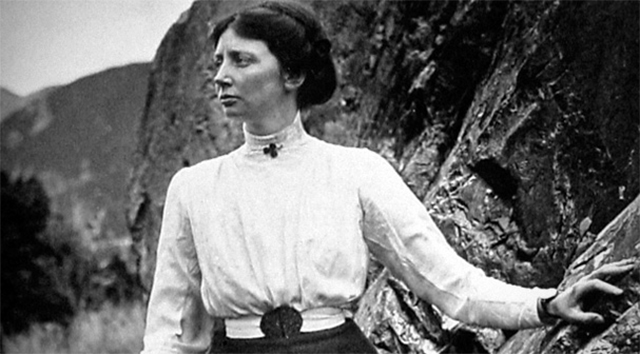 Freda Du Faur was the first female mountaineer in New Zealand, and in 1910, she became the first woman to climb Aoraki / Mount Cook. After her success, she refused to wear dresses or climb with chaperones. She wrote in her journal, "I was the first unmarried woman to climb in New Zealand, and in consequence I received all the hard knocks until one day when I awoke more or less famous in the mountaineering world, after which I could and did do exactly as seemed to me best." Freda fell in love with her first climbing instructor, Muriel "Minnie" Cadogan, and the two lived together for 19 years until Muriel passed away.
Marion Barbara "Betty" "Joe" Carstairs
Speedboat racer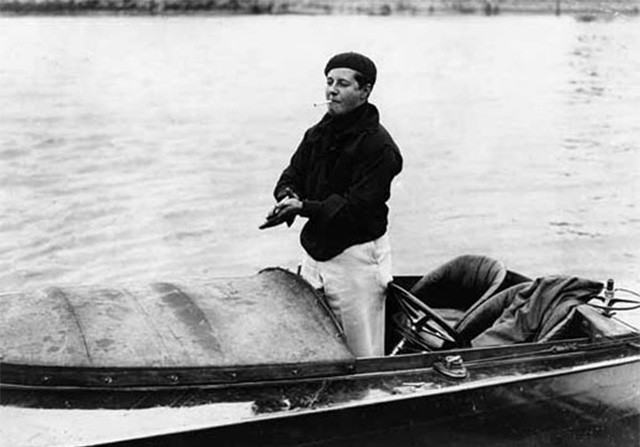 When reviewing her 1998 biography, The Queen Of Whale Cay, The New York Time called Carstairs "a cross-dressing lesbian who had tattoos on her arms, smoked expensive cigars, called herself Joe and was a world champion speedboat racer." All true! But it gets better. Carstairs moved to Paris when she was 17 and had her first lesbian experience with Dolly Wilde, Oscar Wilde's niece, about which she wrote: "My God, what a marvelous thing. I found it a great pity I'd waited so long." Carstairs won the Duke of York's Trophy, the Royal Motor Yacht Club's international race, and the Lucina Cup. Then she bought her own island where she kept photographs of the 120 girlfriends who visited her there.
Lily Parr
Soccer
In 1921, the FA banned women from playing soccer on affiliated grounds in England because women were starting to draw bigger crowds than men, largely because of Lily Parr. Standing six feet tall, she started playing professional soccer when she was 14 after she took a munitions assembly job at Dick, Kerr & Co and joined their soccer team for ten schillings per game. She played against men and women and reportedly shot the ball harder than any man. When the women's league was effectively banned in England, her team traveled to the United States to play exhibition games. Here, newspapers labeled her "the most brilliant female player in the world." She lived openly as a lesbian with her partner, Mary, until she died of breast cancer in 1978.
Helen Stephens
Track and Field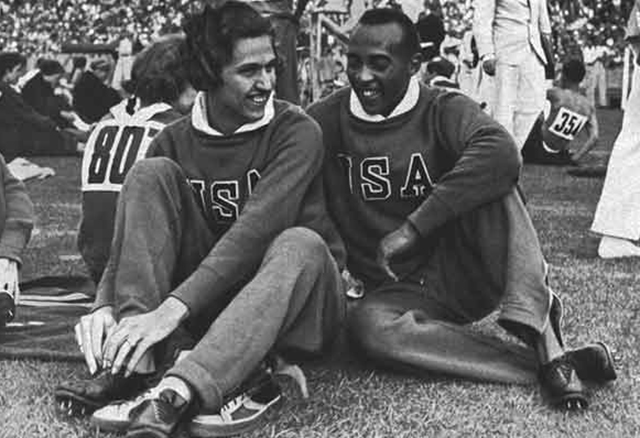 Helen Stephens reportedly never lost a sprint race in her entire life, including the two gold medal races she won in the 1936 Olympics. During her life, she held world records in the 50 meters, 100 meters, 220 meters, shot-put, and standing long jump. She also played professional basketball on a team she owned and managed. Stephens was good friends with Jesse Owens, running in exhibition races with him before the Olympics in Berlin. Sharon Kinney Hanson's biography, The Life of Helen Stephens: The Fulton Flash, explores her complicated relationship with her own lesbianism. She never came out of the closet. She was, however, instrumental in protesting the IOC's gender testing methods, which she was subjected to after setting a world record in 1936.
Roberta Cowell
Autoracing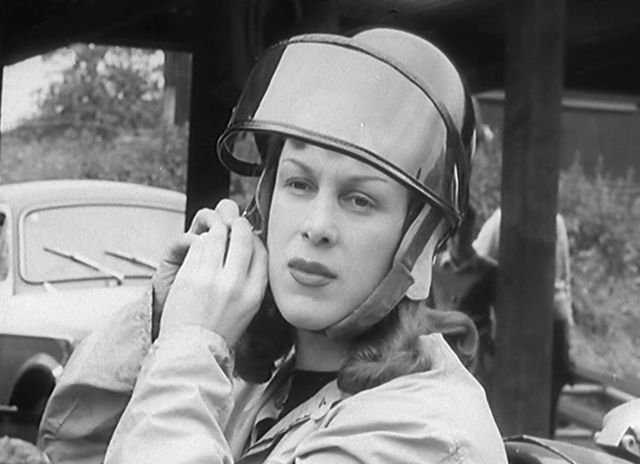 Roberta Cowell is the first known British person to undergo gender confirmation surgery, which she did in 1948 after she came out as a trans woman and met her life partner, Lisa. Roberta had been a celebrated auto-racer before leaving the sport to become a fighter pilot during World War II. She returned to it after the war and after coming out, racing into the early '60s, and owning fast cars with big personalities for the rest of her life.
Jackie Silva
Volleyball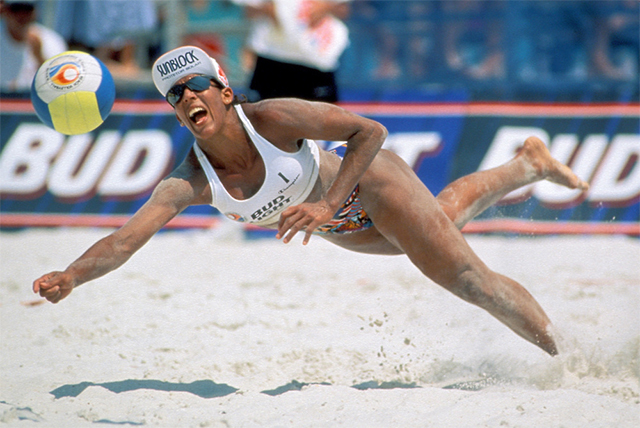 In the 1996 summer Olympics, Jackie Silvia won the gold medal for Brazil in the inaugural women's beach volleyball tournament. But that wasn't her first Olympics. Playing for the national indoor team, she helped take Brazil to their first Olympics in 1980 at the age of 14, and then again in 1984. In 2014, Silva married her partner of ten years, dancer Amália Lima.
Babe Didrikson
Literally Every Sport on Earth
Lots of sports historians consider Babe Didrikson to be the greatest athlete of all time. She played golf, basketball, baseball, tennis, billiards, and ran track and field. She won two gold and one silver medal in the 1932 Olympics, breaking the world record in the 80-meter hurdles and the javelin. Then she started her own professional women's basketball league, which she called Babe Didrikson's All-Americans basketball. After traveling around the country doing that for a while, she decided to learn to play golf. She did. And she won 10 major LPGA championships. It was on the golf circuit that she met Betty Dodd, who, despite Didrikson's marriage, became her lover and lifelong partner. Dodd was with her until the day she died.
Megan Rapinoe
Soccer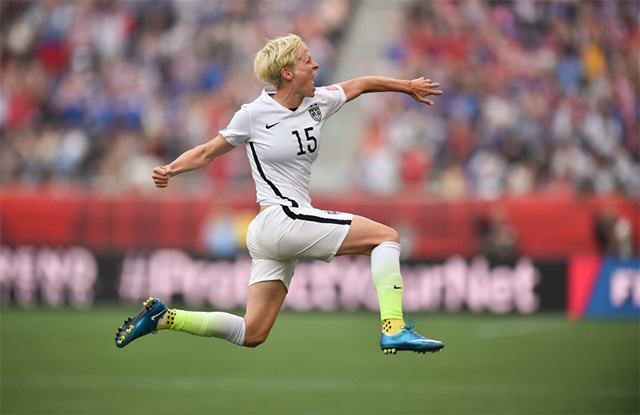 Megan Rapinoe was one of the first popular athletes of the modern sports age to come right out of the closet without apologies. She did so right before the 2012 Olympics in an interview with Out, and then helped lead the USWNT to a gold medal. She also starred on the 2015 team that won the FIFA Women's World Cup. She's been nominated for dozens of soccer awards, inducted into the National Gay and Lesbian Sports Hall of Fame, and recognized for her philanthropy and volunteer work, especially with LGBTQ organizations. Rapinoe made evem more headlines in 2016 when she knelt for the national anthem in solidarity with Colin Kaepernick before a NWSL game.
Billie Jean King
Tennis
Billie Jean King is regarded by many historians and sports writers as the greatest women's tennis player of all time, although she's hinted in the last few years that she thinks Serena Williams actually owns that title. She won 39 Grand Slams; founded the Women's Tennis Association as a pushback against the gender pay gap in the sport; and, perhaps most famously, defeated Bobby Riggs in the Battle of the Sexes in 1973. She's been Sports Illustrated's Sportsman of the Year, Time magazine's Person of the Year, and won a Presidential Medal of Freedom. The WTA trophy is called The Billie Jean King Trophy. The USTA tennis center in New York City where the U.S. Open is played is called the Billie Jean King National Tennis Center. King was outed in 1981 by her girlfriend, Marilyn Barnett; after losing all her endorsements in a single day, she called the relationship a mistake and went back into the closet. She began a relationship with her doubles (and now life) partner, Ilana Kloss, in 1987 and ultimately came out and became as relentless an advocate for LGBT rights as she always has been for gender equality.
Brittney Griner
Basketball
At Baylor University, Brittney Griner became the first basketball player in NCAA history to score 2,000 points and block 500 shots, stats that propelled her to three All-American titles, an ESPY, and AP's Player of the Year award. They also led to her being the first pick in the 2013 WNBA draft. Griner came out right after the draft in Sports Illustrated, saying, "It's hard. Just being picked on for being different. Just being bigger, my sexuality, everything." She's been to the WNBA all-star game four times, won a WNBA championship, and this year she led the league in scoring.
Martina Navratilova
Tennis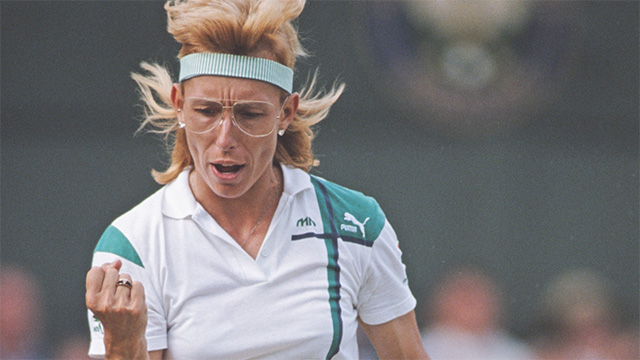 Another lesbian, another contender for greatest women's tennis player of all time. Martina Navratilova played professional tennis for four decades and holds records for being ranked the world's number one player in singles and doubles at the same time (over 200 weeks each). She won 18 singles Grand Slams and 31 doubles Grand Slams. Navratilova came out in the New York Daily News in 1981, after becoming a U.S. citizen. In 2014 she married her longtime girlfriend, Julia Lemigova, after proposing to her at the U.S. Open.
Renee Richards
Tennis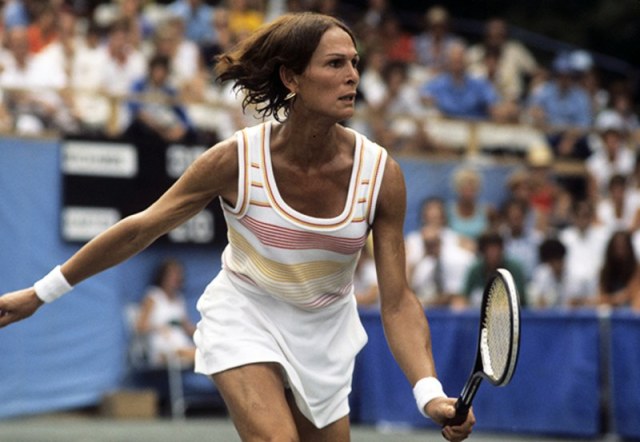 Dr. Renée Richards was a professional tennis player in the '70s. After coming out as trans and undergoing gender confirmation surgery, Richards was denied entry into the 1976 US Open. She took the case to the New York Supreme Court and won. Judge Alfred M. Ascione ruled: "This person is now a female." Ascione called the Barr body test, which the USTA wanted Richards to pass to play, "grossly unfair, discriminatory and inequitable, and a violation of her rights." Richards is one of the first openly trans athletes and was an outspoken advocate for trans equality in sports for decades, even after she left the tennis circuit to become an ophthalmologist.
Sarah Vaillancourt
Hockey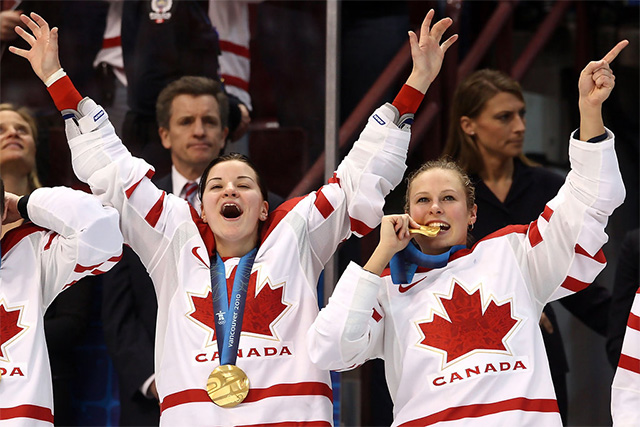 Sarah Vaillancourt, who spent ten years on the Canadian women's national hokey team roster, won two Olympic gold medals, a gold medal in the World Championships, and four silver World Championship medals. A nice addition to the Patty Kazmaier Award and the Ivy League Hockey Player of the Year Award she won at Harvard. Vaillancourt came out during her time there, telling a reporter later: "There were other gay girls on the team, but no one ever talked about it or went on about it. I came in and was like, 'I'm into girls,' 'I think this girl's hot,' and that's just how it is. Some of the girls were traumatized, but now when we have reunions, we laugh about it."
Abby Wambach
Soccer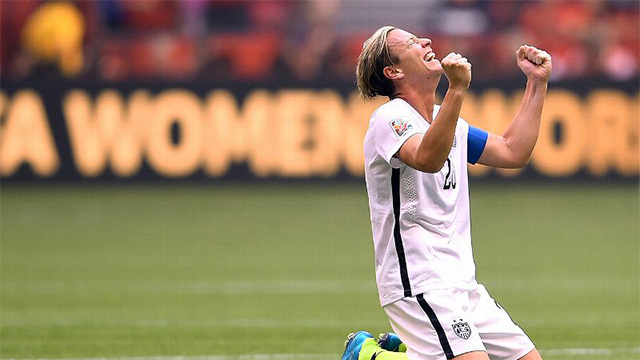 Abby Wambach is one of the most celebrated soccer players in history. With 184 goals to her name, she's the highest all-time goal scorer in international soccer (for both men and women). She played on the USWNT for 13 years and took home FIFA World Player of the Year honors in 2012. She has two Olympic gold medals and a FIFA Women's World Cup. She was the first soccer player to receive the Associated Press' Athlete of the Year award. Wabach married teammate and longtime girlfriend Sarah Huffman in 2013, telling reporters at the time that she'd never felt the need to come out of the closet because she was never in the closet. After their marriage ended, Wambach married "Christian mommy blogger" Glennon Doyle Melton.
Diana Nyad
Swimming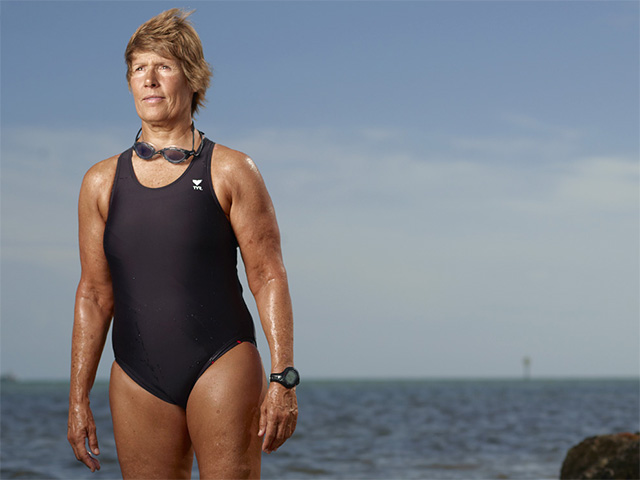 In 1975 Diana Nyad swam around Manhattan. In 1979 she swam from The Bahamas to Florida. When she was 64 years old, in 2013, she became the first person in history to swim from Cuba to Florida without a shark cage. Not long after, she won the ESPN Sports Science Newton Award for Outstanding New Limit and was named by Marie Claire as participating in one of the 8 Greatest Moments for Women in Sports. (Billie Jean King also made that list.) Nyad has spoken repeatedly about how her journey into competitive swimming started because she was trying to overcome the anger she felt from being sexually assaulted, beginning when she was 14 years old by her swimming coach.
After her historic swim from Cuba, Nyad talked about coming out in her 20s: "The president of ABC News and Sports used to have a lunch every Wednesday and I'd take my girlfriend and people would pull me aside and tell me not to. But if you said to me today, 'You would have been the next Diane Sawyer but you'd have to totally closet that whole gay life and be out about town with a nice-looking guy', I'd say, 'Not in a million years, never.'"
Seimone Augustus
Basketball
From the moment she walked onto the court at LSU, where she went to three Final Fours and won two Wooden Awards, Seimone Augustus has been a superstar. Actually, she was a superstar before that. In high school Sports Illustrated For Women called her the next Michael Jordan. Rightly so. After being drafted first in 2006, she's won four WNBA titles with the Lynx, played in seven all-star games, and been named one of the league's 20 best all-time players. Oh, right, and she has two Olympic gold medals. In 2012, when Minnesota's election included a referendum to ban gay marriage in the state, she came out, saying: "Everyone thinks that the WNBA is one big lesbo party anyway." When she married her longtime girlfriend, LaTaya Varner, she wrote a beautiful essay in the Players' Tribune called "It Is So Ordered" and it is 100% guaranteed to make you cry.
Gigi Fernández
Tennis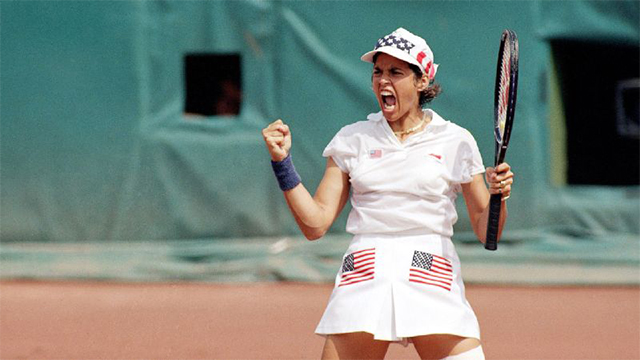 Tennis superstar Gigi Fernández was the first Puerto Rican-born athlete to win an Olympic gold medal. In fact, she and her doubles partner, Mary Joe Fernández Godsick, won two. The first in the 1992 Barcelona Olympics and the second in 1996 in Atlanta. She also won 17 Grand Slam doubles titles in her career. She is married to former LPGA superstar Jane Geddes and is, to this day, an outspoken advocate for LGBT and racial equality, recently going in on notoriously anti-gay tennis legend Margaret Court on Twitter and remaining a critic of the Trump administration, particularly in the face of Puerto Rico's recent humanitarian crisis after Hurricane Maria.
Caitlyn Jenner
Decathlon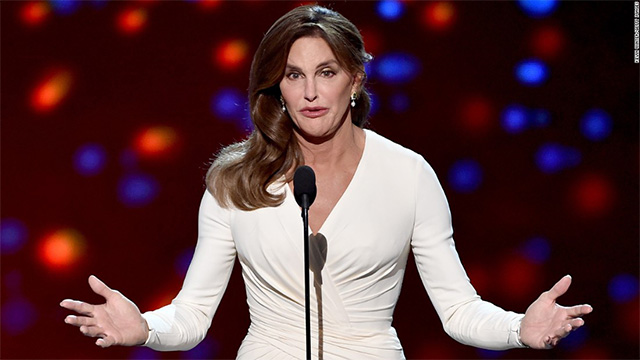 Caitlyn Jenner is likely the most famous trans person in history. Her coming out was covered by media outlets all over the world and witnessed by millions of people, many of whom watched her reality series I Am Cait which included crossovers with the Kardashians and even a guest visit by Kanye West. Jenner, of course, won the decathlon in the 1976 Olympics, breaking her own world record for a third time in the process. Jenner is the quintessential Wheaties box athlete and was the first American to take a victory lap with the flag after winning an Olympic event.
Ireen Wüst
Speedskating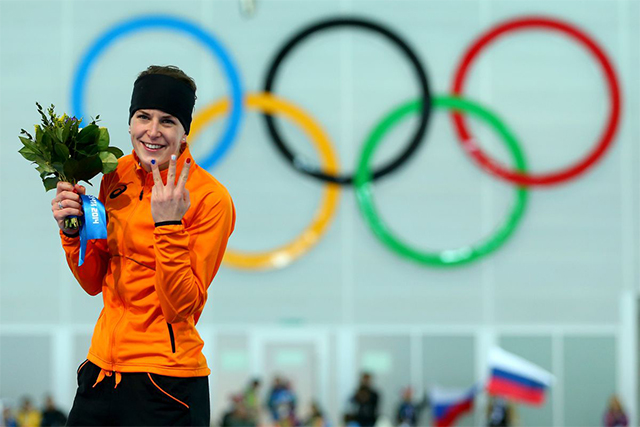 Of the 110 medals the Netherlands have won at the Olympic Winter Games, 105 of them have come from speed skating. Ireen Wüst brought home eight of them. And she's not done yet. She was the youngest Olympic medalist from the Netherlands at just 19 and she's got her eyes set on PyeongChang in 2018. She's won so many world championships and European championships that Reuters elected her Sportswoman of the World in 2014. Wüst has been one of only a handful of openly gay athletes competing in the last few Olympics, something that brought her even bigger attention than usual in Sochi in 2014 due to Russia's anti-LGBT laws/state sponsored propaganda. She was the first gay athlete to medal at those games, and ultimately won five medals, making her one of the most decorated athletes of the Russian games.
Natasha Kai
Soccer
Natasha Kai was one of the first U.S. Olympians to come out, which she did casually in an interview with NBCOlympics.com in 2008 by mentioning that was going through a breakup with her girlfriend. As one of only three out athletes on the U.S. Olympic team in Beijing, she helped the USWNT bring home the gold medal that summer, scoring the winning goal in overtime to lead the U.S. past Canada in the quarterfinals. As with her sexuality, Kai never shied away from talking about the pressure of playing soccer at the highest level. Last year she wrote a powerful, candid essay for Vox called The dark side of being an Olympic athlete: it's a roller-coaster ride.
Nicola Adams
Boxing
In 2012, British boxer Nicola Adams became the first woman to win an Olympic boxing title. In 2016, she won another gold. It had been her dream since she was a little girl, a decade before women's boxing was even considered as an Olympic event and at a time when her asthma was so bad her doctor told her mom not to let her run. After winning her first professional match last year, she proposed to her girlfriend, Mexican-American boxer Marlen Esparza. You should do yourself a favor and read The Guardian's profile of Adams, which includes this glorious paragraph:
Esparza is with her today, advising her on the photoshoot, telling her how hot she looks. The pair seem deliriously in love; and theirs must be one of the most romantic stories in the history of boxing. In her new autobiography, Believe, Adams says that when she was first introduced to Esparza, she was so taken by her she could not speak – nor the second time they met. The third time, she couldn't stop talking. While Adams is having her photograph taken, Esparza tells me this is all true; that when they met she thought Adams was plain weird. But not for long.
Sheryl Swoopes
Basketball
These days you can't turn around without seeing a WNBA player come out, but when Sheryl Swoopes did it in 2005 it was a bombshell that absolutely rocked the sports world. Swoopes was the first player to sign with the WNBA, after leading the 1996 Olympic team to a gold medal in Atlanta. She was the most known and most recognizable women's basketball player in the entire world for decades. She even had Nikes named after her. Sheryl Swoopes wasn't a basketball player; she was the basketball player, the one on whom women's professional basketball put its hopes and dreams when it toured around the country in 1995 trying to get people excited enough to support the women who would ultimately make up the WNBA. In total she won three Olympic gold medals, the Naismith Award, four WNBA championships (and dozens of individual WNBA awards), and has already been inducted into the Women's Basketball Hall of Fame.
When she came out, she told ESPN: "It doesn't change who I am. I can't help who I fall in love with. No one can … Discovering I'm gay just sort of happened much later in life. Being intimate with [Alisa Scott] or any other woman never entered my mind. At the same time, I'm a firm believer that when you fall in love with somebody, you can't control that."
Swoopes' relationship with Scott ended in 2011 and in 2017 she married her male partner, Chris Unclesho. Much has been written about Swoopes' decision to call herself a lesbian and not bisexual during her relationship with Scott, but as is always the case with these discussions, queer language is constantly evolving and never precise and everyone's decisions are informed in real-time by their own experiences. The fact that remains is that Swoopes risked as much coming out in the sports world in 2005 as Ellen did coming out in the TV world in 1996. She changed everything.
---
A Reminder Note: I'm not endorsing or making qualitative assessments of their overall personalities or actions — inclusion on this list does not mean all these women are heroes or angels or activists. The criteria is solely that they are LGBTQ and that they made a significant impact in both sports and queer culture.