Numerology is the language of sacred numbers and focuses on the unique magical properties of digits 1 through 9. By combining individual digits in your birth date or name, or by paying attention to recurring numbers, you can begin to find richer meaning and distinctive patterns around the numbers in your life. For the last few years, I've shared pieces on the numerology of the year ahead, using the major arcana to provide insights on the potential energy we might collectively be working with: 2020 was a year of the Emperor (with notable Hanged One energy), and 2021 was tied to the intentionality of the Hierophant. When we combine the three 2s in this new year, we come to the digit of 6, making 2022 the year of the Lovers: an archetype of freedom, choice, expression, perspective, connection, responsibility, and acceptance.
On its own, the number 6 is associated with harmony, celebration, movement, pride, and growth. This digit is nurturing, supportive, empathetic, and healing, as we recover from the changes that stretched and challenged us with the number 5. With 6, we take the lessons we have learned, and carry that protective, focused nature forward. These same themes are echoed in the Lovers archetype from the major arcana, which finds us breaking free of restrictive pathways, identifying what matters most to us, and aligning ourselves with the partners and communities that support our biggest, brightest dreams.
There's a stability we feel when we stop trying to force ourselves to conform, when we accept who and what we truly are. It's a kind of grace, an offering of self-love and compassion, that gives us a chance to expand in any direction we like instead of sticking to the straight and narrow. And after several years of working within established structures, of redefining boundaries, of struggling to stay upright while the earth itself shifts beneath us, 2022 brings opportunities for balance, growth, and repair. How do you show yourself love? What does it mean to genuinely respect and appreciate your gifts, instead of wishing you were more like someone else?
Beyond love for the self, the Lovers is also a card of the collective: the ways that we gather, process, and understand information, as well as the ways we show each other care, correction, and devotion. What do our perceptions and experiences teach us? How do we share what we know with the people around us? When is digging into truth an act of care, a way of expressing affection for those we love? The Lovers archetype invites us to clarify what we truly cherish, what we are willing to invest in — and also urges us to leave behind the things that don't actually matter. How does our love manifest? What, and who, are we devoted to?
In so many ways, the Hierophant and 2021 forced us to acknowledge the systems that work, and the ones that are broken beyond repair. And while it may feel obvious which large-scale societal structures desperately require change, in reflecting on last year you may also find some clarity of purpose on a more individual level. What personal limits are you tired of operating under? Where are you unwilling to keep compromising? How do you live in the tension between what you think you should want and what you actually desire?
The purpose and meaning of the Lovers archetype is not to obsess over a long-sought partnership, or to devote ourselves to finding "The One," or to throw ourselves so deeply into a relationship that we get lost. That's a limiting interpretation of this archetype, and in reality, the Lovers is so much bigger than any single connection. Every major arcana archetype has a lesson to share, and this one is all about recognizing what matters, what we're willing to fight for, which threads bind us to those around us. What are you no longer willing to waste time, energy, resources on? How have the changes and challenges you faced last year empowered you to stand up for your dreams, to pursue your goals with single-minded focus rather than trying to make everyone else happy? Where have you found community that makes you feel seen, heard, and how are you giving back to those people that have given you so much?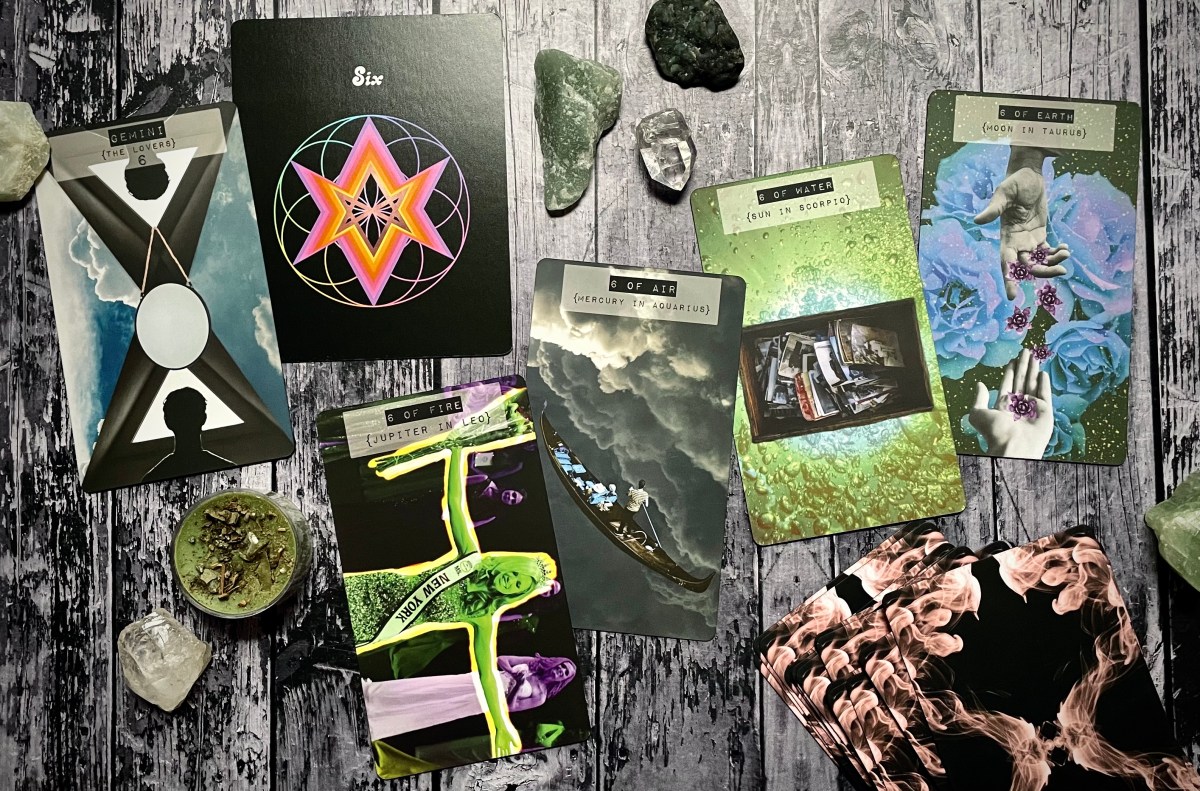 If the Lovers feels too big, too loaded, then consider how the number 6 echoes throughout the minor arcana. What do the 6s in each suit have to teach us? The 6 of wands and fire is a card of ego and pride, of moving through conflict with purpose, of letting our inspiration and creativity expand beyond all that we thought possible. The 6 of swords and air reveals necessary shifts, both intellectually and physically, as we leave something old behind and give ourselves opportunities for healing along a new path. The 6 of cups and water creates space for nostalgia, joy, and connection, letting us tap into our oldest dreams and envision how they may manifest in our present. The 6 of pentacles and earth reminds us of all that we have been building, and urges us to extend generosity and compassion to those around us. These are all cards of true kindness, of authenticity, of personal power. What is your impact? How is your influence growing?
2021 was rough for so many of us, on both individual and collective levels. There's no point in pretending it wasn't. But through impossible choices and intense challenges, we often find clarity, new perspectives, different outlooks. What have you outgrown? What are you still outgrowing? How are you balancing necessary rest with powerful expansion? Where are you ready to forge a new path, to blaze a new trail, to leave an old pursuit in your past? And who (or what) will you take with you on this journey of adventure and freedom?
2022 is a chance to start fresh, to tap into higher ideals, to begin taking responsibility for our own happiness. And while so many things remain out of our control, while the pandemic rages on and our institutions continue to fail us in so many ways, we also have more power than we may realize.
As we move into 2022, you have some important and necessary choices to make. What are you going to invest in? What do you care about? Who do you want to be, and what are you willing to do to step into that identity? Who supports you in these efforts, listening and growing and dreaming with you — and who holds you back? What dreams do you want to nurture, nourish, and which are you ready to leave behind?
Where are you going, and who are you taking with you?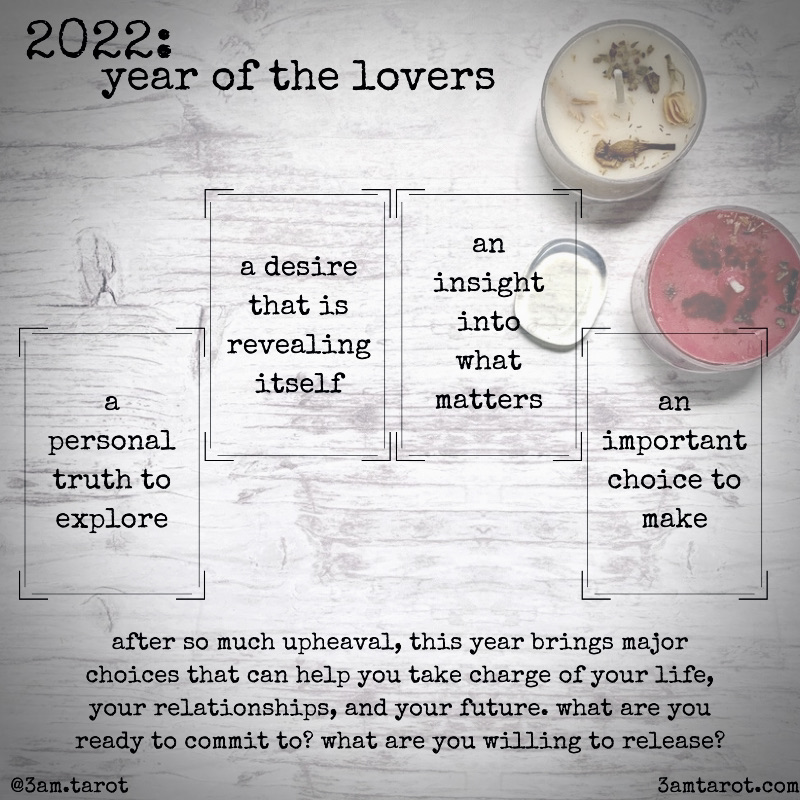 Turning to the cards can be a helpful way to explore these themes more thoroughly. My 2022 Lovers tarot spread makes space for clarity, for insights, for truth, for purpose. Which choices are you ready to make? What does it mean to prioritize something?
As you prepare to use this spread, I highly recommend taking the time to calculate your personal life path number, as well as your personal year number of 2022. (Do this by adding the digits of your birth month and day with the year's consolidated digit of 6. Keep combining individual numbers until you reach a digit between 1 and 9.) Once you know your personal yearly number, find the major arcana archetype associated with that number and pull it, along with the Lovers card, out of your deck. Spend some time looking at these two cards together (or, if you are in a personal 6 year, consider how the Lovers speaks to you as an individual, and how it may offer different lessons for the broader collective). How do you read your archetype alongside the Lovers? What do they have in common? Where is there tension between them? What can these archetypes teach each other?
Keep these cards at the top of your space, and as you shuffle and pull cards for yourself, allow these archetypes to give shape and weight to this reading. What might the Lovers want to teach you this year? How do the themes and threads that bind these archetypes together offer new insights and truths into the rest of your reading?
I would love to hear your thoughts on the Lovers archetype, your yearly number, and how you understand the different layers of meaning that the tarot has to offer for 2022 — please feel free to drop your insights into the comments! Wishing you a safe, joyful, expansive new year.