When the Academy of Motion Picture Arts and Sciences announced the nominees for the 87th annual Academy Awards last month, everyone outside the Academy was quick to point out that it was the straightest, whitest, male-est nomination list in decades. Zero people of color were nominated for acting Oscars; zero women were nominated for directing Oscars; and zero women were nominated for writing Oscars.
Not cool, Academy. Not cool.
After some debate, we've decided to live blog tonight's main event. Neil Patrick Harris is hosting. Tegan and Sara are performing. Selma is nominated for Best Picture. And we're hoping to see more of that feminist and racial real talk that wowed us at the Golden Globes in January. But before we get drunk on booze and whatever swoony thing comes out of Meryl Streep's mouth, let's take a peek at some of the best social commentary about the Oscars from around the wide internet.
---
Selma and the American-ness of the Academy
By Iquo B. Essien for Gawker
Perhaps that is true, but what concerns me is what it says about the hope for films by people who look like me, who congeal into an indistinguishable brown swill at the bottom of the mainstream cup—simply because whiteness assumes a kind of individualized identity that rises above the homogenized, monolithic other into which the rest of us fall.
Marginal Returns
By Brandon Harris for The New Inquiry
Both movies, Selma and Top Five, were released by a studio, Paramount, that regularly brought you its neutered but lively visions of Richard Pryor and Eddie Murphy's blackness for much of the late '70s through the early '90s. Those times are past; these two were the only movies Paramount released that had black subject matter all year in 2014. Gina Prince-Bythewood's well-regarded Beyond the Lights was the only widely distributed non-genre black film distributed by American studios, other than the latest embarrassments from Tyler Perry and Kevin Hart.
75 Years Ago, Hattie McDaniel Made History By Winning An Oscar
By The Root Staff for The Root
Seventy-five years ago, Hattie McDaniel accepted the Academy Award for best supporting actress for her role as Mammy in the civil war epic Gone With the Wind, becoming the first African American to win the prestigious prize. It was fitting that the award was handed out on a Leap Day, Feb. 29, 1940; the win was a momentous leap forward for African Americans in film. Since McDaniel won the award, 15 African-American actors have also won the golden statuette. Here are five things you should know about the trailblazing actress.
One in 10 didn't see Selma – and more we've learned about Academy members
By Ben Beaumont-Thomas for The Guardian
Of the voters they polled, 10% of them hadn't seen Selma, potentially further damaging its chances. The most-seen film is Birdman, with only 2% of voters missing it, while a pretty sizeable 7% missed The Theory of Everything and Whiplash. If they can't see the biggest critical hits of the year, it hardly bodes well for the foreign and short film categories. It's worth underlining that this isn't because films were released late or in limited runs – voters get sent the films on DVD.
Oscars Voters' Unsurprising Confessions: We Are Crazy and Racist
By Jordan Sargent on Defamer
In these two passages, you may recognize several strands of very familiar racism: a (presumably) white person loudly proclaiming that they don't see race, a plea for black people to not be so uppity and, naturally, "we have a black friend." The tonal implication that the white people who vote for the movie awards are the truly prosecuted in this equation is, of course, crazy, but it's a sad, wheezing sort of crazy.
---
7:00 Welp, I turned on the TV just as Lupita Nyong'o was making her way down the red carpet. So far, so flawless.
when you're not even nominated for an oscar this year but you already won pic.twitter.com/7OjNMhP2Zb

— Jazmine Hughes (@jazzedloon) February 23, 2015
 7:11 Speaking of flawless. I love when Oprah posts to Instagram, especially when you can see inside her house. It's like, "Oh, me too, Oprah! I have walls too! Best friend samesies, practically!" (Where is Gail?)
7:20 Ryan Seacrest definitely just told Kerry Washington that Ellen is texting him to try to get him to get her to spill Scandal secrets because Portia won't tell her anything. Shonda Rhimes has more secrets that A on Pretty Little Liars, man.
7:30 Stacy, my film editor girlfriend, just said to me, "Ugh, is there anything more awkward than a red carpet show? If we ever have to go to the Oscars, let's get there at the last minute, pre-drunk." Love of my life, that girl.
7:35 Wait, for real?
According to Academy rules, Oscar winners (or their heirs) can't sell their statue until they first offer it to the Academy for $1.

— Mental Floss (@mental_floss) February 23, 2015
 7:42 I'll bet you ten dollars there's already a GIF on Tumblr of Cumberbatch saying "squishy" on Tumblr that has been live blogged one million times.
7:50 And the award for Least Impressed With The Oscars Red Carpet goes to…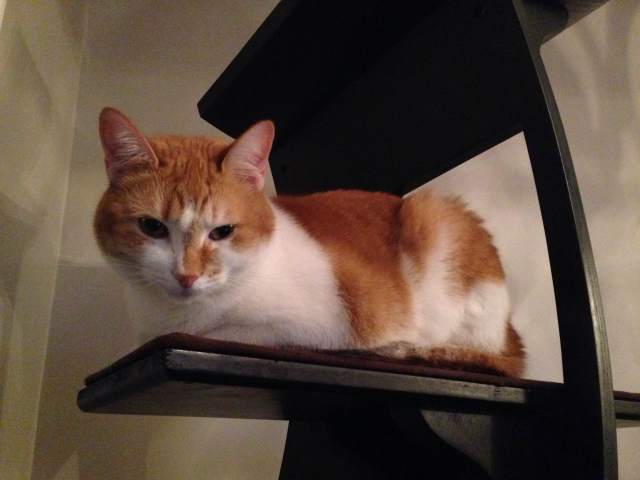 8:00 "Oscar voters love movies about show business."
8:03 Oh! Hey, cuties!
welp, this is adorable. pic.twitter.com/o6lurA3u7k

— BuzzFeed Celeb (@BuzzFeedCeleb) February 23, 2015
8:11 20 minutes until the Oscars! 40 minutes until the pulled pork and black bean quesadilla I ordered gets here!  I'll bet the second thing is better!
8:17 Jennifer Aniston picks up Emma Stone and carries her away from this awkwardness! A real American hero!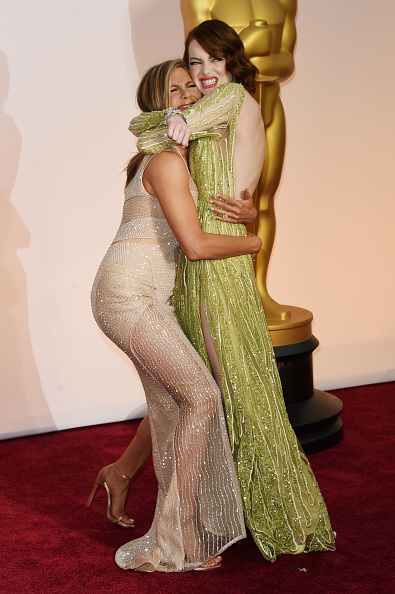 8:30 All right, let's get this show on the road, and by "show" I mean "Tegan and Sara concert."
What are we wearing!? Tegan is in @The_Kooples and @barbara_bui. Sara is in @PublicSchoolNYC and @colehaan. #Oscars pic.twitter.com/AYPaR3156g

— Tegan and Sara (@teganandsara) February 23, 2015
 8:30 I hope Anna Kendrick stays on stage and just launches Jimmy Choos all night.
8:40 JK Simmons wins for Best Supporting Actor for Whiplash and speaks for ten minutes about the cause closest to his heart: "call, don't text your parents." Okay.
8:45 My girlfriend: "Octavia Spencer deserves so much better than this terrible joke that will never end." And also Red Band Society. She deserved better than that too.
8:50 Talk about fortuitous! The food arrived just when I needed a bathroom break!
---
9:00 Grand Budapest Hotel wins for Best Costume Design and Best Makeup and Hair, which is correct, I think! They made Lord Voldemort look like a regular old hotel employee! Or, well, like a Williamsbug's fever dream of a hotel employee!
 9:10 Ida wins for Best Foreign Film, even though Nicole Kidman says movies are about humans and not language? I don't know. Oh! The director defeats the playoff for the first time in history by thanking his dead wife right as the music almost shut him down! And then he thanks his kids for being alive! My goodness!
9:15 My quesadilla was delicious, thank you for asking.
9:16 Michael Keaton flat chewing the shit out of some bubblegum.
9:17 TEGAN AND SARA TIME!!!!!!!
TEGAN. (and Sara)

— Adrian White (@adrianwhiteTX) February 23, 2015
 9:22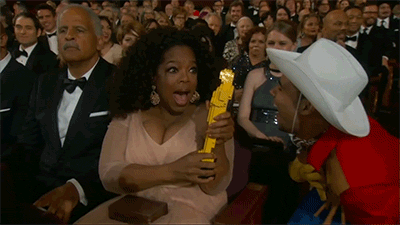 9:27 The Phone Call wins for Best Live Action Short and Kerry Washington wipes some stuff off one of the directors' faces before he makes a fool of himself on national TV because she has a hard time turning off Olivia Pope sometimes probably.
9:28 Crisis Hotline wins Best Short Subject Documentary. The director accepts on behalf of her son who committed suicide earlier this year. :(
(Everyone's sticking it to the play-off music tonight.)
9:35 Gwyneth Paltrow introduces Tim McGraw. Remember that time when she said she'd rather die than feed her kid a Cuo-O-Soup? Remember when she said "Sometimes Harvey Weinstein will let me use the Miramax jet if I'm opening a supermarket for him"? What a world.
9:40 By the way, earlier on the red carpet, one of the interviewers hit on Tim McGraw and he literally said, "I'm married to Faith Hill, so."
9:40 FOUND 'EM!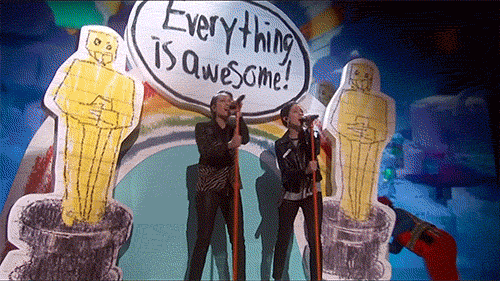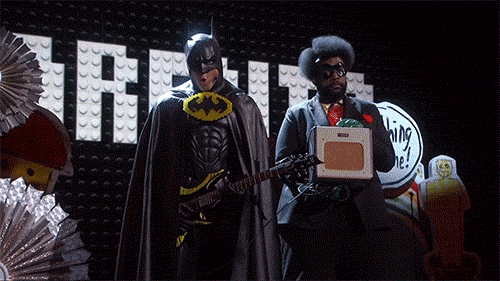 9:45 Did y'all just see Liz Feldman?
9:50 FOUND SOME MORE.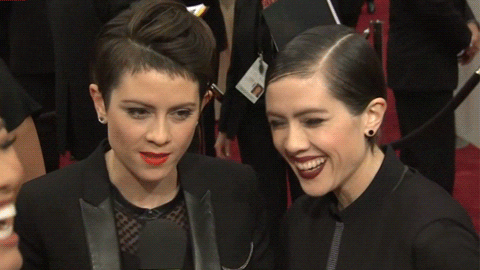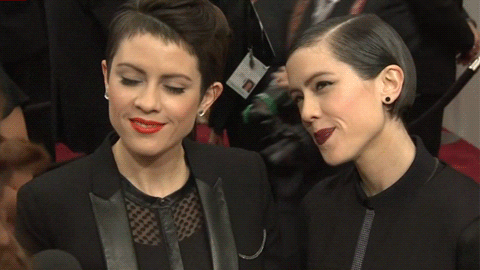 (Whiplash won a sound thing, I think while I was on Tumblr digging up these treasures.)
9:50 My girlfriend: "YESSSSS MORE WHITE MEN WIN TECHNICAL AWAAAARDS!"
(The award in question is Sound Editing and it's American Sniper.)
9:51 Oh good, Jared Leto is here. Tell us more about how you singlehandedly cured the world of transmisogyny, Jared.
9:54 Patricia Arquette wins Best Supporting Actress for Boyhood. (Riese really hated Boyhood.) (I liked it a lot.) (But I also saw it at a theater where they serve beer and nachos nonstop through the whole movie.)
9:56 Sweet Lord! Patricia Arquette started talking about wage equality and Meryl Streep and J. Lo just about came out of their seats! Meryl was legit doing PREACH! PREACH! YASSS! WOORRRKK! hands. (BRB, Tumblr.)
---
10:00 Record time, Tumblr!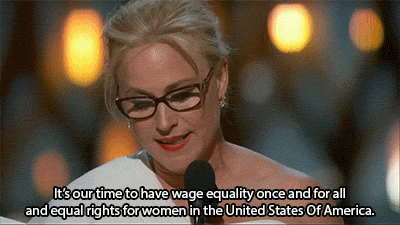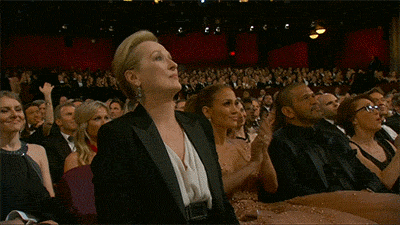 10:04 Here's your new Facebook cover photo.
10:06 Interstellar wins for Best Visual Effects.
10:07 Feast wins for Best Animated Short! I've never even heard of it but it looks like it's just a cartoon about an adorable puppy eating everything! I want to watch it right now!
10:11 Big Hero 6 wins for Best Animated Film. It was very good. Actually, everything in this category was very good. SO WAS THE LEGO MOVIE.
10:16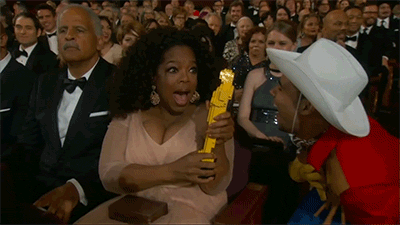 10:23 Grand Budapest Hotel wins for Production Design. Sadly, NPH isn't winning much of anything. I hope he doesn't turn on the internet tomorrow.
10:25 Idris Elba and Jessica Chastain — who my girlfriend just referred to as "truly, truly wonderful people, in terms of looks" — present the Oscar for Best Cinematography to the dude from Birdman who also won last year for Gravity.
10:30 Tweet of the night.
It was then that I carried you. pic.twitter.com/tmNbc30lSg

— Mark Ennis (@MarkEnnis) February 23, 2015
10:35 In Memoriam. Seeing Maya Angelou's name was a punch in the soul all over again. Jennifer Hudson is singing sad, powerful things. How come she stopped making movies?
10:43 Tom Cross wins the Best Editing for Whiplash. My girlfriend does not approve.
Can Boyhood please win Film Editing so I can see ONE WOMAN win a "technical" award? (Film editing is storyteling, FYI.)

— Stacy (@LaikaSpaceDog) February 23, 2015
 10:50 Oh, dear. The TelePrompter goes out when Terrence Howard is trying to talk about some Best Picture nominees and so he tries to ad-lib and then breaks down and starts crying. But like acting-crying?  It is … uncomfortable.
10:51 Citizenfour wins for Best Documentary.
10:52 Meryl and Patricia Arquette are making out backstage, apparently.
Patricia Arquette on Meryl Streep's reaction: "I hugged her afterwards! She's the queen, the patron saint of all actresses."

— OscarInterviews (@OscarInterviews) February 23, 2015
 10:55 Truth, Mey. Truth. :(

10:57 Octavia Spencer introduces John Legend and Common, who are performing "Glory" from Selma, for which they won a Golden Globe. Damn, man. Super powerful performance. Standing ovation.
---
11:00 NPH will not let us forget that lockbox. Hopefully, Octavia has escaped his clutches now that she made it up to the stage.
11:06 "Glory" wins for Best Song! John Legend and Common are dropping truth bombs all over the place and the music people aren't even hinting at playing them off: "To the people that are marching with our song, we see you, we love you and march on."
11:13 Sound of Music tribute from some reason. I don't know why. But I don't care because JULIE ANDREWS. Guys. GUYS. Lady Gaga. Julie Andrews. I … I'm going to need a minute, I'm sorry. Live blog pause.
11:23 So what happened was Lady Gaga came onto do a Sound of Music tribute and my girlfriend was like, "Baby, your face. Are you about to throw up?" Because Julie Andrews is my deity, see, but then Gaga was so amazing she gave me goosebumps in my brain. And then! Julie Andrews came out and hugged her and said, "My dear, Lady Gaga…" It was all very surprising and moving!
11:25 Alexandre Desplat wins Original Score for Grand Budapest Hotel.
11:27 
Losing an Oscar in a category that Julie Andrews presents is as good as winning an Oscar in any other category

— Seth Meyers (@sethmeyers) February 23, 2015
11:30 Birdman wins for Best Original Screenplay.
11:34 The Imitation Game wins for Best Adapted Screenplay ("Stay weird; stay different" is Graham Moore's inspiring It Gets Better message!) and Oprah Oprahs the announcement! Ha! Hahaha! THE IMITATION GAAAAAAAAME!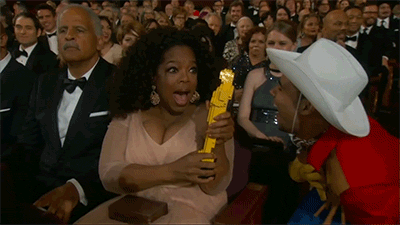 11:43 Alejandro G. Inarritu wins Best Director for Birdman and "follows up an It Gets Better speech by talking about his balls." (I'm just quoting everything that comes out of my girlfriend's mouth as I scour Tumblr for more Julie Andrews photos, at this point.)
11:49 Like this one.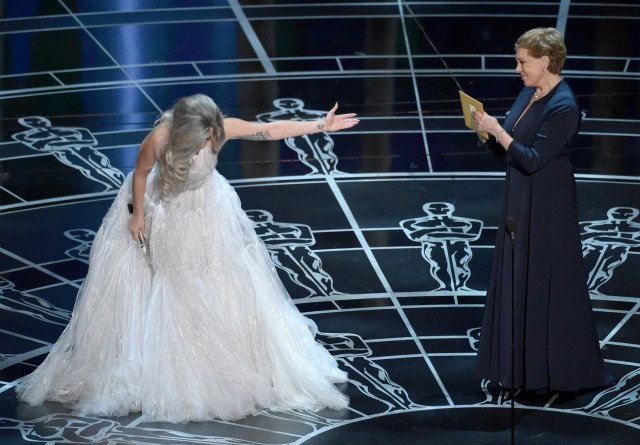 11:51 AWW. YOU GUYS.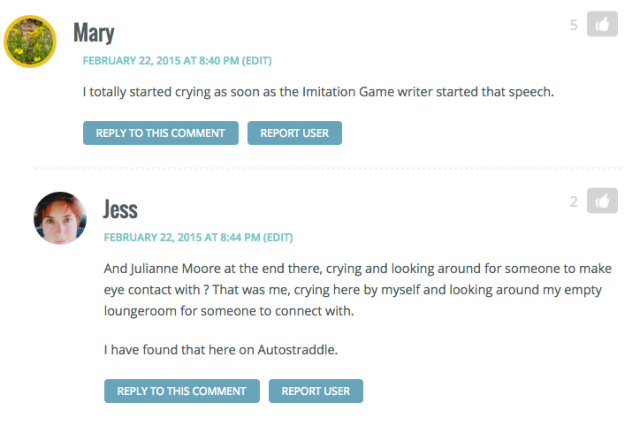 11:52 Eddie Redmayne wins Best Actor for The Theory of Everything and delivers a charming acceptance speech.
Tell me more about Eddie Redmayne's wife?

— Brittani Nichols (@BisHilarious) February 23, 2015
11:53 Ugh. Here comes my sworn enemy Matthew McConaughey to present for Best Actress.
11:57 Julianne Moore finally wins her Oscar! YAY!
---
12:01 I never thought I'd say this, but: NPH, STAAAAAAHP.
12:04 Birdman wins for Best Picture.
Whoo boy, y'all. That was a long night. Thank you for sticking around until the end. Sweet dreams, sweet kittens.