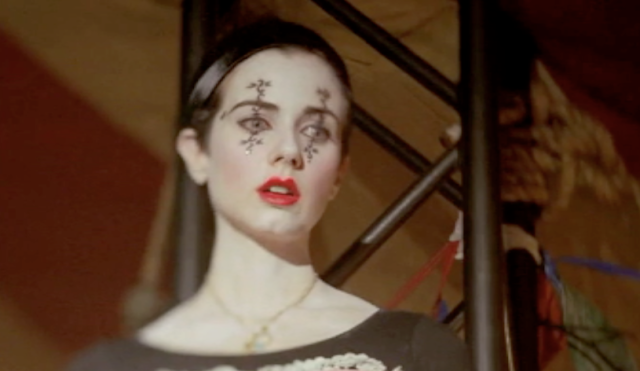 When word spread about Toronto artists Allyson Mitchell's mostly awesome lesbian feminist haunted house, "Kill Joy's Kastle", everyone here at Autostraddle was pretty psyched.
Read this description and tell me you don't want to go here immediately:
Wrapping this American Gothic Hell House tradition with yard upon illustrated, elaborately decorated yard of spirited craft aesthetic, Mitchell mobilizes her "deep lez" commitment to radical queer world-making potential. Through it, she conjures new kinds of representations of feminist sexuality and queer concepts of community and activism.
Rug-hooked, crocheted, and paper maché'd constructions are womb-like wonders for visitations of the undead lesbian community, who are hell-bent on remaining nightmarishly non-assimilated. Casting the spells of freaky feminist skill sharing and paranormal consciousness raising together with ghouls, bio-engineered monsters, indoctrinators, and avengers, this hell house is designed to pervert, not convert."
Paper mache'd wombs and emasculation stations are great and all, but what if there were a haunted house that was just filled with a FUCKTON of things lesbians are terrified of?
Here's our list of things you'd find in an actual, real-as-it-gets lesbian haunted house.
1. Stereo that only plays "True Affection" and "Parenthesis" by The Blow non-stop.
2. A soundproof room showing nothing but Two & A Half Men on one side and The Real L Word on the other, on several televisions stacked on top of one another.
3. Nothing but that one grainy hummus you hate.
4. Not even pita chips or carrots. Just that hummus.
5. Girls chasing you around with leases and a pen (that's been gnawed on, because anxiety).
6. Jenny Schecter chasing you with a knife.
7. Jenny Schecter chasing you with more circus-based short fiction.
8. The sound, smell, and hair of dogs/cats, but no actual dogs/cats.
9. A room full of family members watching TV and saying homophobic things that you have to navigate your way through. You cannot go around.
10. Ilene Chaiken popping up everywhere and screaming, "I'M ILENE CHAIKEN, PRODUCER AND CREATOR OF SHOWTIMES' HIT SERIES THE L WORD!!!"
11. The ghost of Dana Fairbanks.
12. And no sign of Mr. Piddles; the mystery remaining unsolved.
13. A room where everything is completely silent for hours, punctuated only briefly by the hopeful sound of an incoming G-Chat. But it's not her. The G-Chat. It's never her.
14. Actual bodies covered in the words of Jeanette Winterson from Written On The Body.
15. Gendered bathrooms and gendered bathrooms only.
16. Every mirror you look in instantly superimposing a photo of your ex next to you.
17. A room full of really, really long fingernails.
18. The Glee version of "Take Me Or Leave Me" playing on repeat through a dark tunnel of doom.
19. A hallway where Diva Cups are dumped on your head while "Closer To Fine" plays on a loop.
20. In order to get out of the house, you have to get past a frat boy standing in front of the door who will only move out of the way if you explain how lesbians have sex.
Have others to add to the list? We know you do. Comment away, friends.