This episode we got some more ammo for the 'absent dad equals inability to properly assess situations with men' canon. It included such gems as "Is it weird that I kinda wanna have sex with your dad?" Despite that, Max's relationship with Earl is sweet and intimate. Oleg's pursuit of Sophie, unfortunately, hasn't humanized him as it has only given him more room to refer to his penis and/or sex. This episode very well could have been one that focused on the story of being broke and needing health care and all of those accompanying frustrations but instead it was mostly about daddy issues. Even the rich doctor had daddy issues! We all have daddy issues!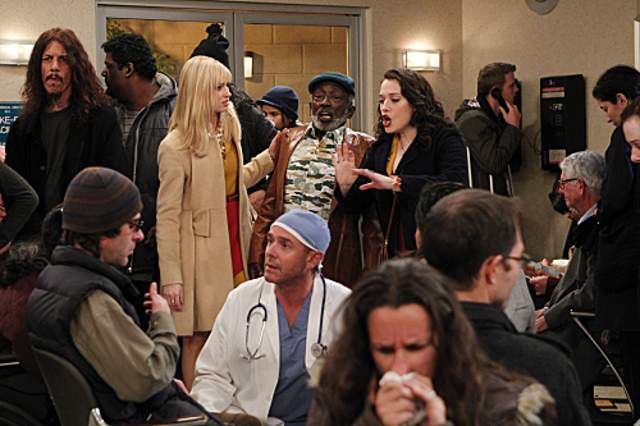 The edgy joke
Max: Their romantic whispering goes like this. "I own nipple clamps."
The dark joke
Max: Didn't have the heart to tell him Cupid is dead. Yup. Hit by a Mack truck crossing the Brooklyn-Queens Expressway. His fat, baby, diapered ass splattered all over the windshield.

The non-PC joke
Desk Attendant: …and African-American.
Max: He started late with a honky, I'm one of those combo babies.
The vagina joke
Caroline: I've got something in here for you. Guess what it is.
Max: Well judging from that smile on your face, I'd say it's a finger-sized hole in your apron.
The "is that racist" joke
Sophie: I wish we had black people in Poland when I was growing up.
Feelings about Doctor Dave? Seems to me that he is a dick for not wanting to date Caroline again because of what his peers would think. I'd like to assign that to him as a high society issue, but I'm sure the dregs of society also refuse to date certain people based on what their friends think. I tend to have the opposite problem, because I refuse to listen to what my friends say because what do they know, right? They're just trustworthy individuals that know me fairly well and are concerned with my happiness and well-being. Why would I listen to them?