March is Women's History Month! Women's History Month is a nationally recognized month in the United States to "write women back into history," according to the National Women's History Project website. And y'all all know it's not just white women's history that's left out of our high school textbooks. I recently did a poll of a class of undergraduate students and literally, like, five of them had heard of the Stonewall Riots before college or in an educational setting at all. Zero of them knew anything about Marsha P. Johnson or Miss Major or Sylvia Rivera. QTPOC often get written out of the retellings of our own LGBTQ history, even within our own communities.
We deserve better. Everyone should know the stories of the lesbian, bisexual, queer and/or trans women of color who've been the backbones of LGBT communities forever and ever. But it's not always easy or accessible to find those stories. I've curated a whole month's worth of really excellent films to get you started. So make some popcorn and put your learnin' pants on. Be inspired by the QTPOC who came before us and those making history today in these 15 films.
---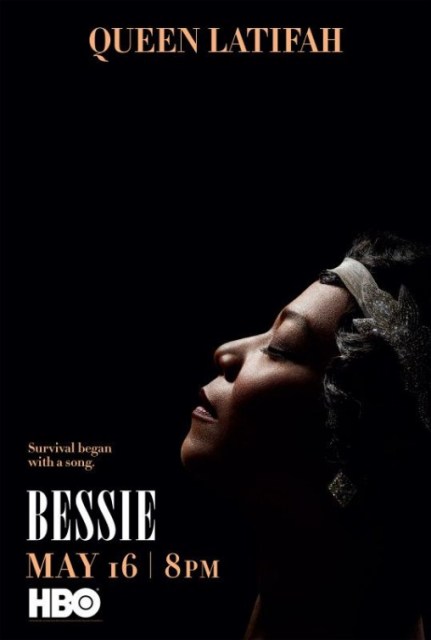 Queen Latifah as Bessie Smith. Queen Latifah as Bessie Smith. Queen Latifah as Bessie Smith. I'm sorry, have you really not watched this film? Because you need to get on it right now. HBO's four-Emmy-winning televison biopic about blues singer legend Bessie Smith is gorgeous, moving, and deliciously queer.
In the 1920s and 30s, Harlem was a place where queer people congregated; though most of them were married to men, singers like Bessie Smith, Ma Rainey and Gladys Bentley were known to take female lovers and flirt openly with women while touring and sometimes performed in men's clothing. They all wrote songs that explicitly mentioned lesbian love, which was really unheard of outside of the Harlem Renaissance at that time in America. In Bessie Smith's song "The Boy in the Boat," she wrote "When you see two women walking hand in hand, just look 'em over and try to understand: They'll go to those parties, have the lights down low, only those parties where women can go."
Bessie's sexuality is just one aspect of this incredible film about her life and rise to fame, but it's definitely there, not sanitized out by Hollywood, with Mo'nique playing the fiercely queer and loving Ma Rainey and Tika Sumpter playing Bessie's lover, Lillian Simpson.
How to watch:
Free with Amazon Prime or HBO, $9.99 to buy on Amazon!
---
Screaming Queens is a documentary film by trans activist and scholar Susan Stryker detailing the police riots that happened three years before the Stonewall Riots in San Francisco, led by trans women and drag queens. Queens and trans women would gather at Compton's, a late-night diner, where they were often harassed by police for violating San Francisco's anti-crossdressing laws or for doing sex work. One night, when the police were arresting a woman at the diner, she turned and threw her coffee in the officer's face, sparking a pushback by the queer and trans patrons. It was the first known trans riot and led to the first organized support network for trans people by trans people.
While the filmmaker, Susan Stryker is a white woman, two prominent interviewees in the film who recall the riots are women of color Tamara Ching and Felicia Elizondo. Both Ching and Elizondo lived in the Tenderloin district in the 60's and continue to speak about the history of trans people and communities as lifelong activists. It's an important event in our collective history that's often forgotten and yet more proof that trans women and drag queens of color are the ones who were on the frontline of the gay liberation movement in the 60's and 70's.
How to watch:
The film is currently available for free through PBS affiliate KQED, so watch it while you can!
---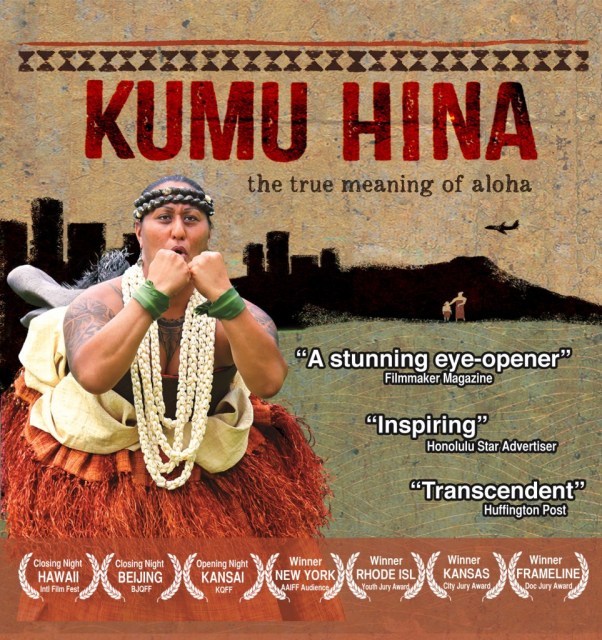 I saw this film at a film festival a few years back and I want to share it with everyone. Unfortunately, most recently, Kumu Hina was cited by the Trump administration as a rationale for the threat to cancel public broadcasting funding. Because that's the history that's being made right this moment. Even if it's being used to stir up hatemongers, though, this movie is truly about love.
Kumu Hina is a māhū (transgender person) who teaches young students about traditional Hawaiian culture through hula. The film follows her for a year through her life and relationships and explores Hawai'i through the lens of gender, class, and ethnic and cultural traditions. One story arc is around a young student who feels called to claim her place as leader of her school's all-male hula troupe, who is taught and mentored by Kumu Hina.
How to watch:
Available on Netflix, $3.99 to rent on Amazon.
---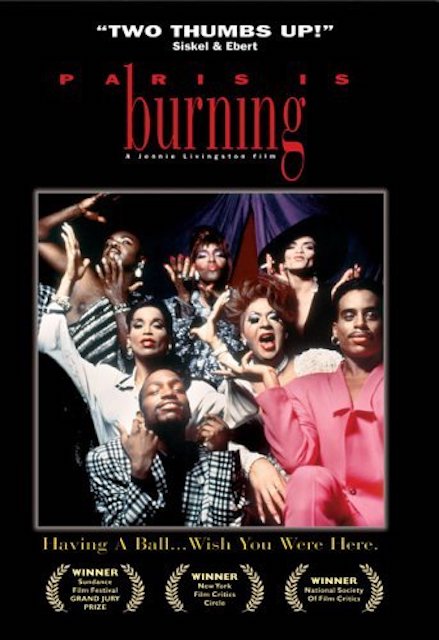 A classic. There's still a lot of debate over Paris is Burning, but at the end of the day it's a film that resonates for a lot of QTPOC, particularly Black and Latinx trans women. In fact, it was included in the number one spot in the 15 Best Trans Woman Movies According to Trans Women list Mey curated in 2015.
The film follows powerful trans artists like Rachel Harlow, Octavia St. Laurent, Crystal Labeija, and Venus Xtravaganza over a year in the late 80's in the ball scene in NYC.
In the 15 Best Trans Movies… article, contributors had this to say about the film:
"I want to recognize the empowerment that, as a transgender woman of color, I experience watching Paris is Burning. This film not only seduced me as a viewer, but empowered me and gave me powerful women to look up to. Dorian Corey, for instance, throughout the movie drops some of the most amazing life knowledge that you wouldn't be able to get from your own grandmother. Venus Xtravaganza, is unapologetic in her pursuit of a beautiful life. Octavia St. Laurent, is a powerful young black woman who has the skills and ability to chase her dreams regardless of her gender history. These are stories that are epics, in their own right." – Lexi Adsit
"I can't help but be overwhelmed with appreciation for the women who stood before me. Rachel Harlow, Octavia St. Laurent, Crystal Labeija, Venus Xtravaganza, the list goes on. I see the strength in them and it gives me the strength to exist unapologetically, to make things better for the next generation of girls." – Trace Lysette
How to watch:
Available on Netflix!
---
On the other end of Paris is Burning is KIKI, a documentary set 25 years after Paris about the ball scene and community that continues to thrive in NYC. Kiki is a direct collaboration between Twiggy Pucci Garçon, the founder and gatekeeper for the Haus of Pucci, and Swedish filmmaker Sara Jordenö. It features a score that going to make you want to jump up and dance by ballroom and vogueing producer collective Qween Beat.
The film follows seven participants in Kiki balls over four years, using the kiki balls as a way to explore systemic issues that queer and trans youth of color face today.
How to watch:
Available on Vudu, iTunes, YouTube, Google Play, or $6.99 to rent on Amazon.
---
Chavela Vargas (Isabel Vargas Lizano) was a Costa Rican-Mexican band leader best known for her performances of Mexican rancheras, a typically machismo style of music. She was one of the first Latin American singers to sing in this style directly to women (not changing the pronouns in rancheras songs) and to dress in typically male clothes. She came out officially at the age of 81 in her memoir, Y Si Quieres Saber de Mi Pasado, but she never hid her relationships with women in her life or her songs. Vargas openly loves many women, including artist Frida Kahlo and women's rights activist Alicia Elena Pérez Duarte y Noroña. In fact, you may remember her from the 2002 film Frida, in which she appeared singing the Mexican fold song "La Llorona."
Never-before-seen interviews with Chavela Vargas make up most of the film, which came out last year. Vargas died in 2012 in Cuernavaca, Mexico at the age of 93. In Raquel's review of the film, she wrote:
CHAVELA is a story of a remarkable person told by the people who loved and admired her most. "There isn't a lesbian in Mexico who doesn't know Chavela Vargas,wp_postssays one of the interviewees in the documentary, "And who doesn't love her.wp_postsShe opened doors for art, gender expression, and sexuality in unprecedented ways. The people who followed in her footsteps show a deep gratitude and appreciation.
If you're unfamiliar with rancheras, you need to see this film. Even if you can't afford to rent it, you can find many live performances of Chavela Vargas, who performed late into her life, on Youtube. Ranchera songs draw on love and loss and Vargas' signature drawn-out alto reverb take on the genre will give you goosebumps. (I'm listening to her music right now as I type this.)
How to watch:
Available on Vudu, iTunes, Google Play, or $4.99 to rent on Amazon.
---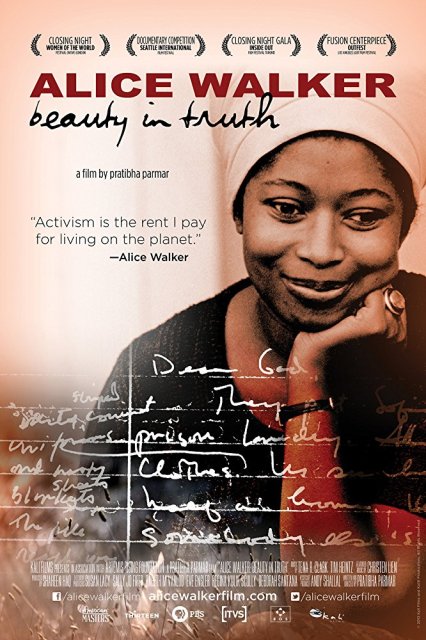 Alice Walker, writer and activist and the first Black woman to win the Pulitzer Prize for The Color Purple, is the epitome of what it means to live authentically as a feminist activist and an openly bisexual woman. This documentary is really just so well done, covering Walker's life from her childhood in Georgia, where she confronted violence and racism and poverty, to her coming-of-age during the civil rights movement and her continued activist today.
In the film, Walker says of her detractors, "They had a problem with my intellect and they had a problem with my choice of lovers and they had a problem with my everything. So choose one. Choose all. They just had a problem." If you didn't know Walker's work and legacy before watching this film, you'll be inspired by it, for sure!
How to watch:
The whole film is currently unavailable, but you can watch many free clips on PBS (US only)!
---
Cut together from clips of interviews with Marsha P. Johnson and people who knew her, this is a really loving, accessible documentary about the Mayor of Christopher Street. Marsha "Pay It No Mind" Johnson was a Stonewall veteran who is sometimes credited with throwing the shot glass that set the tone of the riots. She and Sylvia Rivera created the organization Street Transvestite Action Revolutionaries (S.T.A.R.) which advocated for and cared for trans women (including trans women doing sex work) at a time when no one, including the gay liberation movement, was caring for trans women. She also participated in many direct actions with the Gay Liberation Front and, later, ACT UP. She marched in the first Christopher Street March in 1970, what would become what we know now as a Pride parade. According to the documentary, in 1973, Marsha and Sylvia were told they couldn't march in the gay pride parade because the participation of drag queens would "[give] them a bad name." They staged a march defiantly ahead of the parade instead.
If you don't know Marsha, you need to watch this documentary. If you only know that she was at Stonewall, you also need to watch this documentary. The filmmaker has made it available for free on YouTube, so you really have no excuse not to!
How to watch:
---
https://www.youtube.com/watch?v=0dduj7IMKL0
Just click those videos to watch these delightful and heartfelt and empowering episodes of We've Been Around, a webseries celebrating and amplifying the stories of trans people in U.S. history. If you have always wondered just how good a production about trans people produced by trans people at all levels could be, check out this series.
S.T.A.R. chronicles Sylvia Rivera and Marsha P. Johnson's activist work from the Stonewall Riots to starting Street Transvestite Action Revolutionaries to their later work in the 80's and 90's.
The episode on Lucy Hicks Anderson tells the story of Hicks, a Black woman who was a successful Prohibition-era entrepreneur and well-connected hostess to elite society. When she was outed as a transgender woman, she became the first person to have to defend her marriage rights in court.
How to watch:
Online, for free, right now!
---
Check It is the only documented LGBT gang in the United States and possibly anywhere in the world, started in 2009 by a group of 9th graders who were tired of being assaulted and bullied. Today, they are a gang in every sense of that word, from the deep sense of family and support to the long rap sheets for assault and armed robbery. This documentary follows members of Check It and show the ways that LGBTQ youth of color are still fighting for their lives and for their futures and taking matters into their own hands.
Some people may feel a way about violence and LGBTQ people turning violence back on those who would perpetrate violence against them. My takeaway was that youth were fighting for survival and for their collective survival, making a choice to transform victimhood into agency, in much the same way as the Stonewall veterans who took a stand in 1969. I think Sylvia and Marsha would have been proud of the way they choose to take care of each other above all else.
How to watch:
Available on Hulu, Google Play, iTunes, YouTube, Vudu, and $2.99 to rent on Amazon.
---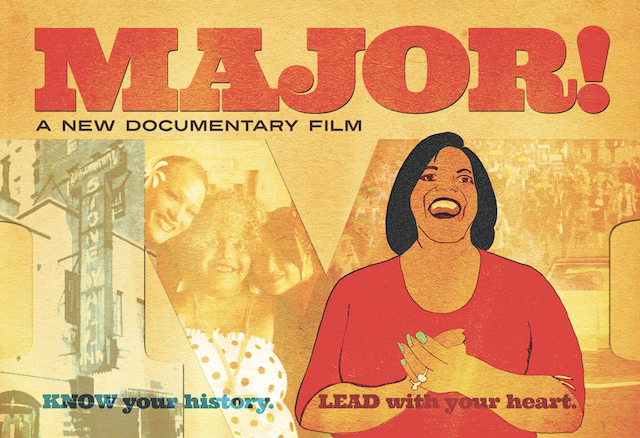 Miss Major is the nickname for Major Griffin-Gracy, a Black Stonewall veteran, activist, and community elder for trans rights and women of color. This documentary follows her life as a leader in the community and as the executive director of the Transgender Gender Variant Intersex Justice Project, an organization which aims to free trans people from the prison-industrial complex.
Miss Major's activist and community work spans decades, from being arrested as a leader in the Stonewall Riots to HIV/AIDS healthcare and direct service advocacy to joining her current organization that fights against the mass incarceration of and police brutality against trans and intersex people of color. Miss Major particularly works with trans women in prison and those who've been formerly incarcerated.
In an interview with CBC radio, Miss Major said she hopes the documentary about her life and work will be "a tool to present to young trans women their history… [and] a reminder for herself that young women still need her help."
How to watch:
Free with Amazon Prime or $2.99 to rent on Amazon, available through OutTV in Africa and Canada and through SBS Australia.
---
12. ALTAR: Cruzando Fronteras, Building Bridges
Filmmaker and professor Paola Zaccaria created ALTAR as a love letter to the work and the activism that Chicano-queer writer and feminist Gloria Anzaldúa began. Four years after Gloria Anzaldúa's death, the filmmaker and director pulled the film together from the Gloria Anzaldúa Papers and the theory that Anzaldúa put forth in her seminal work Borderlands/La Frontera:The New Mestiza.
Anzaldúa developed intersectional theories about marginalized identities, the concept of living in-between, and the literal and figurative mixed cultures that develop along "borders." Gloria Anzaldúa passed at the age of 61 in 2004 at her home in Santa Cruz, California. She worked as an academic and writer up until her death and a group called the Society for the Study of Gloria Anzaldúa (SSGA) was established in 2007 to continue to engage in understanding and studying Anzaldúa's work.
In today's world, conversations about the border and what the border represents to Latinx people, to immigrants, to women, is incredibly relevant. Zaccaria has made the film available to watch for free on YouTube.
How to watch:
---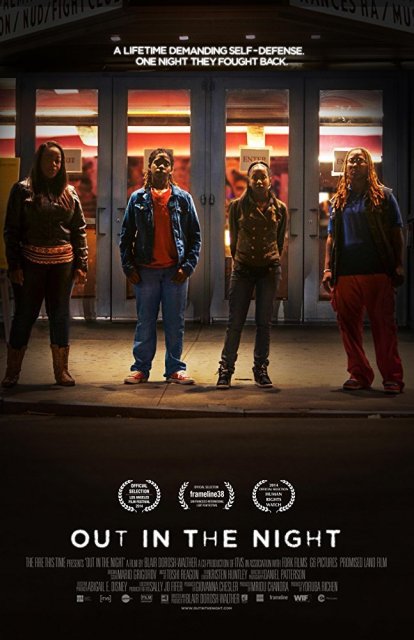 The New Jersey 4 are four lesbian Black women who were all found guilty of second-degree gang assault for defending themselves against a homophobic attack. Renata Hill, Patreese Johnson, Venice Brown and Terrain Dandridge are close friend that were walking in Greenwich Village on a summer night in 2006. They were sexually harassed by a man who threatened them with corrective rape and physically attacked them. When the aggressor lunged at them and was choking Renata, Patreese pulled a small knife from her pocket and stabbed him. Everyone walked away from the incident and the officers who responded to the scene said the injuries from the stabbing were minor.
Despite that, the girls were all charged with felonies — gang assault, assault and attempted murder. The media went on a homophobic and racist feeding frenzy, calling the girls a "lesbian she-wolf pack." Three of the girls took plea deals to avoid even harsher penalties and all served time in prison. Out in the Night sets the record straight and exposes the real story behind the media sensationalism.
This is a difficult but important film to watch, lest we forget the story of the New Jersey 4 and the many other Black and brown lesbians of color who didn't live to tell their stories or whose stories of persecution in the streets and by the criminal justice system will never be seen on a big screen. It's not exactly a feel-good film, but the movie effectively cleared their reputations in the media. All four are out as of 2013 and have been able to travel to screenings and communities across the country to talk about their experiences.
How to watch:
Available on Vudu, Google Play, YouTube, and $3.99 to rent on Amazon.
---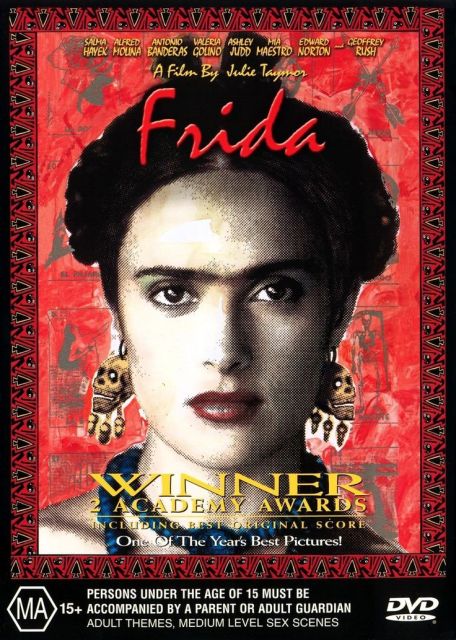 When Frida came out in 2002, I was shocked to see a film showing an openly bisexual Mexican woman acting… openly bisexual. Watching Salma Hayek as Frida Kahlo seduce Ashley Judd's Tina Modotti was somewhat unprecedented in a Hollywood mainstream biopic. The film doesn't go too deep into Frida Kahlo's catalog of female lovers, but what was perhaps unique for 2002 is that the sexuality of the character wasn't an axis of the narrative. It just was. The film itself is more about Frida and her husband, Diego Rivera, and their political activist and artistic work.
Kahlo was a Mexican painter who is most famous work for her self-portraits that expressed her physical and mental pain and her sexuality. Her many lovers included Josephine Baker, Georgia O'Keeffe, Chavela Vargas and Leon Trotsky. Kahlo was a member and active political supporter of the Mexican Communist Party. Though she was an influential artist, her work is better known today than it was in her time, when her paintings were often overshadowed by her husband's work. After her death, Kahlo's artwork was rediscovered by art historians and she is now considered one of the most influential female artists in the world.
This narrative feature film has all that high production value you'd expect from a box office biggie. Salma Hayek is incredible as Frida. Even though the focus of the film is very much on her relationship with Diego Rivera and the filmmakers take a great deal of artistic license, it's well worth watching.
How to watch:
Available on iTunes, Vudu, Google Play, YouTube, and $2.99 to rent on Amazon.
---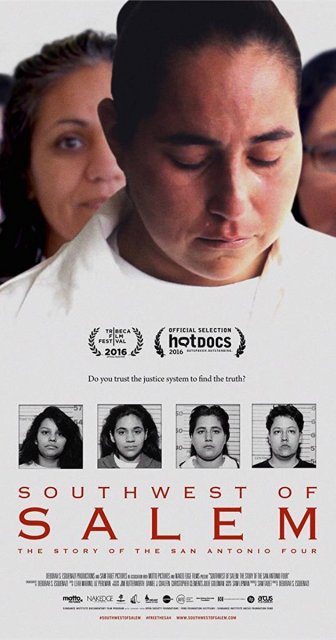 From Yvonne's review and interview with filmmaker and director Deborah Esquenazi:
In 1997 and 1998, in the wake of the height of the Satanic Panic of the 80s and 90s, four Latina lesbians from San Antonio, Texas were convicted of aggravated sexual assault of two young girls. Elizabeth Ramirez, Cassandra Rivera, Kristie Mayhugh, and Anna Vasquez were all friends and were between 19 and 21 at the time. The two young girls who accused them of the crime were Elizabeth Ramirez's 7 and 9-year-old nieces. They alleged their aunt and her friends gang raped them at Ramirez's apartment when the girls stayed with her for a week in the summer of 1994. The women were baffled about the accusations and maintained their innocence while cooperating with the police and turning down plea bargains. It didn't matter, they were all convicted. Ramirez, the supposed ringleader, received a 37.5 year sentence and the rest getting 15 years each. Even though there wasn't any hard evidence against the women, they went to prison in 2000. In addition to homophobia playing a major role in wrongfully convicting the women, investigators believed the women were involved in "Satanic-related sexual abusewp_postsand presented now debunked forensics as major evidence against them.
Filmmaker and director Deborah Esquenazi began researching the case in 2011 and in 2012 began filming the women in prison. Her documentary, Southwest of Salem tells the story of four Latina lesbians who were found guilty of a crime they didn't commit and how the legal and criminal justice systems failed them as queer women of color. The film follows their journey in prison and their fight to clear their names.
How to watch:
Rent on YouTube for $2.99 or stream for free on Amazon Prime
---
Feel free to add anything I didn't include in the comments! I'd love to hear about your favorite films celebrating queer, bisexual, lesbian and trans women of color!