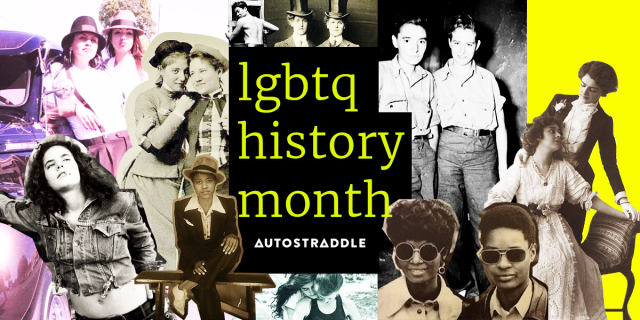 Chavela Vargas was a boundary-breaking lesbian ranchera singer whose life and career grew up in Mexico. The first woman to openly sing to another woman on stage in Mexico, she sang wearing pants and button-ups under long ponchos, a distinctive style that the bucked norms of the time: one of the first women to wear pants before the 1950s, and onstage, no less. As she says in the film, "I won't contradict the composer or myself."
CHAVELA, the new documentary about her, is a beautifully-woven portrait of her life centered around an interview she gave in 1991. At that time, she was in her seventies and was just beginning to experience a great revival in her career, a third act after a long time away due to hardship and a difficult bout with alcoholism.
She was born in Costa Rica, at "the end of the world" as she describes it in the film. Her family never understood her "boyish" ways, and her mother hated her for her inability to conform to the traditional expectations held for young girls. She knew she had to leave, and so she made her way to Mexico — famous at the time for a golden age of film and music. There, she sang on the streets until she could make her way into small cantinas and cabarets, making a name for herself with her strong voice, deep passion, and unique style.
Growing up in a culture laden with machismo, Chavela struggled throughout her life with a stubborn nature and the expectations, put upon her by the rules of patriarchy, for her to be even more manly than the men. She built up a mythology for herself as a playboy, a celebrity who could have any woman she wanted. She reveled in this myth, even as she was brought down by insults and innuendo around her lesbianism. She would sing in Acapulco during a time where "all of Hollywood was there," her performances attended by the likes of Elizabeth Taylor, Rock Hudson, and Lana Turner. She's described as beautiful, seducing the wives of the senators and celebrities that came to Mexico to hear her sing. She coyly mentions great affairs with famous people — like a passionate, brief relationship with Frida Kahlo and a night with Ava Gardner after attending Elizabeth Taylor's wedding.
Still, she struggled. She spent years refusing to be out, certain that it would end her career. Her penchant for partying led to a dependence on alcoholism, and ruined her reputation with the venues that would book her only to have her fall down drunk onstage. One of her dearest friends and collaborators, Mexican composer José Alfredo Jiménez, died of complications due to alcoholism. She withdrew, broke from her spending habits and difficulties with record companies that gave her little in return for her many sold records.
But, thankfully, the story doesn't end there. She found a relationship with a young human-rights lawyer that helped her rebuild, and along with her deep spirituality and mysticism connected to the old Mexican gods, she gave up drinking. She was induced to come back onstage, and invited to Spain. Her music retained the same power, and she sold out bigger venues than she had ever sung in before. She was championed by filmmaker Pedro Almodóvar and found a new generation of fans in Spain and France before returning to finally sing in the Palacio de Bellas Artes theater in Mexico City.
Though her life was characterized by solitude, her love for it and the freedom it gave her, CHAVELA is a story of a remarkable person told by the people who loved and admired her most. "There isn't a lesbian in Mexico who doesn't know Chavela Vargas," says one of the interviewees in the documentary, "And who doesn't love her." She opened doors for art, gender expression, and sexuality in unprecedented ways. The people who followed in her footsteps show a deep gratitude and appreciation.
Woven throughout the film is the art that came out most brilliantly in her music. Her singing sublimates the deep pain she's experienced throughout her life into art, as she describes: "I offer my pain to people who come to see me. And it's beautiful." It is this strength and beauty that drew people to her, and it is the heart of the documentary.
CHAVELA opens in NYC Oct 4, and in LA and SF Oct 6. CHAVELA is an Aubin Pictures Production Produced and Directed by Catherine Gund & Daresha Kyi.