Have you heard of this little movie called Avengers: Endgame? It only made over a billion dollars last weekend. Yes, I said Billion with a capital B. I'm the biggest Marvel Cinematic Universe (MCU) nerd. I'm writing this article from a desk that has Valkyrie, Princess Shuri, and Okoye bobbleheads to my right. I've seen 19 of the 22 Marvel movies more than once (sorry Dr. Strange and Iron Man!). I've seen all the ones with major women characters at least five times and I've seen Black Panther at least ten times in the last year alone. I saw Endgame opening night. I was built for this moment.
I'm a gay geek girl who loves being gay, and when I watch movies all I look for or see is The GaynessTM. That's even true in movies like The Avengers franchise, which admittedly doesn't give a girl a lot to work with. But nevertheless, she persisted. Here are 15 gay and/or feminist nuggets of gold from Endgame that I cannot wait to re-live in obsessive, snarky detail with you!
Two things before we begin:
1. THERE ARE ENDGAME SPOILERS BELOW!! If you read past this sentence, you are agreeing to read spoilers so please don't go in the comments and go all, "You just ruined my entire life Carmen!" I am not Thanos. I am not here to snap my fingers and end lives. I just want a peanut butter sandwich before the day's end, ok?
2. I'm not including this moment in my list because we covered it pretty thoroughly last week, but just in case you missed Brie Lawson and Tessa Thompson continuing their advocacy for a Captain Marvel/Valkyrie team up, check below.
Tessa Thompson's favorite Avenger drops by for a kiss on the #AvengersEndgame red carpet https://t.co/TfFNoJq4Vg pic.twitter.com/F2ZwhjHRnt

— Variety (@Variety) April 23, 2019
OK! Now we're all set!
---
15. That One Background Gay Dude Went on His Big Gay Date
Avengers: Endgame finally gave the MCU it's first on-screen gay character. He was an unnamed background character with under two minutes of screen-time in the first third of a three-hour movie.
*Golf Claps*
The character, played by Endgame co-director Joe Russo, appeared in a survivor's support group following The Big Snap. He shares a story of going on his first date since the incident, casually explaining that he and his date — another man — both cried during the meal.The Russo Brothers told Deadline that it was important that there be a gay character in the Avengers goodbye. They went on to say, "We felt it was important that one of us play him, to ensure the integrity and show it is so important to the filmmakers that one of us is representing that. It is a perfect time, because one of the things that is compelling about the Marvel Universe moving forward is its focus on diversity."
Which…. I mean, fine, yes, we all want more diversity on-screen. But if they were serious about having a gay character in the Marvel Cinematic Universe I'd like to point the Russo Brothers to the numerous other superheroes who are already in their movies and are already gay in the freakin' comics!!! After 11 years and 22 movies, a background side character is just not a good look, boo.
And it looks like Brie Larson agrees with me! In her interview with Variety this weekend, Captain Marvel said that it breaks her heart that LGBTQ+ folks still don't have supercharged representation on the big screen. Calling out Marvel, the actress said, "I don't understand how you could think that a certain type of person isn't allowed to be a superhero. So to me it's like, we gotta move faster. But I'm always wanting to move faster with this stuff."
Oh Captain, My Captain.
14. Black Widow Got Fridged
In addition to its bare minimum lip service to LGBT+ representation, they pulled out the oldest – and most sexist – superhero trope in the book! They fridged the only woman member of the so-called "Core Six" Avengers, Black Widow!
If you're unfamiliar with "Fridging," it's a storytelling decision where a woman is hurt or killed as a plot device intended to move a male character's arc forward. It gets it name from an incident in the Green Lantern comics where the title hero comes home to his apartment to find out his girlfriend, Alexandra DeWitt, has been killed and stuffed in a refrigerator. My dear friends, Black Widow sacrifices herself so that Hawkeye can learn from his past violent mistakes and grow back into the family man he used to be. That's classic fridging 101 and frankly, it's pretty disgusting that the MCU would even go there – even more so because they have barely ever done right by Black Widow in the past.
Anyhow, Fridging is gay because of "Bury Your Gays." RIP Black Widow. We'll remember you with honor, even when your own film franchise did not.
13. Carol Being Incredibly Unimpressed by Thor's Big "Stormbreaker"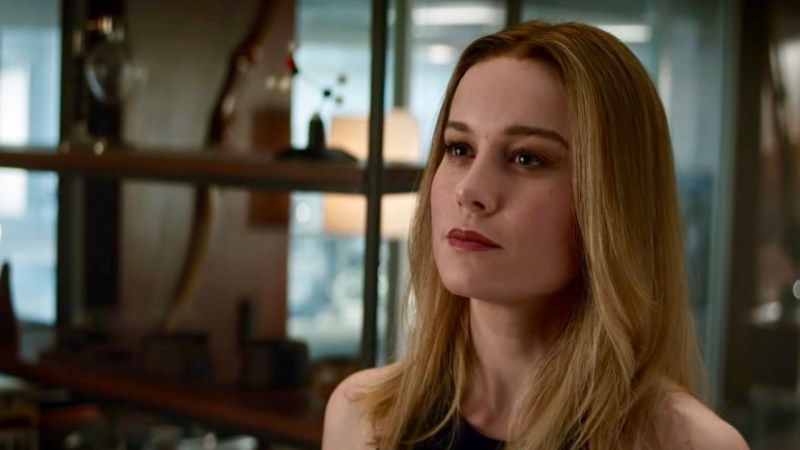 Men Everywhere: Oh, look at my weapon! It's soooo big! It's sooo cool!
Lesbians: *crickets* *yawn* *crickets*
May we all take that righteous energy into our week. Praise Melissa Etheridge, Amen.
12. Black Widow Holding the Entire Avengers Team Together During the Five Year Hiatus Because All the Men Gave Up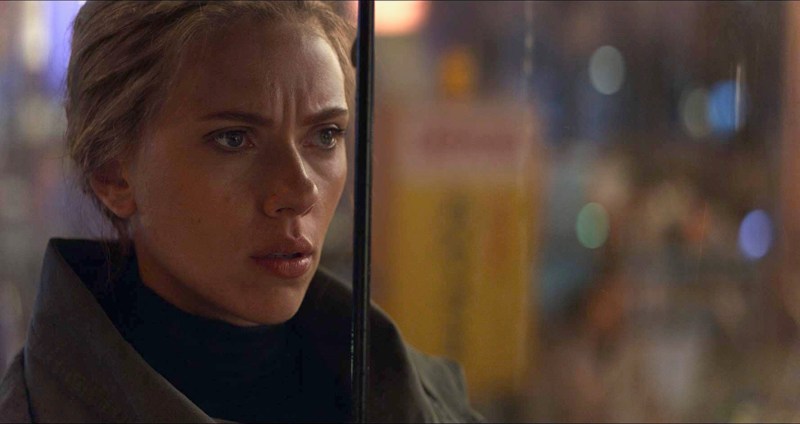 11. Scarlet Witch Out Here Quoting Destiny's Child and Telling Thanos, "Say My Name"
Scarlet Witch: You took everything from me.
Thanos: I don't even know who you are.
Scarlet Witch: You Will.
A reoccurring theme on this list is "Man Underestimates Woman, Man Gets His Ass Beat" – which is some Big Dyke (or Bi; I'm not here to police your head canons) Energy if I've ever seen it.
10. Nebula and Gamora's Entire Storyline Is a Tribute to Sisterhood and Surviving
Nebula and Gamora's relationship has been, ummmmm, complicated now for two Guardians movies and one Infinity War now. And while yes, their relationship is familial and platonic – not romantic – the gentleness that Nebula takes toward her arch nemesis when she tells her that in another universe, "We became sisters,wp_postsis enough to clench any heart. The fact that in the middle of a three-hour action time traveling blockbuster is the tale of two women, once enemies, who sacrificed everything to believe in each other and trust that the strength between them would finally be enough to take down their mutual abuser – I still get a little teary, just thinking about it.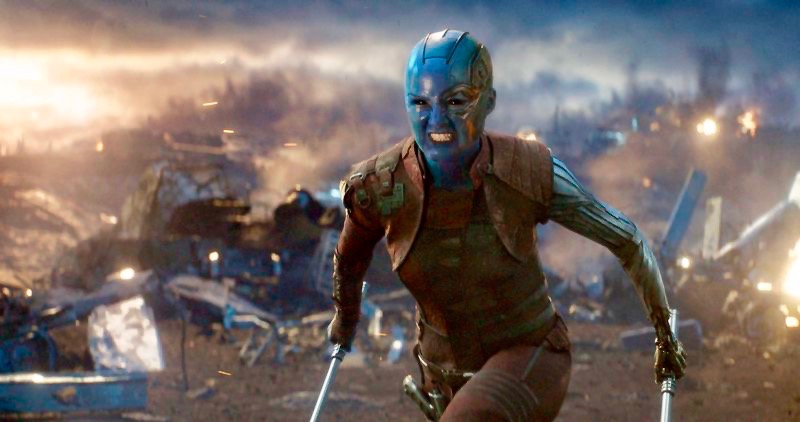 (And also, if I was really going to go there I'd write an entire soliloquy about how Nebula's past self's violent hatred for her future self, and their subsequent battle to the death, is an allegory for conquering internalized homophobia. But you know, we ain't got time today.)
9. Captain Marvel Putting Thanos in a Headlock
Did I enter this into the Top Ten because of how incredibly sexy it was to see Carol Danvers do what every male superhero before her could not, which was take the God of Death between her freaking biceps like it was absolutely nothing, as if it was some run of the mill bar fight?
Probably, I did. But it's still true though.
8. Captain Marvel Carrying an Entire Fucking Spaceship on Her Back
Yep. See my previous point about including all the action points of Carol Danvers' storyline in Endgame just because it's incredibly attractive to me personally. 👆🏾
But also, SHE CARRIED AN ENTIRE SPACE SHIP ON HER BACK!!!! And not just like "oh she picked it up and then put it back down." No. Carol Danvers put an entire ship on her mother loving back and carried it from the outer rims of the universe safely back to earth. Have you ever swooned at the Home Depot lesbian who put that really heavy slab of wood on her shoulder and carried it back to her truck without breaking a sweat. Well then. Can you even imagine!?!?
7. This Alignment Chart, Which Isn't Technically About Endgame, but Damn It's Too Perfect to Not Be Included on This List
LISTEN OK BECAUSE WE ARE ABOUT TO BLOW YOUR MIND:
A thousand thanks to Emily Armadillo on Tumblr. When you're right, you're right.
6. Okoye's Entire Existence (But Also: See Her Outfit in the Funeral Scene)
Here's a few things about me and Black Panther's Okoye. Actually, no I just lied to you because there aren't many things. There is just one thing. That one thing is that Okoye is a queer black woman who is in a loving and satisfying relationship with Ayo, one of the fellow members of the Dora Milaje. Marvel can try and hide it, they can leave her lesbian relationship on the cutting room floor, they can force Okoye into an on-screen straight romance, it will not matter – I will never forget.
So it came as no surprise to me that when Okoye showed up along with the rest of the Wakandan delegation for Engame's funeral scene, she'd be a heart stopper. Her dress gave me Hard Femme EVERYTHING. It wasn't until I left the theater that I realized I'd seen Okoye in a similar outfit before. She flaunts a duplicate off the shoulder cut-out all black dress during the mid-credits scene of Black Panther.
A femme who knows her angles and appreciates the importance of recycling? We Stan.
5. Carol's Outfit in the Funeral Scene
Let's talk about her high collar jet black suit at the funeral. Let's talk about how she stood alone, proud, watching over the rest of the Avengers. Let's talk about how her jaw was clenched and her posture was perfect. The swag of it, y'all. Raw. Unbridled. I'm overwhelmed by the memory alone.
4. The Women of the MCU Finally FINALLY Banning Together
The Final Battle. Spider Man has the gauntlet and sees no way forward down the battlefield. He's panicked. Then, in a bolt of neon orange and yellow light, Captain Marvel stands before him. She grabs the gauntlet, ready to take it that last mile.
He pauses, scared, wondering if she can do it alone.
And just like that, EVERY WOMAN SUPERHERO OF THE LAST 22 FILMS STANDS BEFORE HER. You shiver as the camera pans across them. Your mouth goes a little dry in awe and wonder.
I'm glad Captain Marvel's gonna be OK, but who is going to help me??
3. PS: Valkyrie Fights Almost Exclusively from Riding on Top of Pegasus
We're at the final three now, so you know who's got to show up: None other than Marvel bisexual badass herself, Valkyrie.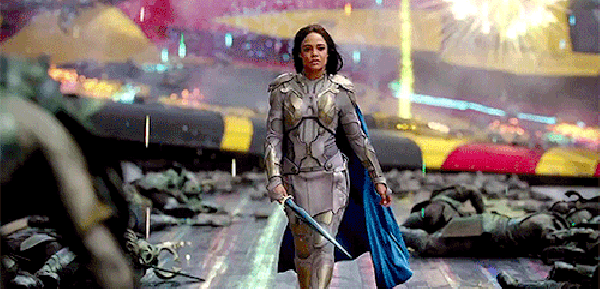 Admittedly, Valkyrie's already the gayest person who walks in to pretty much any room. And yes, she's yet another Marvel character whose character is canonically queer in their comics, but whose woman love interest met the brutal end of the MCU editing floor. But Valkyrie wielding her sword while she's flying on top of a winged horse that might as well have been a damn unicorn? THE. GAYEST.
Like, go ahead and poop rainbows out of that horse's butt levels of gayness.
2. Oh Yeah, and Then Thor Hands Over the Entire Future of Asgard to Valkyrie!
If you keep up with the Marvel comics, you maybe saw this one coming. In 2014, Thor's long term love interest Dr. Jane Foster (we know her as Natalie Portman in the movies), picks up his famous hammer and becomes the series' new hero. Still, I never thought the movie would go there. I never thought that the MCU's Thor would ever give up his kingdom, let alone to his bisexual woman right hand.
Just as Thor prepares to leave New Asgard, Captain America also hands over his shield to Falcon/Sam Wilson (Anthony Mackie), mirroring yet another comic book ending. With Falcon and Valkyrie at the helm carrying on those franchises, the future of the MCU suddenly looks a little bit browner and (hopefully) queerer than it ever did before.
1. We All Knew It Would End Here: Carol's Haircut
The boss up of the century, it's as if Marvel decided to give up any pretense. Oh no, they leaned all the way in.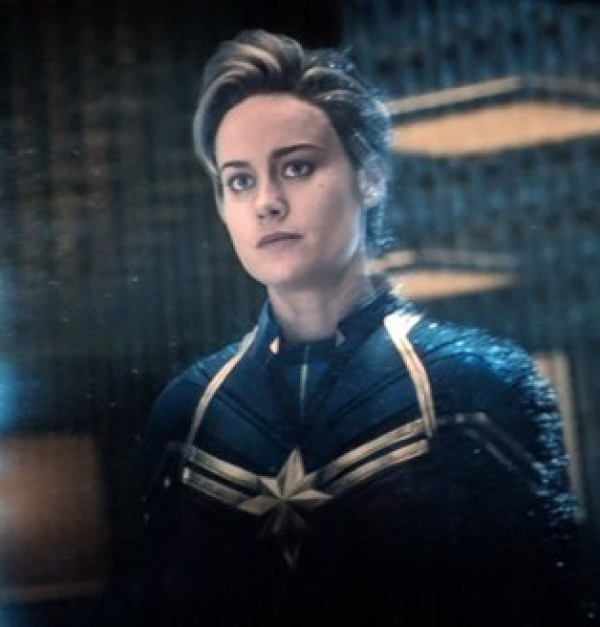 There are times when even something as simple as aesthetics matter. Where a haircut can feel like it's heard around the world. This is one of those times. When the final battle occurs and all of the Avengers are on the ropes and it looks like Thanos is going to win once and for all – who breaks through in a glowing orb of rage? Who punches the sky and saves the day? This woman, with the most iconic lesbian haircut of all time. This woman who dresses and and acts like a lesbian, who is scared of no man. She saves their ass.
Yes, I want Carol Danvers to be a lesbian whose love life on-screen is more than only our collective imagination. Brie Larson wants it, too. I'm not here to celebrate subtext on its own. But there's an entire generation of girls who are now going to see this strong woman, who's coded as a lesbian, and they are going to be told that it's cool. That it's admirable. Not that it's gross or ugly. Not that they should run from it. That they, too, could save the day.
Sure, it's also a tribute to Carol's haircut in the comics, but c'mon – let's give this big ole massive point to #TeamGay. Carol's debut of her big chop was superhero version of that time Kristen Stewart made every queer woman in America swoon with these five simple words:

And for Captain Marvel in that haircut, so say we all.