Looking for a Halloween costume that really means something? Something original and easy to put together and irrefutably awesome? Something that says, "Yeah, I have a women's studies degree," or "Yeah, I read queer feminist blogs because I know what's up." Well, we've got you covered. These costumes will make you look real smart and cool, even though you may have to keep describing who you are all night, but that's OK. You are spreading the queer feminist good word and you're happy to give a little history lesson. Plus, you won't have to resort to being a mustard bottle because that's all that's left at the Halloween store that isn't racist or sexist or awful.
1. Audre Lorde
The Audre Lorde costume is versatile. You can probably piece it together from whatever is in your closet right now. Lorde leans center-of-center in many of her fashion choices. You can go with a printed caftan, a simple white shirt, or a black sweater with a scarf. Audre Lorde has that poet look — simple solid-colored clothes that sit somewhere between bohemian and preppy. Carry a copy of Sister Outsider or Zami. Here's some style inspiration for her iconic sweater with a striped scarf look.
2. Margaret Cho
Margaret Cho has a million iconic looks, but mainly you should think about revealing a lot of skin, showcasing your many tattoos (if you have'em), and making extremely expressive facial expressions. Cho leans towards flashy pin-up style or…well…whatever the hell she feels like wearing. A red lip and a long black wig, either straight or wavy, will finish the look. This costume inspiration is based on her outfits from her stand-up shows, "Notorious C.H.O." and "Revolution" as well as her sexy pin-up look.
3. Pussy Riot (the queer one)
According to Pussy Riot, at least one of their members is queer. So, uh, you're dressing up as that one. Regardless of sexual orientation, Pussy Riot has been outspoken about LGBT rights in the face of extreme adversity. So don a brightly colored dress and contrasting neon tights. Add a balaclava and put your fists in the air. This would make an awesome group costume. Bonus points for knitting your own colorful balaclavas.
4. Miss Major Griffin-Gracy
If you're a profesh queer with femme fashion sensibilities, you can probably pull this costume together from your current wardrobe. The look is one part nonprofit CEO and two parts badass activist who will get down in the streets. Hold a sign about fighting the prison industrial complex or linking the Stonewall and Attica prison riots (Miss Major was there for both).
5. Edie Windsor
If marriage equality is your issue de jour, try on an Edie Windsor costume. Edie became a celebrity after the Supreme Court ruled favorably in Windsor v. U.S., opening the door to federal recognition of marriage across the U.S. She rocks a pink lip and pantsuit with sophistication and grace. A ring-shaped diamond brooch, the jewelry Edie wore to symbolize her commitment to her late partner, Thea, before they were able to be legally married, is a must-have costume accessory.
6. Leslie Feinberg
Dust off that old copy of Stone Butch Blues and don a black t-shirt and a buzzcut to become Leslie Feinberg. Carry a copy of Trans Liberation or Drag King Dreams. Fight for the liberation of all people. Can be a couples costume if your partner dresses as the adorable and powerful Minnie Bruce Pratt.

7. Gloria Anzaldúa
Be an expert Chicana cultural theorist for Halloween and wow all your friends with your knowledge of queer theory and feminist theory. Carry a copy of This Bridge Called My Back: Writings by Radical Women of Color or Borderlands/La Frontera: The New Mestiza so you can school anyone who says they don't get your costume.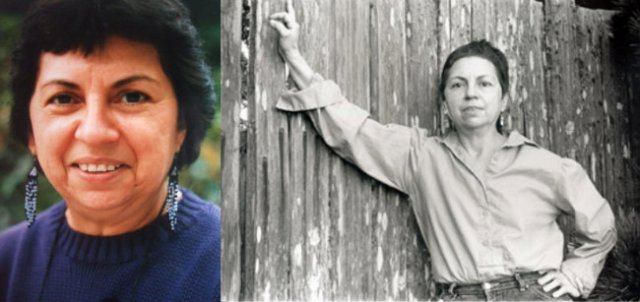 8. Laverne Cox
Laverne Cox is using her platform for social good and she looks awesome doing it. Channel Cox for Halloween in sleek sheath dresses and gorgeous pumps. If your best friend dresses as bell hooks, you can have a livestreamed debate about gender expression and feminism.
9. Laura Jane Grace
Be punk rock icon, Laura Jane Grace! Watch MTV's House of Style interview and Grace's True Trans web series for costume inspiration. Dark, dark black eyeliner and dark, dark black everything. Make it a couples costume by having your partner dress as Grace's wife, visual artist Heather Hannoura. If you have a little kiddie, they could be Grace and Hannoura's daughter, Evelyn, completing the family picture.
10. Alice B. Toklas and Gertrude Stein
Get your couples costume on by paying tribute to Alice B. Toklas and Gertrude Stein. Hit up a thrift store or raid your grandma and grandpa's closets for 1930's style dresses and long coats. Go with a plain skirt and shirt for Stein. Alice might rock a patterned frock with a pretty brooch. Also, hats!
What other queer feminist activists would you like to look like for Halloween? Have you dressed up as a queer or feminist icon before (pictures or it didn't happen)? Damn the man and happy Halloween costume planning!