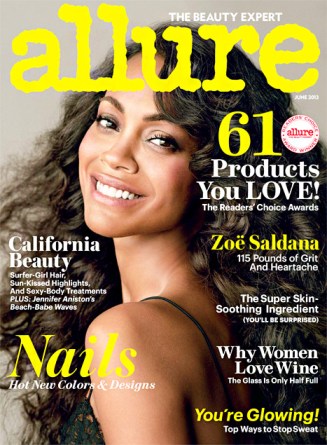 As reported last week, Zoe Saldana probably wants to go down on you. Unfortunately, we only had access to an excerpt of her Allure cover story at that time but lucky for you, I finally got my hands on a copy of the magazine only three or four days later than everybody else did! (It's been a crazy week.) So let me tell you — the full scoop is quite scoopy. (I should also mention that Zoe gets into some problematic stuff about race in this piece, including her take on her controversial casting as Nina Simone.) (Also, there's been a backlash to Allure's decision to print Zoe's weight on the cover.)
The story opens with a bit of personal history, discussing Zoe's childhood in Queens which was interrupted when her father was killed in a car accident and her mother was hit hard with the shock of losing a husband and having scant resources with which to raise a family on her own. She moved the family to the Dominican Republic, where Zoe says she and her sisters faced "a lot of racism, a lot of bullying. The world was cruel." Her classmates called her "E.T." because she had a long neck.
Allure then segues into discussing Saldana's dating history and her current status as "vigilantly single," as well as discussing some career disappointments and her fierce independence and "single-minded" nature.  Which brings us to a conversation about Halloween costumes:
"I was never a princess — I was either, like, a white ninja or a black ninja," she explains. Saldana would tell her mother, "'This year I want to be Rambo.' And I would get the knife and the gun. I was Rambo." She was 21 before she carried a purse, until then preferring a wallet in her back pocket.
"Asalia, be aware," Zoe's maternal grandmother told her open-minded daughter about Zoe's sexuality. "Because I'm ready for Zoe to come out of the closet."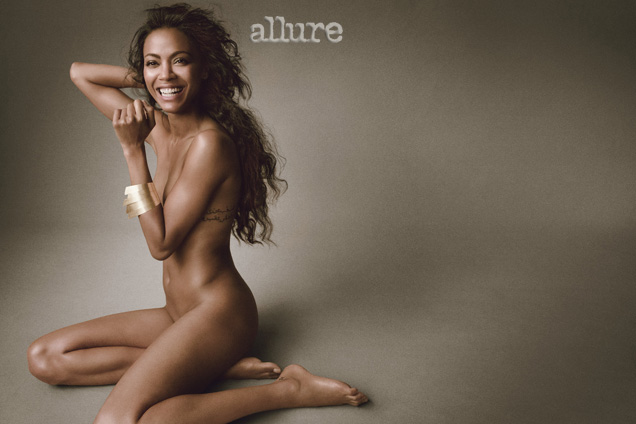 She later speaks about ladies, implying with near-100% certainty that she's had girlfriends in the past:
"I gravitate toward it, but it's not because I'm avoiding women," she insists. "I love women, I just don't want them to hurt me."
Meaning, she's asked, you have been hurt a lot by women?
"Yes," she says emphatically.
And was it jealousy?
She thinks it over. "I don't know, because who am I to say if it's jealousy? But who I am is really not accepted by a lot of women… I was very traumatized growing up with girls, so it made me always very cautious… and for many years I was very rebellious, I was like 'Fuck women!'"
All that alienation from her own gender also made her, as Saldana is the first to say, "androgynous," the very opposite of what she calls "girlie girl." But, Saldana adds musingly, one day she might "end up with a woman raising my children… that's how androgynous I am!"
You mean, you would be amenable to the idea of raising a child with another woman as your partner?
"Yes, I was raised that open," she says solemnly.
Has she had a relationship with another woman?
The actress stares impassively across the table, silent for the first time since the interview began. Her large brown eyes are focused, unblinking. She is not fazed. She is simply deliberating. How much should she say?
Finally: "Promise me one thing: You're going to ask this question [in your article] — if you choose to, just put three dots as my response. That's it."
"…"
Saldana apparently confirmed to Hollyscoop that statements about her bisexuality in Allure Magazine were genuine and that it "…wasn't a generalization. It was a statement that I strongly stand by. As of today, I've been attracted to the male species, but if one day I wake up and want to be with a woman, I will do that because it is my life, therefore it is my decision."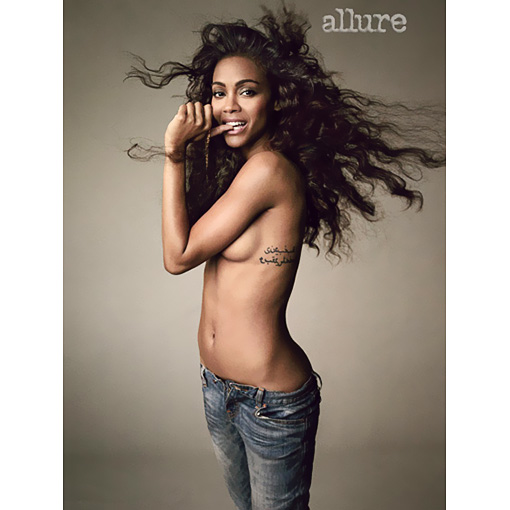 But some websites have disputed the "vigilantly single" descriptor this week. In stories that have probably been invented to cover up the fact that you and Zoe Saldana have spent the weekend in a haze of sex and booze, Zoe's been spotted with Italian artist Marco Perego and "friends say this is the happiest she's been for a long time… they aren't calling each other boyfriend and girlfriend just yet but Zoe is super-happy right now. She's in a really happy place."
Is that place as happy as your pants? Time will tell.