The Lesbian Stereotypes Survey was conducted in September of 2018 by soliciting volunteer participants via Autostraddle.com. You can see an infographic displaying the demographics of our 12.3k survey respondents here. Not all of our survey-takers identify as women, but headlines can only be a certain length. More accurate language exists within the post. 
---
In "Butch Is a Hairy Man-Hating Lesbian," Kate wrote of weariness around incidentally feeling associated with one of lesbianism's most pervasive stereotypes: that we are ugly and unruly and that a key element of being those things is that we permit ourselves more body hair than the average heterosexual woman. This concept goes way back — early evolutionary scientists believed that hairiness in women was a sign of deviance, linked to "strong sexual instincts." Body hair and lesbianism both have strong associations with the '70s feminist liberation movement.
So, when marketing research company Mintel revealed last year that 23% of women no longer shaved their armpits, the world exploded — and queers immediately took credit for this "trend" in a post about why so many queer women were early adopters of this apparent "feminist" decision. Although I personally am a passionate remover of my own leg & underarm air, I have no body hair preferences for the people I date and I think it's rad that so many women who don't want strangers periodically spreading hot wax on their inner thighs are finding the freedom to live their hairy truths.
So, I asked about body hair on the Lesbian Stereotypes Survey. I asked three questions. The first two, about which body parts you removed hair from and who influenced your body hair grooming habits, were replicas of questions asked in an Advanced Dermatology Survey. The last, about whether unwanted body hair made you insecure, was from a Nair survey.
Our Body Hair Removal Habits and Feelings
These are the results of those questions for our entire survey group: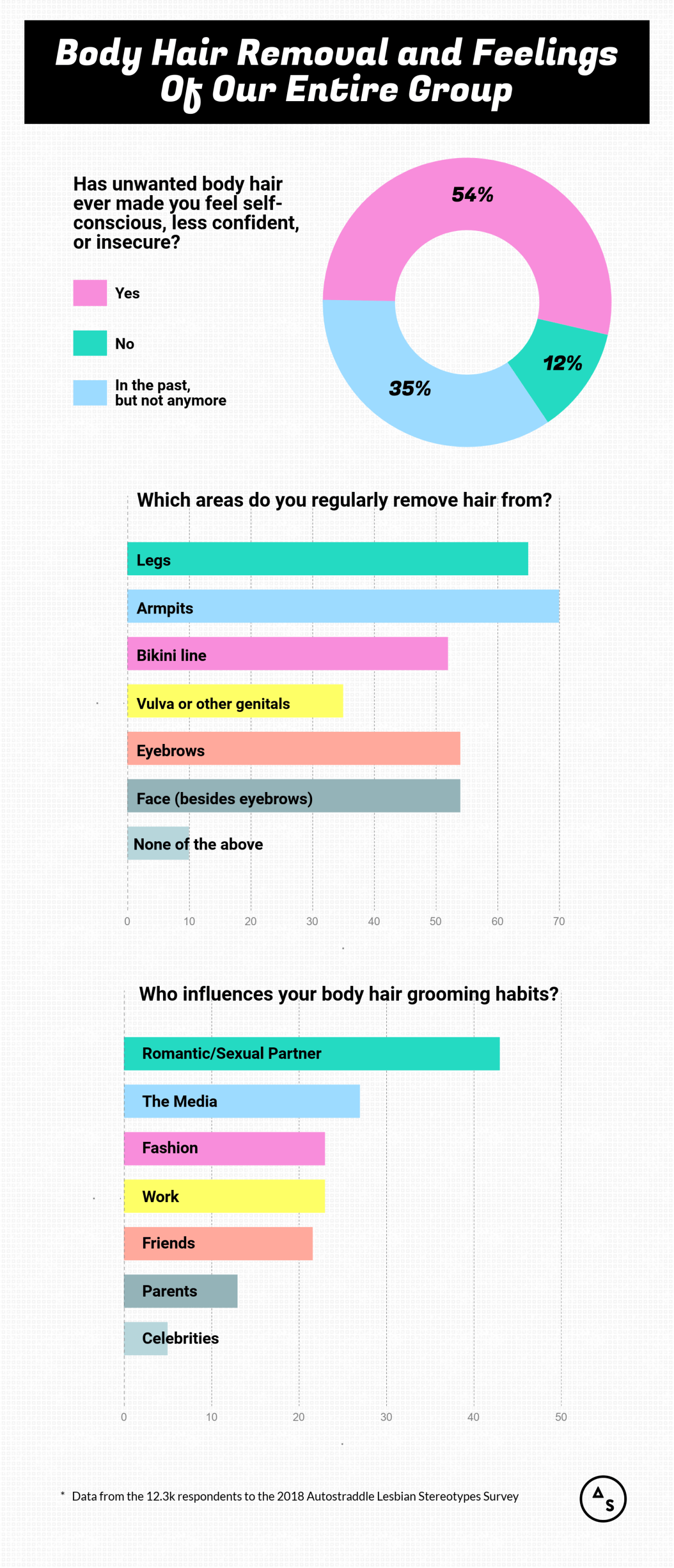 Now let's look at how those answers compare to the mainstream surveys and also how various demographics within our group trend differently.

What Body Hair Do You Remove?
It's clear that overall, we're less into body hair removal than the Advanced Dermatology survey-takers — and also that certain segments of our community are less into it than others.
For reasons that entirely escape me and also make me question my minute-to-minute lucidity, I didn't phrase questions about pubic hair / bikini line grooming in a way that enabled direct comparison to AD, but I found a JAMA Dermatology study that confirms our genitals are hairier than theirs.
As you can see, when we break down our group by gender identity, different trends emerge — although AD's straight women are overwhelmingly more likely to remove underarm, leg and eyebrow hair; the majority of queer cis and trans women do, too. In the comments, many added qualifiers: they only shave their legs 4-5 times a year, they just trim their armpit hair, they've gotta do it for work, they consider pit-shaving to be a hygiene-related decision.
28% of non-binary/genderqueer/genderfluid people don't shave any body hair at all, followed by 19% of agender folks, 16.4% of non-binary/genderqueer/genderfluid women, 7% of cisgender women and just two trans women of the 352 who answered our survey.
"Trans women are treated way more harshly about body hair than cis women," Mey wrote in our roundtable about armpit hair. "We often shave to help make sure people will see us as women rather than any other reason. It's about survival, not style, or something the patriarchy said."
However, Advanced Dermatology is just one survey, and their methodology is elusive. Other studies have shown that "more than 99 percent of American women voluntarily remove hair, and more than 85 percent do so regularly, even daily," which would make our numbers WAY lower, rather than just slightly lower, than everybody else's.
I now realize that I should've made "facial hair (besides eyebrows)" removal practices their own question separate from the others, because rates of facial hair growth are much more wildly disparate than for other body parts and because I wonder how many of you were prevented by one rogue chin hair from checking off "none of the above." Facial hair stigma is unfortunately generally more severe for women than it is for other body parts, but how I asked the question prevents me from knowing how many of y'all are sporting it despite the stigma and how many aren't removing facial hair 'cause you don't have anything noticeable to remove. So I won't be including analysis of that category.

What Influences Your Body Hair Decisions?
I added "work" as an option on our survey despite the AD survey not having it, because Rachel told me to. 23% of our group named that as a factor, and workplace norms came up a lot in the comments.
The #1 answer for this question on our survey was another add-on: "OTHER." Many of y'all (like me!) indicated that you remove body hair mostly for yourself. This takes many forms: you like how it feels or looks or you prefer less obstructed genitals during sex. On the flip side, many keep body fur for personal reasons: it keeps you warm, it fits with your feminist values, you're "honestly just lazy," it avoids skin irritation, or fits with your gender identity or presentation. ("I like having hair because it makes me feel more androgynous or masculine.") Some reported conditions like PCOS, which can cause hirsutism, and thus make regular hair removal feel either more imperative and/or more impossible/insurmountable.
Trends starting in the '90s around removing vulva or genital hair (although said trends are allegedly shifting) are often credited to both the rise of the Brazilian bikini wax and the availability of pornography, with 14% of heteros citing it as a factor. On our survey, those who remove vulva hair were twice as likely to cite porn as an influence as the group overall.
How Do You Feel About Your Body Hair?
A study of 1,000 women by Nair found 57% of younger millennials and 48% of older millennials saying unwanted body hair has made them feel self-conscious, less confident or insecure. This is how you answered that question: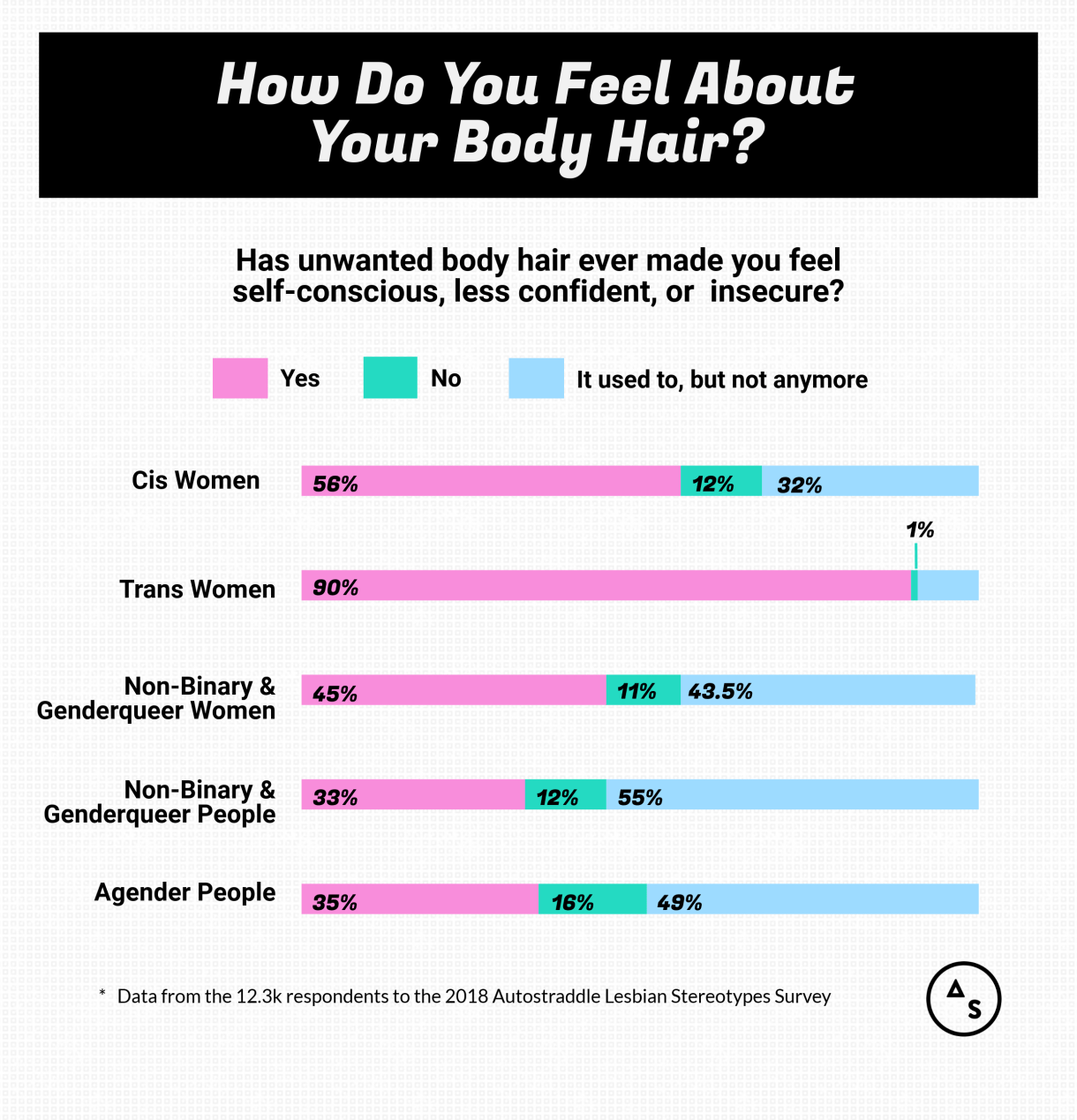 Survey-takers who identified as women were just as likely, or more likely, to feel the same as the (presumably) straight women on the Nair survey. "I don't think it's possible for a woman to grow up in our society without being made self-conscious about her body hair," wrote one. Many talked about being teased in high school or other adolescence-grounded insecurities. For trans women, body hair can feel like a boundary to "passing." So, like so many other things  — it's not that queer women are less likely to feel that societal pressure, we're just less likely to let that influence our behavior.
Here's an interesting twist, though: 51% of those who've known they were queer since childhood answered "yes" to this question, and the numbers go up from there, reaching 60% once we get to those who didn't figure out their gayness 'til over the age of 26.
For some, non-binary / genderqueer / genderfluid identities offered a release from that pressure. "I finally gave up on idiotic assumptions about what my body was supposed to look like around the same time I gave up on the bogus gender binary," wrote one.
I was more surprised by how few women on the Nair survey reported those experiences — which made me wonder if many women who took it never had those insecurities because as soon as they began growing body hair they didn't want, they began removing it, and never looked back.
Demographic Factors Influencing Body Hair Removal
An important thing to note here is that there are a lot of overlapping variables, so I'm not drawing any conclusions about correlation/causation.
Age
Hair transport in general was least popular amongst survey-takers between the ages of 18-to-24 and over the age of 55. (For women, body hair does thin as you age due to lower estrogen levels.) The 35-44 set came out on top for hair deletion and were ever-so-slightly more likely to abolish body hair than 25-34s.
Relationship Status
People who are single & dating or in monogamous relationships are the most likely to withdraw their hair from their bodies and those in non-monogamous relationships are the least likely to. 16.8% of non-monogamous relationshippers remove no hair at all, compared to 7.4% of those who are single & dating. 45% of those who are "dating someone (or multiple someones) but not in an official relationship)" remove vulva/genital hair, compared to 28% of "single, not dating" folks and 36% of those in monogamous relationships.
Married people (who do skew older than unmarrieds) are most likely to purge hair from their legs (70%) and least likely to do the same for their vulva/genitals (33%).
It's a commonly accepted truth that one's body hair grooming habits are influenced by the men women date and the patriarchy writ large. Personally, I felt intense pressure to expel every hair from between my legs when dating men, and zero pressure to do so with women, although I still have my own personal hangups about it.
But what's interesting about our numbers is that when it comes to queer women, being open to dating men or even actively being in a relationship with a cis man at this very moment in time does not make you more likely to remove your body hair or feel influenced by your partner to do so.
Those currently dating cis women are more likely to shave their legs and armpits than those currently dating cis men, and genital-hair-removal rates were about the same for both. People dating cis men are less likely to have their grooming habits influenced by their partner or friends, but slightly more likely (5.4%) to be influenced by porn than those dating women (3%). Of those in relationships who remove vulva/genital hair, 63% of girlfriend/wife-havers and 57.5% of boyfriend/husband-havers cite influence from their romantic/sexual partner.
Sexual Orientation
Bisexuals and lesbians were the most likely to remove some body hair, with bisexuals coming in just slightly higher than lesbians across the board. Queers and asexuals were most likely to keep it hairy — between 14%-15% of both groups remove no hair at all.
Race
Race can impact body hair removal practices due to different patterns of hair growth and different cultural norms. Removing hair from underarms (79.5%), bikini (64%) and eyebrows (74%) was overwhelmingly most common amongst Middle Eastern/North African people, who were also slightly more likely than those of other races to bare their legs (64%) and vulva (43.6%). "I'm the only fucking woman in the world with hairy thighs!!!" wrote one survey-taker. "All these thin white no-shaving queers don't even have leg hair above the knee!!" Middle Eastern/North African people were between two and ten times more likely to report parents as an influence on their body hair removal habits than other groups.
Latinx people came in second for vulva (41%) and eyebrows (64.5%), white people for legs (66%) and bikini line (52.5%). Black people were the least likely to shave their legs (46%) and most likely to remove no hair at all (15.5% don't).
Geography
The hairiest city by far is Portland, followed up by Minneapolis/St.Paul. (Those cities also ranked high for other demographic factors associated with hairy bods, like being poly or non-binary.) Other cities where hair removal is less popular are Detroit, the San Francisco/Bay Area, Seattle, Montreal (Canada) and Sydney (Australia).
If you want to interact with smooth legs and other body parts, try Florida! Miami/Ft.Lauderdale/West Palm Beach is big into bare legs, but Tampa and Orlando made strong showings in some categories too. So did other coastal, warm and southern cities like Los Angeles (CA), Dallas (TX), Charlotte (NC), Phoenix (AZ), Atlanta (GA) and Nashville (TN). The most hairless Midwest cities are Columbus and St. Louis.
The countries we have the most data on are the U.S., UK, Canada, Australia, Germany, France, The Netherlands, New Zealand, Ireland, Sweden, Mexico and Brazil, although some of those countries didn't have high enough showings in some categories to provide statistically significant results (according to SurveyMonkey's algorithm). From what was declared statistically significant, here's how those hair removal numbers shook out:
Legs: Highest in Ireland (73%) and France (71%), lowest in Sweden (55%) and Australia (61%).
Armpits: Highest in Ireland and Mexico (84% for both), lowest in Sweden (58%) and Australia (67%).
Bikini Line: Highest in France (65%) and Ireland (62%), lowest in Mexico (38%) and Australia (47.6%).
Vulva/Genitals: Highest in Brazil (49%) and Netherlands (43%) (I feel like there is a good joke here about nether-lands), lowest in France and the UK (around 20% each).
Eyebrows: Highest in Mexico (68%) and Brazil (67%), lowest in Germany (43%) and Sweden (48%)
Foregoing Hair Removal Altogether: Most popular in Sweden (16%) and Germany (13%), least popular in Brazil (2%) and Mexico (1.7%)
Gender Presentation
I was talking to a friend about how amongst my own social group, I haven't witnessed much correlation between gender presentation and hair removal — I've dated lots of butch-identified women who shave their legs & pits and have tons of femme friends who don't. But the survey says that the correlation between gender presentation and hair removal remains strong.
22% of butch folks don't remove any body hair at all, compared to 6% of femmes. Femmes and tomboy femmes generally tended towards hair evacuation. Soft butches were twice as likely as butches to dethrone their leg hair and between 2%-12% more likely to unseat hair from other body locations. Tomboy femmes prefer to oust hair a little bit more than hard femmes do, and femmes unload the most body hair of all. Femmes (31%) and hard femmes (33%) were most likely to cite "fashion" as an influence, whereas only 14% of butch folks did. Tomboys (48%) and stud/AGs (64%) were the most likely to cite romantic/sexual partners as an influence.
In Conclusion
Whatever you're doing or not doing with your body hair is great! Good job!