iOS 6, the new operating system for iPad, iPhone and iPod touch, is super relevant to our interests. There's over 200 new features and while none of them are explicitly queer, they're all very useful (much like a pocket knife). So whether it's Facebook integration, the new maps app or passbook, add these to your gay tool belt right beside learning how to dry-wall.
Before Updating Your Operating System
Check to see if your device meets the system requirements.
Back that shit up! Yes, most of the time nothing will go wrong. Like 99.99% of the time everything will come out fine. But if you fall into the .01%, then you want to make sure your contacts are safe somewhere. Do one of the following:

Backing up to iCloud. If you have iOS 5 and have enough space in your iCloud account (5 GB is free, additional space costs money), then you can back up to iCloud. Simply tap "Settings," tap "iCloud," and scroll down to "Storage and Backup." Once you're in there, make sure iCloud back up is turned on and then scroll down to the Back Up Now button. Tap that. If it's that weird grey color, make sure you're connected to WiFi.
Backing up to iTunes. This will be necessary if you have iOS 4 or earlier, or if you don't have enough storage space left on your iCloud account. Plug your device into your computer (Mac, PC, it doesn't matter as long as you have iTunes on it) and either right-click or control click on the device in the left-hand grey column. Select back up. Be aware! You can only sync your device to one computer at a time! If you have done a previous sync to another computer, this may wipe out some things on your device. Usually a back up will still save the important things, like contacts, in the even of this occurrence. But just to be safe, transfer your pictures to the my pictures folder first. Apps and music can always be re-downloaded.

Know that this could take a long ass time. Mine took an hour and a half. Why? Because iOS 6 launched yesterday and everyone is updating. It's important to know because this makes updating require a little pre-planning–are you at a point in your day where you can spend an hour without your device? It's also super important because
You must be connected to WiFi and power for this update! Grab the charger and turn your WiFi on (because hopefully it's always turned off to save battery.) This means that for the length of the update you have to stay in one place. You can't start the update ten minutes before you leave work and then just swoop up your devices and head for the subway. Nay. While most of the time this only results in the update stopping itself, it can sometimes result in software corruption that will break your device. I recommend waiting until you're home for the evening, maybe eating dinner so you're not tempted to go anywhere.
Ready? Okay, Let's Do This!
 Tap "Settings" and then tap "Software Update." You need at least 2.5 gigs of free space to do the update, and it will tell you if you don't have this. But you probably do, because you aren't a digital hoarder like me. If all is well (and you have done the whole of the Before Updating list) then tap "Download and Install."
Wait for a bajillion years. This step is like watching grass grow or watching paint dry.
Follow the set up screens.
OMFG, you're done with it! The build up was way worse than the actual update, right? But now for the fun stuff. Here's how your phone/tablet/music lifeline has changed:
Using All The Fun New Stuff
Maps For The Directionally Challenged Among Us
Google maps is out and Apple's own map client is in! From fly over to turn by turn directions, very little is required for set up. Just tap the new "Maps" app on the home screen and poof, you're there. Flyover, one of the new features, is a bit difficult to find. You have to be in either Hybrid or Satellite mode for it to work, then press the button in the lower left hand corner that looks like city buildings. Here's an example: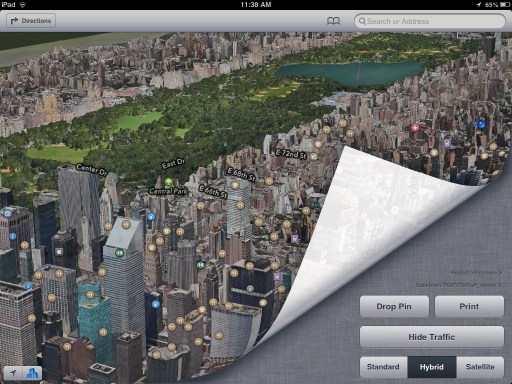 You can also now get turn by turn directions, a function that was only previously possible with the purchase of an app like Garmin or Tom Tom. Simply search for a location in the search bar and then press the little green car, like so.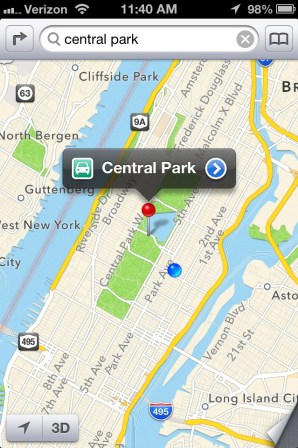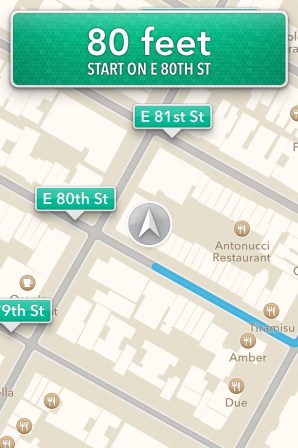 Conversely, you can also hit the arrow button in the top lefthand corner for directions, especially if you're looking for walking directions. Alert! You can no longer get public transportation directions directly from the Maps app! If you select public transportation (the bus button) and tap "Route," your device will take you automatically to the app store and find you apps that apply to your city's public transportation situation.
Siri
Siri now purports to do a lot more, including giving you sports scores. Unfortunately, she gives me an error every time I ask about the US Women's National Team. Most likely, the designers forgot about women's soccer. But I will instead think of this flaw as Siri collapsing under the sheer sexual attractiveness of the USWNT. (No, but seriously, please, give us women's soccer. They're gold medalists for fuck's sake. I'm really pissed about this. Rage rage rage.)
She also lets you know what movies are playing and can help you make dinner reservations for your sexy queer vegetarian restaurant and movie dates. I tried asking for gay movies, but I don't think she understood me.
Siri is available on iPhone 4s, iPhone 5, the third generation iPad, and the fifth generation iPod Touch.
Facebook Integration
Are you ready for Facebook to totally invade your contacts and calendars? For some of you, this may be a good thing (especially for the A-Campers, because Facebook is now just basically A-Camp). For some of you, you may want to avoid this like a swarm of bees. Either way, you can turn the contact and calendar information off and just use the awesome things, like the ability to post pictures directly to Facebook and have Siri update your Facebook status.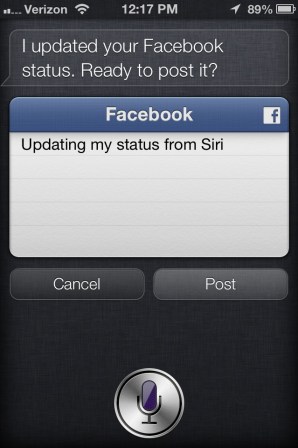 To set this up, tap "Settings." Then scroll down to the Facebook setting. Sign in and turn things on or off at will. Pro-tip: now everyone you met at A-Camp will be in your contacts. So is everyone you ever met in college. This may be the day to slice and dice your Facebook friend pool to include only the people you are actually friends with/everyone from Autostraddle.
Passbook– Paperless Flights to See Your Long Distance Girlfriend
I would really like to talk to you about Passbook because it was the feature I was most excited about. Except this happens: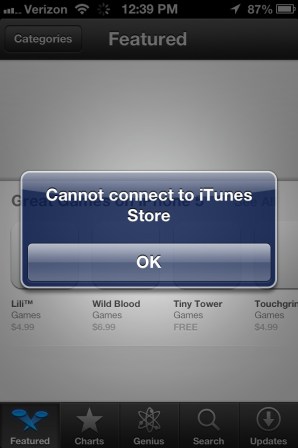 So I actually haven't tried passbook. But here's what it's supposed to look like:
Theoretically, this is going to be good. When it works.
Facetime Over Network
You used to be able to only Facetime (video call) over WiFi. But now you can do it over your cellular data network as well. But be aware, this eats your data like whoa. AT&T won't charge  extra if you have a shared data plan, and neither will Verizon or Sprint, but it will still eat up your data plan. So actually don't do this unless it's necessary! My tip? If you must video chat over cellular but don't want to give up your AT&T grandfathered unlimited data (that would be the worst idea ever! Don't do that!) then just use Skype.
Ignore People Easier
I won't screenshot on my phone for this one, because I don't want you to know who I'm ignoring. But you can send people directly to voicemail by sliding up on the little phone icon. Just sayin.
VIP Inbox For Your A-Camp Friends and Lovers
Here's a little something special: for the very important people in your life, you never have to miss their emails again. Just tap the Mail app, then tap the VIP inbox. You can add as many or as few VIPs as you want!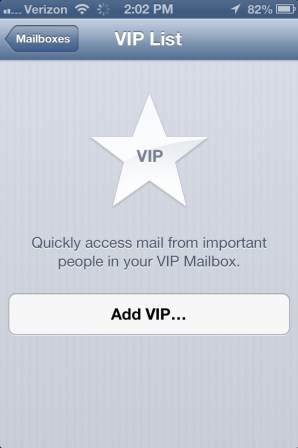 Attaching Photos In A Way That Actually Makes Sense
Oh hey, look. If you're sending an email to someone and then you think maybe I should have a picture in it, you can do that! Just press and hold until you see the little magnifying glass pop up, let go, and press the right-arrow. Wham presto! You can now attach photos to emails without the premeditation that the previous operating system required! This is also wonderful if you want to attach a few pictures in one email. The days of flooding someone's inbox with a crap ton of emails with single picture attachments are gone gone gone!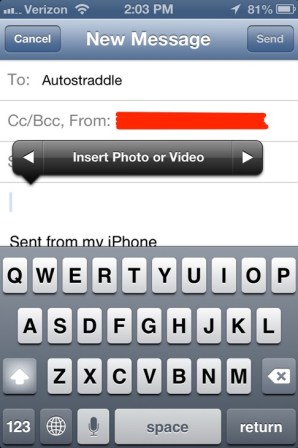 Safari Got Better
Here's why this is relevant to your interests:
With iCloud tabs, you can begin reading an Autostraddle article on one device, and then just keep going on another device. The iCloud tab button is located at the top of your browser on the Mac and iPad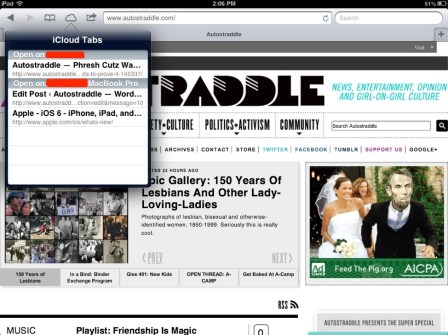 and in the bookmark menu on your iPhone and iPod touch.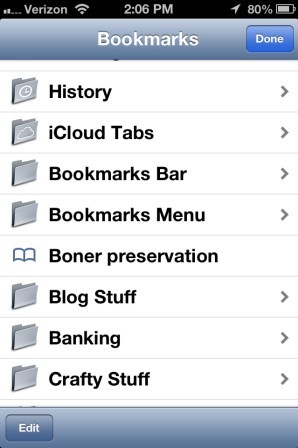 You can also save not just single articles, but entire websites in your reading list for offline viewing! This means you can read Autostraddle while you fly to A-Camp! Just tap the share button (it looks like an arrow popping out of a box) and tap add to reading list!
Panorama Camera
What a wonderful thing this could have been on a mountaintop with 400 other queers, or at your favorite gay bar or anywhere, really. After you tap your camera app, tap options and select "Panorama." Then it's just a matter of playing the keep-the-arrow-on-the-line game, which is actually wicked hard. But please, give it a try!