Choosing the perfect Valentine's Day present is about hitting a sweet spot that says, "Here is a gift that expresses my affection for you and showcases my intimate knowledge of you in a way that is precisely appropriate for the exact commitment level of our relationship!" It's not an easy task — but, as always, we're here for you. Below you will find our handy 2015 Valentine's Day Gift Guide, helpfully divided into sections by relationship status, ranging from "wife" to "the girl who isn't even your girlfriend (… yet!)."
---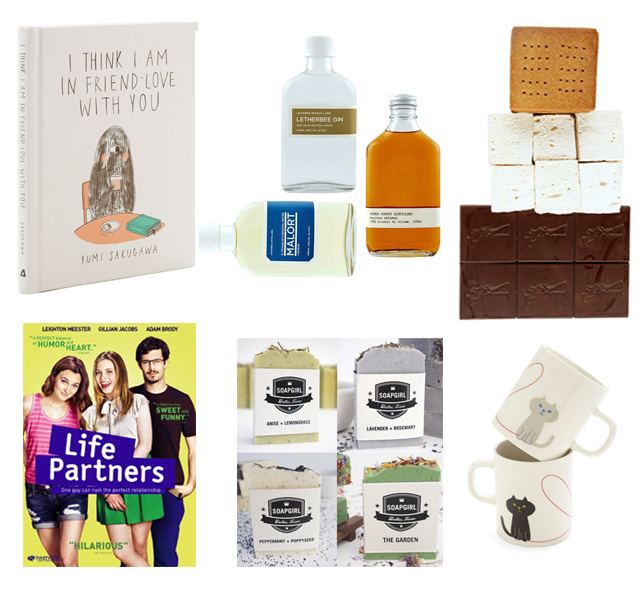 Gifts For Your Best Friend
No, seriously, this girl is just your friend. You love her to bits but it's never going to be romantic. (Seriously!) Still, you want her to know you're thinking about her and holding her in your heart on the most romantic day of the year.
Book: I Think I Am In Friend-Love With You by Yumi Sakugawa
Book-swapping is almost as special as saliva-swapping. Almost.
Booze + Food: Grandmaster Flask and/or S'mores kit
Original Label gin, Kings County bourbon, Leatherbee besk.
Movie: Life Partners
A lesbian movie about friendship where the dude doesn't win.
Treat Yo Self: Soapgirl Herbal Organic Soap
Classy and personal without making it seem like you think about her naked in the bathtub.
Trinket of Affection: Thoughtful Pals Mug Set
Buddies have matching coffee cups, right?
Bonus Adorableness: You don't need Bonus Adorableness; you're just friends, remember? (If you're not just friends, the category below is for you.)
---
Gifts For Your Gal Pal
Stop trying to make gal pal happen! There's no such thing as a gal pal! Obviously, you want to be more than friends with this girl. In the wise words of Aladdin, "Tell. her. the. truth." You can be honest but still be cool about it.
Book: Texts from Jane Eyre by Mallory Ortberg
Girls like girls who make them laugh.
Booze + Food: Bee Mine Taster + The Barrelled Boulevardier
Liquid courage paired with honey.
Movie: Imagine Me & You
The classic! Dare her to love you!
Treat Yo Self: Sephora Fresh Sugar Lip Treatment
Because you're thinking about her lips and she should know it.
Trinket of Affection: Nuts About You key ring
Who isn't nuts about love a good love pun?
Bonus Adorableness: Bark Box
You love her dog and you plan to be around for a long time; that's why you bought her the monthly subscription!
---
Gifts For Your Label-Free Lover
You swiped right for her, and then kept on texting. It's not serious yet, but there are plenty of people she could spend Valentine's Day with, and she's spending it with you! You can be breezy and super thoughtful, you know.
Book: Ash by Malinda Lo
It's a modern retelling of Cinderella, but with Princess Charming.
Booze + Food: It Gets Bitter kit
Amaro delle Sirene, Fenet, Breckenridge Distillery bitters.
Treat Yo Self: Tocca Hand Cream Sampler
This stuff is the bee's knees even more than Burt's Bees.
Trinket of Affection: Embrace the Mess Spoon Rest Set
Cute and handy, especially if you want to approach the idea of keeping domestic things at each other's places.
Bonus Adorableness: Scissoring tote
If you already have the Autostraddle sweatshirt, try out this tote.
Zelda-style 8-bit pillow shams
And if she loves classic video games, these pillow shams will fill her heart containers right up.
---
Gifts for Your Girlfriend
You can't believe you're not sick of this girl yet, but by some weird bewitchery she just keeps getting better. You love her and she knows it, and you're not afraid to show it.
Book: What I Love About You journal
Oh, go on. Just say it.
Booze + Food: Date Night Taster Kit
Sierra Foothills red wine, raspberry pâté heart, passionfruit caramel, white truffle popcorn, rosemary + lemon crackers, fig jam, olive and parmesan tapenade.
Movie: Reaching for the Moon
The breathless drama about the love story between Elizabeth Bishop and Brazilian architect Lota de Macedo Soares.
Treat Yo Self: Sephora Orgasm Blush + Too Faced Chocolate Eye Bar Palette
Orgasm blush and an eye palette that actually smells like chocolate!
Trinket of Affection: We-Vibe 4 vibrator
Our reviewers thought this couples vibrator had lots of queer potential.
Bonus Adorableness: Raising Unicorns
Your step-by-step guide to starting and running a successful (and magical!) unicorn farm.
Elephant Trunk-Holding Salt and Pepper Shakers
Did you know elephant herds are matriarchal? They're the Wonder Women of the animal kingdom.
---
Gifts for Your Live-In Lady Love
You've gone from sharing a drawer at each other's places to getting a place together, and now your books are on the same shelves and your spoons are in the same drawer and you wake up every morning feeling like the luckiest woman on earth. Don't get complacent, though; you've still got to romance her.
Book: Sweet Nothings & Pillow Talk
Lie in bed and laugh about how you don't have to use pick-up lines anymore.
Booze + Food: Campfire Picnic 
Everything you need for a romantic night at home, including High West's delightful Campfire whiskey. No reservations needed!
Movie: Amazon Fire Stick
You're already sharing a Netflix account. Make it easier to watch every movie you want, together.
Treat Yo Self: Zen With Ten Bath Collection
For solo or partnered relaxation.
Trinket of Affection: The Stronic Drei vibrator
Our anonymous reviewer said she spent ten hours in bed with this thing the first week she had it.
Bonus Adorableness: Dinosaur wine stopper
Rawr!
---
Gifts for the Love Of Your Life
You met, you fell in love, you dated, you moved in together, and you survived! You're in it forever. You found your Happily Ever After. Now, celebrate with something that you'll never forget.
Book: The Whole Lesbian Sex Book
You think you've tried everything, but you haven't — yet!
Booze + Food: Love Potion No. 9 Kit
Bar Hill gin, Grand Poppy and Liqueur de Violettes.
Movie: PlayStation 4 or XBox One
Watch DVDs or Blu-Rays, download all the TV apps you could ever want, and play video games.
Treat Yo Self: Romantic Getaway or a Spa Day
Now is the time to take that trip you've been talking about for years.
Trinket of Affection: Journal
Handmade leather banding and handcrafted pages. Take it on that trip of yours!
Bonus Adorableness: A PUPPY
The ultimate "I love you."
---
If you didn't find what you need here, be sure to check out our list of 9 Valentine's Day gifts for your Autostraddle-loving girlfriend!