You love your girlfriend / wife and she loves Autostraddle and we're approaching the Love-liest time of the year. What are you gonna get her? Here's some ideas. Let me just first say, however, that capitalism is hard! I wish we lived on a lesbian separatist socialist commune. Until then: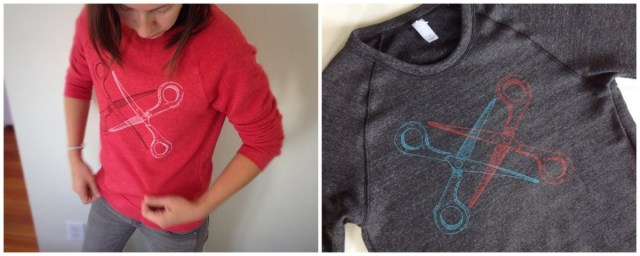 There's literally nothing on the entire planet that your girlfriend would rather wear than a Scissoring Sweatshirt. This is a fact. Now available in dark grey or red!
2. Custom Illustration from Rory Midhani
Our illustrator Rory Midhani is the shit. Last year, both Rachel and I paid him to do custom illustrations for our significant others' birthdays and seriously there's nothing cuter, plus you're supporting a kickass British trans illustrator to the stars. You can e-mail him at info [at] rorymidhani [dot] com!
3. A+ Membership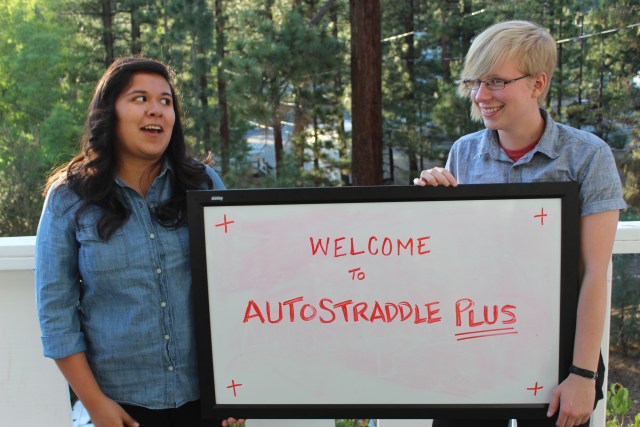 The gift of an A+ membership is the gift that keeps on giving (for twelve months, at least). You can get your #1 Gal Pal a one-year bronze, silver or gold membership, which'd give her access to A+ content, an A+ sticker and — for gold members — an A+ t-shirt! Plus access to special deals and giveaways from merchant partners.
4. Books by Autostraddle Writers
Get some books written by or featuring the work of people who have written for Autostraddle!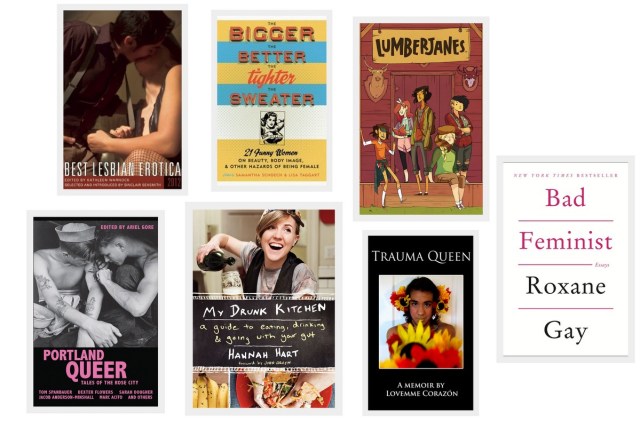 The Bigger the Better, the Tighter the Sweater: 21 Funny Women on Beauty, Body Image, and Other Hazards of Being Female – This anthology featuring "21 funny women on beauty, body image, and other hazards of being female" features a story by Marie Lyn Bernard (AKA ME!) about how I sweat too much. It's good you should get it.
Bad Feminist: Essays – The book everybody is talking about by one of our favorite humans Roxane Gay, who wrote an essay right here this one time!
Portland Queer: Tales of the Rose City – This anthology of stories by LGBT writers that take place in Portland features a tale by our own Gabby Rivera.
This Is a Book for Parents of Gay Kids: A Question & Answer Guide to Everyday Life, by Dannielle Owens-Reid and Kristin Russo
Knockturnal Emissions: Thoughts on #race #sexuality #gender #community – Poetry from our very own Carolyn Wysinger.
My Drunk Kitchen: A Guide to Eating, Drinking, and Going with Your Gut, a delightful situation photographer by our own Robin Roemer and starring dearest-friend-of-Autostraddle Hannah Hart!
Best Lesbian Erotica 2012 – This delightful collection includes a story by our very own Alison Osworth!
On a Greyhound Straight From the 915, a chapbook by the ridiculously talented Mónica Teresa Ortiz.
Lumberjanes Vol. 1 – The GLAAD-Award-nominated comic book series was co-written and co-created by our very own Grace Ellis! See if you can guess which characters were inspired by Riese, Carly, Robin and Haviland.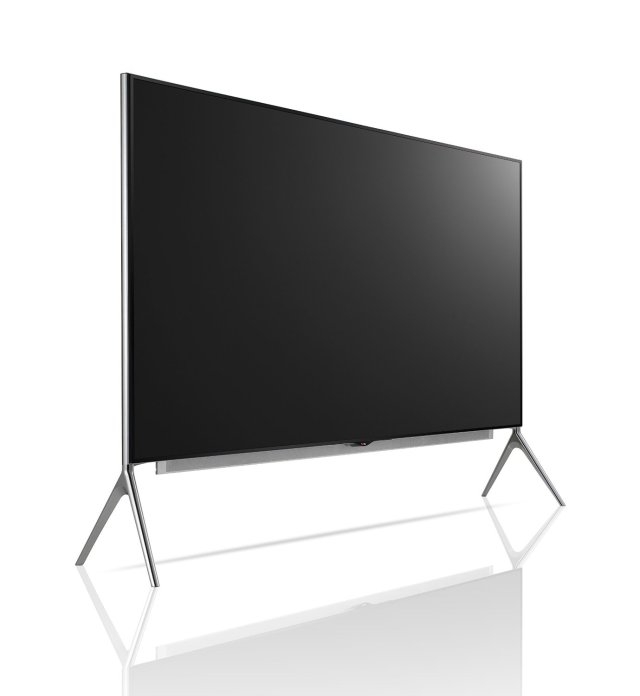 We write about television a lot around here so there's a pretty good chance that your girlfriend likes the television. The reason we suggest this specific television, which happens to cost around $40k, is because we get 8% of every sale made on Amazon, so if you bought this television, we would get $3,199.99, which would be AWESOME.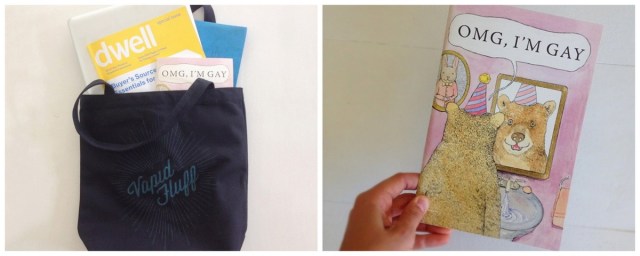 Did your girlfriend recently figure out that she had deep burning passionate lusty desires for other women? Did she figure it out a long time ago but still enjoys reading essays on that topic? Well, then you need this 'zine. It's Issue #1 in the Better Together series we've been working on with our friends at Everyone is Gay. She can carry it around in her adorable tote bag.
Is your lady the cutest thing you ever did see? Are y'all so fucking gorgeous together that you die every time you look into each other's eyes and get reborn as unicorn flowers? Did you just have a baby? Is your daughter/son so precious that you can't help but squeeze their cheeks and post 45 photos of their every move on Facebook? Then just imagine how good you or your family would look if noted Calendar Girl Photographer Robin Roemer turned her lens on your sweet face. She's photographed just about everybody you love — Tegan & Sara, Hannah Hart, Lady Gaga, Grace Helbig, Janelle Monae — so why not add one more to the list? (GET IT DO YOU SEE WHAT I DID THERE???) You can contact her at robinroemerphotography [at] gmail [dot] com.
8. Something From Babeland For Your Babe
Y'all Babeland is a lesbian feminist sex toy legend, like they wrote the book on it. They've done parties for Straddlers, too. They give us 20% on every sale we refer and YOU get 10 modes and a setting that alternates the vibration to switch between G-spot and clitoral vibrations thanks to the dual motors!
9. Tomboy Femme Gift Sets
Make-your-own gift collection for your lady that reflects the spectrum of her gender expression.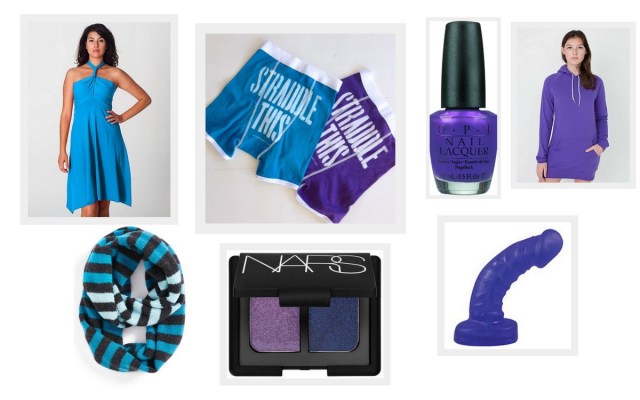 Cotton Spandex Jersey Bandeau Dress ($22) // "Straddle This" Boxer-Briefs ($16) // OPI Brights Nail Lacquer, Purple with a Purpose ($8.79) // California Fleece Pullover Raglan Hoodie Dress ($22) // Purple Mr. Bendy ($69) // NARS Eyeshadow Duo ($35) // Halogen® Dégradé Stripe Cashmere Infinity Scarf ($53.40)
H+M Sweatpants ($12.95) // essie Nail Color, Blues, Naughty Nautical ($8.50) // Straddle This Hotshort ($12.75) // Got It On Loch Ness Socks ($7.99) // MG Baker Co Polka Bowtie ($58) // Custom Initial Charm Necklace ($18)