Last month, 22-year-old Daniela Vargas was asleep at home in Jackson, Mississippi when she woke up to find Immigration and Customs Enforcement agents handcuffing her dad, Daniel Vargas, and agents asking for her immigration status. ICE agents detained the only family she had in Mississippi, her undocumented father and undocumented 26-year-old brother, Alan Vargas. When ICE agents left her home, Vargas locked the doors and hid in the closet. After a few hours, they came back with a warrant and raided her home. She was temporarily handcuffed but was then released.
On Wednesday, Vargas spoke out about how her family came to the U.S for a better life at a news conference organized by the Mississippi Immigrants Rights Alliance to raise awareness of Trump's immigration policies and their effects on immigrant families. She talked about doing her best at school and her dream of becoming a university math professor. She refers to herself as a DREAMer, which refers to the Dream Act which would have granted immigrants brought to the U.S. as children to receive legal status.
"Today my father and brother await deportation while I continue to fight this battle as a DREAMer to help contribute to this country which I very much feel is my country," she said at the news conference.
Shortly after leaving the news conference at City Hall, the car Vargas was riding in was pulled over by ICE and she was handcuffed as an officer reportedly told her "You know what we are here for." She was taken into custody and then to a detention center in Louisiana. According to the Huffington Post, an ICE official said they didn't take Vargas into custody along with her dad and brother because she claimed she had DACA status, but later on they verified that she did not. Vargas was taken into custody on Wednesday during a "targeted immigration enforcement action," according to the ICE official.
Vargas came to the U.S. with her family from Argentina when she was seven years old, qualifying for Obama's Deferred Action for Childhood Arrivals, a policy that allows immigrants who arrived here as children to become eligible for work permits and temporarily stay in the U.S. DACA recipients must reapply every two years. Vargas was granted DACA status but it expired in November. Vargas couldn't immediately afford the $495 renewal application fee so she didn't reapply till February.
Now Vargas is facing deportation without a court hearing, according to her lawyer Abby Peterson. ICE told Peterson that they would seek immediate deportation without a court hearing or bond because Vargas entered the country with her family through a visa waiver program in 2001, which allowed them to enter the U.S. without a visa for 90 days. Vargas told The Clarion-Ledger her family was living in poverty in Cordova, Argentina and her father moved to the U.S. for work. Soon after her family flew to the U.S. together and never went back to Argentina while their visitor's visa expired. According to the Huffington Post, "Individuals who use the visa waiver program have no right to a hearing or to contest their removal unless they are seeking asylum." Peterson argues that Vargas' entire case should be considered since she was a child when she entered the U.S. and didn't waive her right with her overstay — that was her parents' choice.
Vargas' lawyers are doing everything they can to get Vargas a court hearing in front of a federal immigration judge instead of an immediate deportation, which could happen as early as today. Her lawyers were preparing special documents with personal statements from people who can vouch for Vargas. They'll deliver it to the detention center today and hope it will help Vargas' case.
Vargas' arrest is pretty alarming, considering she was a DACA recipient and was trying to renew her status again and was apparently followed by ICE from the news conference. Just last week, the Department of Homeland Security issued a sweeping set of orders that supports Trump's plan to increase immigration enforcement. The memos instruct Customs and Border Protection (CBP) and ICE to identify, capture and quickly deport undocumented immigrants. The memos instruct to give those with criminal records the highest priority but make it clear to arrest and deport all undocumented people they encounter. However, Trump has made statements saying he would not prioritize DREAMers for deportation. "They shouldn't be very worried. I do have a big heart. We're going to take care of everybody," Trump told David Muir at ABC News. With huge sweeping immigration enforcement directives from Trump, youth immigrants like Vargas, who have no criminal record, are getting caught in the crosshairs with no protection.
Vargas is at a detention facility in Louisiana. She says she doesn't understand why "they don't want me."
"I strongly feel that I belong here and I strongly feel that I should be given a chance to be here and do something good and work in this economy," Vargas said in a statement shared by her lawyer.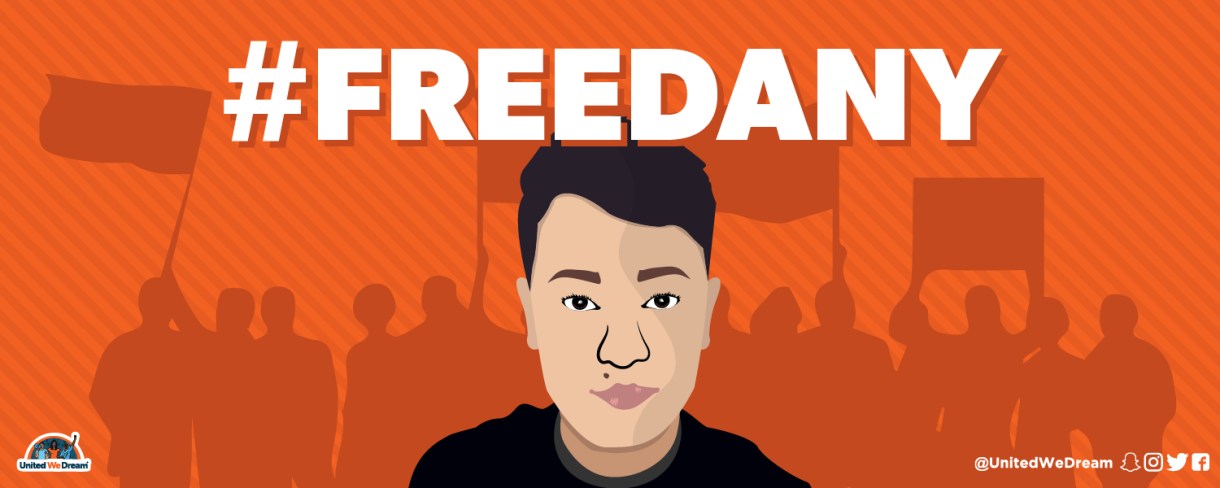 United We Dream, a youth-led immigration organization, is urging everyone to sign this petition demanding to release Vargas. A rally in support of Vargas is happening now on the south steps of the Mississippi State Capitol Building. 
For undocumented immigrants, it may seem hopeless to protect yourself in Trump's America but it's incredibly helpful and important to know your rights. It's not the best defense, of course, we need to fight for better rights for undocumented folks and secure a way easier path for citizenship but it's helpful to know these things. United We Dream created a handy "Deportation Defense Card" in English, Spanish, Arabic, Chinese and Korean to remind you of those rights. If you witness ICE activity in your community, make sure to report it to their immigration watch hotline to help support their efforts in keeping communities alerted and to prevent detention and deportation. Here's the number: 1-844-363-1423