Brrrrrrrrunch! It's like crunch, but colder. It's like lunch, but …. with more eggs? Brunch! It's whatever you make of it! Just like life. And we decided to make brunch of July 15th and call it International Autostraddle Summer Brunch Day, or AS Summer Brunch, or Int'l AS Brunch, or #ASSBrunch or just BRUNCH.
It's happening on July 15th!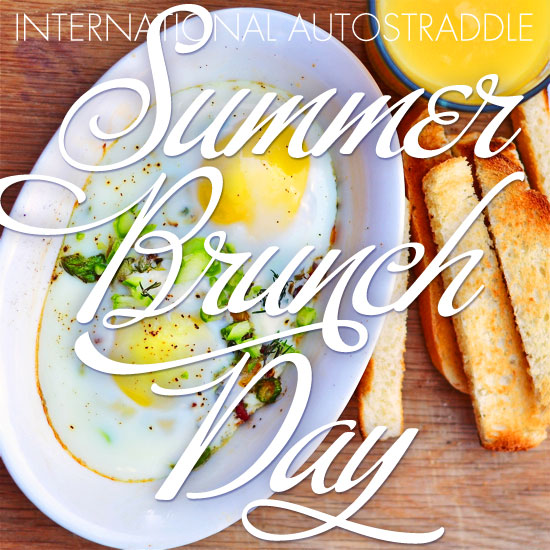 The original idea came from Rachel in NYC, who'd already planned a brunch at Petite Abielle, and it all just sounded so lovely that we couldn't stand to be left out. This is a great excuse to ditch all your other friends and find new friends! Or wear that cute vest that you still haven't worn yet. But most importantly, it's your chance to meet other Autostraddle readers in your city! If you're new to Autostraddle meetups, please see:
+ It's A Thing: International Meet An Autostraddler Week
+ International Know Your Autostraddler Week
Doesn't that look like fun? You're damn right it is.
As with past Autostraddle meetups, if you're interested in hosting / coordinating a brunch on July 15th in your city, email autostraddlemoderators [at] gmail [dot] com with the following info, and update this post to include your meetup!
Name
City
Brunch Location
Time
RSVP info
Special Instructions
International Autostraddle Summer Brunch Day locations and times are below. Wanna go to your local meetup? Just RSVP on Facebook and get your cute shoes ready. Have fun, little fish!
New York City
host: Rachel
Candela Candela (in the East Village) *NEW LOCATION*
12 PM
RSVP
Flagship brunch!
Oakland, CA
host: Marni
The Fat Lady Bar & Restaurant
12 PM
RSVP
Boston, MA
host: Lizz
The Friendly Toast
10 AM
RSVP
"That's technically in Cambridge but that's totally the same as doing it in Boston."
DC
host: Carmen
Carmen's Haus
2 PM
RSVP
Potluck
Columbus, OH
host: Grace
Surly Girl Saloon
1 PM
RSVP
You can catch Alex's band, Hell & Lula, later this night at The Basement!
Portland, OR
host: Taylor
Mississippi Food Carts
11 AM
RSVP
"Meet me by the cupcakes!"
Phoenix, AZ
host: Laneia
Switch Restaurant & Wine Bar
1 PM
RSVP
Ann Arbor, MI
host: Rachel
\aut\bar
11 AM
RSVP
"Because love means never having to choose between going to a gay bar and going to brunch."
Chicago, IL
hosts: Elli & Liz
Liz's Place
11 AM
RSVP
Potluck
Northampton, MA
host: Jesse
The Roost (corner of Market St and Main)
Noon
RSVP
Special Instructions: I will be wearing my "STRADDLE THIS" t-shirt so y'all can find me!
Orwell, VT
hosts: Lisa & Angela
Singing Cedars Farm
6:00PM
RSVP – Email lkalan89 [at] gmail [dot] com
Eckerö, Finland*
host: Soph
Linny's House
1PM
RSVP: email Soph at karmedic [at] gmail [dot] com
"It's not everyday you get at least four straddlers on an island in-not-really Finland."
*Brunch will be held on August 13th!
Philadelphia
host: Hannah
Cedar Park Cafe
11am
RSVP
Bloomington, IN
host: Paige
Rachael's Cafe
11AM
RSVP: email her! guitarchicpt [at] yahoo [dot] com
Ottawa, Canada
host: Kristin
The Lieutenant's Pump, 361 Elgin St.
12:00 noon
RSVP
Nashville, TN
host: Rae Schobel
Brunch Location: Bagel Face Bakery, 700 Main Street, Nashville, TN. 37206
11:30 AM
RSVP
Special Instructions:  You want Nashville to have more queer events?  Here ya go.
Denver
host: Alison
Brunch Location: Lucile's  (Logan and Alameda)
1:30 PM
RSVP
Special Instructions: "I'm trying my bestest to get Lucile's to take a reservation, but they never do, so we'll see! Just please RSVP with your amount so I can give them a tentative number!"
Glasgow
host: Seph
Brunch Location: The Curler's Rest on Byres Road
12 noon
RSVP – Email josy [at] lavabit [dot] com
Special Instructions: "I will put a wee rainbow flag on the table for identification purposes."
Toronto
host: Camilla
Brunch Location: The Beaver (yes, really)
11AM
RSVP 
Montreal
host: Kristen
Brunch Location: Royal Phoenix Bar 
12 noon
RSVP 
Vancouver
host: Ferin
Brunch Location: St. Augustine's
12 noon
RSVP 
St. Louis, MO
host: Bethany
Brunch Location:  Uncle Bill's Pancake and Dinner House, 3427 South Kingshighway Boulevard, St. Louis, MO 6313
12 noon
RSVP – email Bethany: bethany.nikstad [at] gmail [dot] com
Seattle
hosts: Allie and Shelby
Brunch Location:  Volunteer Park (it's a picnic potluck!)
12 noon
RSVP
Wellington, New Zealand
host: Nicole
Brunch Location:  Espressoholic, 136 Cuba Street, Wellington
11AM
RSVP
Auckland, New Zealand
host: Frith
Brunch Location:  Zus & Zo, Herne Bay, Auckland, New Zealand 1011
10AM
RSVP
Brisbane, Australia
host: Tiara (Creatrix Tiara)
Brunch Location: TBA (likely somewhere in the West End) — Come to the FB page to help decide!
11AM
RSVP
Special Instructions: Friends of AS readers welcome too!
Melbourne, Australia
host: Cara
Brunch Location: The Bell Jar, 656 Smith st, Collingwood
11:30AM
RSVP – email crgreenham [at] gmail [dot] com AND/OR RSVP here
Special Instructions: "Please come! I will feel very odd alone at a meet up!"
Dallas
hosts: Christine and Nicole
Brunch Location:  Buzzbrews (On Lemmon)
10AM
RSVP – email christine at boomhowerchristine [at] gmail [dot] com
San Diego
host: Leslie
Brunch Location: Bread and Cie *NEW LOCATION*
12 noon
RSVP
Austin
host: Julia
Brunch Location: Yellow Jacket Social Club
12 noon
RSVP on the FB event page OR email Julia at jaykayebee [at] gmail [dot] com
Providence
Host: Daniela
Brunch Location: Brickway
11AM
RSVP – Join the Rhody Straddlers Facebook group, and we'll go from there!
Special Instructions:  "Rhode Island is tiny, we probably know each other, let's just make it official."
Aberdeen, Scotland
Host: Ashleigh
Brunch Location Giraffe, Union Square
Time 11am
RSVP – email Ashleigh: ashleighjayne.allan [at] gmail [dot] com
Special Instructions meet at those bench-y things by the top of the escalator? I know it's very unlikely that they'll be many, if any (hey that rhymes,) people for this one but it's worth a shot.
Los Angeles
Hosts: Brittani, Alex Vega, Sara Medd
Brunch Location: Barnsdall Art Park
Time 11:30AM
RSVP
Special Instructions: Potluck in the park!
Arnhem, The Netherlands
Host: Anna
Brunch Location: Arnhem's meisje / Dudok / open for suggestions — meet up at the train station
Special Instructions: Hop in the train and meet us for brunch!
Cleveland
Hosts: Lora and Jen
Brunch Location: Lora and Jen's apartment
SATURDAY! July 14th, 11am
RSVP – email lora.difranco [at] gmail [dot] com
Special Instructions: "It's a potluck, ya'll!"
Lawrence, Kansas
Host: Sherri
Brunch Location: Milton's
11am
RSVP – ASS message
Sherri
(link to come!)
The staff at Autostraddle would like to formally acknowledge that it isn't summer all over the world. We just really love the word 'summer.'