Q: Valentine's Day is already weighing on me. My wife and I have been together for 6 years, married for 1.5, and we've NEVER done anything for Valentine's Day, because we have been completely broke every year. We own a business together, and so we work together every day and then go home together and cook together and sleep together, and we've kind of fallen into a habit of work, make dinner together, go do our own thing (she goes to band practice and I go work on printmaking or do work for our business), and then we go to bed and repeat it all. Money's tight again this year, but we really need something to change it up a bit. We've never even been able to go on a honeymoon. I need some ideas! And cheap ones! Let's say top to bottom, less than $200. Any thoughts? We live in Pittsburgh, PA.
---
A: Congrats on your happy marriage and relationship! It sounds like you've built a solid and rewarding life together doing the things you love. That's awesome! It also sounds like you've fallen into a daily routine that is a bit predictable, as many folks in long-term relationships do. Valentine's Day is a great excuse to do something to, as you write, "change it up a bit." Let's get to it!
Book a Night Away from Home
Whether it's a bed and breakfast, a hotel room, or an airbnb, stay the night in a pristine clean bed that is not your own, in your own city or nearby. When you're in your own bed, doing your typical bedtime routine, it can be challenging to turn off your brain, forget the stresses of the day, and stop mentally reviewing your to-do list. Creating physical distance can help you both clear your mind and focus more on the moment… and each other. You don't have the break the bank. Airbnb has whole apartments available in Pittsburgh for $100 or less. Just the act of packing your bags and checking in somewhere else is exciting, even if it's not too far away. Bring supplies for a romantic night in. Candles, massage oils, a romantic playlist, strawberries and champagne, sexy underthings, maybe a new sex toy or game you've been wanting to try. You know, treat yo'self. Turn off the cell phones. Don't answer work messages. Don't talk about work. Be "on vacation" for one night.
Snuggle Under the Stars in Your Living Room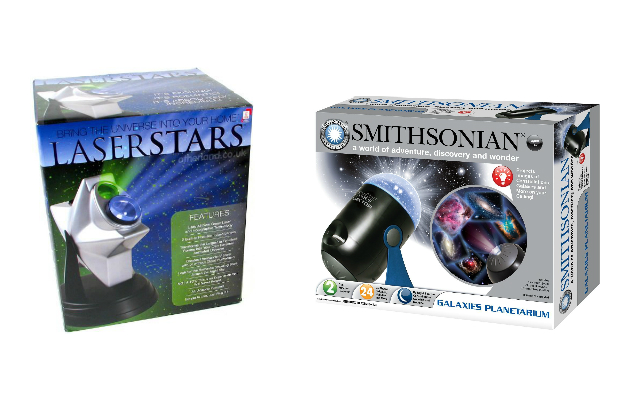 It's a little chilly to go stargazing in PA right now, so have a romantic night under the stars in your living room or bedroom. Order a indoor light star projector, like this Smithsonian version ($48.22 on Amazon) or this other one ($124 on Amazon). This isn't like the nightlights you had as a kid or the glow stars you had in college. This star projector is super realistic and pretty and will make you feel like you're under a real night sky. Turn on the projector, turn off the lights. Put on some romantic tunes. Roll out a cuddly blanket and snuggle up for some indoor star-gazing. Pack a picnic basket full of finger foods and wine and yummy desserts. Make out like teenagers all snuggled up under the (man-made) heavens.
Enjoy a Staycation
When was the last time you saw the sights in your own city? Take a day or the whole weekend to do fun stuff in or near Pittsburgh. Be a tourist in your own city. Since you have a small budget, go see those museums and shows and cool things that you would normally not spend money or time on. Eat at a trendy restaurant. Take lots of pictures, like you would if you were on a real vacation. Set a budget in advance, then set out to spend it! For once, just enjoy going out and doing fun stuff together without worrying about money.
Send Her on a Romantic Treasure Hunt
My partner surprised me a treasure hunt once. It was the cutest. Here's how it goes. Create a treasure hunt around your home, around your neighborhood, or your city. You'll give the first clue to your wife, which will set off the trail of clues she will need to follow to get to the big prize. So, you need clues, a trail, and a big prize at the end. The big prize can be a romantic gift. It can be dinner with you. It can lead her to the spot where you went on your first date or had your first kiss or proposed. The clues start with a clue that you give her, either by texting her or taping it to the door before she gets home or having a friend deliver it to her or slipping it into her bag when she isn't looking, etc. Of course, you can just hand it to her, too. This first clue should give her an idea of where to look for the second clue (inspiration for clues: here and here). Have fun! One special touch my partner did for me was that each clue also had a word or phrase that described something my partner loves about me. It was a romance winner!
Find Your Rhythm with a Private Dance Class
Sign up for a private dance class together and learn to tango or ballroom dance or belly dance or swing dance or whatever you think would be fun! Private = all for you and minimal embarrassment as you learn the steps. One private dance lesson for a couple is typically less than $200. Call around for quotes. This studio in Pittsburgh, Absolute Ballroom Dance Center, offers private classes and, according to some internet research, used to have a same-sex ballroom class! One class isn't enough to become an expert, but you'll have fun pressing your bods together and you'll have a little routine you can show your friends at your next wedding reception/party/brunch.
---
Whatever you do, I hope you have a fabulous and special Valentine's Day together! If you have more ideas for $200 or less unique romantic dates, share them in the comments!