It's Wellness Vibes Week! We're taking some time at the start of this brand new year to explore wellness culture/wElLnEsS cUlTuRe through a queer lens, specifically the kind of queer lens that you can only find at your local Autostraddle. No celery juice or vagina steaming, just some chill tips for making your spiritual, physical and mental health a little better in 2020.
---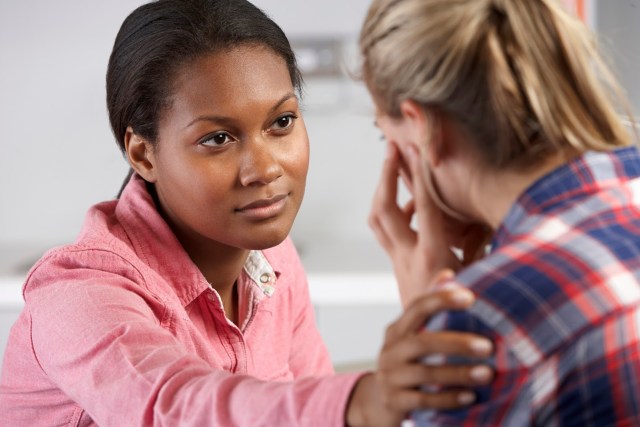 I realize that many of you will feel #attacked by this, but the truth is, by attacking you I am at once attacking myself, and isn't that brave?
The relationship between therapist and patient is an incredibly intimate one. What could be more attractive than having a woman look you dead in your eyes and say things like
I hear you and I see you, your feelings are valid, you deserve, I'm sorry for the pain you've endured. 
Is this post for NSFW Sunday because that was straight-up porn. 
We live in a space where we are constantly bombarded with claims that our feelings make us silly and irrational, or that the things we've endured are "not that bad." This diminishing of the self cloisters our ability to be vulnerable with ourselves and others.  Therapy can be an antithesis to those patriarchal views on emotional health; it becomes a place where we realize ourselves and what we deserve. So, having an hour or more of our week devoted to being listened to can lend itself to a misdirection of feelings. It's easy to dismiss this as a harmless crush, but it can easily spiral out into an obsession that takes away from the real work that needs to be done. 
For me, this phenomenon is only amplified when my therapist is also a woman. Lesbians and queer women are stereotyped for our huge emotions and grandiose love stories where we move in together at two months and get engaged at eight. This, I think, can occur organically or be a self-fulfilling prophecy. Maybe you as an individual are not overly committal, but you think you have to be if you are a woman that loves other women. So when we are met with the intense emotions that come during a session, we may feel encouraged to devote ourselves entirely to whoever is evoking them. Furthermore, it is not uncommon for us to seek out a therapist that identifies the same way that we do. Of course, we want them to know the issues we face on a day to day basis, and sharing that commonality further deepens the relationship. A few more tear-stained sessions that end in her telling you she's so proud of the woman you've become and you're in the group chat asking if it's inappropriate to make her banana bread. 
What makes it so easy to fall for our therapists? Let's talk about transference. 
Transference is more common than we think. It can be as simple as being annoyed by a colleague or fellow student who looks slightly like one of your exes or attaching maternal feelings onto an older woman in your circle. The kind I'm referring to here is sexualized transference; when a person develops romantic or sexual feelings toward their therapist. It is also referred to as erotic transference, which I like better because transference doesn't always come with sexual desire. Think Helena Peabody except without all the predatory rich white bitch energy. 
As earlier stated, the relationship between therapist and patient is extremely intimate, especially between two women or nonbinary people. It can be vulnerable to transference because therapists often appear as ideal partners: they listen, they affirm, they often boost your self-esteem by telling you how worthy and capable you are. Maybe your therapist is also just a total babe which can make resisting those feelings even harder. Something about emotional intelligence makes a person really attractive. They also seem imbued with a vision of the perfect, mentally well person you could be one day, and you begin to believe having them by your side is the only way to become that person. We all want to try on the suit of our realized selves and be who we needed to see as children, but filling a notebook with small love notes to Katherine isn't gonna get you there. 
The big trouble with transference (or just having a small crush on your therapist) is that it displaces the purpose of the relationship. To put it plainly, you no longer want to go to therapy to get well but instead to go on a "date" with a person you have feelings for. You start to take those earlier statements, not as a sign that you are indeed growing as a person, but that your therapist has an interest in you and possibly thinks you are more special than their other patients. You begin to build fantasies in your mind of developing a mutual friendship or more with them which takes away from the real work that you set out with the intent to do. 
So what do you do when you find yourself awake and on her Instagram reserved for friends at 3 AM, or on her defunct facebook page where you can only see her profile picture and city (told you I'm attacking myself too)? If you're not too embarrassed by the prospect, talk to your therapist about it. They are probably already aware it is happening or at the very least know what transference is and how to deal with it. Broach the topic by saying: 
Hey, so I've noticed that I've been looking forward to our sessions a little more than usual these days. I'm a little worried that I might be mixing some feelings up here. What do you think we should do?
If you'd rather dwell in silence with your shame and lust, try journaling! Writing down your innermost thoughts is a great way to keep track of them in real-time, especially if you're worried that some transference might be going on, especially if you're not an inscrutably rich heiress who can afford to be sued by more than one therapist. Writing about your feelings will make you confront them in a way that can be more objective than a spiral of thoughts stuck in your head. There is also a form of transference focused therapy that you can approach with your therapist if need be. 
If writing a five-part play about resolving your issues with your therapist doesn't work, then maybe getting a new therapist will help you. This is probably the most painful option, seeing as you have begun to look forward to staring into her forest green eyes every Sunday and making her laugh with that famous self-deprecating humor, but sometimes you and a therapist have to break up. You will likely be referred to a different therapist in your network that your current one knows and trusts. 
An easier step is to ask your therapist to focus treatment on tangible exercises and not such heavy emphasis on talk therapy (if this is in their repertoire). My therapists have given me a ton of workbooks and worksheets. I've found that these little homework assignments allow me to focus on getting well and not how fluttery my stomach would get when thinking about her. I leave with an accomplishable goal and then return with something strict to talk about. 
It may seem like I'm doing a lot here. After all, you're just innocently looking at her Instagram, innocently googling her to figure out if her published articles are behind a paywall, INNOCENTLY surveying how the year 2016 was for her on facebook. You're constantly gushing over how cute she is but it's all so innocent, right? The thing is this is a conversation we have to have because I want you to be happy and get better, and having affairs with our therapists is not the way forward. There are a million people you could kiss that don't have a vital role in your life. For instance, the mail person! A waitress at your favorite diner (when she is not at work)! That tinder match that has been sitting in your inbox for months and months! By the end of all that hoeing, you won't even want to lie under her like she's the weighted blanket folded neatly on her bookshelf.