I've never been really ashamed of my orientation, and I'm fairly open about being gay as well as my stance on gay politics on Facebook. My cousin has been dating a preacher for about three years, and they are engaged and getting married in a few months. Recently, I made a post about the shooting at Pulse Nightclub, with a link to my city's LGBT center offering mental health and grief counseling services. Within minutes, my cousin sent me an extremely homophobic private message, filled with liberal use of homophobic slurs and claims that I and every other gay person are going to hell. I blocked her and that's been the end of that.
My family received an invitation to her wedding a few days ago. I was planning on attending at first, but now I'm not so sure if I want to. However, my parents are insisting that I go for my aunt's sake. I didn't tell them about the homophobic message because I didn't want to cause any conflict between my dad and his sister. Technically I don't *have* to go, but I'm in that weird transitional stage in my life where I'm still living with my parents and am still involved with my extended family. What do I do? Should I tell my parents about the message, stand my ground and refuse to go and risk upsetting my family, or should I go and potentially open myself up to more homophobia from my cousin?
You're under no real obligation to attend any event that puts you in a position of possibly defending your personhood! Sometimes you make sacrifices for your family, but that should be your decision based on your own feelings and ideas, not someone else's. It doesn't have to be you taking a stand by not going — you could become "very sick" on the day of the wedding and be unable to go. Or maybe you couldn't get out of working that day?
Another angle is that the couple at center stage on this day might have a better time if you aren't there. You save them from having anyone to talk shit about or glare at, and you save yourself from having to pretend to like or forgive a person for being a real shithead to you. This is very win/win.
If it were me, I'd calmly and matter of factly tell my parents what my cousin had said to me on Facebook. I'd show them the message and let them know that I'd feel more comfortable passing on this event because these people clearly have a problem with you. Then I'd make a pan of nachos to share. Any conflict that might arise between your dad and his sister won't have been caused by you exposing your cousin's homophobic bullshit, it will have been caused by your cousin being a homophobe. Period.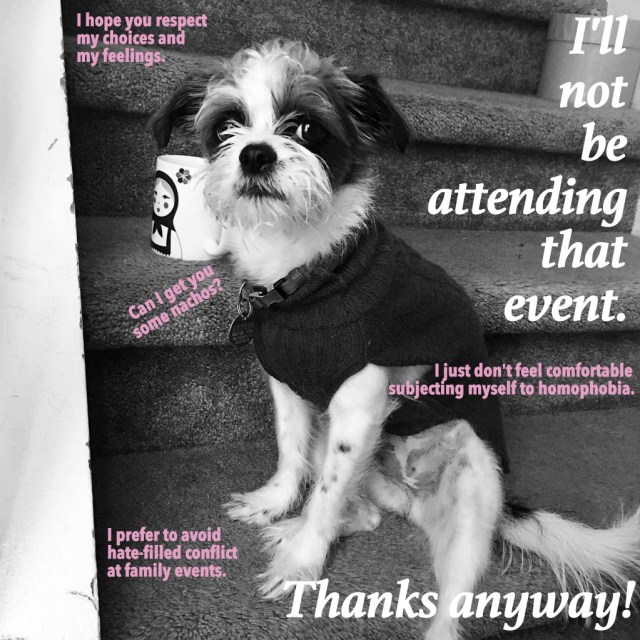 ---
I thought I was going to be friends with someone, but turns out we're headed towards more than friends. I haven't told her that I've slept with her ex (someone significant to her, but not significant to me), even though I had plenty of chances to, but I want to tell her before we have sex. Can I be super casual about it?
If you think she will not be super casual about receiving this news, no, you shouldn't be casual when you deliver it. That's just setting up a situation where it either seems like you don't know her well enough to guess her emotions and reactions to this subject, or that you do know her well but don't care enough to deliver it in a sensitive way. Both of these are terrible and also not true of you, so let's check out the honest route.
You should choose a time and place to tell her — a time that's considerate and allows for her to have a negative reaction without ruining her workday or other plans, and a place that's private — and then stick to that plan. Be honest and let her know that you couldn't figure out a casual way to tell her, or a time that wouldn't be awkward or forced, but that you never intended to keep it from her forever or even for this long. And then let her have her reaction! Wheeee! You could also make a pan of nachos to share. Wouldn't be a bad idea.
Or you could give her this:
---
Do I need to prove that I'm gay? During an alcohol-fueled game of 'Truth or Dare' with my softball team, I admitted to them that I've never done anything with a women before. I feel like they judged me hard. They are pretty much the only ones that I was out to. What they don't know, however, is that I've never even kissed a guy either (mostly because I spent many years uninterested in guys, but not yet into girls). Now I just feel stupid and that my inexperience=not actually gay. I'm 22, shouldn't I have my shit more together by this point? I'm tired of being alone and disbelieved.
Ugggghhhhhh people who judge other people based on sexual experience one way or another make me want to scream and throw cake at birds! It's so juvenile and basic as fuck, and tired. I had to take a break from typing this so I could groan out loud for several seconds. UGH.
The very simple answer to your question is, nope! You're doing just fine! Not having any sexual experience with women doesn't make you straight. It doesn't even make you slightly-less-gay. You're gay! You're as gay as you'll ever be! Some people would argue that being on a softball team is gayer than gay sex, so keep that in mind.
And another thing! Sexual experience ≠ having your shit together. If you're tired of being alone, that's a separate thing worth exploring, for sure, but just being alone doesn't mean your shit is inherently less together. I think most people have their shit more together when they're alone, actually? You get your ducks in a row, you prioritize yourself and your goals, you save money and make your own decisions, you get to know yourself — things that are generally easier to do when you're not coupled up. But if you're ready to date and press some body parts together, then go for it! And no, you don't have to tell potential partners that you've never done X or Y (unless you want to, which is totally your call).
We're all just people trying our best! If someone sees you as less gay because you've never kissed a woman, that someone is a trash rabbit and they should grow the entire fuck up real quick and get on everyone else's level, up here with the adults. You should make a pan of nachos and keep them all to yourself! Maybe pair them with a seasonal beer.
---
Y'All Need Help is a monthly advice column in which I pluck out a handful of questions from the You Need Help inbox and answer them right here, round-up style, quick and dirty! You can chime in with your own advice in the comments and send your quick and dirty questions to youneedhelp@autostraddle.com.