It's been a weird couple of weeks, my friends. I got flattened by what I'm pretty sure was The Plague after I got home from A-Camp and I've been having some debilitating anxiety and panic attacks and now I'm in Detroit for our yearly Senior Editors super mega planning shakedown. I had intended to write a standalone post for the Orphan Black finale, but I've run out of time to do that, so I'm sticking that here in Boob(s On Your) Tube so we can talk about it together without further delay.
Next week I plan to start recapping The Fosters in earnest. The first two episodes of this season were way too intense for me, in the wake of Orlando, as they dealt with a potential mass shooting and then a The Call Is Coming From Inside The House scenario at Stef and Lena's.
I'll also start catching us up on Pretty Little Liars on Monday, so we can get back to regularly scheduled recaps on Wednesdays.
Until then, here's what's happening on queer TV!
---
Orphan Black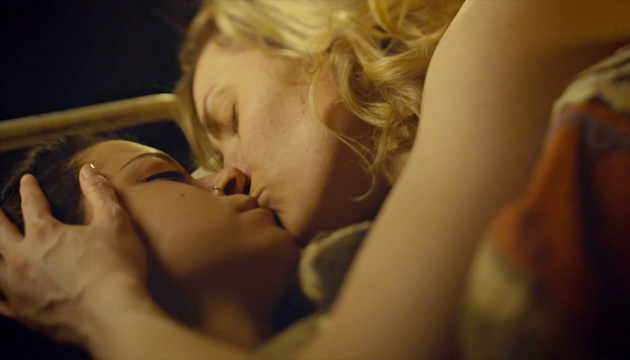 Orphan Black's fourth season was easily the tightest and best executed season since its very first one. The Big Bad was manageable — just plain old Neolution — as the story zoomed in on the lives of the Leda clones we've grown to know and love (and love to hate), instead of zooming out to reveal more shadowy figures and Castor clones and religious cults and military organizations and whatever other things weren't Tatiana Maslany's singular brand of magic.
I watched the finale three times and was blown away with every single new viewing about the fact that Maslany played the sociopathic villain who finally rose to the top of her game after selling out her sestras, the chaotic good moral center who risks everything to save her sestras, the dying hero, the comic relief, the straight-laced suburbian, and Helena too. Over the course of the season, she played seven characters that are worthy of Emmys. Every archetype. And that was especially true in the finale. She stabbed someone! She nearly died, twice! She was Krystal! KRYSTAL!
The biggest shock of "From Dancing Mice to Psychopaths" wasn't that the Victorian era founder of Neolution is still alive, but that Delphine is working for him on The Island, and when Cosima and Charlotte end up there after running away from Susan's mansion to escape a knife-wielding Rachel, Delphine promptly takes off her clothes and hops into bed with Cosima to keep her from dying of hypothermia. MY ALL-TIME FAVORITE FAN FICTION TROPE! Cosima tells Delphine she found the cure and brought it with her. "Their homework," she calls it. And Delphine tells her not to share that information with anyone else. She'll treat her and treat her and save her and save her, but Cosima has to be quiet about it. Swantown is not a very safe place to be.
Season five is the final hurrah. If it's as good as season four, Orphan Black may just go down as my favorite TV drama of all time.
---
The Fosters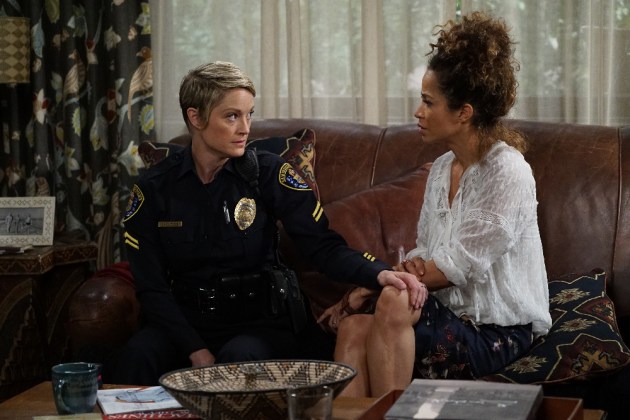 Right. So. The Fosters opened with an active shooter situation last week and let the shooter into the Adams-Foster house this week. I owe Lucy Hallowell everything for giving me a heads up on how anxiety-inducing this week's episode was going to be, all horror film angles and shadows and WHO'S IN THE CLOSET? (Not the metaphorical homosexual closet. Like the literal closet, with a gun.) Look, obviously, it's Degrassi Nick in there with his dad's pistol. He's had a bad life, sounds like maybe he's got schizophrenia, and ends up pulling a gun on Mariana and then crying in her arms. Stef saves the day after Callie makes the first good decision of maybe her whole life and calls her mom for help instead of trying to throw her tiny body onto a fully armed man. Related: Brandon remains the worst. He moves in with his girlfriend after telling Stef she can't tell him not to sleep with his foster sister. THE WORST.
---
Veep
Marjorie made it out alive! Stacy and I spent most of this season of Veep being alternately delighted at Catherine's new romance with her mother's former Secret Service lookalike, and terrified that her lookalike-ness was going to get Marjorie shot. In fact, until the credits rolled on season five, neither of us believed she was going to survive. She sure did, though! What did not survive was Catherine's "documentary," Kissing Your Sister. Oh, and also Selina's presidency. She lost the House vote to another woman, and despite all her machinations to try to ensure that she was leaving behind a legacy, the new president got credit for freeing Tibet before her inauguration speech was even over.
It was a pretty bleak ending to a very funny season. I can't wait to see what Catherine and Marjorie do with their rescued animal farm. They may be the only people with jobs when we return!
---
Wynonna Earp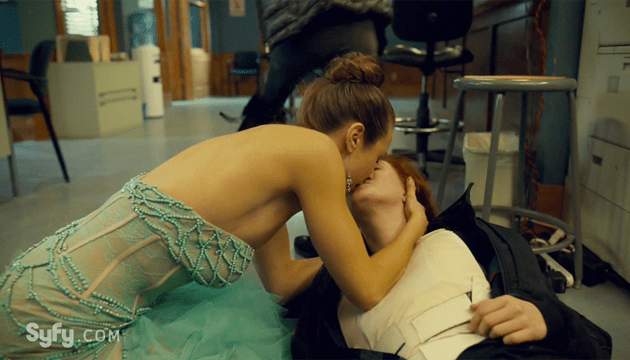 WYNONNA EARP! Wynonna Earp is the biggest surprise of 2016 TV to me. What I said in my review of the pilot is still true: It's like if Buffy and Lost Girl had a very Canadian baby that they raised deep in the heart of Texas. But it's so much more than that. The relationship between Wynonna and Waverly is one of the best sibling relationships I've seen on TV in a long time. And the relationship between Waverly and Haught is maybe the sweetest queer love story I've ever watched. Waverly Earp really is the bisexual cupcake this TV season needed to keep me from breaking down and/or hurling my actual television into the sun.
And get this: Haught got shot in the finale. Shot right in the chest. But she was wearing a BULLET-PROOF VEST. Waverly and Wynnonna's older sister, Willa, is the one who shoots her, after calling her Waverly's "girlfriend." When Haught takes the bullet, she doesn't bleed, and Waverly thinks she's a Revenant, but actually's it's that vest. Waverly confesses her love, smooches Haught right on the mouth, hands clasped around her precious face, and the whole time the music is like THIS IS WHAT LOVE IS AND ISN'T IT GRAND.
It is! It is grand!
The episode ends with Waverly and Willa having to take down their erstwhile brainwashed sister, and then Waverly scooping up some goop from the mayhem and accidentally turning evil. I'm sure it won't stick. Her face is too sweet for her to be anything other than perfect. (Oh, one thing she is not is: an Earp! She's adopted!)