Previously on Wynonna Earp, everyone but Nicole was forced to sign a Black Badge Blood Contract, Doc blackmailed Rosita into helping him cook up a cure for Doll's scaly dilemma, Waverly touched the goo and it's starting to cause some major issues including but not limited to eating weird shit, being aggressive af, and collecting shiny objects.
The thing with Waverly so far is that her Dark persona has come in flashes, rarely around for longer than a quick snack or a pocketed trinket. But now? Now we open on Dark Waverly slow-mo walking outside the homestead, for longer than we've ever see her have hold of Waverly, and loving every minute of it, relishing the control.
Also she's holding a knife.
She spots something shiny, as Dark Waverly is wont to do. She inspects the object closely, and whether she recognizes it as Dolls' dog tags or just the next addition to her collection is anyone's guess, because Wynonna comes outside then and snaps Waverly back into her own body.
Wynonna is confused as to why her always-cold baby sister is outside, but Waverly doesn't even know. Waverly chalks it up to sleepwalking, after letting out one of those little sobs that sometimes escapes when you're so tired you don't know what to do, and Wynonna ushers her back inside, her words reassuring Waverly, her face looking mighty concerned.
Cut to a coffee shop where our baddies of the week are up to no good. There are three players here, Briefcase Guy, a man I will call Polgara for reasons that may or may not become clear later, and his bodyguard, who he calls Cujo, also for reasons that may or may not become clear later.
Anyway, the baddies all fight and eventually Polgara cuts Briefcase Guy's hand clear off so that he just becomes Guy and Polgara has the briefcase.
Back at the Black Badge office in the Purgatory Sheriff Department, Jeremy and Waverly are doing a VERY CUTE smartypants back-and-forth trying to decipher some of the symbols on the broken seal.
Lucado comes in, excited about news of this stolen Black Badge briefcase, because this is her chance to get re-promoted and out of Purgatory for good. Lucado tries to get Wynonna to come help her, but Wynonna wants on seal duty instead; something big is coming and she can't be off being Lucado's task rabbit. Waverly, on the other hand, would love nothing more. She's been waiting for this moment to prove herself, and starts rattling off her skills: she's very bendy and can fit in small spaces, she's fluent in four languages, she can lift grown men over her head with one hand…okay, she doesn't mention that last part. But after Lucado assures Wynonna it's a perfectly safe mission for Waverly to go solo on for the first time, she agrees, and Waverly is PUMPED.
Meanwhile down in the basement of Shorty's, Rosita and Doc are in cute leather lab aprons and they're being kind of flirty but who knows what Rosita's deal is and if we can trust her with his mustachioed heart.
Rosita is worried about getting the dosage wrong and killing Dolls, but Doc says they're running out of time and that they have no choice but to try.
Wynonna heads to the breakroom of the Purgatory Sheriff Department and once again runs into Nicole. This time, though, she apologizes; she can't deny it anymore, not now that Nicole said something. Something's wrong with Waverly. They bond over their mutual love for Waverly; Nicole even echoes the blanket concern Wynonna had re: Waverly sleepwalking outside in winter. Their sweet moment is interrupted by Wynonna being unable to find a spoon. Nicole says all of the cutlery has been disappearing, slowly but surely, which is when Wynonna realizes that the knife she had taken from Waverly that morning probably came from here.
Wynonna checks the other pocket of the coat she had given Waverly and finds Dolls' dog tags, so she books it back to the barn.
She finds Dolls halfway to beast town and tries to keep the mood light even though her face has all kinds of terror dancing across it. He pins her down and starts to choke her so she pulls Peacemaker on him; she knows he's more demon than human because Peacemaker glows bright until she talks him down. As soon as his eyes grow dim, so does Peacemaker.
Dolls tries to get Wynonna to leave because he's worried he can't control this thing inside him, but there's no way she's leaving him, not this time.
So she knocks him out instead.
Lucado drives Waverly to a nightclub called Bading Bading, and I want to pause here to say that one thing this episode does really, really well is to remind us, in no uncertain terms, of what Waverly is in her truest form. She's been drifting in and out so much, and even Waverly has had a little darkness, what with Willa betraying them then Wynonna having to kill Will and Waverly's own Earpiness being called into question. But this episode gives us Pure Waverly in a way that makes the line between Waverly and Gooverly clearer than ever.
To that point, Waverly is heading inside the club to scope out the briefcase situation, giddily asking Lucado if their extraction phrase can be, "Tacos are tasty." Lucado doesn't care, nor does she care when Waverly runs into Cujo and Gooverly takes over long enough to agree to be the entertainment for the evening.
Wynonna gets Dolls from the Homestead to Shorty's, but the medicine isn't ready. Wynonna whispers sweet nothings about terrariums and sunlamps until Dolls becomes the second person to warn her that there's something off about Waverly.
Speaking of people who simply aren't themselves lately, cut to the Gardner house, where Mercedes is sitting like a proper lady but housing bacon like she's never had it before. Tucker comes in to bug her (Mercedes tells him Beth is "putting on her face") and she eventually loses her patience with him and tells him to bugger off. As soon as he's gone, we hear Beth scream in the distance, which delights "Mercedes" almost as much as the bacon.
Wynonna goes back to the Black Badge office because Doc has convinced her to ask Jeremy the Eager Beaver for help, and help he does when he smells ammonia on her jacket and rips it off just before it bursts into flames.
At first, Wynonna is delighted because she thinks Jeremy has superpowers.
But that's not the case. He just recognized the smell of the chemicals on her jacket…the combination of which he hasn't seen since he was making lizard juice for Black Badge. With this he realizes Dolls is alive and he couldn't be happier, and in this moment we learn two things about Jeremy: Something happened with his mom that Dolls knows the backstory of, and he can do one push-up with Dolls' help. Sweet baby angel.
Jeremy also lets it slip that Lucado has been having some issues lately, so Wynonna has him point her in the direction of the current mission, just in case Waverly needs some backup of a less badge-y variety.
But right now the only backup Waverly needs is a pianist.
After a false start, Waverly starts singing a lovely little lounge tune, looking like something out of a movie, and crooning like she's been doing it her whole life. The only words to the song are, "Boys are like rules they were meant to be broken, girls are like guns you better run when they're smoking," but who needs verses or a chorus when you sound like an angel and look like THIS.
While she's singing, Waverly keeps eyes on Polgara and follows him and the briefcase after the song is over, earning her a genuinely impressed smile from Lucado.
Waverly thinks the guy is going to sell the briefcase, based on her eavesdropping, and don't ask me why, but this eavesdropping ended up being my favorite shots of the episode.
Before long the buyer is dead and Waverly is panicking and TACOS ARE TASTY.
Wynonna shows up just in time and rushes in because Lucado says there was a gunshot but no backup, and Wynonna quickly finds her sister pressed up against a wall, near a dead body that for a minute Wynonna thinks was maybe Waverly's doing. Wynonna wants to get them out of there, but it's too late, Waverly can't even fake a lost lounge singer now that Wynonna is there waving her gun around. Which bums Waverly out because she had this under control if only everyone would trust her.
Polgara ties up the Earp sisters and demands to know what the Black Badge briefcase is all about: how to open it, what the initials EE stand for, anything.
But the girls play it cool and reveal nothing.
Over at Shorty's, Doc and Rosita are about to inject Dolls with their serum, but Jeremy runs in just in time to warn them that they could be giving him a lethal dose. He tells them Wynonna trusts him, and they should recognize what that means, and they should all work together the help Dolls.
Still captive, but waiting for Polgara to try to break open the briefcase in another room, the Earp girls make a plan for their escape. Waverly laments this failed mission; she just wanted to see what it was like to be Wynonna for a while. This leads them to talking about what it means to be Waverly, and Waverly finally admitting that something's not right, that she's losing time and the sleepwalking is freaking her out a little.
She even admits that it all started when she touched the goo. Wynonna assures her that whatever it is, they'll figure it out. Together.
But first they have to figure out how to get out of here. So they use teamwork, stilettos, and Siri to call Doc in a nice moment of levity to release us from the looming What's With Waverly anxiety.
Doc doesn't hear his phone ring the first few times because he's too busy bonding with Dolls. Doc pokes fun of him for not being human, Dolls retorts back that he looks funny without a hat, it's all VERY SWEET. Dolls also reveals that he was in pretty rough shape but the mysterious Juan Carlo scooped him up and delivered him to the Earp homestead, supposedly because he had a job to finish, though what that means is anyone's guess.
Across town, Tucker, concerned about his sisters, goes to talk to Officer Haught. Who, unsurprisingly, is less than pleased to see the human worm writhe into her office.
When he sees she's not jumping at the chance to help this pervert, he pointedly calls Waverly her "friend" and low-key threatens to blackmail her with the knowledge that Waverly might be dangerous.
Thus placing Haught between a rock and a jerkface.
In the basement of Bading Bading (gosh what a whimsical place for the horrors we're about to witness to occur), Polgara comes back and admits the metal is impenetrable so he's going to have to take a new approach. He unties Waverly, lays her on the workbench, and clamps her arm in a vice. He's asking them question after question, and finally reveals his weapon of choice: a long, spiky skewer thing that protrudes from his wrist. Not unlike a Polgara demon from Buffy. DEEP CUT. Whatever it was better than finding a new way to say "the bad guy" every time I mentioned him and I simply refuse to call him "The Rugged Man" as the credits suggest.
ANYWAY while tensions are mounting, Polgara is threatening Waverly with his skewer and Wynonna is yelping that she seriously doesn't know any of the answers. After getting a little slice, Waverly offers a suggestion (Edwin Earp could be EE) that comes to a dead end when she can't think of a code that would be more than four numbers. Wynonna breaks free of her ties and punches Cujo, all with the intention of saving Waverly, but instead what happens is Polgara gets impatient and he uses his skewer to CUT OFF HER HAND.
HER HAND.
HE CUTS IT OFF.
IT'S ON THE FLOOR NOW.
Wynonna is devastated, horrified she couldn't protect her baby sister. Things are looking dire, and Polgara is looking arrogant about it, but who needs Black Badge backup when you have the fastest gunslinger in Purgatory on your side. Doc flies in just in time, scooping up a bad guy's hat on the way.
Polgara and Cujo grab the briefcase and run, so Wynonna unclamps Waverly and helps her out. At first she's moaning things like, "This can't be happening," but we know our Waves in still in there because she also makes a "that's what she said" joke.
In the hallway, they run into Polgara again and Waverly kicks him square between the legs. It's glorious. Waverly asks if they should take the briefcase, but Wynonna cares about Waverly and only Waverly right now; Black Badge can get their own damn briefcase back.
In the basement of shorty, Rosita is trying to flirt some science answers out of Jeremy, but he very nervously and awkwardly turns down her advances. Because you see she's not his type. Because, beautiful and smart as she is…she's still a she.
THAT'S RIGHT KIDS, JEREMY IS CANON GAY. All that fawning over Doc Holliday wasn't just him being a Wild West fanboy. Do you remember the last time there were both queer men and women as part of the same core cast? Was it Glee?? I'm pretty sure if I dug deep I could still count the number of shows who have done that on my fingers, so yet another round of applause for Andreas & Co from me.
When Rosita realizes the score, she quickly changes tracks, and convinces him that she was just hazing him because he's the new guy. Jeremy loves this SO MUCH and scurries off to get everyone lattes, leaving Rosita annoyed. And I can't quite figure out why; is it because she wants to get Dolls cured so she's free of whatever Doc is holding over her? Does she really want to unlock the science answers? Is she super into humanoid reptiles? I guess we'll figure it out eventually.
For now, she takes the needle and taunts Dolls with it.
That is, until he breaks an arm free and injects himself, despite not knowing if the dosage will kill him. His eyes turn to lizard slits and he tells her to run so she does.
After she's gone, Dolls' forehead crinkles and looks like molten lava. Youch.
Back at Badabing Badaboom, Waverly and Wynonna get attacked by Polgara AGAIN and this time is taken out by a well-timed knife through courtesy of Doc Holliday. Doc is ready to for some classic post-fight banter, but all Wynonna can say is, "He took her hand." Doc realizes Waverly is hurt and runs to her.
Doc is tying off the wound and Wynonna is running off to find the hand to put it on ice when Gooverly passes through right quick.
When Waverly takes back over, she sees the bloody towel and is alarmed and asks who's hurt. Everyone is confused and because we always want to explain away what we can't understand, they sort of convince themselves that maybe they were all just really stressed out and imagined seeing Waverly's hand get CHOPPED OFF AND FALL TO THE FLOOR.
They take the briefcase and head to Shorty's, where they find Rosita blocking the door to the basement. Wynonna isn't about that life though and is opening the door to go talk to Dolls when Polgara comes back AGAIN, knife still in his back, because the bastard will. not. die.
He tries to get the briefcase back and there's a bit of a standoff until Dolls comes up the stairs and BREATHES FIRE ON HIM.
Wynonna is worried that Dolls has gone full Drogon on him and she was going to have to learn High Valyrian, but then Dolls starts to laugh with delight in a way we've rarely if ever seen before. Wynonna hugs him, Doc shakes his hand, they exchange smiles; one major dilemma solved. Only about a hundred to go.
Polgara, still without the good sense to die, is now a charred heap, murmuring about a something big that's coming. Wynonna shrugs him off, saying she's ready for whatever it is, and shoots him with Peacemaker, so hopefully this time it will stick.
Tucker Gardner goes home and finds his sisters being as strange as ever and this time you may notice little scars along their jawlines. Mercedes opens a door to reveal the real Mercedes and Beth, faceless screaming bodies now, and frankly Tucker doesn't really react ENOUGH. Perhaps this is because, as whatever-is-wearing-Mercedes'-skin says, they want to harness Tucker's darkness, and in exchange, he can have whatever he wants. He says he wants a girl, because of course he does, because Tucker is the worst.
Back at the homestead, the Earp girls use Waverly's perfect brain to open the briefcase after all, and Wynonna is pretty disappointed to find only a commemorative plate of the Purgatory Fair inside.
This mystery solved, Wynonna goes on to the next one: what's goo-ing on with Waverly? Wynonna wants to help. Waverly's back is to her sister and she says "she's been resisting" but it's Gooverly talking. Waverly has been putting up a fight, refusing to relinquish full control, because that's all Waverly has ever wanted, isn't it? Control over her own life, her own destiny. Her family was cursed and it left her out of it, so she spent her life carving her own path. So of course when something threatens her agency, she's not going to give it up without a fight.
But the darkness grows stronger.
And the darkness is done fighting.
Wynonna holds up Peacemaker to Waverly and sure enough, it glows. Waverly isn't all human, not right now, not anymore.
Wynonna tries to talk to Waverly, but it's Dark Waverly answering, saying she's not having fun in this body anymore, but that Wynonna looks like just the thing she needs. She steps closer and closer and Wynonna watches her carefully, afraid to make any sudden movements, lest the monster with Waverly's face attack and force her to kill another sister. So it's still she's standing when Dark Waverly leans in and presses her lips against Wynonna's.
And that's when we learn that Dark Waverly isn't just really into incest, but instead is using the mouth to travel from Waverly's body to Wynonna's.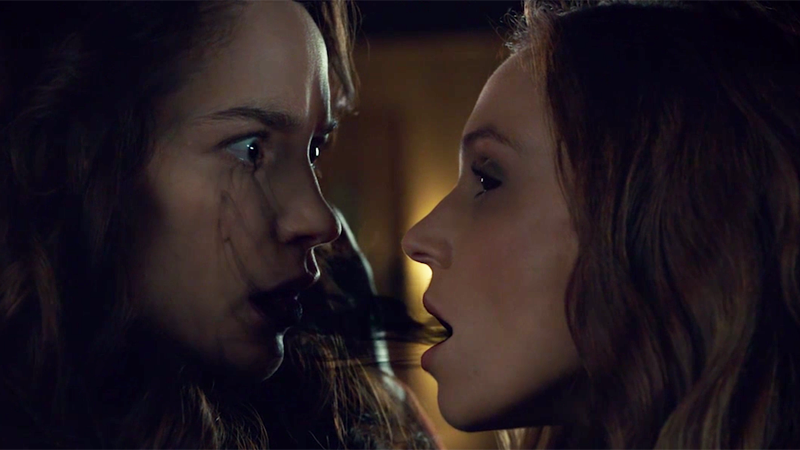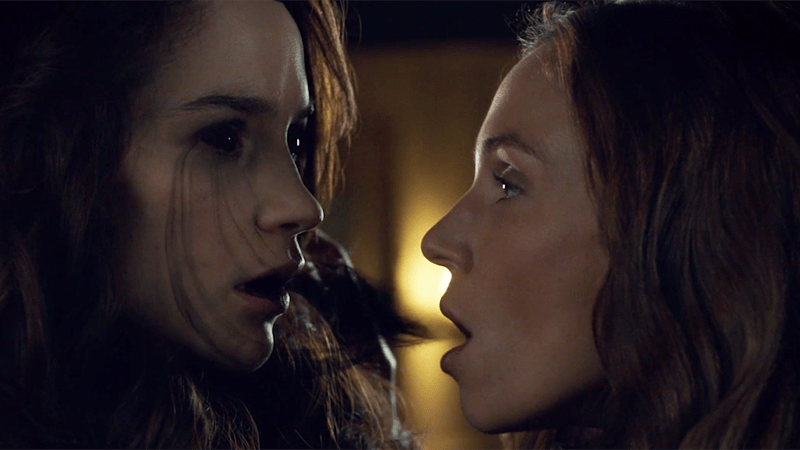 And guess what? Wynonna hates being in control. She was given this destiny, this daunting task, this responsibility that has already lead her to have to make horrible and devastating decisions. And Wynonna is strong, so strong, but she's tired. Exhausted, even. So when something offers to take the reigns for a while, of course her soul lets it happen.
Which is why, I imagine, despite it being the first time the darkness enters Wynonna, we see it take hold of her for longer and with more clarity than it ever had Waverly.
And Goononna is gonna be trouble, I can tell.